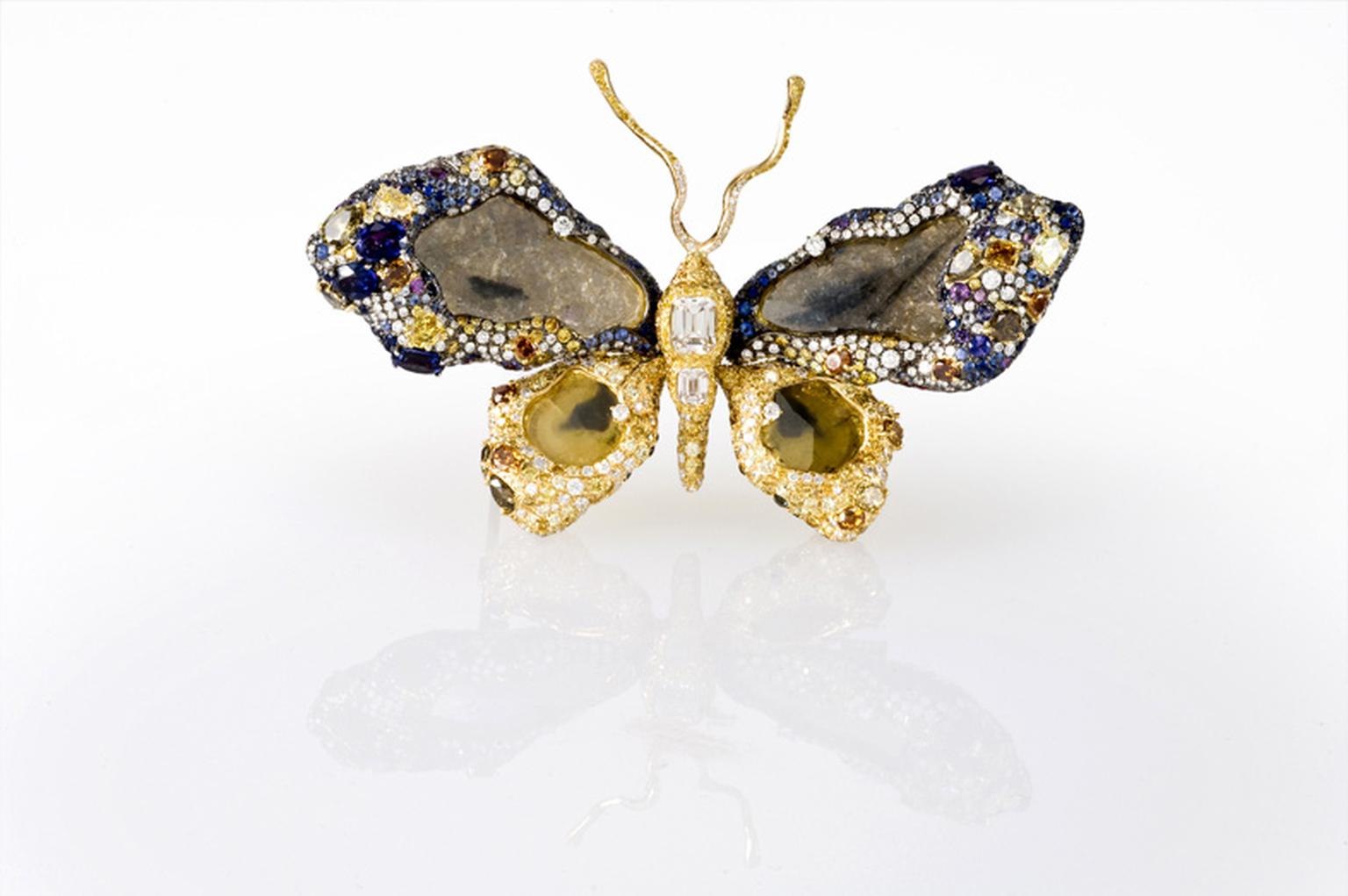 The Royal Butterfly brooch by artist-jeweller  Cindy Chao ( read more about her jewels here)  has flown into the Smithsonian on diamonds wings.The Royal Butterfly brooch is the first work by a Taiwanese jeweller to be included in the museum's permanent collection. From the 5th March 2013, the Royal Butterfly brooch will be on display to the public in the Janet Annenberg Hooker Hall of Geology, Gems and Minerals. The brooch was made by Cindy Chao in 2009 as a one-of-a-kind Black Label Masterpiece that has garnered Chao praise from jewellery collectors and a following at auction houses such as Christie's.
Jeff Post, curator of the museum's Gems and Minerals collection said of the donation by Chao: "The awe-inspiring array of colorful and glistening gems are indicative of Cindy Chao's masterful designs. She has artfully combined design, gem and setting to create a unique, exquisite jeweled butterfly that we are delighted has fluttered from Taiwan into our National Gem Collection. It is a wonderful gift that I am sure will be immensely popular with our visitors."
The shimmering butterfly is made up of 2,328 different precious stones adding up to a total weight of 77 carats. But more than just a beautiful jewel, it is a celebration of the diversity and mystery of precious stones and invites us to wonder at unusual cuts such as diamond slices, colour-changing stones and flourescent diamonds all set to imitate the beauty and lightness of a butterfly. The brooch is decorated with a wide array of precious stones including fancy-coloured and colour-changing sapphires as well as rubies, diamonds and tsavorite garnets. The most dramatic stones are to be found in the wings.  Four diamond slices sit on top of a layer of diamond pavé imitating the fine patterns and scintillation found on a real butterfly's wings.
But this butterfly has an extra surprise, when seen under ultraviolet light many of the gem-stones fluoresce and quite literally come to life. While some of the stones may appear colorless in daylight, under ultraviolet light they can burn a bright blue or green or even a firey orange or red.
"I believe that a piece of jewelry can reflect the history of an era, and being inducted into a leading institution like the Smithsonian is a dream for any artist," says Chao.  "It is humbling to know that millions of visitors will be able to experience the Black Label Masterpiece Royal Butterfly brooch and be exposed to my art of high jewellery craftsmanship and creativity."