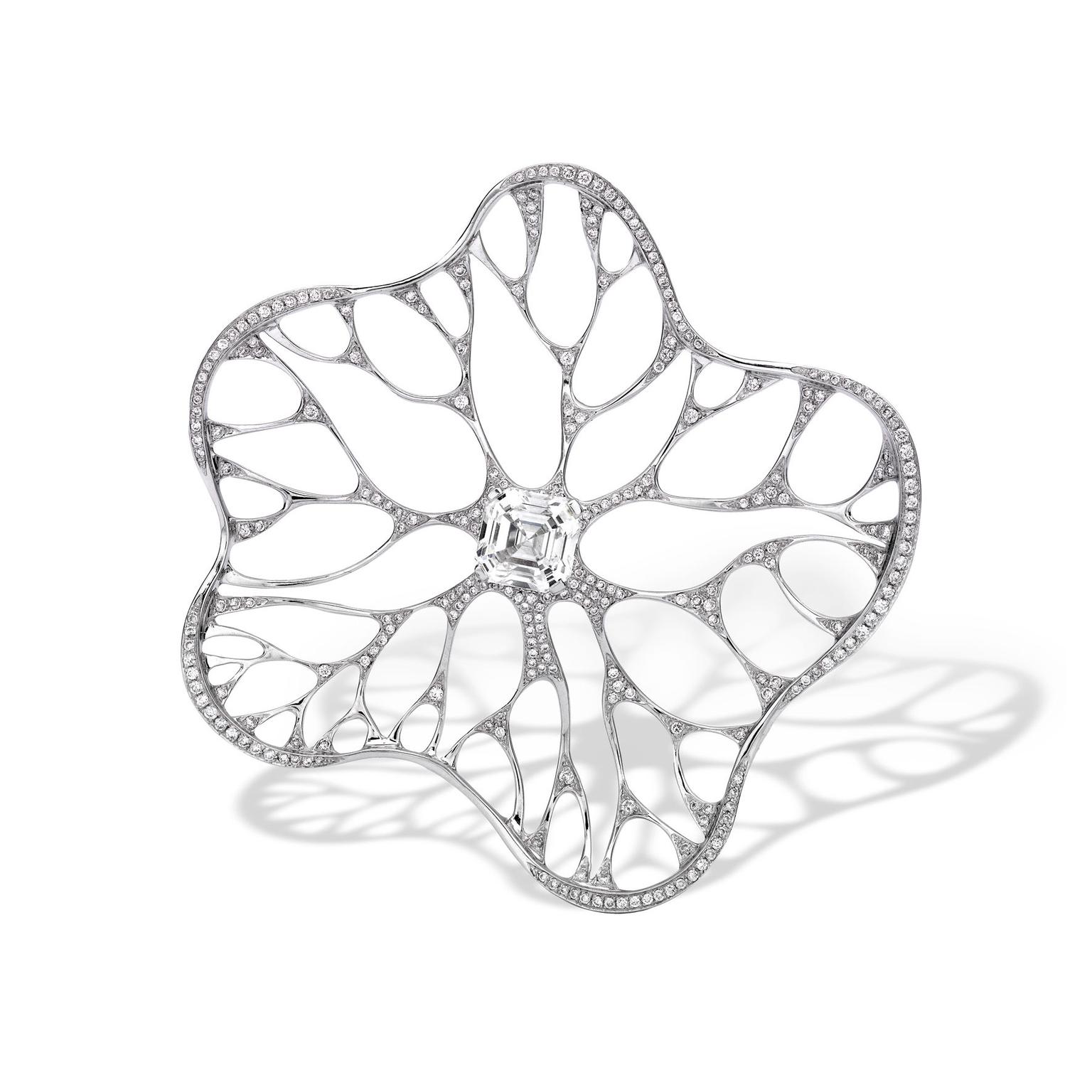 By Rachael Taylor
In the last few years, Fei Liu has won global awards and worldwide recognition, but it was only a little over 10 years ago that Liu suffered what he describes as a life-changing moment. When his home and all his possessions burned down, as well as a prized Louis Vuitton collection and extensive designer wardrobe, all of his design work went up in smoke.
"I lost everything - my diamonds, my gold," recalls Liu, who was working as head of design for a jewellery company in Birmingham at the time. "I saw that my IKEA cabinet, which had lots of little drawers with all my materials in it, had become a huge plastic rock stuck to the carpet. I could see the pearls were all still beautifully inlayed, but you couldn't take them out. It was heart-breaking, but it changed my life." Liu didn't have any insurance and effectively had to start again from scratch. Such a massive moment of reflection made him realise that it was time to design for himself.
Liu's artistic interests started when he was just five, with art lessons in his home city of Chongqing in China, and after a brief fling with packaging design, he fell in love with gemmology and looked for a way to combine this with his creativity. In an interesting twist of fate, an education fair in Beijing led him to the Birmingham School of Jewellery and his new life in the UK.
Liu flourished as a bespoke jewellery designer, winning global awards and recognition, and after 17 years in the UK he very much considers himself a British designer, though he also has a huge following in China.
To celebrate his first decade, Liu recently gathered 20 of his most spectacular pieces of couture jewellery and put them on display at The Ham Yard in London. The cabinets contained elaborate jewels defined by vibrantly coloured gemstones such as rubellite, turquoise, jade, yellow diamonds and tanzanite, and while the styles vary from multi-functional rings that convert into pendants, to a pair of platinum cage earrings decorated with antique hair clips, each is ruled by a strong sense of femininity.
Each of these bespoke jewellery pieces was created for a private client - his work attracts multi-millionaire businesswomen, celebrities and magazine editors - many of who have become friends and will commission up to 10 Fei Liu jewellery pieces a year. This dedication, he feels, is borne from his obsession with designing for the individual but also challenging them. "It's about holding their hand and exploring their personality," he says. "Jewellery is very personal, so we create a firework between us and the people we create for."
While Liu says he still considers himself a student after 10 years building his high jewellery brand, it appears that he has mastered the art of creating truly personal jewellery that blends East and West, to capture all the sparkling stages of a woman's life.   
Fei Liu jewellery neckpiece in white gold with a 103ct pear-cut tanzanite, blue sapphires, white diamonds and cabochon jadeite. The main piece can be removed and worn as a brooch. 

The floral-inspired Asclepias earrings from Fei Liu in platinum feature handcrafted mother-of-pearl flowers and brilliant-cut diamonds.

Fei Liu Crab ring in rose gold set with a large baroque pearl and white pavé diamonds.

Fei Liu Jadeite earrings in yellow and white gold, set with hand-carved jadeite, white diamonds, blue sapphires, purple amethyst and demantoid garnet.

The Medusa ring by Fei Liu represents the alluring nature of femininity. It features a central rubellite and white and black diamonds in white gold with a yellow double tiger claw setting.

The Orchid Flower ring brooch in rose gold with pink sapphires from Fei Liu.

Fei Liu Orchid Flower ring brooch in rose gold with pink sapphires, which can be worn as a ring or as a brooch.

Back view of  the Orchid Flower ring in rose gold from Fei Liu jewellery, which can also be worn as a brooch.

A side view of Fei Liu's Orchid Flower ring in rose gold with pink sapphires.

Fei Liu Starburst earrings in white gold- and black rhodium-plated silver featuring brilliant-cut white diamonds and two central diamonds.

Fei Liu jewellery neckpiece featuring a cushion-cut tanzanite centre piece, and a variety of different white diamond cuts.

Tourmaline necklace from Fei Liu jewellery set with a spherical green tourmaline, diamonds and garnets. The feather centrepiece can removed and worn as a brooch.