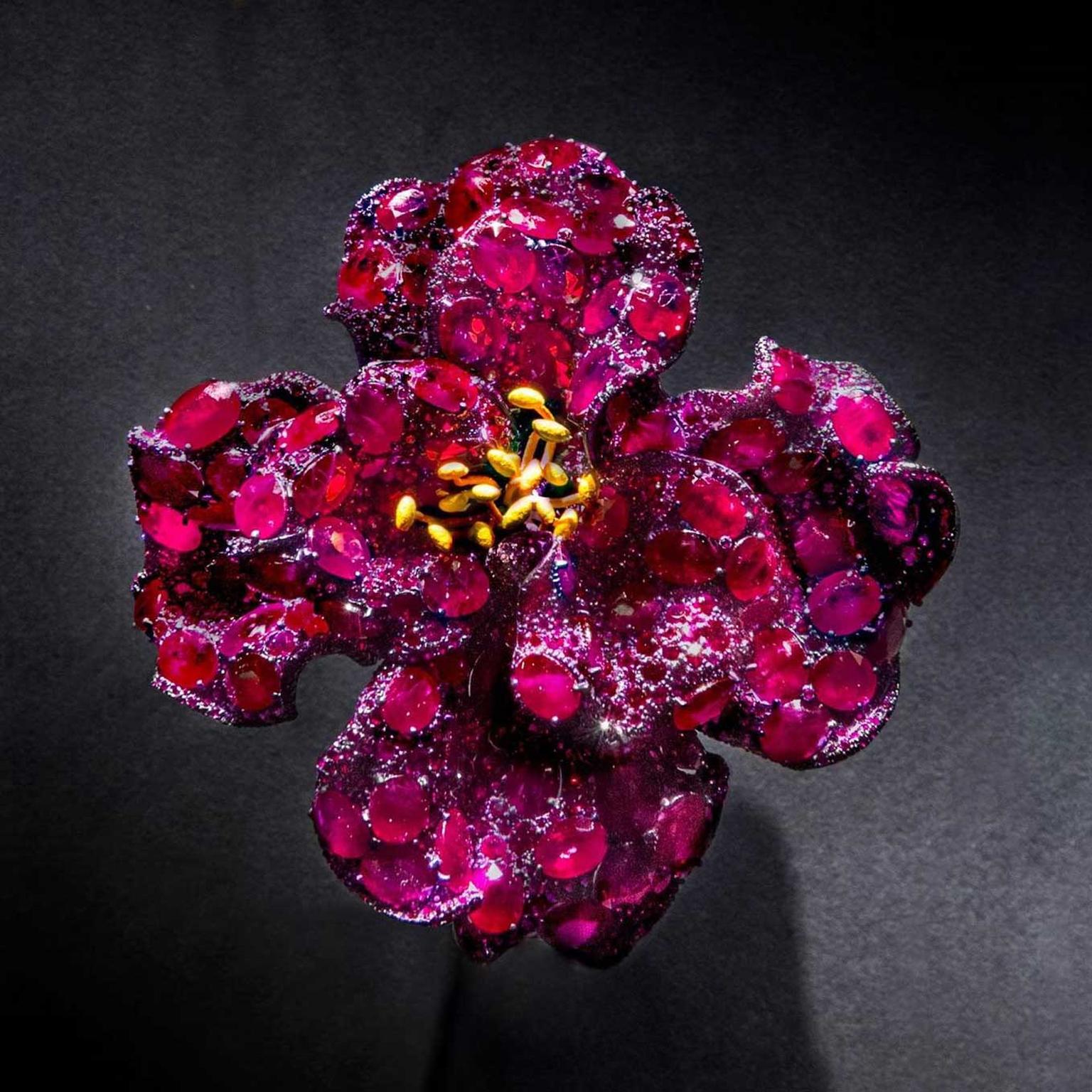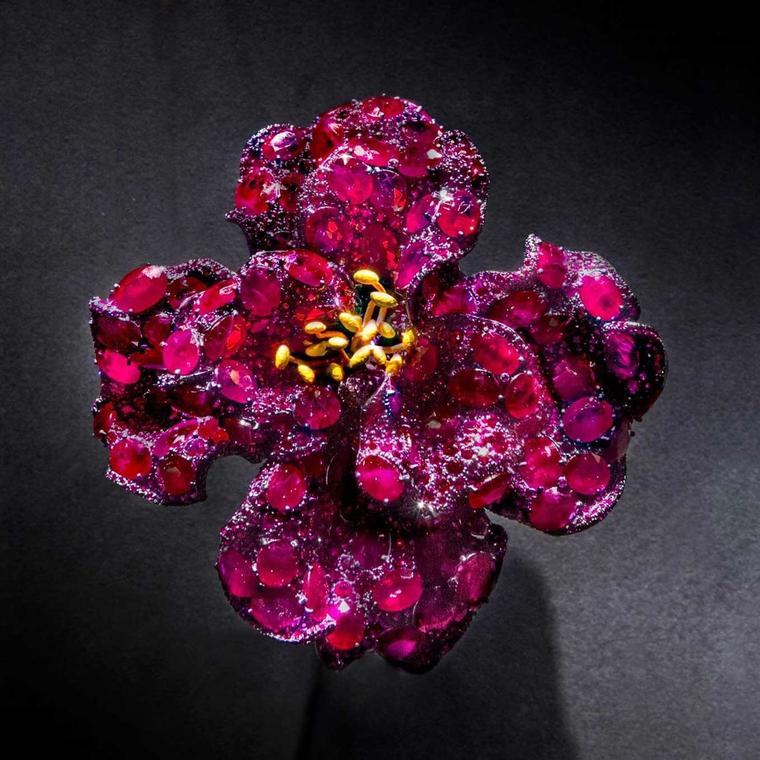 Of the dazzling jewellery displayed in Cindy Chao's darkly lit booth at Masterpiece Fair 2018, it was the larger-than-life ruby Peony brooch (above) that caught the judging committee's eye. The prestigious 'Outstanding Object' awards are given to works displayed at the Fair that is known for its rich and exciting cross-collecting ethos. Read more about Masterpiece here.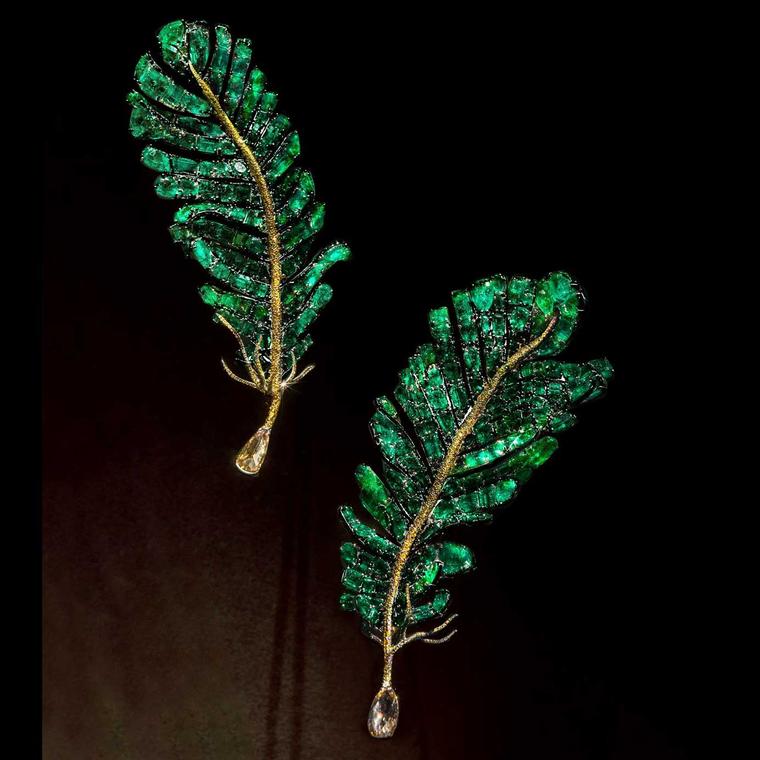 The judges are composed of collectors, editors and curators who described Chao's Peony Brooch as 'an example of contemporary craftsmanship and great design.'  The judges also presented awards for objects that: 'reflect scholarship, rarity, connoisseurship in their category' giving you an idea of the high-level of specialisation that has put London's relatively new design and art show on the map.  'What sets it apart is the juxtaposition of art and design from all periods and origins,' is how Tony Chambers of ES Magazine, London aptly describes the Fair.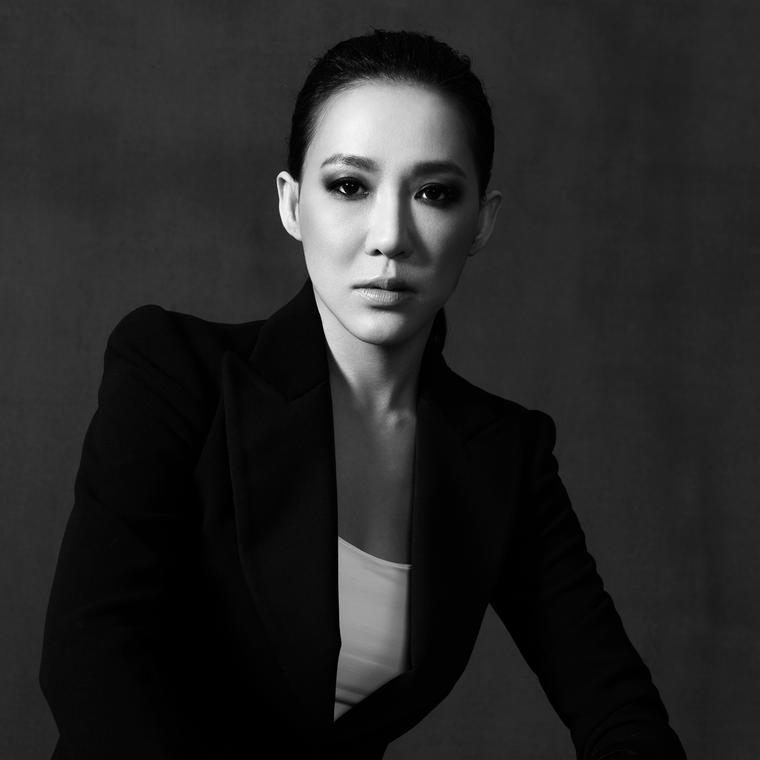 Cindy Chao's exquisite jewels shone out amongst this rare mixture of antiquities, contemporary design, art and furniture.  In her darkened booth with walls dripping with ferns and bird song playing that recreates the lush forests of British Columbia, Cindy Chao says: 'I am thrilled to unveil my 2018 Black Label Masterpieces at my brand's debut at Masterpiece London.  Inspired by one of my trips in British Columbia, Canada last year where I was fully immersed in the Nature's endless wonder, the new collection will allow collectors and connoisseurs to experience the world in and through my eyes.'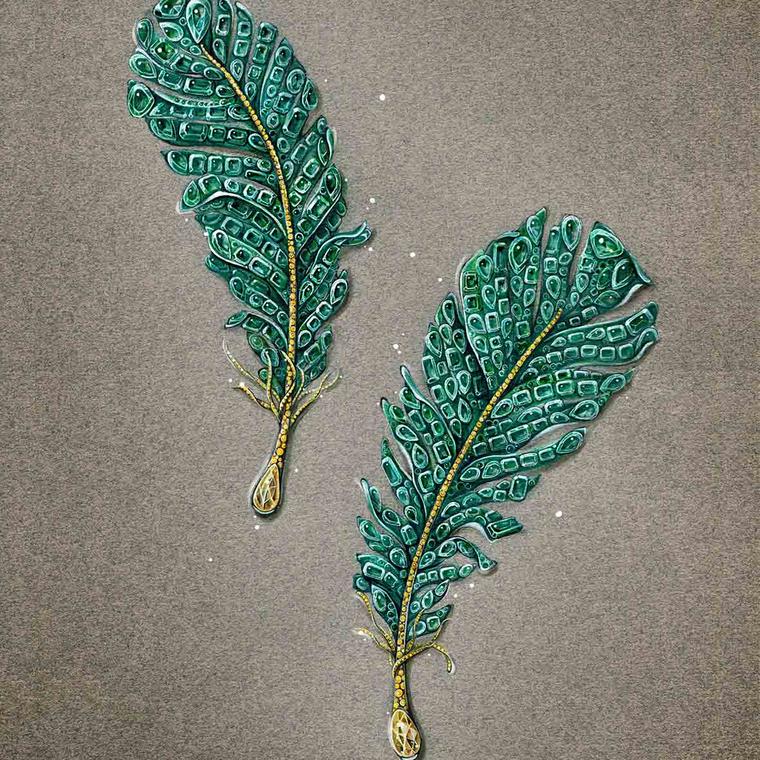 The award-winning Peony brooch is typical of Chao's work in its opulence of gemstones, artistic sensitivity and mind-boggling craftsmanship. Each one-off jewels takes over 10,000 hours to create and even the smallest part of the jewel is dressed in gems.  Chao's lightness of touch turns purple titanium and rubies into a flower that looks light enough to be ruffled by the slightest breeze. Dragonflies flit through the air and the highly articulated titanium and silver emerald Feather brooches look soft enough to caress the skin.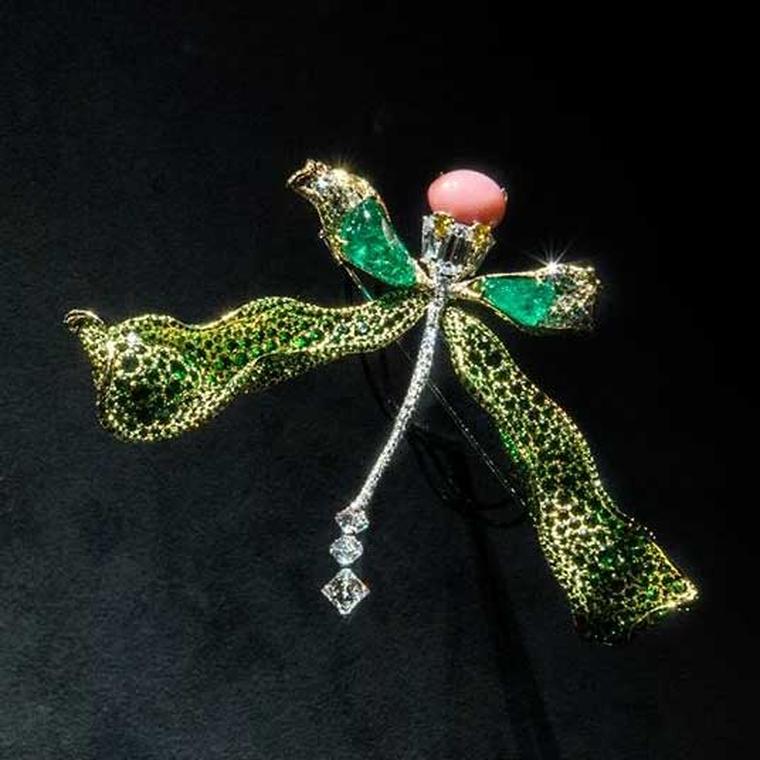 Cindy Chao The Art Jewel was founded in 2004 and already her pieces are in the Smithsonian in Washington and command impressive prices at auction. The 2016 colour-diamond Phoenix Feather brooch was sold for $1.12 million by Christie's in Hong Kong. Read more here. 
The daughter of a sculpture, Chao was surrounded by art as a child. A refined fusion of East and West, Chao hand carves each jewel imbuing them an Asian sensitivity that is transformed into metal using the C18th European technique of wax moulding. Her brilliance lies in being able to capture the most ephemeral moments of Nature with the lightest of touch, in hues that vie with Mother Nature's own colour palette.   Read more about Cindy Chao here. 
Cindy Chao uses titanium for its lightness and strength along with silver to create jewellery works of art such as these Autumn leaves brooches from the 2018 Black Label Masterpieces. The leaves are set with white and yellow diamonds and a conch pearl.

Combining her Asian sensitivity with the C18th technique of wax carving, Cindy Chao is involved in every stage of the creation of her Black Label Masterpieces, such as this Flower Bud brooch wax model which Cindy has meticulously hand-sculpted. 

The end result shows how important the initial wax carving is to create movement and life in this Cindy Chao Black Label Masterpiece Flower Bud brooch.

Cindy Chao's prowess as a sculpture and her skills in transforming gem stones into life-like forms is evident in this charming flock of Black Label Masterpiece dragonfly brooches that outshine Nature. 

Cindy Chao's brilliance lies in her ability to capture the most ephemeral wonders of nature in everlasting and precious materials  as seen in this Black Label Masterpiece 2018 dragonfly emerald, diamond and conch pearl brooch.

Made of ultra-light titanium and silver, these highly articulated Feather brooches by Cindy Chao ripple with movement despite the hundreds of emeralds and diamonds set into even the slenderest tips of this magnificent quills. 

Each year Taiwanese art jeweller Cindy Chao presents one-of-a-kind Black Label Masterpieces such as these emerald feather brooches inspired by her visit to British Columbia and its richness of natural wonders. 

Created as a work of art, Cindy Chao sketches by hand each jewel she creates as the first step to bringing to life one of her Black Label Masterpieces.

A portrait of Cindy Chao, who as a child Cindy spent time in her father's workshop, gaining an innate understanding of his art and manual skills.

Each Cindy Chao Black Label Masterpiece is the result of over 10,000 hours of craftsmanship. This ruby Peony brooch won Cindy Chao an 'Outstanding Object' award at London's prestigious Masterpiece Fair 2018. 
As the only Asian jeweller present at Masterpiece London, Cindy Chao is right to be proud of her award. And here's hoping she will be back next year with yet more mesmerising jewellery masterpieces.