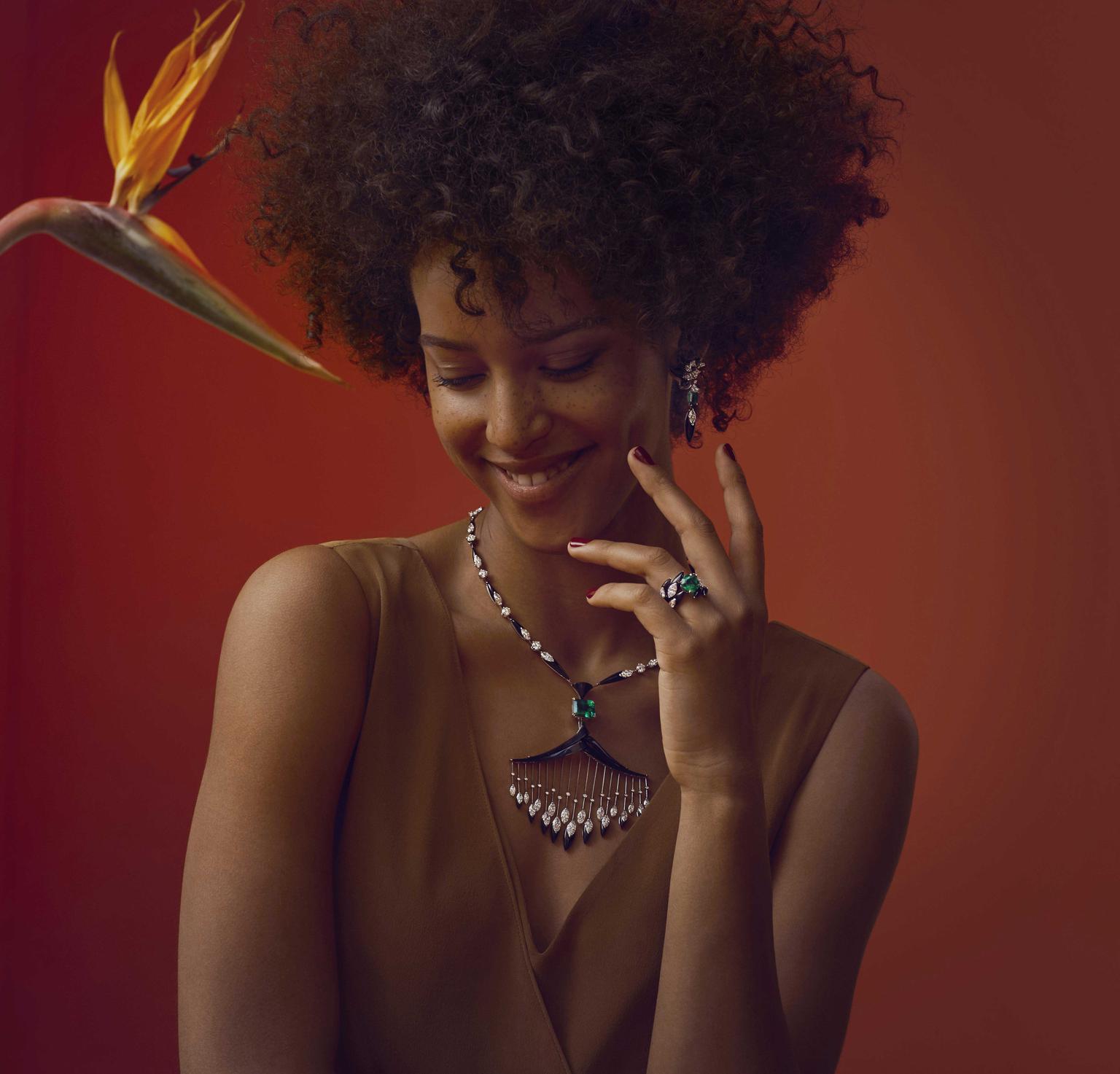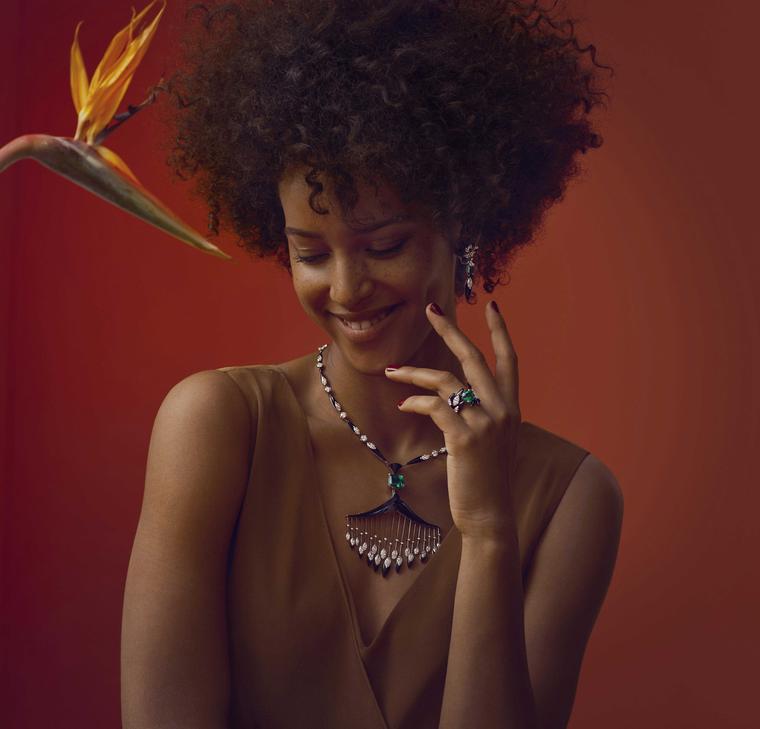 One of the most innovative and unexpected high jewellery collections to emerge from Place Vendôme this year is Chaumet's Trésors d'Afrique. While for decades global stylistic influences have made their way into Chaumet's splendid gilded Place Vendôme salons, Trésors d'Afrique takes cultural infusion to new heights. The jeweller to empresses has found a new energy in Africa and the result is a beautiful reflection of each other.
What is so exciting about these jewels is the lightness of touch. Take the Cascades Royales necklace (top) that at first glance looks like textbook Art Deco design, the kind of 1920's masterpiece carefully preserved in Chaumet's museum. Look again and in fact the polished black onyx, emeralds and diamonds, those Art Deco stalwarts, move to a distinctly African beat.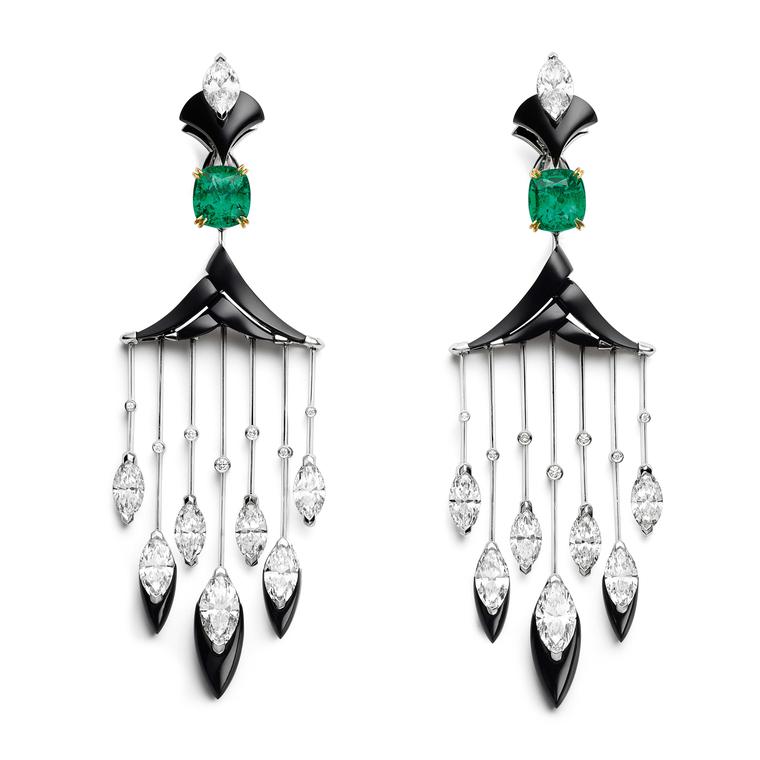 When I tell you that the shape is reminiscent of the fringed head dresses of African Queens it immediately becomes obvious that we have moved on from standard 'inspired by' jewellery and into a whole new territory. Sophisticated knife-edge gold work (above) more normally seen on stately tiaras is the coup de grace in this brave new world of truly global jewellery. And there is more: Gold is woven like basket work and colour gem stone beads flow in ancestral forms, honouring Africa's culture in precious materials.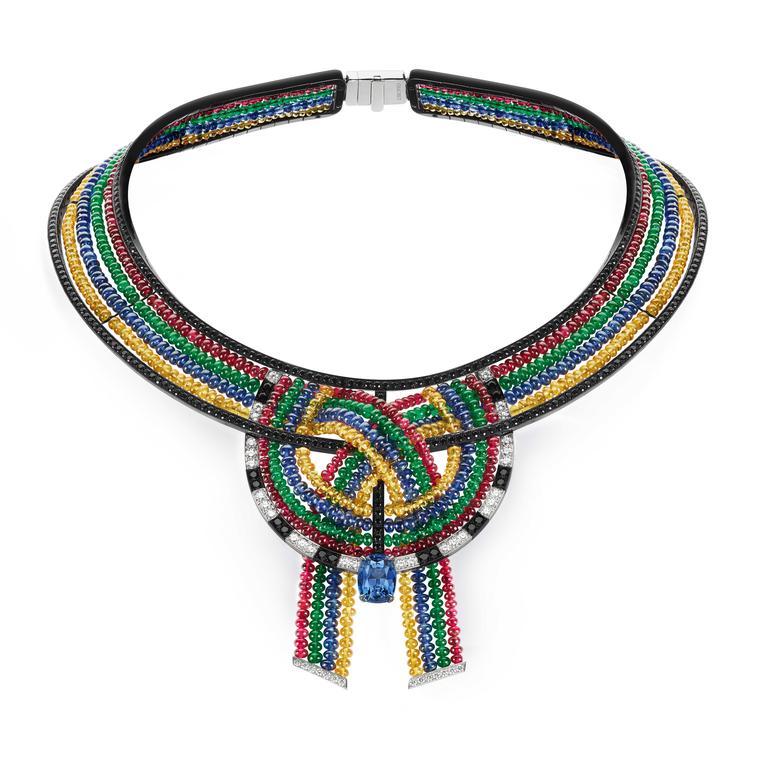 Now you know this, you will spot that the Ronde de Pierres choker necklace (above) is a gloriously luxurious re-working of a Maasai bead jewel. The Talismania series (below) with its ebony cuffs and explosions of colour speak of a younger, dynamic Africa yet bound to tradition by the Agasake wicker-work of Rwanda. Terres d'Or shines bright like the golden African sun on the ochre earth thanks to bounteous amounts yellow sapphires and red lacquer.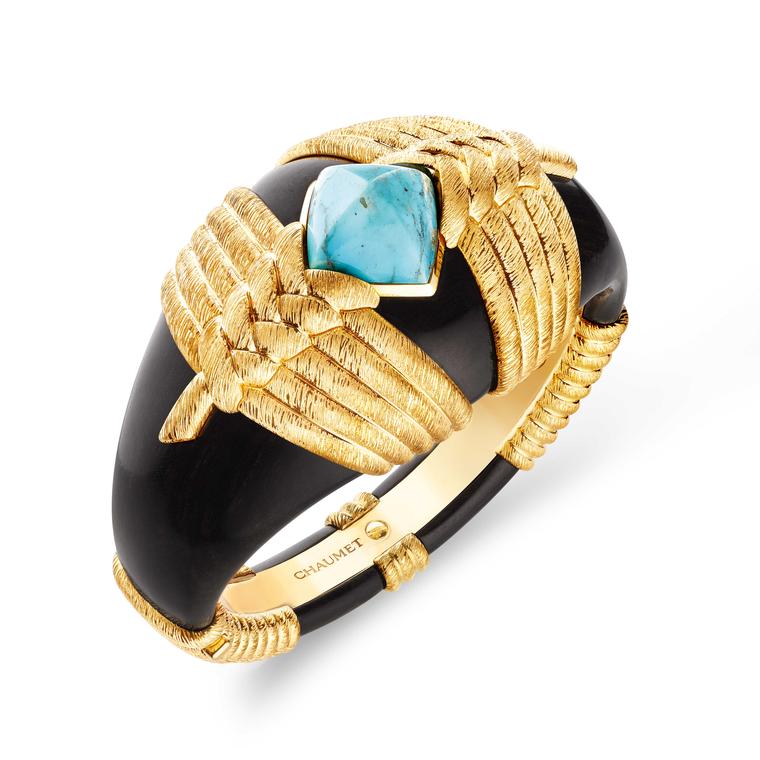 And then there are the Espièleries (below) that are pure, high-sugar content fun. Created in conjunction with Kenyan artist Evan Mbugua visually they are not a natural fit but another facet of the African connection as Mbugua worked closely with Chaumet in creating the entire Trésors d'Afrique collection. And as always, there is a historic link. The venture with Mbugua is reminiscent of Chaumet's association with Parisian jewellery designer Pierre Sterlé in the 1960's which led to the creation of a menagerie of animal brooches that were so in vogue and quite out of the ordinary for Chaumet.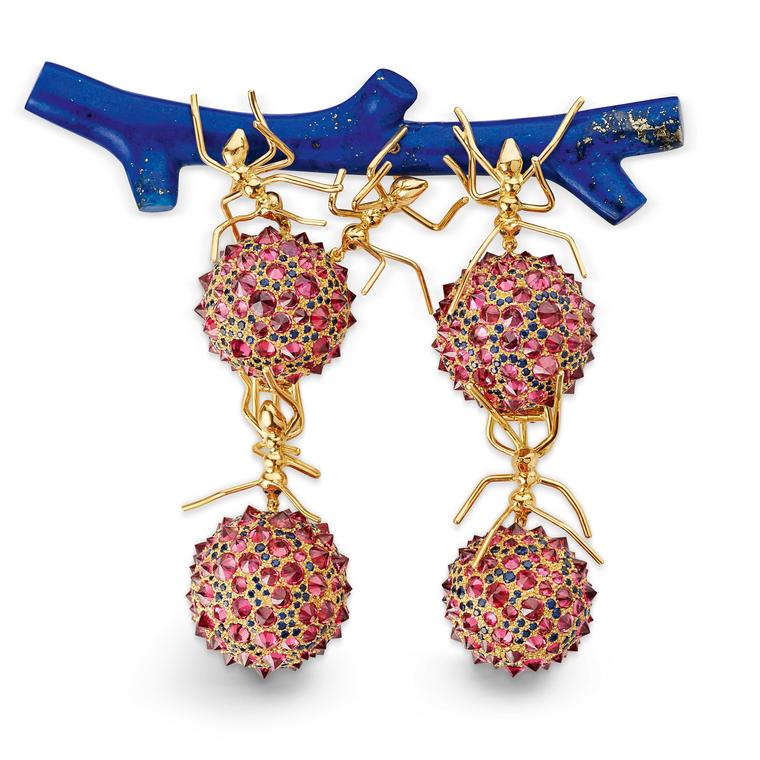 It is not just the shapes of Africa but the colours and materials that make this collection so alluring. The matt surfaces of hard stones such as turquoise, onyx, malachite and lapis lazuli in outsize proportions are the perfect contrast to the sophisticated polish of diamonds and emeralds and the rich colours of rubelite, spinel and tsavorite garnets.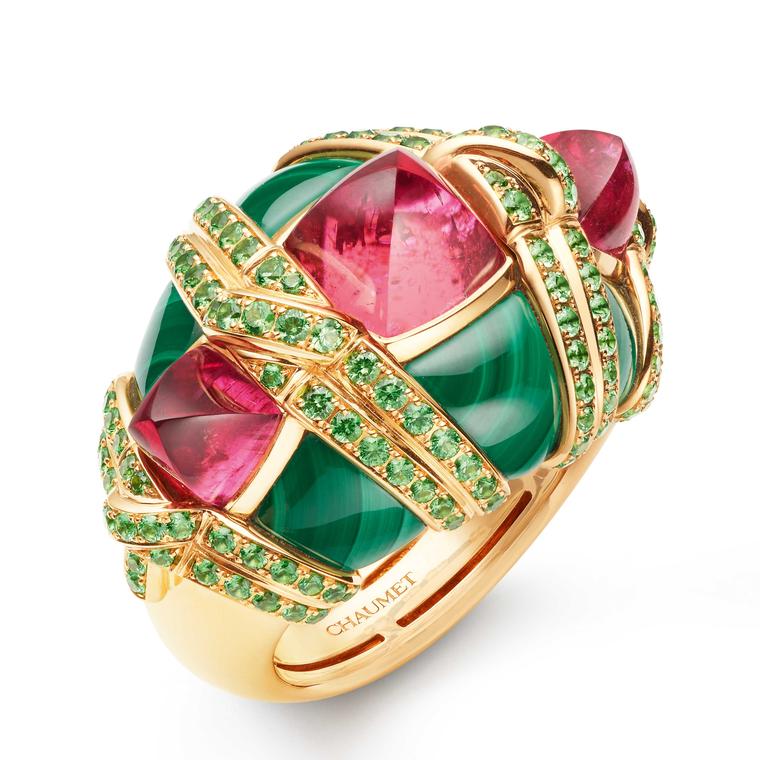 Trésors d'Afrique is the closing chapter of the Les Mondes de Chaumet high jewellery theme that took us from Imperial Russia to a Japanese Spring and finally sub-Saharan Africa. Chaumet's planet-spanning jewels have made globalisation a very appealing proposal. 
Chaumet's Terres d'Or necklace with pigeon's blood rubies and yellow sapphires recalls the motifs of Kente textiles from Ghana and Kasai velvets in colours evocative of desert sands and the ochre earth of the continent.

Africa in jewels like you have never seen before in the Les Mondes de Chaumet Talismania ring with sugarloaf-cut rubellites, malachite and tsavorite garnet for an exciting new Africa-inspired style. 

So evocative of the shapes of African art, the Chaumet Terres d'Or shield-shape ring brings the fiery colours of Africa into a jewel with yellow sapphires and red lacquer.

The latest chapter in Les Mondes de Chaumet jewels, Africa provides the spark for a surprising new collection from the Place Vendôme jeweller including the Talismania ebony bracelet with sugar-loaf cut rubellite and lapis lazuli as well as turquoise and lapis lazuli rings.

Les Mondes de Chaumet  Talismania bracelet evokes not just the large and generous volumes of African art but also its colours thanks to the sugarloaf-cut turquoise and ebony but also the patterns as found in the Agaseke wicker work of Rwanda.

Immediately recognisable as African jewellery, Chaumet captures the spirit of Maasai tribal jewels and re-interpreted in precious gem beads including spinels, emeralds, sapphires and mandarine garnets.

Fit for an African queen, Chaumet's Cascades Royale emerald and onyx earrings combine the house speciality of knife-edge settings with a distinctly African aesthetic in a classic Art Deco colour combination.

No jewellery collection celebrating Africa would complete without ants. This charming brooch that can be turned into earrings, features lapis lazuli, spinels and sapphires and was made in collaboration with Kenyan artist Evans Mbugua.

Les Mondes de Chaumet Cascade Royale transformable necklace inspired by the head dresses worn by the Queens of Rwanda and made from carved black onyx, diamonds and Colombian Muzo emeralds.