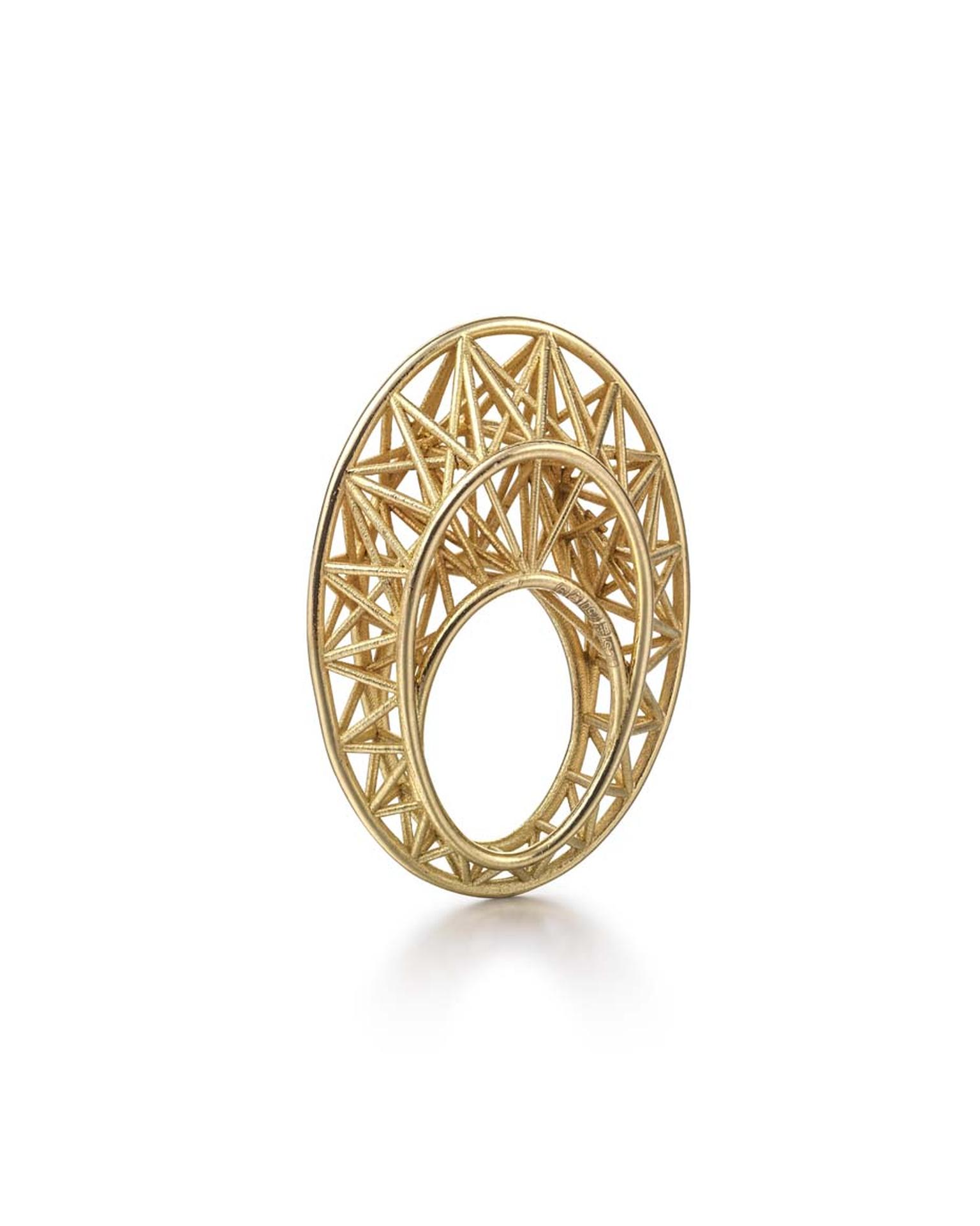 By Åse Anderson in London 
The expression "gilded cage" springs to mind when viewing these architectural jewels that incorporate striking interwoven designs and geometric structures.
But rather than having their freedom curtailed, the creators of these jewels - with their futuristic undertones and graphic shapes inspired by urban landscapes - are at the very forefront of innovation.
German jeweller Tom Rucker was one of the first to invest in a laser-welding machine especially designed for jewellery making. Deceptively light, his cleverly constructed jewels are made from hundreds of fine gold or platinum wires linked together to form intricate looking nests. Tom has received many international awards for his work and was selected to take part in a special showcase curated by renowned architect Zaha Hadid at this year's Goldsmiths' Fair.
Another jeweller to feature in Zaha's showcase was Jennifer Saker, whose work is heavily influenced by modern architecture and engineering. One of the first UK jewellery designers to use rapid prototyping to scale down architectural shapes to human proportions, Jennifer's jewels balance striking lines with gentle curves.
Known in the industry as "the architectural jeweller", Ute Decker hardly needs any introduction to regular readers. Her wearable sculptures combine minimalist dynamic forms with beautiful surface textures. Tying in neatly with the caged trend, Ute describes her pieces as "jewellery that can be inhabited" rather than just reinterpretations of real-life buildings. A leading proponent of ethical jewellery, she was also one of the first in the world to create a collection in Fairtrade and Fairmined gold. 
Established only four years ago, Roule & Co. creates bold yet feminine pieces using its signature wireform technique. The New York-based husband and wife team describe their voluminous jewels, which are inspired by both nature and architecture, as "heirlooms from the future".
Born in Hong Kong, Nicholas Lieou was an apprentice for designers such as Shaun Leane, Philip Treacy and Lara Bohinc, before launching his eponymous collection. Divided into two collections- Maximalist and Minimalist - Nicholas' obsession with linear symmetry and love for Art Deco classicism shine through in his work. The Vertigo collection with its graphic and austere shapes - inspired by the skyscrapers of New York City - sits firmly in the Minimalist camp.
Angular and graphic, these jewels are strikingly contemporary, but the caged jewel trend is not new. In 1941, Verdura created a Caged ring for style icon Dorothy Paley Hirshon that has become a design classic. The ring, crafted in rose gold and aquamarine, is now part of Verdura's "museum collection" of vintage jewellery but is still sold today, with the cages capturing different gems in a multitude of cuts, including rock crystal and citrine. In 2014, Verdura created a new Caged jewel for its 75th anniversary collection - a big, bold statement cuff filled with Herkimer diamonds that jangle gently on the wrist.
With all the talk about geometry, mathematics and symmetry, these jewels may sound incredibly complicated but, in fact, the clean lines and measured proportions make them not only beautiful to look at but also very easy to wear. 
Roule & Co. yellow gold caged Globe pendant with emeralds.

Roule & Co. wire caged white gold Triangle bangle containing rainbow sapphires.

Roule & Co. Triple Geo earrings in yellow gold with yellow sapphires.

Tom Rucker Geo Alphasphere necklace in platinum and gold featuring 293 Vivid yellow and rare white diamonds totalling 2.86ct.

Tom Rucker Geo Eclipse earrings in platinum and gold featuring rare natural Fancy yellow diamonds and interchangeable South Sea pearls.

Tom Rucker's Geo Geosphere necklace was assembled from 26 laser-welded Platinum 950 balls, connected using 3D joints.

Tom Rucker Geo Shush transformable platinum and gold ring featuring 87 natural Fancy yellow diamonds.

Ute Decker Curvature III arm sculpture in fire patinated recycled silver.

Verdura Caged rings in yellow gold with rock crystal and citrine.

Verdura 75th Anniversary Collection Caged bracelet with rock crystal.

Jennifer Saker Draper gold ring.

Nicholas Lieou Vertigo collection yellow gold Grid stacked ring.