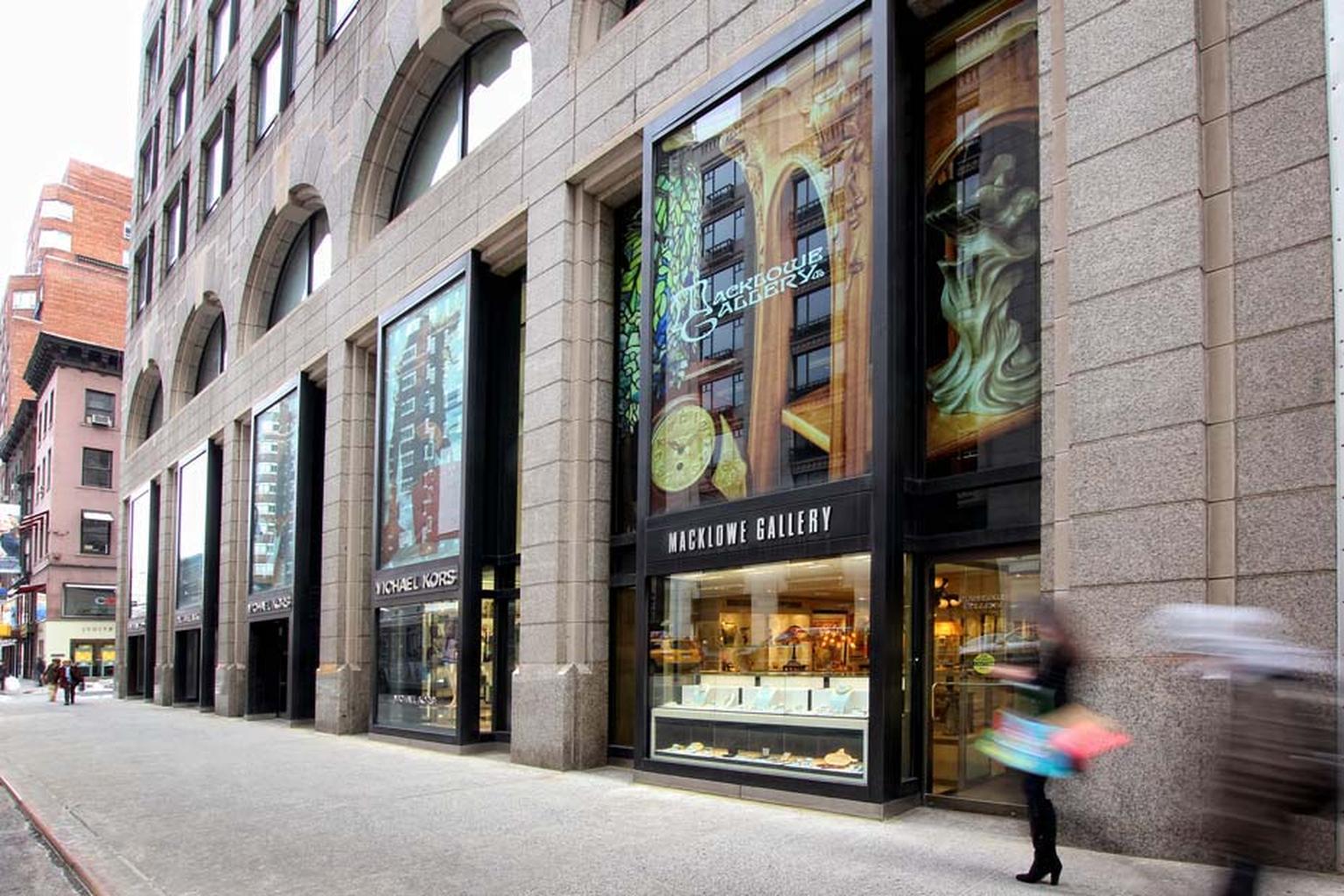 By Isabelle Kellogg in New York
Much can be said of the shopping experiences that New York City offers tourists and residents: it's excessive. Covering all the categories from discount to mass market to prestige, there is something for everyone and every budget. 
The same can be said for jewelry. Exciting, new jewelry designs and commissioned pieces are available for sale at fashion boutiques, department stores and jewelry salons, as well as from sidewalk vendors. But for jewelry connoisseurs and collectors of fine antique and estate jewelry with provenance and pedigree, nothing beats a stroll along the upper portion of Manhattan's affluent Madison Avenue, where an abundance of the finest dealers are located. The "cluster effect" of so many prestigious estate jewelers in the same vicinity sets the highest standards of quality and exquisiteness in this category.    
Here is a brief primer for estate jewelry. Anything that's pre-owned, is set in precious metal with flawless gems and can be identified by its manufacturer will command a high price.  As a term, antique jewelry is over 100 years old; estate jewelry means less than 100 years old.    
Top drawer dealers like James Robinson, Fred Leighton, Macklowe Gallery, Kentshire, Stephen Russell, Camilla Dietz Bergeron, Fiona Druckenmiller, the venerable A La Vieille Russie, and even the specialty department store Bergdorf Goodman, which has an estate jewelry section, vie for the same clientele and keep their eyes peeled at estate sales, auctions and, through discreet private client referrals, for authentic pieces signed by Van Cleef & Arpels, Cartier, Mauboussin, Boucheron, Chamet and others.  The term "jewelry chasing" is a phrase that I've coined to describe what goes on between private clients and dealers who are always hunting down a specific piece for a customer or for their own collection.   
Some of the New York-based dealers that are highlighted also exhibited at the annual International Fine Arts and Antiques show in New York. The rationale behind this is, while clients are browsing for a specific piece of period furniture, they might stumble upon a lovely piece of jewelry for sale.   
The largest emporium of antique and estate jewelry is Fred Leighton, which started out in Manhattan's Greenwich Village before moving uptown in 1984. Renowned for an impressively broad collection of jewelry spanning the Georgian and Victorian eras, as well as Edwardian and Art Deco into the 20th century, the abundance of jewelry is staggering and well worth a visit - it's both educational and eye-popping. Diamond tiaras are one of the hallmarks of Fred Leighton.
Macklowe Gallery offers the visitor a delightful appreciation of Tiffany lamps and jewelry from the English Victorian era, plus American jewelry stars like Raymond Yard and Harry Winston. Just a few doors uptown, on Madison Avenue, is Kentshire, which opened at Bergdorf Goodman in 1988. Established in 1940 and spanning three generations of family ownership, Kentshire Galleries is one of the foremost dealers of fine period and estate jewelry.  They opened a second boutique on Madison Avenue in 2007 and adhere to a dogma of excellence of design, fine workmanship and authenticity when selecting their jewelry.
Stephen Russell, which offers "jewels of distinction", is another outstanding dealer with a storefront on Madison Avenue. Carefully vetted and selected jewelry from the Victorian, Edwardian, Art Deco and retro periods make up the majority of its collection. Pieces are nothing short of exquisite, such as the iconic emerald tassel necklace.   
Camilla Dietz Bergeron is situated in an elegant salon and was founded in 1987. Known for its antique, period and estate jewelry, the salon offers an extensive collection of one-of-a-kind pieces that reflects Camilla's view of today's woman, who has a variety of needs both professionally and socially. Special pieces are offered at various price points from masters such as Cartier, Van Cleef & Arpels, Paul Flato, Jean Schlumberger, Verdura and David Webb.  "I love to search for that one-of-a-kind piece-the pearl in the oyster," says Camilla. "Chic isn't some kind of formula; chic just is."
"I opened FD because, as a jewelry collector, I could never find one place that met all my needs," explains Fiona Druckmiller, founder of FD Gallery, located on a side street off Madison Avenue. Exceptional 20th century jewels from prestigious jewelry houses include iconic pieces such as Cartier Tutti Frutti and Panther jewels, alongside Van Cleef & Arpels and an exclusive collection from contemporary designers Hemmerle and Viren Bhagat, as well as modern creations by Taffin, JAR, Wallace Chan, Boivin, Suzanne Belperron and Paul Flato.
A La Vieille Russie, which was founded in Kiev in 1851 then relocated to Paris in 1920, staked its claim at the intersection of 59th Street and Fifth Avenue in 1941. For those interested in Russian history, a visit to A La Vieille Russie will not disappoint.  Known for fine art and antiques, this dealer is considered the foremost expert on works by Carl Fabergé due to the fact that the jeweler was a client. European and American antique jewelry, as well as a collection of delightful 18th century European gold snuff boxes, complete the collection of antique Russian fine and decorative art.
One final note. As if by chance, Manhattan's estate jewelers rub shoulders with some of the world's brightest names in high jewelry along Madison Avenue and the side streets between Fifth and Park Avenues, including Graff, Chopard, Leviev, Chanel, Solange Azagury-Partridge, Marie-Helene de Taillac, Tamsen Z, Munnu Gem Palace, among others. This concentration of priceless baubles indicates that there are enough precious jewels of any age to go round.  
Camilla Dietz Bergeron Gallery's yellow gold, diamond and fancy colored diamond heart shaped necklace signed Bulgari circa 1980's.

Macklowe Gallery's French mid-20th century gold necklace with 33 round diamonds.

Macklowe Gallery's Indian inspired gold, ruby and diamond ring by Van Cleef & Arpels, featuring a 3.75ct center, surrounded by 38 diamonds and and 16 rubies.

Cartier's Art Deco platinum and diamond ring with pearls, available at the Macklowe Gallery in New York.

Stephen Russell Gallery's platinum diamond and natural pearl tassel necklace with 22 briolettes totalling 8.30ct.

Stephen Russell Gallery's white gold and aquamarine bead bracelet by & Aqua Bead Bracelet by Suzanne Belperron.

New York Gallery Stephen Russell's platinum earrings with aquamarines, diamonds and black enamel.

Available at Macklowe Gallery in New York is this French mid-20th century gold bracelet composed of multi strands of smaller twisted gold rope in a braided motif.

Natural pearl and diamond necklace by Jules et Paul Bapst, circa 1885, available at Fred Leighton in New York.

19th century diamond, ruby and pearl bird aigrette hair ornament with feathers, sold at Fred Leighton's store in Manhattan.

Yellow gold and diamond undulating fringe necklace by Cartier, circa 1950s, sold by Fred Leighton.

Yellow gold and aquamarine cuff bracelet by Rene Boivin, circa 1940s, sold at Fred Leighton in New York.