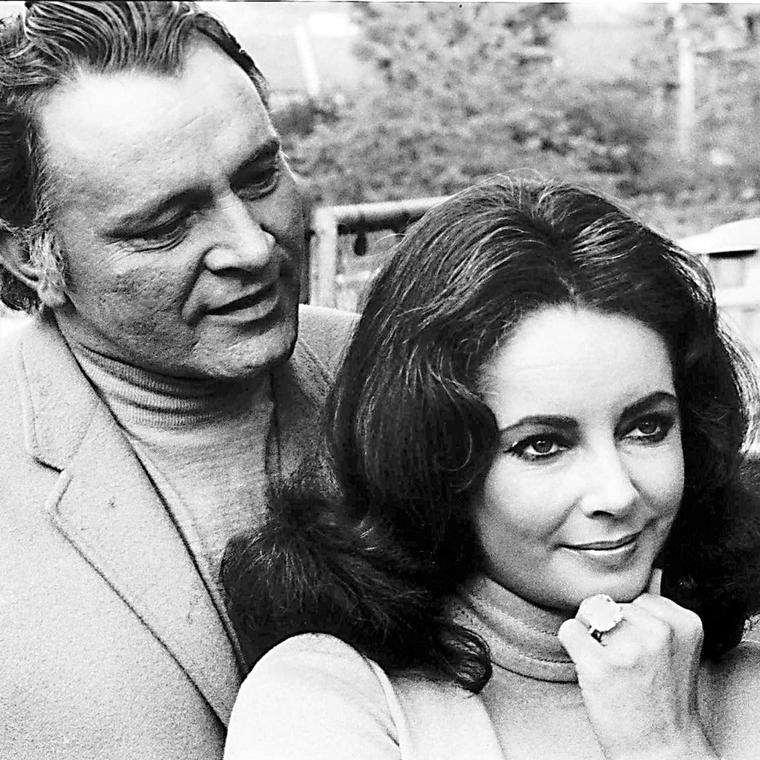 Elizabeth Taylor's romances paralleled her passion for jewelry. Taylor's third husband, American theater and film producer Mike Todd, was devoted to his beautiful wife. "You're my Queen," he said, "and I think you should have a tiara." She wore the diamond tiara at the screening of Around the World in 80 Days at the Cannes Film Festival in May 1957 and two months earlier at the Academy Awards in Los Angeles. When Taylor and Todd were in Paris, he bought her a pair of beautiful antique paste chandelier earrings she had asked for in a shop on Place Vendôme. A couple of months later, back in New York, Taylor said they felt different on her ears. Always wanting to dazzle her, she discovered that Todd had recreated them with real diamonds as a surprise. Taylor was overjoyed.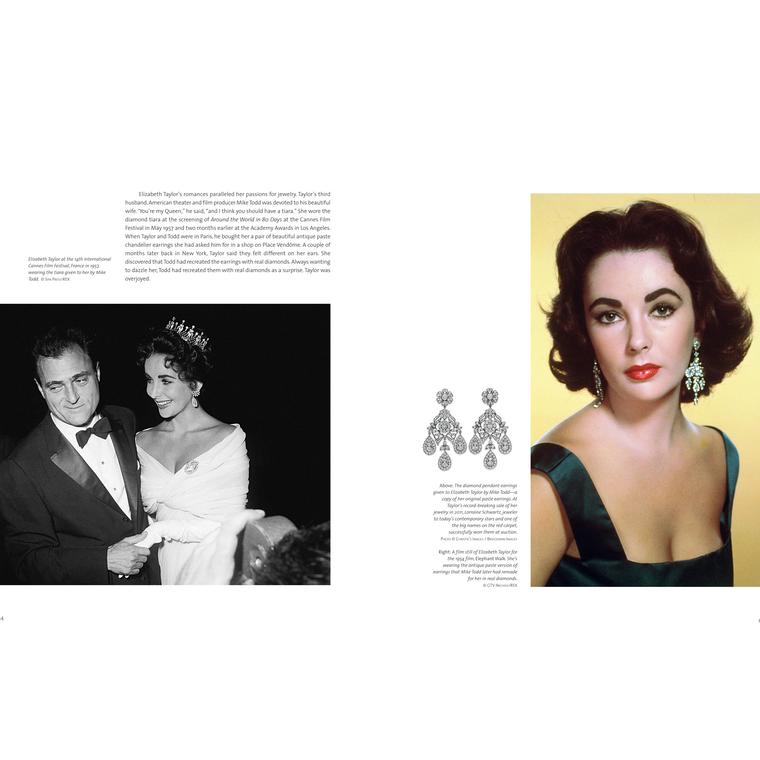 After Taylor met and married Richard Burton, he gave her some of the most famous and beautiful jewels in the world. The couple celebrated Taylor's 40th birthday in Budapest and her gift from Burton was a heart-shaped yellow diamond from Cartier. Burton purchased the diamond mounted as a pendant in a gold-braided tassel necklace, which was originally a gift from the Shah Jahan in 1621 to his favorite wife, the queen who inspired the Taj Mahal. Thus, it was called the Taj Mahal diamond. Cartier replicated the look of the original chain with diamonds, rubies and gold braiding. Burton joked with Taylor that he intended to buy her the Taj Mahal but it was too big to move to their home in Switzerland. He got her the jewel instead.
See more of Elizabeth Taylor's Cartier jewellery
Burton purchased diamonds for Taylor on other, less conventional occasions. In her book My Love Affair with Jewelry, she reveals that both she and Burton liked to engage every now and then in a good match of ping-pong. During one game, Burton told Taylor that if she could get 10 points off him, he would give her a perfect diamond. He lost. She won. It was time to go shopping. Burton found the smallest perfect diamond ring weighing an eighth of a carat, along with two other small diamond rings. This was around the time that he had bought the "Taylor-Burton" diamond. The couple had a private joke. When someone would say: "What a magnificent diamond," Taylor would wiggle her little finger, on which she wore the ping-pong diamond, and say, "Isn't it beautiful?" At the Christie's sale in 2011, all three diamond rings Taylor won in that ping-pong game went way above their $5,000 to $7,000 estimate, garnering $134,500.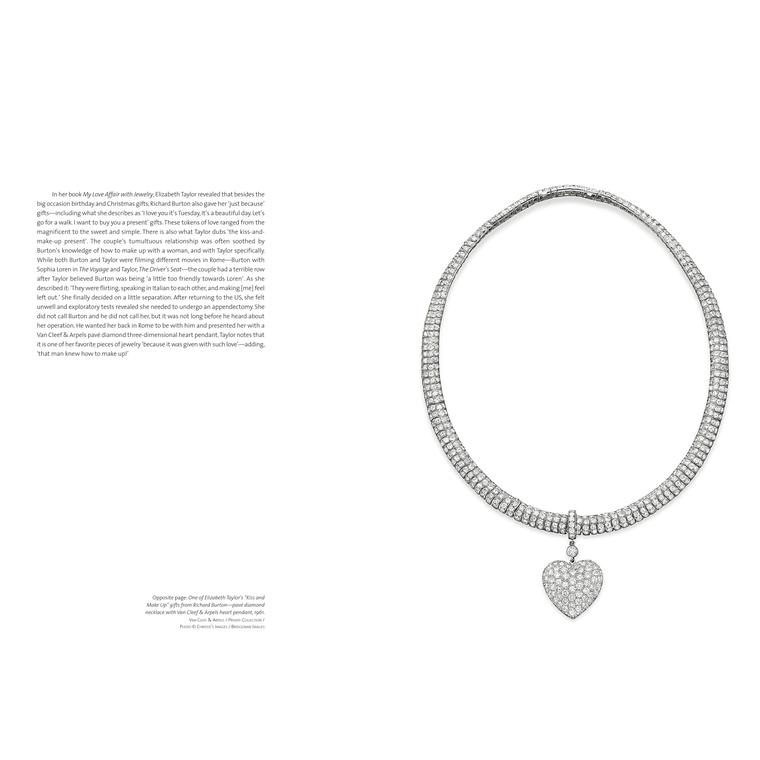 In her book, Elizabeth Taylor also revealed that besides the big occasion birthday and Christmas gifts, Richard Burton gave her "just because" gifts - including what she describes as "I love you, it's Tuesday. It's a beautiful day. Let's go for a walk. I want to buy you a present" gifts. These tokens of love ranged from the magnificent to the sweet and simple. There is also what Taylor dubs "the kiss-and-make-up present". The couple's tumultuous relationship was often soothed by Burton's knowledge of how to make up with a woman, and with Taylor specifically. While both Burton and Taylor were filming different movies in Rome - Burton with Sophia Loren in The Voyage and Taylor, The Driver's Seat, the couple had a terrible row after Taylor believed Burton was being "a little too friendly towards Loren". As she described it: "They were flirting, speaking in Italian to each other, and making [me] feel left out." She finally decided on a little separation. After returning to the US, she felt unwell and exploratory tests revealed she needed to undergo an appendectomy. She did not call Burton and he did not call her, but it was not long before he heard about her operation. He wanted her back in Rome to be with him and presented her with a Van Cleef & Arpels pavé diamond three-dimensional heart pendant. Taylor notes that it is one of her favorite pieces of jewelry "because it was given with such love" - adding, "that man knew how to make up!"
Read more about Elizabeth Taylor's iconic jewellery collection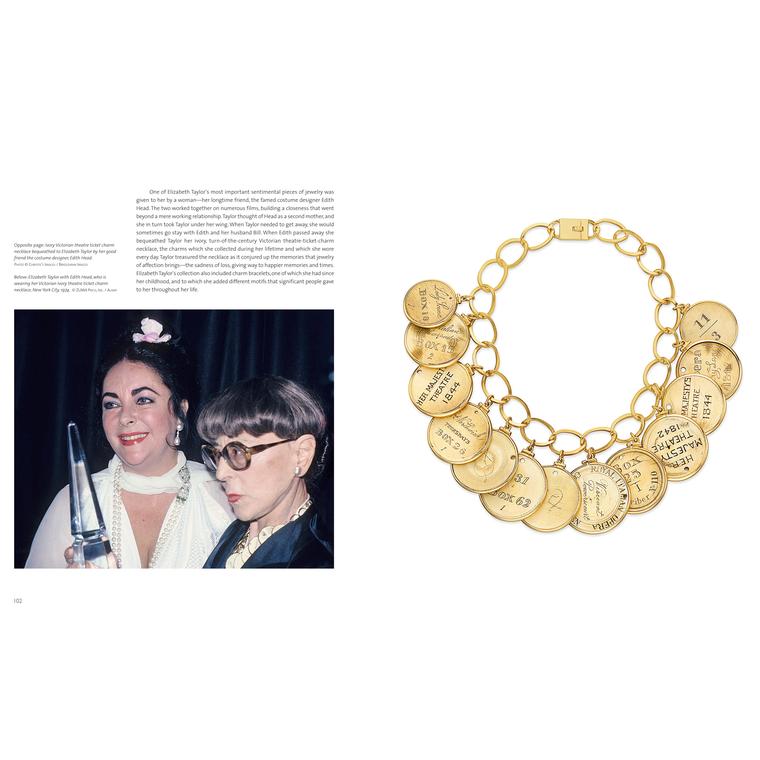 One of Elizabeth Taylor's most important sentimental pieces of jewelry was given to her by a woman - her long-time friend, the famed costume designer Edith Head. The two worked together on numerous films, building a closeness that went beyond a mere working relationship. Taylor thought of Head as a second mother, and she in turn took Taylor under her wing. When Taylor needed to get away, she would sometimes go stay with Edith and her husband Bill. When Edith passed away she bequeathed Taylor her ivory, turn-of-the-century Victorian theatre-ticket-charm necklace, the charms which she collected during her lifetime and which she wore every day. Taylor treasured the necklace as it conjured up the memories that jewelry of affection brings - the sadness of loss, giving way to happier memories and times. Elizabeth Taylor's collection also included charm bracelets, one of which she had since her childhood, and to which she added different motifs that significant people gave to her throughout her life.
An excerpt from If These Jewels Could Talk: The Legends Behind Celebrity Gems, by Beth Bernstein, published by ACC Art Books, November 2015 (£50; find out more here).
Beth Bernstein recalls in her book, If These Jewels Could Talk, how Elizabeth Taylor's third husband, Mike Todd, gifted her a diamond tiara after stating "You are my Queen, and I think you should have a tiara".

In the excerpt from Beth Bernstein's book, the author explores iconic pieces of Elizabeth Taylor jewelry, including the Cartier Taj Mahal necklace given to her by Richard Burton for her 40th birthday.

This Van Cleef & Arpels pavé diamond heart pendant, circa 1961 - as pictured in Beth Bernstein's book - was one of Elizabeth Taylor's "kiss-and-make-up" gifts from Richard Burton. It was one of Taylor's favourite pieces of jewelry. "That man knew how to make up!" she is quoted as saying in Beth Bernstein's new book, If These Jewels Could Talk.

One of Elizabeth Taylor's most sentimental jewels was this ivory Victorian theatre-ticket-charm necklace, pictured in Beth Bernstein's new book, If These Jewels Could Talk, bequeathed to her by her good friend, the costume designer Edith Head.

Throughout their relationship, Richard Burton showered Elizabeth Taylor with many notable jewels, including the Krupp diamond ring she is pictured wearing here. Copyright: Alamy.