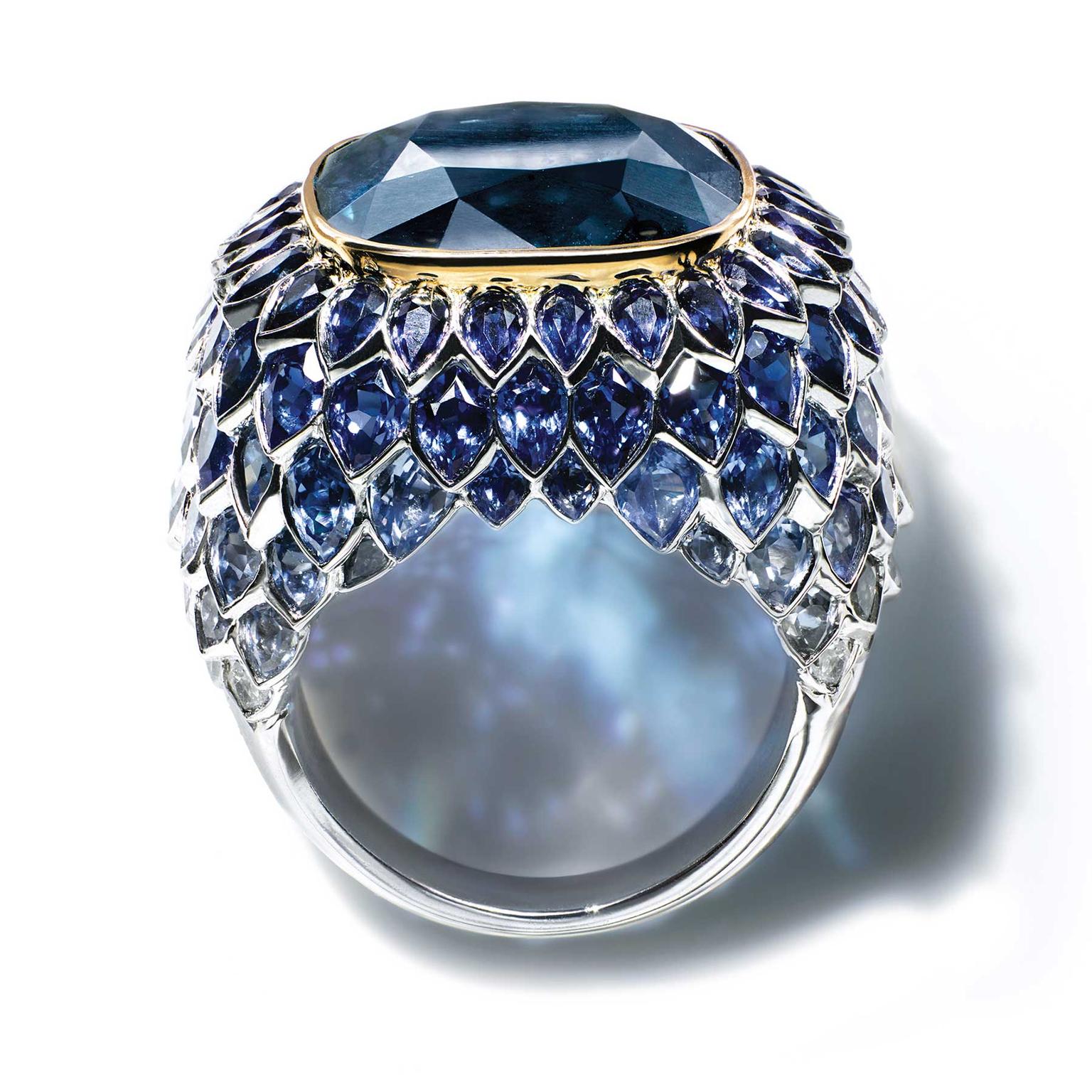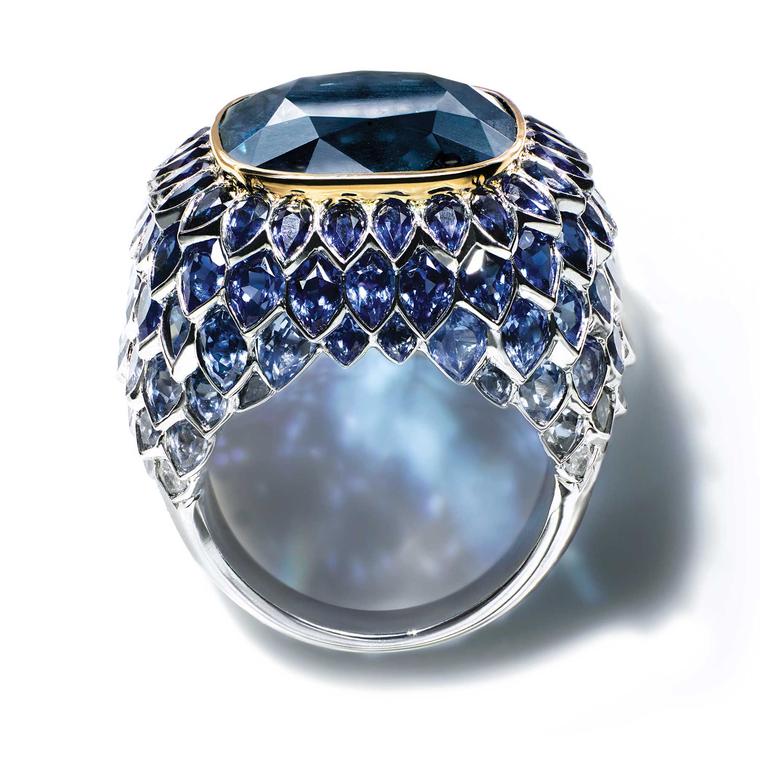 Naming my favorites from the thousands of jewels I was lucky enough to see, wear and generally ogle over in 2015 was no easy task. It was a memorable year in America for color and creativity, and it's no coincidence that, without exception, my selections are a gorgeous combination of the two.
Attending the Academy Awards is always a glamorous treat and wearing Arman Sarkisyan's red-carpet-ready opal ring made it even more special. The long, ocean-deep opal surrounded by large rose-cut diamonds were enough to distract me from the show.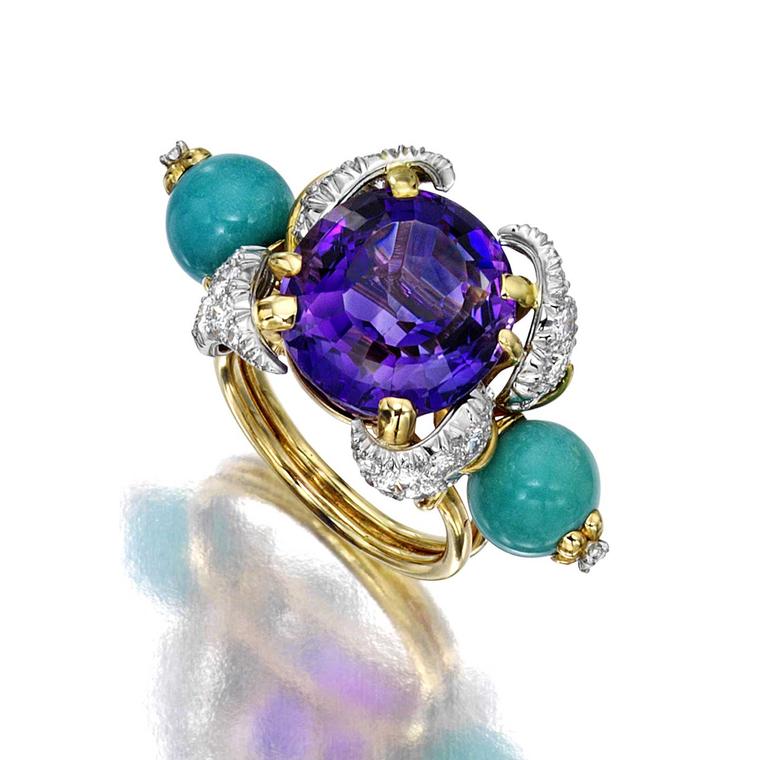 The Hollywood theme continued in March with the Bonham's auction in New York of the estate of the late, great Lauren Bacall. Her eclectic collection of jewelry included a number of pieces by French designer Jean Schlumberger. The exuberant design and mix of amethyst and turquoise in one particular ring recalls mid-century glamour in a heartbeat. Estimated to achieve $8-12,000, the hammer eventually came down at an impressive $52,500.
In April, Tiffany made the headlines with its star-studded party celebrating The Art of the Sea - its latest Blue Book collection. This outstanding collection of ocean-inspired Tiffany jewelry by recently appointed design director Francesca Amfitheatrof included a dramatic ring, which centers on a deep blue tourmaline surrounded by cresting waves of sapphires and diamonds.  
Also making the headlines that month was the exquisite 100.20 carat emerald-cut diamond auctioned by Sotheby's New York on April 21. This classic Art Deco cut recalled Manhattan's early skyscrapers and achieved new heights for New York jewelry auctions with a final price of $22.1m - the highest price ever achieved for a colorless diamond in the city.
May of course means the Couture Show in Las Vegas, and this year's event did not disappoint. Arunashi's stand took our breath away with Arun Bohra's selection of sophisticated designs and outstanding gemstones, such as this rare and mesmerizing ruby of his sculptural orchid cuff.
Fabulous necklaces were aplenty but another favorite for me was Yossi Harari's elegant, sexy Lace collar in blackened gold and black and white diamonds.
In the latter part of the year, the opening of the Belperron salon was October's highlight. The elegant Fifth Avenue space is the perfect setting for the jewels of one of the 20th century's greatest designers.
From the archive pieces to the modern interpretations of her iconic designs, I would happily have taken it all home with me but I have a particular yearning for her artichoke ring where an icy-white diamond nestles in the warmth of yellow gold and smoky quartz.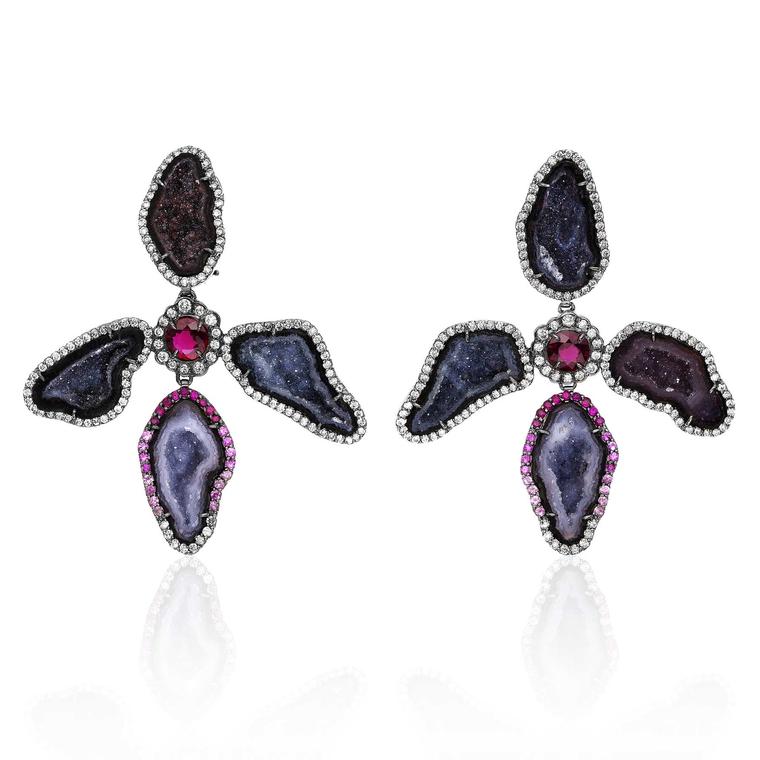 The year ended with a bang with the much-anticipated opening of the new jewelry salon at Bergdorf Goodman. To celebrate the luxurious new space, many of the department store's designers, including Nikos Koulis, David Webb and Stephen Webster collaborated with Gemfields on an exclusive collection of emerald and ruby gems. My favorites were Kimberly McDonald's orchid earrings that embodied her passion for both the natural world and organic gemstones, as well as her eye for color.
All this reminiscing about fabulous jewels, colored gemstones and record-breaking auctions makes me excited to see what 2016 has in store.
Jean Schlumberger was one of Lauren Bacall's favorite jewelers. Bonham's sold her amethyst, turquoise and diamond ring for $52,500.

The Sotheby's auction was led by an extraordinary 100.20ct "Perfect Diamond" in a classic emerald-cut, which sold for $22.1 million.

Suzanne Belperron smoky quartz, gold and diamond "artichoke" ring, which is based on her archive designs ($127,500). 

Kimberly McDonald Orchide earrings featuring Gemfields rubies, diamonds and pink sapphires set in white gold with black rhodium. 

Tiffany's Blue Book 2015, The Art of the Sea, features a large, cushion-cut blue tourmaline ring set in platinum and gold ($150,000).