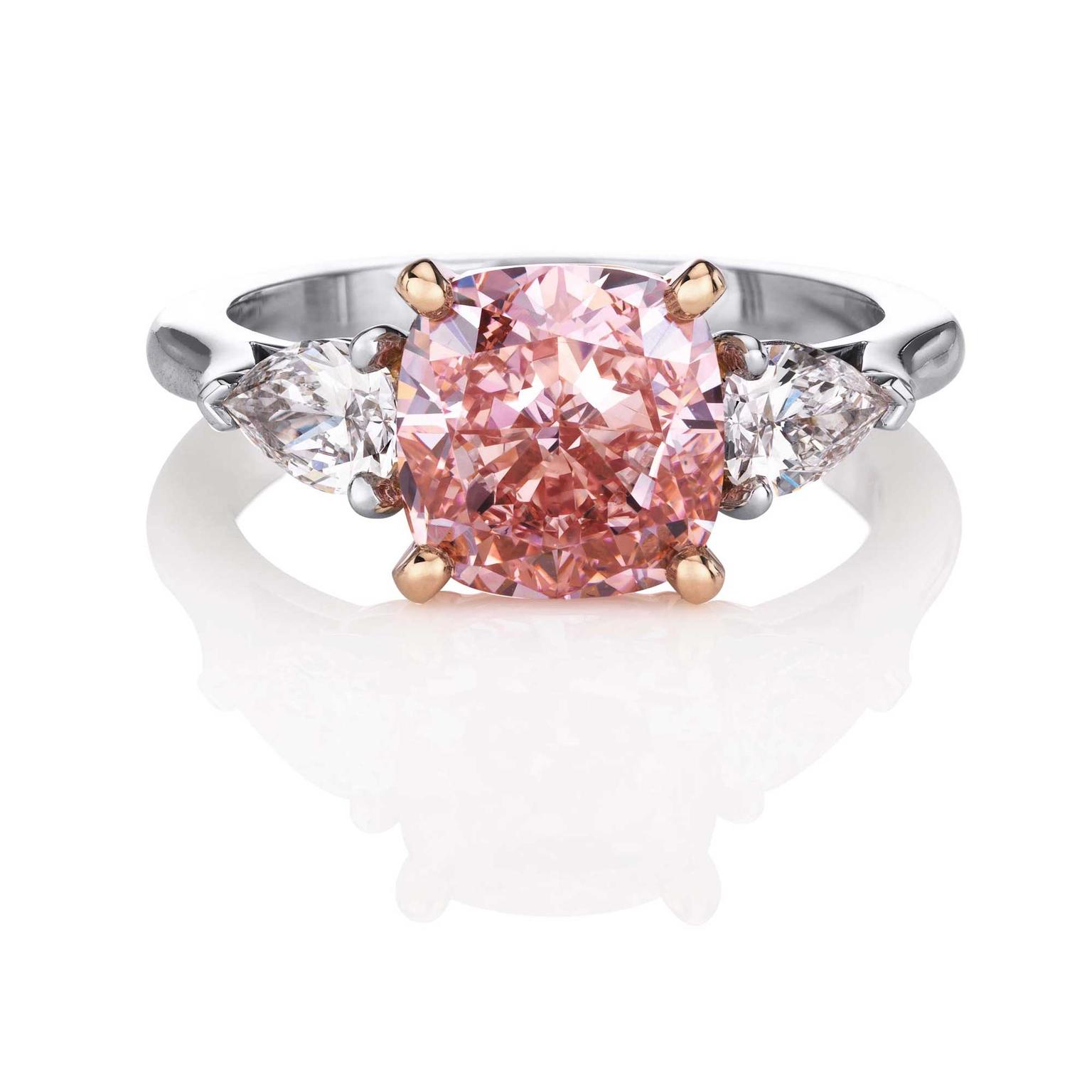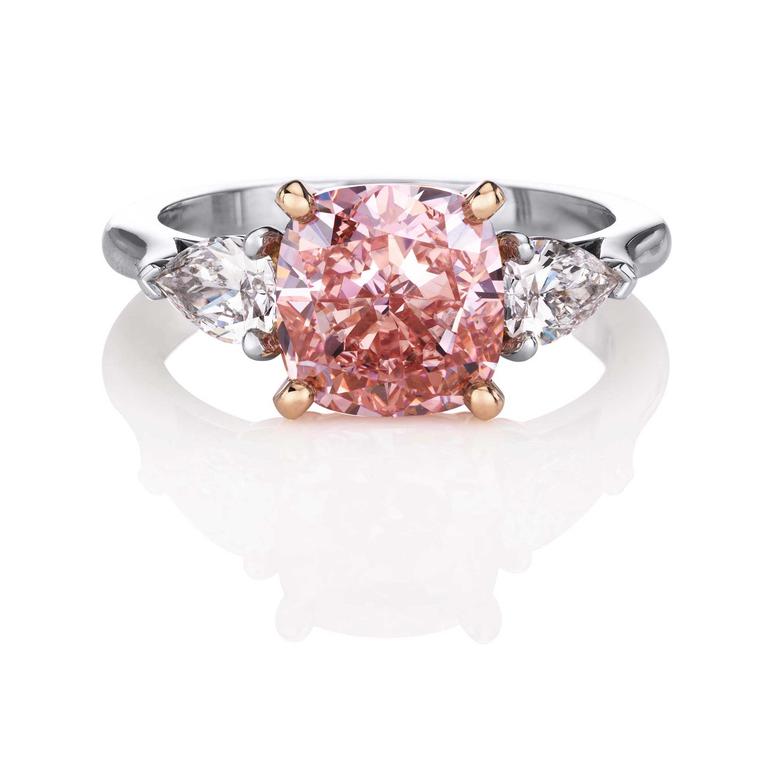 From vintage-inspired to ultra-modern, and from traditional diamonds to gemstones in all colours of the rainbow, when it came to engagement rings the message in 2015 was that anything goes.
Brides-to-be were spoilt for choice like never before with plenty of unique engagement rings launched by the big jewellery houses and smaller independent designers. Choosing our favourites from the last 12 months was no easy task, but here, in no particular order, are our top 10 engagement rings of 2015.
1. Chaumet
First introduced in 2011, the Joséphine range of Chaumet jewellery has quickly established itself as one of the Maison's most coveted and instantly recognisable styles. Last year saw the introduction of the Joséphine Aigrette collection, inspired by the bejewelled headdresses worn by women in the Roaring Twenties. The Joséphine Aigrette Impériale 2ct engagement ring features a spray of six diamonds around a pear-cut centre stone with further diamonds on the platinum band.
Read more on the Chaumet Empress Joséphine high jewellery collection
2. Boodles
Why settle for one diamond when you can have two? In this Boodles engagement ring from the new Pas de Deux collection, two Ashoka-cut diamonds are gracefully balanced between two platinum bands creating a unique ring that is sure to capture attention wherever you go. Boodles is the only British jeweller to offer the 62-facet Ashoka cut, which is renowned for its amazing sparkle.
3. De Beers
As rare as they are beautiful, pink diamond engagement rings make a beautiful statement, if your budget allows. The 1888 Master Diamonds ultimate engagement rings from De Beers combines the very finest diamonds with unusual cuts and creative designs to enhance the beauty of each gemstone. This pink diamond engagement ring features a cushion-cut centre stone with two pear-cut white diamonds on the shoulders.  
4. Tiffany & Co.
When it comes to Tiffany jewellery, the diamond solitaire is perhaps the ultimate classic engagement ring and now it is available with a rose gold band. Made by mixing yellow gold with a touch of copper, rose gold is flattering for all skin tones and the warm tone also emphasises the sparkle of the diamond, whatever its size.
Read more on Tiffany rose gold engagement rings
5. Nikos Koulis
Last year saw the launch of the first collection of diamond engagement rings from celebrated Greek jewellery designer Nikos Koulis. Simply entitled Oui, the collection of modern, monochrome designs is perfect for brides who want to stand out from the crowd. My favourite is this ring set with an oval-cut diamond encased in black enamel and flanked by two emeralds.
6. Thomas de Montegriffo
For unique engagement rings that reflect your own individual style, consider commissioning a bespoke design. Paris-based jeweller Thomas de Montegriffo only creates one-off pieces, working closely with each client from start to finish and using diamonds with a minimum colour of D or E and a clarity of VVS2 or above.
7. Monique Péan
Based in New York City, Monique Péan creates gorgeous jewellery using sustainable and ethically sourced materials. This diamond engagement ring is made from recycled rose gold and set with a 3.83ct trillion-cut champagne diamond and white diamond pavé.
8. James de Givenchy
While diamonds remain the most popular stone for engagement rings, for brides who want to break with tradition there is a whole world of coloured gemstones to explore. A majestic purple sapphire takes pride of place in this ring from Taffin by James de Givenchy, which also features a band half-covered in cool, grey ceramic.
9. Graff
A marquise-cut diamond not only elongates the finger but, as an added bonus, it also gives the appearance of being bigger than a round diamond of the same carat weight. This Graff 1.12ct diamond engagement ring packs a colourful punch as the centre stone is mounted on a rose gold band set with pink diamonds.
Read more about pink diamond jewellery here
10. Fred Leighton
If you want a vintage-style design without having to trawl through endless antique shops, the new range of Fred Leighton engagement rings are exquisite. Featuring old diamond cuts that reference the timeless glamour of a bygone era, our favourite is a 4.61ct old mine-cut diamond engagement ring, with an intricate gold filigree band reminiscent of the Edwardian era.
Chaumet rings, like this all-diamond one from the new Joséphine collection, have become synonymous with tiaras - taking on their shape and elegance, but sitting gracefully on the finger instead. 

Two Ashoka-cut and bezel-set diamonds are nestled between handcrafted platinum bands in this Boodles engagement ring from the new Pas de Deux collection, inspired by the jeweller's collaboration with The Royal Ballet.

Thomas de Montegriffo bespoke diamond engagement ring. Thomas only uses diamonds that are D and E coloured or above, and with a minimum clarity of VVS2, all of which are made at his atelier in Place Vendôme in Paris.

Monique Péan recycled rose gold engagement ring, set with a 3.83ct trillion-cut champagne diamond and white diamond pavé.

Purple sapphire engagement ring in rose gold designed by James de Givenchy for Taffin.

Add some colour to your proposal with this rose gold marquise-cut diamond engagement ring from Graff with pink diamond shoulders (£POA).

De Beers cushion-cut Fancy Intense pink diamond engagement ring.