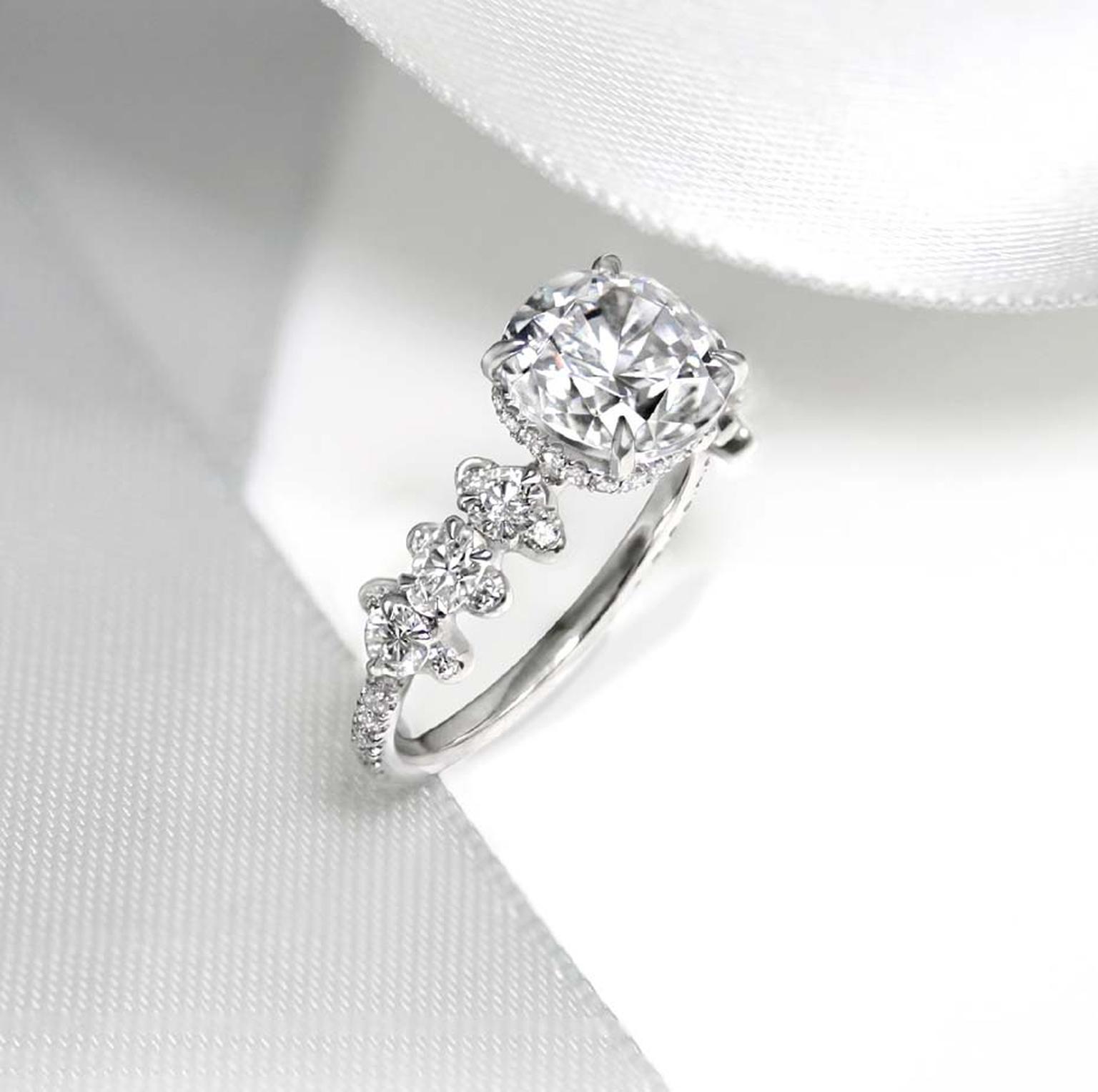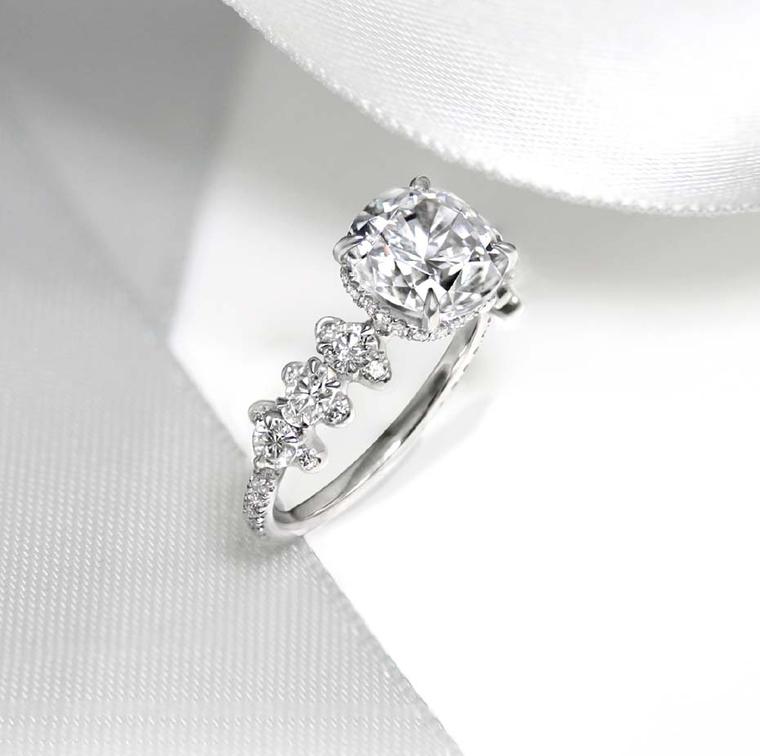 By Åse Anderson
The days when a man could saunter down to the local high street jeweller, with a month's wages in his wallet, and pick up a diamond solitaire ring before popping the question are long gone. Not only do more couples choose a ring together, but many women want a unique engagement ring that suits their style and taste.
From coloured gemstones to distinctive diamond cuts, when it comes to unusual engagement rings, the choice is seemingly endless. So to help make the experience less daunting, we have drawn up a list of the UK's top engagement ring designers.
We are incredibly lucky here in the UK to have so many talented jewellery designers on our doorstep. Jessica McCormack hails from New Zealand but is now based in a townhouse in London's Mayfair, where brides-to-be can browse her extensive selection of unique engagement rings in a sumptuous setting. All Jessica's show-stopping jewels are handmade in London and clients can choose from a range of designs, from romantic fairy-tale rings to modern, edgy creations.
Read more about the bridal experience at Jessica McCormack's London townhouse here
Award-winning jeweller Andrew Geoghegan creates beautiful engagement rings using only the best materials - from 18ct gold and platinum, to carefully selected diamonds and precious stones. Working from his studio in the heart of the Yorkshire countryside, Andrew has built a reputation as the go-to jeweller for those looking for luxury jewellery and elegantly timeless designs.
When it comes to buying an engagement ring, a white diamond is no longer the only choice of centre stone. From rubies and sapphires to semi-precious stones in an array of lustrous and vibrant hues, coloured gemstone engagement rings are rising in popularity. For engagement rings in a mouth-watering kaleidoscope of colours, London-based jeweller Ben Day should be your first port of call. His shop, located above his studio in trendy Spitalfields, is a cornucopia of coloured gemstone engagement rings in every shade of the rainbow.
If you want a truly unique engagement ring, it is worth bearing in mind that most jewellery designers will undertake private commissions to create a bespoke design especially for you. It is usually a more expensive option than buying from an existing collection, but if your budget allows, collaborating with a designer to create your dream ring is an incredibly rewarding experience.
Luxury jeweller Thomas de Montegriffo focuses solely on unique one-off pieces, which are designed to suit each client's specifications. Thomas says: "Even for the simplest designs, we start from scratch with each client and make sure that they are part of the journey from beginning to end. We firmly believe that every woman should have an engagement ring that is created exclusively for her." Thomas only uses diamonds that are D and E coloured or above and with a minimum clarity of VVS2, all of which are made at his atelier in Place Vendôme in Paris.
Tiny diamonds surrounding a central gemstone lends an engagement ring extra sparkle as well as being an eye-catching design detail. Having trained with a master diamond setter in Antwerp, Jessica Poole is one of only a few micro pavé setters in the UK. The London-based designer often uses lines of tiny stones to emphasise the fluid lines and soft curves of her engagement rings.
In recent years, ethical considerations have become increasingly important to couples buying an engagement ring. The work done by the Alliance for Responsible Mining and the Fairtrade Foundation has highlighted the plight suffered by many miners around the world and, in turn, raised awareness of jewellery crafted from Fairmined or Fairtrade gold. Since the launch of her eponymous jewellery brand five years ago, Hattie Rickards has become renowned for her unique engagement rings, often featuring colourful gemstones in bold settings. Her handcrafted ethical engagement rings are made using Fairtrade and Fairmined-certified gold as well as gemstones sourced from an ethical supplier.
View our gallery of ethical engagement rings here
In McCaul Goldsmiths' workshop in London's Exmouth Market, century-old equipment sits alongside cutting-edge technology, allowing brothers David and Barry McCaul to hand-forge the gold for their engagement rings before setting them with diamonds or coloured gemstones. One of their most popular designs is the Wrapover ring, which acts as a combined engagement and wedding ring.
If you're looking for an engagement ring that is strikingly different, make sure to check out Emma Franklin's bold, Art Deco-inspired rings. Unlike many designers, Emma doesn't just concentrate on the top part of the ring, but often sets stones along the side and base, as well as adding hidden details to the inside.
Combining her training in both jewellery-making and sculpture, Polly Wales shies away from glossy, magazine-ready perfection in favour of her own brand of "rough luxe" jewellery and her pieces are all the more beautiful for it. With an earthy, organic feel, Polly's breathtaking, one-of-a-kind engagement rings put the focus on unusual stones, such as antique hand-cut diamonds and coloured gemstones. 
Whether you are looking for a traditional or contemporary design, any of these top engagement ring designers will be happy to discuss your specific requirements to ensure you get the ring of your dreams.
Read more about how to buy an engagement ring here
Art Deco-style diamond engagement ring by Emma Franklin with four, large, flipped baguette-cut diamonds, white enamel lines, channel-set princess-cut diamonds, and two cabochon star sapphires.

Satellite Bridal diamond engagement ring by award-winning designer Andrew Geoghegan in platinum set with a 1ct diamond and accent stones.

Emma Franklin diamond engagement ring in yellow gold with channel-set diamonds on all surfaces, blue sapphires, and enamel lines in blue and white.

Hattie Rickards bespoke sapphire engagement ring in Fairtrade yellow gold set with pavé diamonds.

Hattie Rickards ethical engagement ring set with a pale green aquamarine and diamonds in Fairtrade gold.

Jessica McCormack Oval Diamond Trio engagement ring in yellow gold set with a 2.24ct oval-cut diamond mounted in a Georgian-style cut.

McCaul Goldsmiths Wave platinum engagement ring with round brilliant-cut white diamond. The ring forms part of a set with a fitted diamond-set wedding band.

Polly Wales Crowned Teardrop Halo diamond engagement ring in yellow gold, set with a teardrop-shaped diamond and grey brilliant diamonds.

Jessica Poole Double Jubilee Dress ring in white gold, micro pavé set with 1.05ct diamonds.

Thomas de Montegriffo focuses solely on bespoke one-off engagement rings, starting with sketches and gouaches before transforming them into a unique engagement ring.

Thomas de Montegriffo bespoke diamond engagement ring. Thomas only uses diamonds that are D and E coloured or above, and with a minimum clarity of VVS2, all of which are made at his atelier in Place Vendôme in Paris.