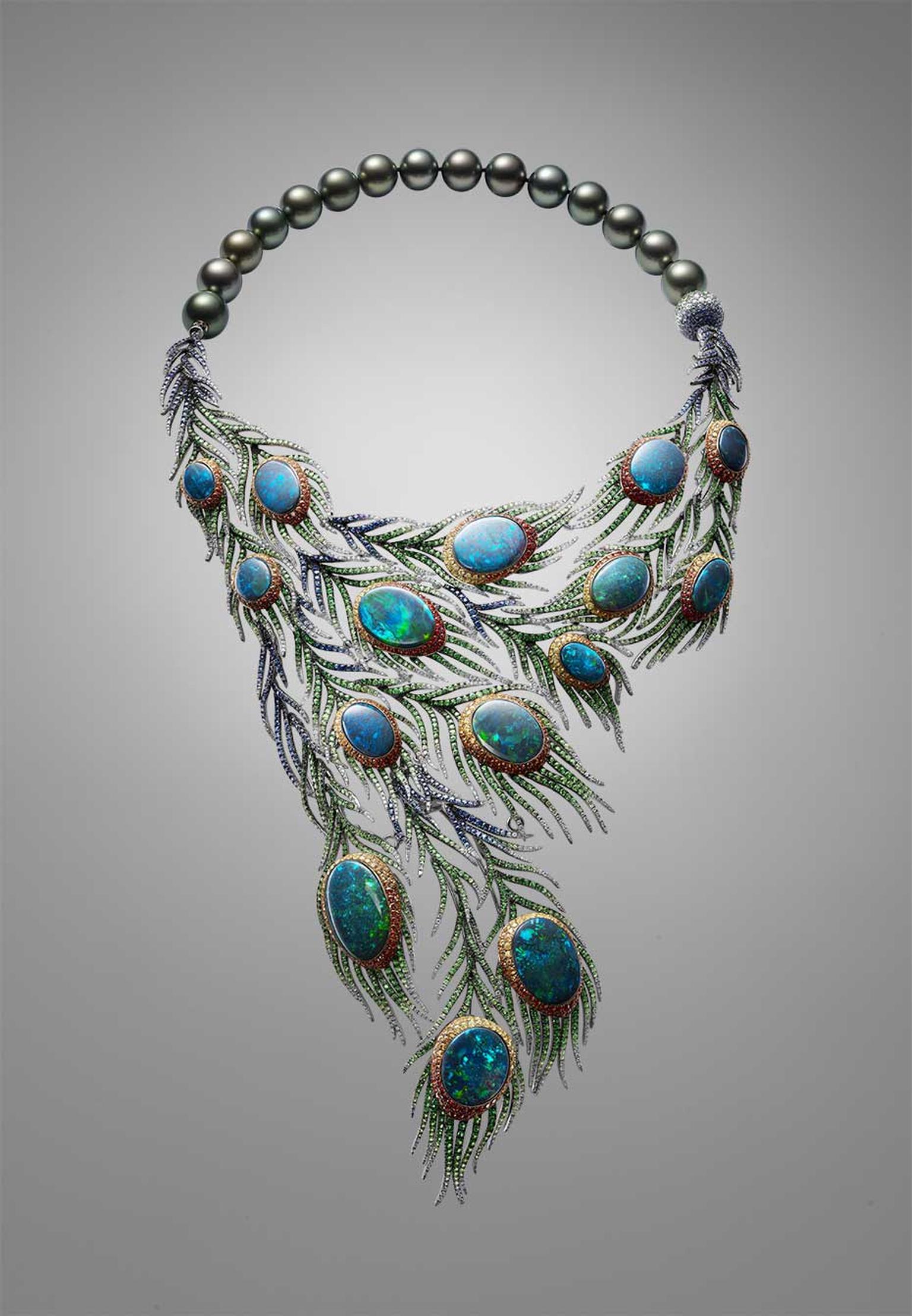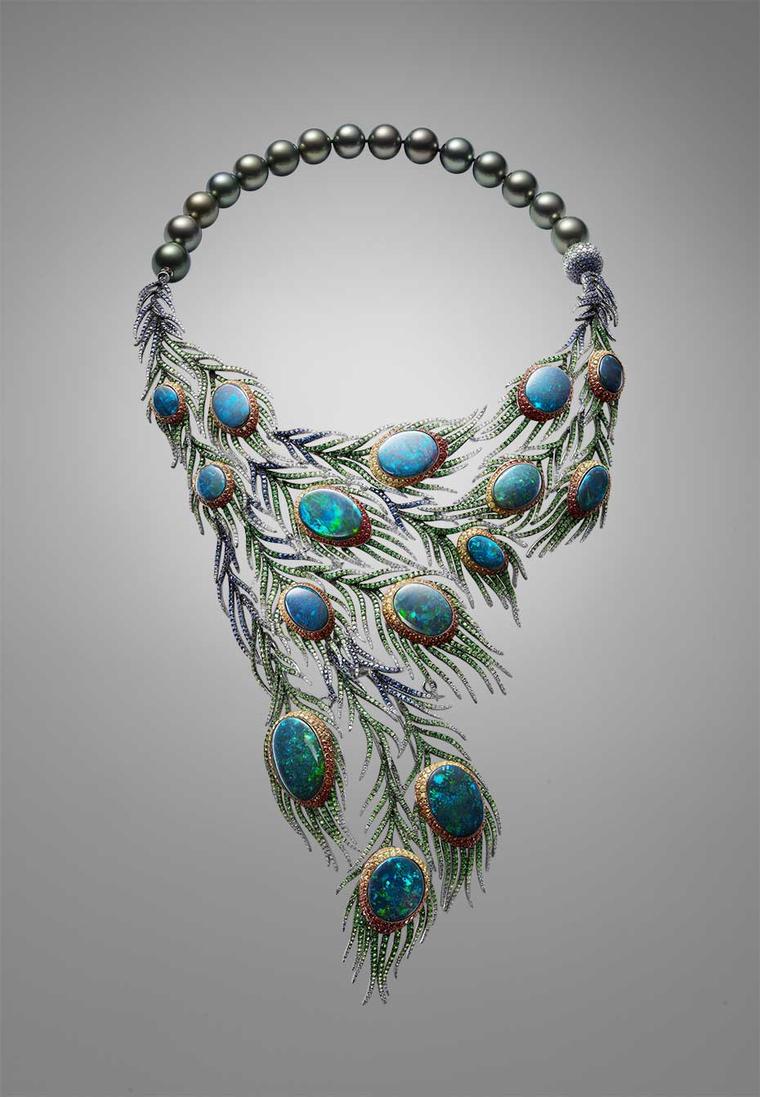 By Åse Anderson
Like a glamorous little black dress or a perfectly cut trench coat, a statement necklace is an essential ingredient in a capsule wardrobe. No other accessory has the same power to elevate an outfit into the fabulous category in the time it takes to fasten a clasp. This year there has been no shortage of mouth-watering jewels to feast our eyes on and picking out just a handful of the best statement necklaces was no easy task.
British jeweller Stephen Webster set the scene for a year of statement necklaces when he unveiled the rainbow coloured Magnipheasant necklace at Baselworld in March.
Model Cara Delevingne wowed onlookers at the Cannes Film Festival this year wearing a de GRISOGONO necklace featuring a gem-encrusted chimpanzee. The headline-grabbing It girl gave the necklace her own laidback twist by wearing it back to front.
Fast-forward a few months and the highly anticipated Biennale was rife with magnificent jewels that had been many months, or even years, in the making. Inspired by the way in which the light hits the ocean, the Chaumet Lumières d'Eau collection threw up an array of astounding statement pieces, including a fringed necklace shimmering with blue and yellow sapphires.
Giampiero Bodino made his debut at the Biennale with a collection bursting with one-of-a-kind jewels, including this intricately detailed flower necklace, which captures a spring garden in full bloom. And the Jewellery Editor team could also be found swooning over the magnificent Le Collier Bleu de Rêve blue diamond and emerald necklace that signalled Graff's return to the Biennale after a 12-year absence.
The resurgence of opals has been big news this year and the Plumes necklace by Alessio Boschi, with its cascading peacock feathers, is surely in the running for the year's ultimate statement necklace. Speaking of opals, one of the highlights of 2014 was discovering Australian jeweller Margot McKinney, whose stunning opal jewellery is quickly amassing a global fan base. This collier necklace with an 86.32 carat opal centre stone is typical of her bold, confident style.
When it comes to statement necklaces, 2014 will be a hard year to beat but we are confident that jewellery designers will pull out all the stops to impress us once again in 2015.
Graff's Le Collier Bleu de Rêve necklace features a 10.47ct Fancy Vivid Blue Internally Flawless briolette diamond, above which sits a stunning 4.22ct old-mine Colombian emerald. The necklace is composed of 192 faceted beaded diamonds.

Stephen Webster Magnipheasant necklace with amethyst, pink tourmaline, red garnet, blue topaz, peridot and citrine, each surrounded by a border of pavé black diamonds that emulate a pheasant's distinctive feathers.

Chaumet Lumières d'Eau high jewellery necklace in white and yellow gold set with an oval-cut blue sapphire from Ceylon of 10.23ct, a pear-shaped VVS1 Fancy Yellow diamond of 3.77ct, blue and yellow sapphires, and diamonds.

Cara Delevingne at de GRISOGONO's Eden Roc party in Cannes wearing a de GRISOGONO monkey necklace back to front in a contemporary take on a classic 1920s look.

The de GRISOGONO Chimpanzee necklace, set with 771 black diamonds, 247 yellow sapphires, white diamonds and a pear-cut blue sapphire, worn by Cara Delevingne to de GRISOGONO's Eden Roc party.

Margot McKinney collier necklace featuring an 86.32ct opal with a halo and links set with sapphires, tourmalines, peridots and diamonds.

Giampiero Bodino Primavera necklace in white gold featuring emeralds, amethysts, diamonds and black spinels. Image by: Laziz Hamani

Part of a suite that includes earrings, a bangle and a ring, Alessio Boschi's Plumes necklace takes the peacock tail as its inspiration and uses 15 black opals as the centrepiece of cascading and movable feathers.