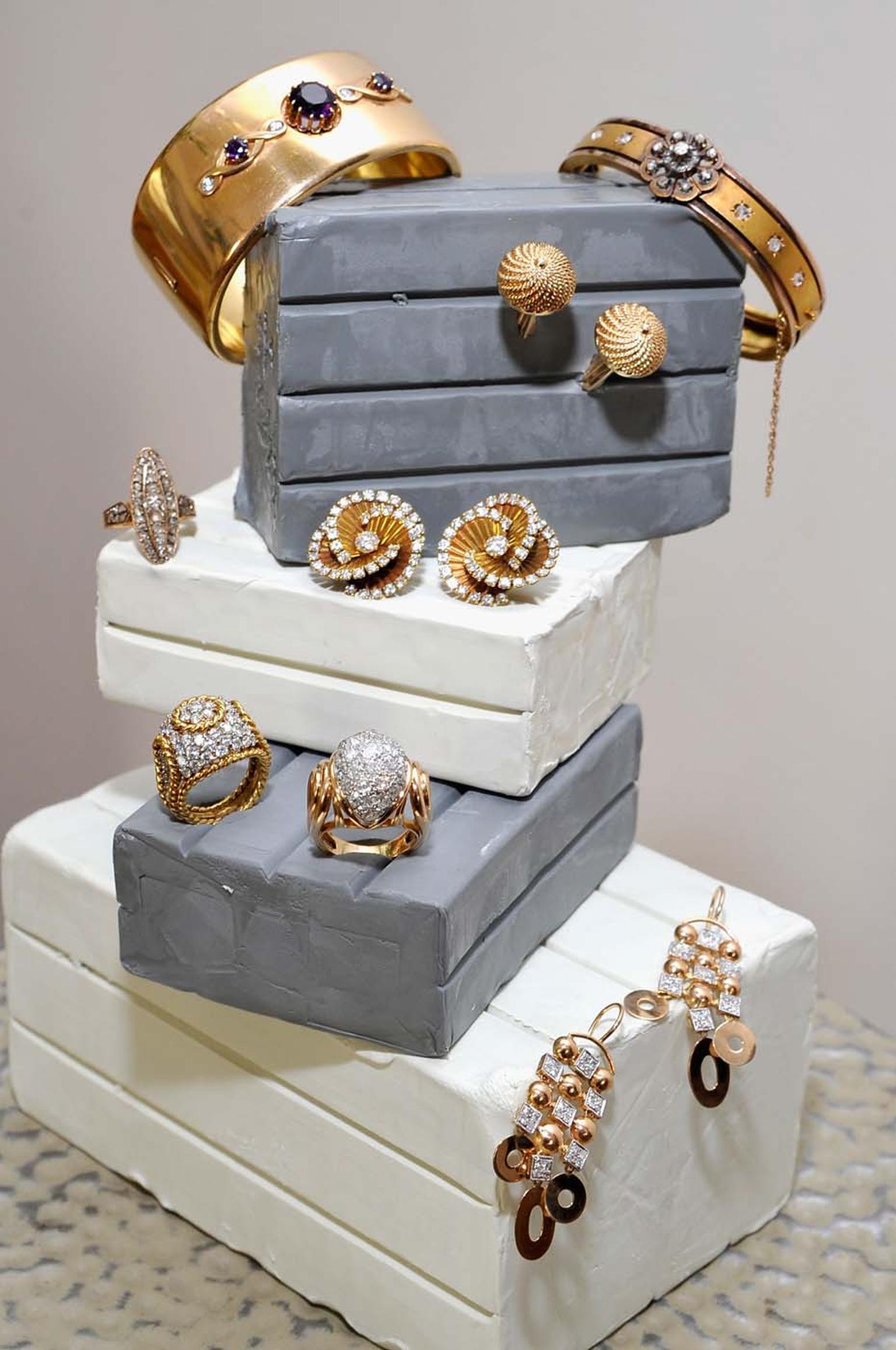 By Rachel Garrahan in Los Angeles
Los Angeles is abuzz right now with stylists - the people behind all those headline-grabbing red carpet looks - dashing around town to find the perfect gown and jewels for their clients at Sunday's Golden Globes. 
As well as showing off their wares at their boutiques on Rodeo Drive in Beverly Hills, many fine jewellery brands hold special events to attract the stylist's eye and ensure their pieces are worn by a star, or even better a nominee.
Bulgari kicked things off in December with a special dinner in honour of the industry's top stylists at Penthouse 64 of West Hollywood's iconic Chateau Marmont hotel. Guests including Cristina Ehrlich (whose clients include Amy Adams), Micaela Erlanger (Michelle Dockery, Lupita Nyong'o), Erin Walsh (Kerry Washington) and Ryan Hastings (Rooney Mara) enjoyed dinner surrounded by black and white photographs of actresses including Elizabeth Taylor adorned in the Italian house's jewels over the years. They also got the first chance to see Bulgari's short film 'In the Mood for Jewels' showcasing its breathtaking new collection.
As the Globes draw closer, representatives from the leading houses are here in full force to facilitate any last minute choices and changes of mind. 
LoveGold is at Chateau Marmont, installed in the chic, private surroundings of Selma House. It is offering a treasure trove of gold jewels, including the majestic modern Indian jewellery of New York-based Munnu; vintage selections from red carpet favourite Neil Lane; star-on-the-rise Jemma Wynne's gemstones in unusual shapes; and the nature-inspired, understated elegance of Todd Reed.
British jewellers are also represented in full force at this quiet escape from awards madness, including Solange Azagury-Partridge and Shaun Leane. Statement cuffs, earrings and rings are in high demand as always, as well as more pieces suitable for daywear to be worn at the countless events and parties happening during awards week. 
LoveGold hosted a pre-Golden Globes luncheon on Thursday in honour of Downton Abbey's Michelle Dockery. She chose some classic gold pieces from David Yurman to accessorise her elegant daytime look at the event, where guests included Dita Von Teese and Anna Kendrick.
Stylists don't have to travel far from the Chateau to reach the showrooms of D'Orazio & Associates, where Ginnina D'Orazio and her team offer a one-stop shop of exclusive, awards-worthy gems. Established in 2001, their showroom is bursting with fine jewels on offer from Le Vian (as worn by Jennifer Lopez at last year's Golden Globes and Halle Berry), Amrapali (Sandra Bullock; Rachel MacAdams), and Sutra (Taylor Swift; Jennifer Hudson). They have been fielding requests for Sutra's hand bracelets and ear cuffs as well as more traditional chandelier earrings, bracelets and statement necklaces from fine jewellers such as Chimento and Norman Silverman.
Close by, stylists can pick from a selection offered by the extraordinary Paula Crevoshay and other designers at StyleLab in the L'Ermitage Hotel.
Even for Hollywood's jewellery insiders, however, it's anyone's guess. We'll have to wait for Sunday's red carpet to see what the stars will end up wearing. With the countless jewels available, we hope we are in for a feast for the eyes.
Bulgari hosted a special dinner in December in honour of the industry's top stylists at Penthouse 64 of West Hollywood's iconic Chateau Marmont hotel.

The walls of the penthouse were lined with iconic images of stars wearing Bulgari jewels.

Guests at Bulgari's pre-Golden Globes dinner included Micaela Erlanger, stylist to Michelle Dockery and Lupita Nyong'o, Elisabetta Marra, head of BulgariI VIP Entertainment Industry Relations and Philanthropy, and Erin Walsh, who dresses Kerry Washington and Kristen Wiig.

Stephane Gerschel, head of Bulgari Global Communications, poses with Johnny Wujek, stylist to Katy Perry and Kate Mara, at the Bulgari dinner.

Jennifer Rade, Angelina Jolie's stylist, Karla Welch, who dresses Elisabeth Moss, and Cristina Ehrlich, stylist to Penelope Cruz and Allison Williams, at the Bulgari event in December.

The showrooms of D'Orazio & Associates. Will any of the dresses hung up make its way on to the Golden Globes red carpet?

Provocative images set the mood for the awards-worthy jewels on display in the showrooms of D'Orazio & Associates.

Established in 2001, D'Orazio & Associates showroom is bursting with fine jewels on offer from red carpet favourites such as Le Vian, Amrapali and Sutra.

Michelle Dockery and Caitlin Fitzgerald at the LOVEGOLD luncheon, which was held in honour of Dockery. John Sciulli/Getty Images for LOVEGOLD

Dita Von Teese arriving at the LOVEGOLD luncheon, in honor of Michelle Dockery. John Sciulli/Getty Images for LOVEGOLD

Inside the LOVEGOLD luncheon at the Selma House, Chateau Marmont. John Sciulli/Getty Images for LOVEGOLD

Munnu, the Gem Palace jewellery, on display at the LOVEGOLD luncheon. John Sciulli/Getty Images for LOVEGOLD