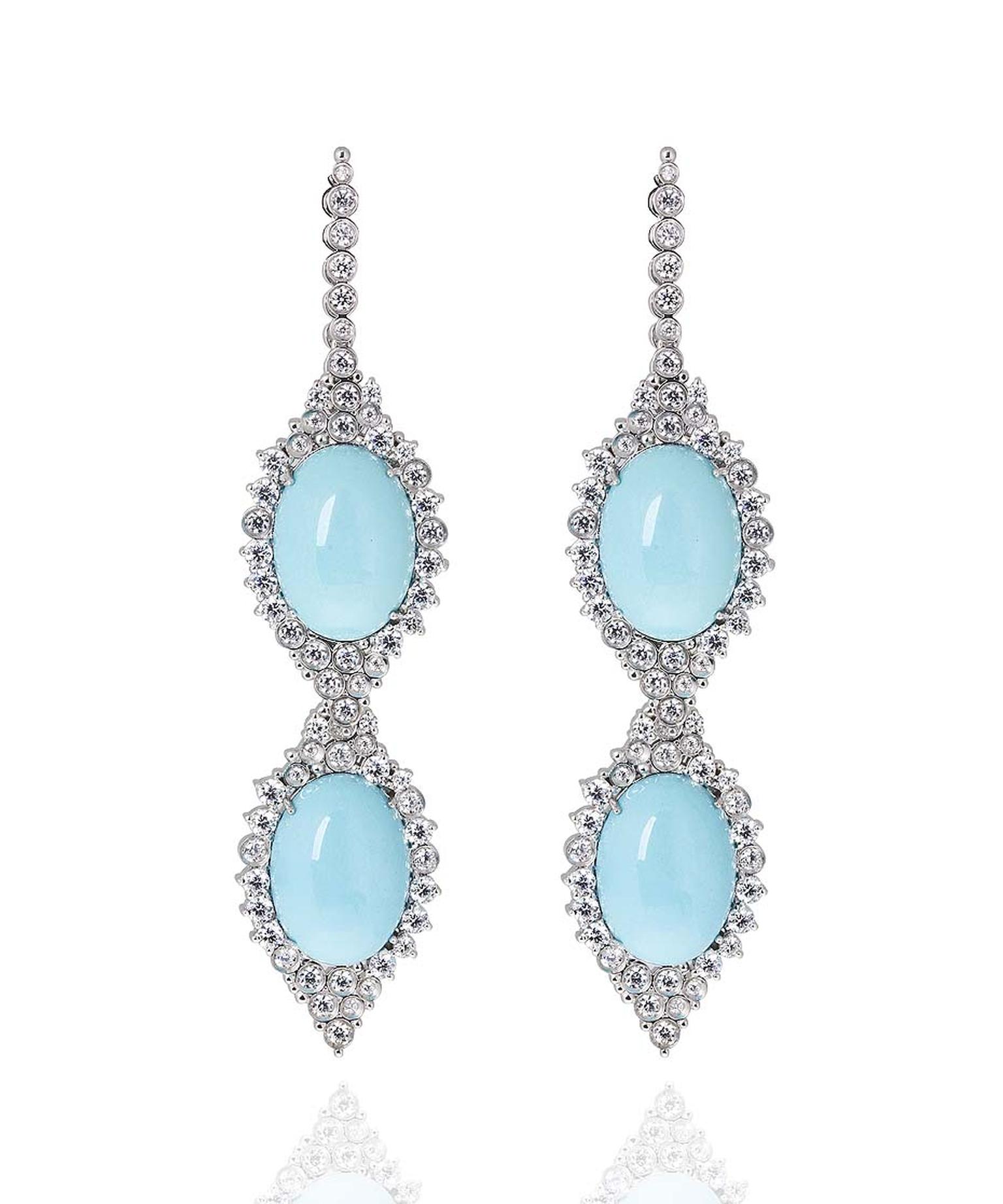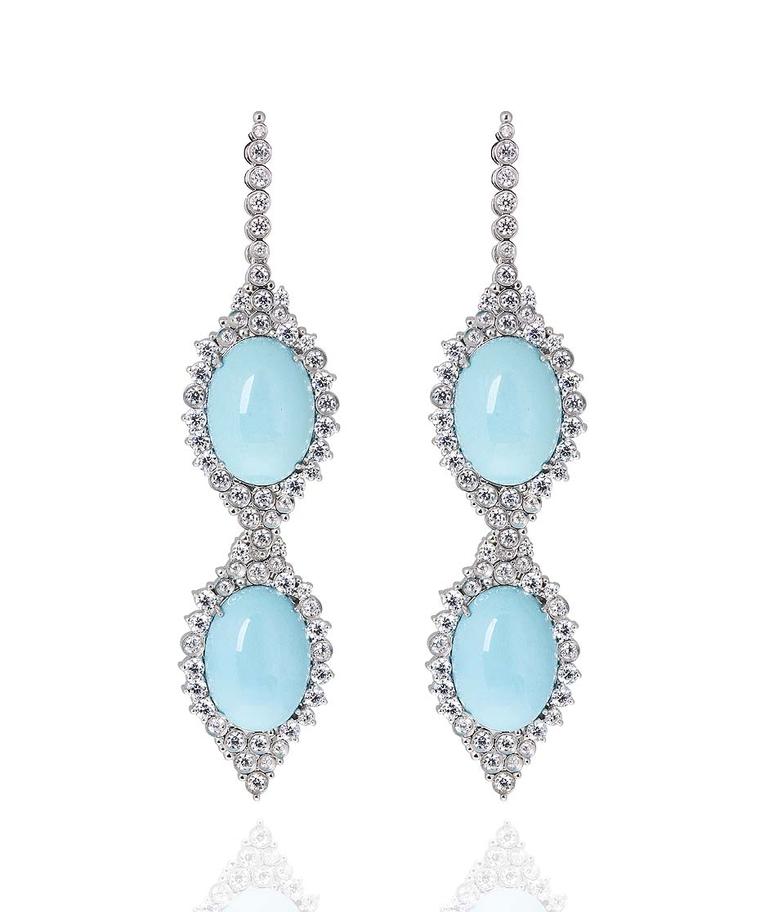 By Maria Doulton 
Being at Baselworld is like being immersed in a world of luxury jewellery, with hundreds of exhibitors, from big international brands such as Chopard, to smaller, niche designers, all showing off their wares to retailers and the press. 
This year, the sensation of an immersion was amplified by the wave of blue gemstones that has washed over the universe of jewels. As denim takes the catwalk by storm, so too does blue jewellery, confirming the perennial appeal of all things azure, as turquoise, lapis lazuli, Paraiba tourmalines, sapphires and topazes make their mark in this very blue moment. 
Among the best of the Baselworld jewellery launched last week is the 41.57 carat Paraiba tourmaline ring from Chopard jewellery. As tempting as the Caribbean waters, the urge to dive into its depths is hard to resist. Sitting in the centre of a delicate diamond halo, this impressive Paraiba tourmaline offers a refreshing get-away to a land where sun-shot waves wash over powder-white sands. 
Read about blue sapphire jewellery here
Italian jeweller Palmiero captures the crashing surf in its Onde ring, set with graduated blue sapphires topped with a foam of bubbling pearls. The effect is delightful and highly evocative, showcasing the design skill and craftsmanship of this family-run firm. 
Turquoise is set to steal the limelight from the opal, which has been the "in" stone for the past four years. Carla Amorim's Sleeping Beauty turquoise and diamond earrings are a perfect example of the appeal of this hard stone. The delicate, powder-blue colour of Sleeping Beauty turquoise, which seems to be the favourite variant this year, is enhanced by the brilliant-cut diamonds that surround them. 
View more Carla Amorim jewellery here
Sutra combines several blue gemstones, including sapphires and tanzanite, in a pair of feathery, fan-shaped earrings with diamond accents. Set in black gold, the blues appear to be even bluer than the sea at dusk.
Also popping with colour, these Stephen Webster earrings from the new Gold Struck collection are inspired by the richness of colours of the famous treasure trove of jewels known as the Cheapside Hoard, which was unearthed in London more than a century ago. Although the precious stones that make up the Cheapside Hoard are 400 years old, their vibrant colours still shine out, as captured by this latest collection of Stephen Webster jewellery. The Gold Struck Crystal Haze earrings combine a central sky-blue facetted crystal with bezel-set blue and mauve stones, for a look that is both Elizabethan England and yet so very modern. 
And that is the timeless appeal of blue - the colour will never go out of fashion.
Discover more Baselworld jewellery and watch launches here
Palmiero ring launched at Baselworld 2015, inspired by the underwater world, set with graduated blue sapphires and topped with a foam of bubbling pearls.

Stephen Webster earrings from the new Gold Struck collection, featuring a central sky-blue facetted crystal with bezel-set blue and mauve stones.

Sutra earrings in black gold, set with sapphires, tanzanites and diamonds.

Chopard ring in white gold from the 2015 Haute Joaillerie collection featuring a lacework ribbon of diamonds surrounding by a 41.57ct Paraiba tourmaline.

Carla Amorim earrings set with rare Sleeping Beauty turquoise in white gold, accentuated by brilliant-cut diamonds.