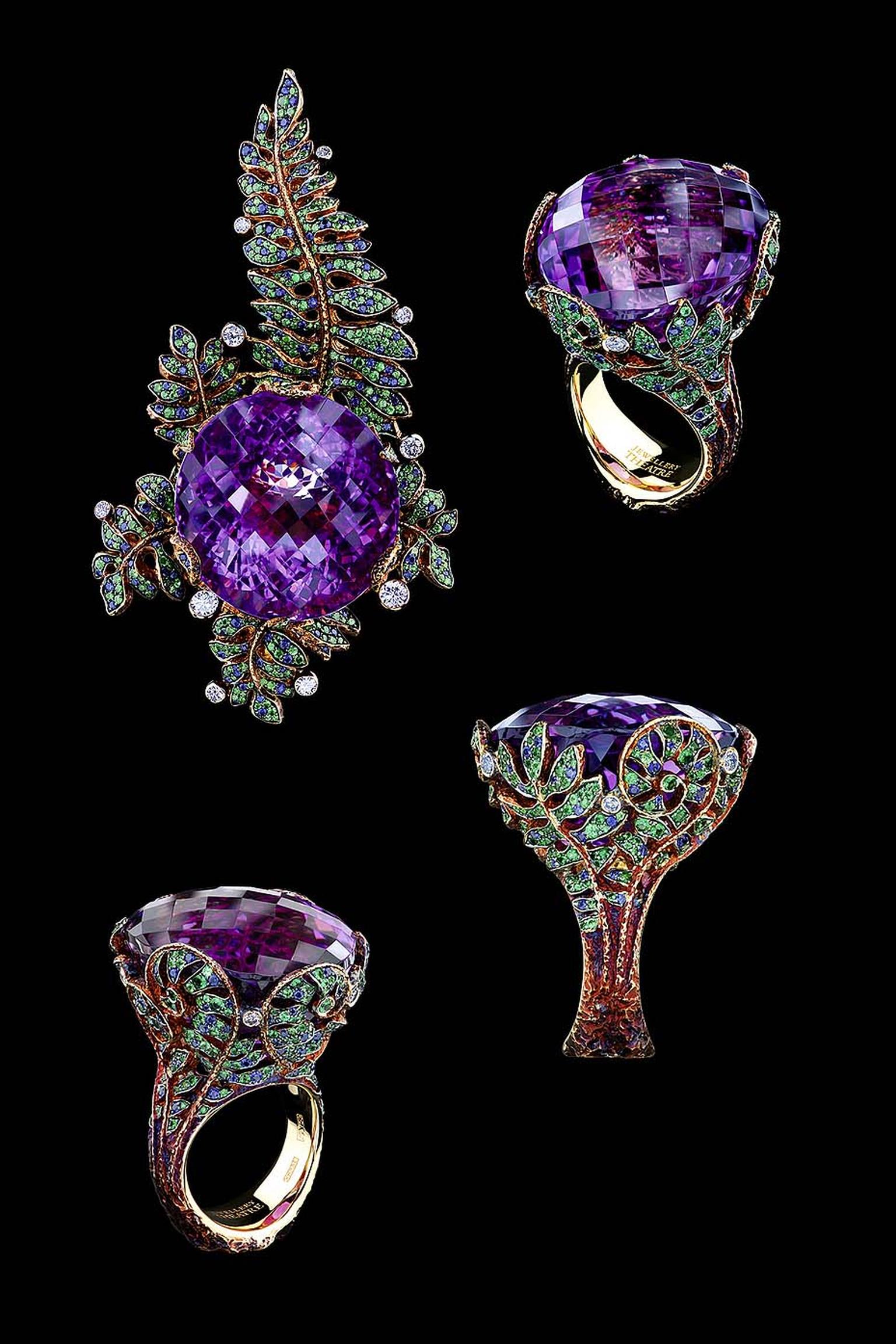 By Maria Doulton in London
A little shop on Old Bond Street - just one door and a single window display - is particularly alluring. The fire-bright colours, swirling shapes, meringue-sized pearls and extravagant designs catch the attention. Step inside the shoebox-sized boutique and you soon realise that Jewellery Theatre is unlike any other jeweller.
This is because Jewellery Theatre aims to bring drama to jewels and considers each of its creations a player in a glittering performance. Not for the faint-hearted or those looking for a discreet little something, these pieces are all divas in their own right. Packed into these jewels, which sing out from the black velvet display trays, are theatrics, fireworks and technical mastery, every one crying out to be noticed.
Jewellery Theatre started life in 1998. Founded in Moscow by Maxim Voznesensky, the house's surprising slices of bejewelled fruits, sprouting, coral-like formations, fantastical plants and animals bursting with colour were soon recognised, winning the Tahitian Pearl Trophy and prizes from the Russian diamond mining company Alarosa Ltd and Baselworld. By 2010, Jewellery Theatre was commissioned to create the crown for Miss Russia and, in 2011, the flagship Old Bond Street boutique opened its doors.
The workmanship necessary to bring about these audacious flourishings of jewellery theatrics is sourced from around the world, with workshops in Italy, Hong Kong, London and Switzerland. The fine micro-pavé settings and degradations of colour found in the rippling shapes that surround the impressive central stones or pearls add to the richness and excitement of these jewels. And there is another little twist: the rings are designed to be both worn and displayed. Each ring has a flat bottom so that it can stand upright and be admired as a sculpture as well as a work of art.
When I recently visited, I was in awe of the Flowers necklace. The colours were so intense I had to look again and again to work out how this chromatic brilliance had been achieved. The secret lies in the quality of the rubies, surrounded by delicate pavé green diamonds and blue diamonds and yet more rubies and sapphires. The effect is as if the stones were plugged into the mains, and that is true drama in a jewel.
The white gold Galaxy Ring from Jewellery Theatre's Art Stone Collection is set with 218 white, blue and purple diamonds, rubies, sapphires, tsavorites, tourmalines and a 54.82ct sapphire (£POA).

Jewellery Theatre Autumn ring contains 463 small diamonds and one 17.32gr Baroque pearl (£58,500).

The Autumn collection brooch in white gold features white and champagne diamonds and four diamond slices totalling 11.58ct.

A dramatic ring from Jewellery Theatre's Autumn collection in yellow gold features both white and coloured diamonds and a 11.93ct diamond slice.

Jewellery Theatre Coral pendant in white gold set with 32 diamonds between 2.32 and 2.35ct and one dark pearl.

Jewellery Theatre white gold Coral earrings featuring 95 diamonds and two black Tahitian pearls (£14,500).

Jewellery Theatre's fiery Elements collection includes earrings, a ring and a pendant set with rubies and white and yellow diamonds.

The Jewellery Theatre Atlantic set from the Elements collection features a pendant, ring and earrings with diamonds and sapphires.

Jewellery Theatre Fairy Tales ring features white, yellow, green and yellow-green diamonds and a 20.12ct amethyst.

From Jewellery Theatre's Flowers collection. The Flowers ring is set with a 2.02ct fancy intense yellow diamond (£76,000); the Flowers earrings with two pear-shaped fancy intense yellow diamonds weighing 1.28ct and 1.22ct (£84,000); the Flowers pendant with a 3.73ct fancy intense yellow diamond (£131,000).

The yellow gold Flowers necklace by Jewellery Theatre is set with sapphires and white, green and blue diamonds, as well as round and oval rubies.

Jewellery Theatre's yellow gold Flowers earrings and ring features white, green and blue diamonds, rubies and sapphires.