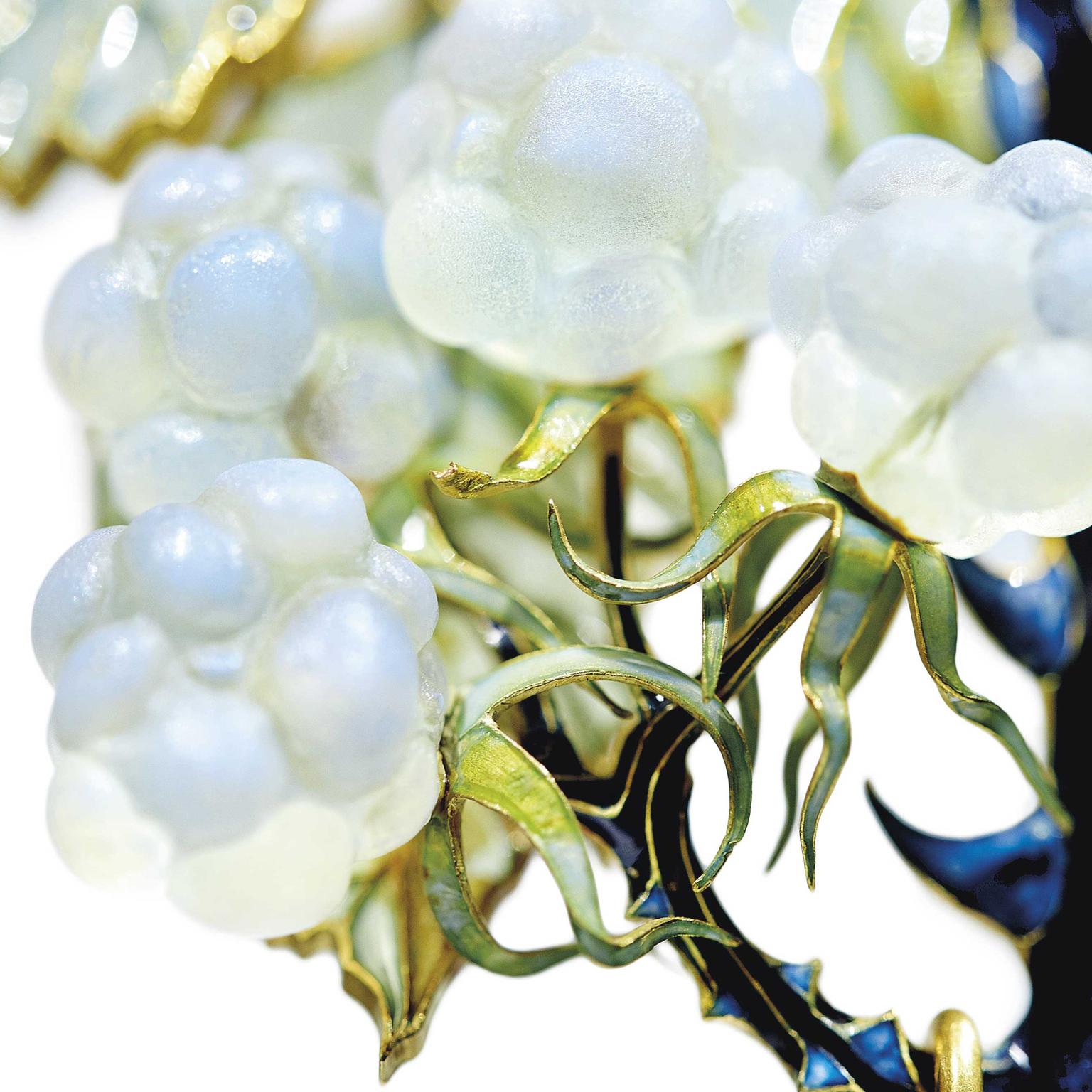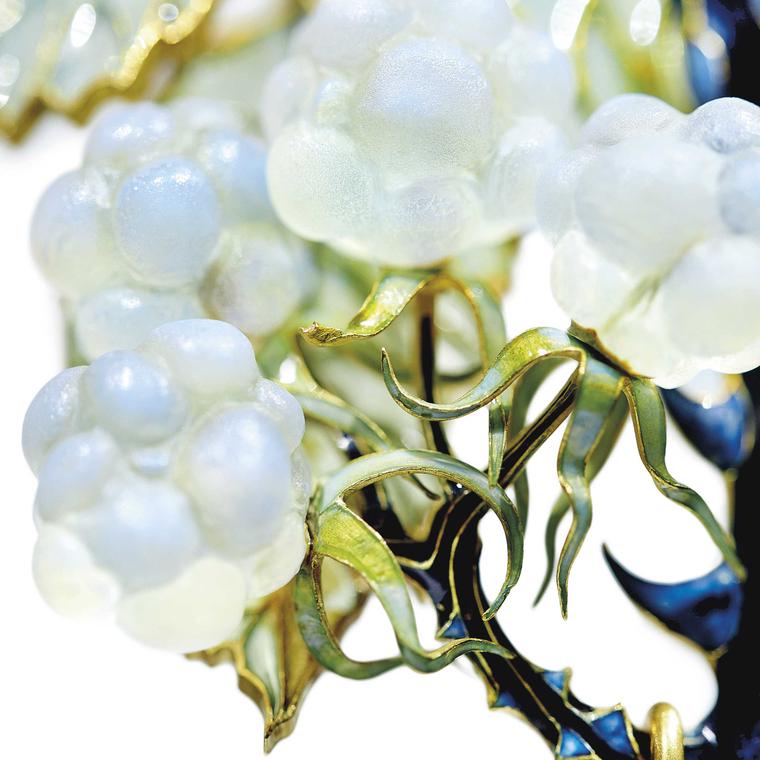 The Art Nouveau style arrived by storm and left just as abruptly, with a clearly delineated time period between 1890 and the start of World War I in 1910. It was a "total art" meaning that it influenced all media, from painting to architecture, music, literature and, of course, jewellery. It even inspired street furniture, with fine examples of Art Nouveau ironwork still gracing every Metro entrance in Paris.
The jewellery shop of Georges Fouquet, below, one of the most important artist-jewellers at the time alongside René Lalique, was designed by the Czech artist Alfons Mucha in 1900 and is a good example of the breadth of the Art Nouveau style, from interiors to furniture, paintings and sculpture, all in one small space.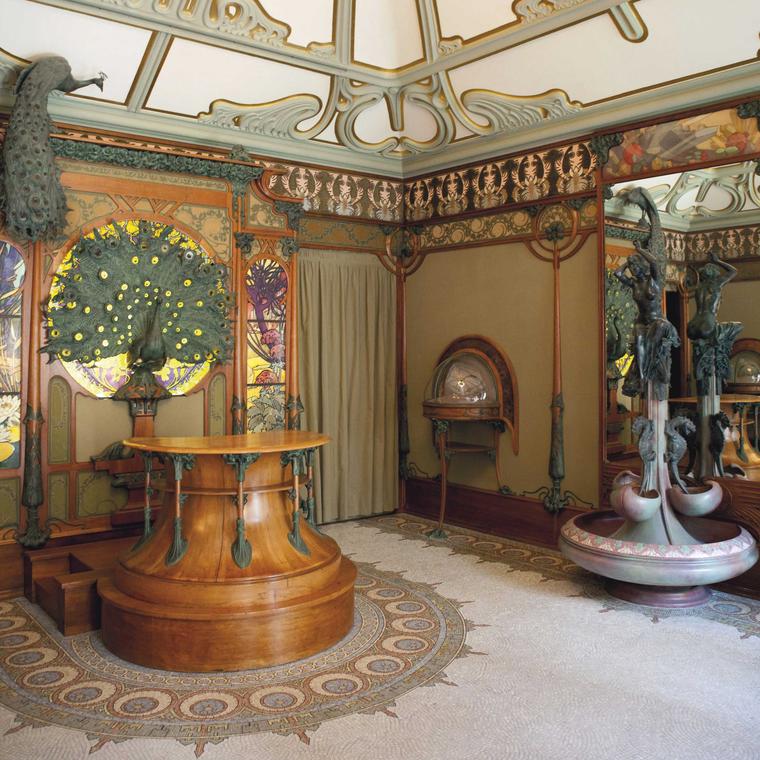 Art Nouveau was a break from a series of different revivalist styles, ushered in by the boldness and purity of the recently popular Japonisme. Evelyne Possémé, Head of the Ancient and Modern Jewellery department at Musée des Arts Décoratifs, explains in the Christie's Beyond Boundaries auction catalogue: "Throughout the 19th century, artisans and designers seemed incapable of going further. They were crushed by a glorious tradition; they dared not innovate; they did not see how they could do better than their predecessors. These artists therefore took a very long time to break free of these shackles."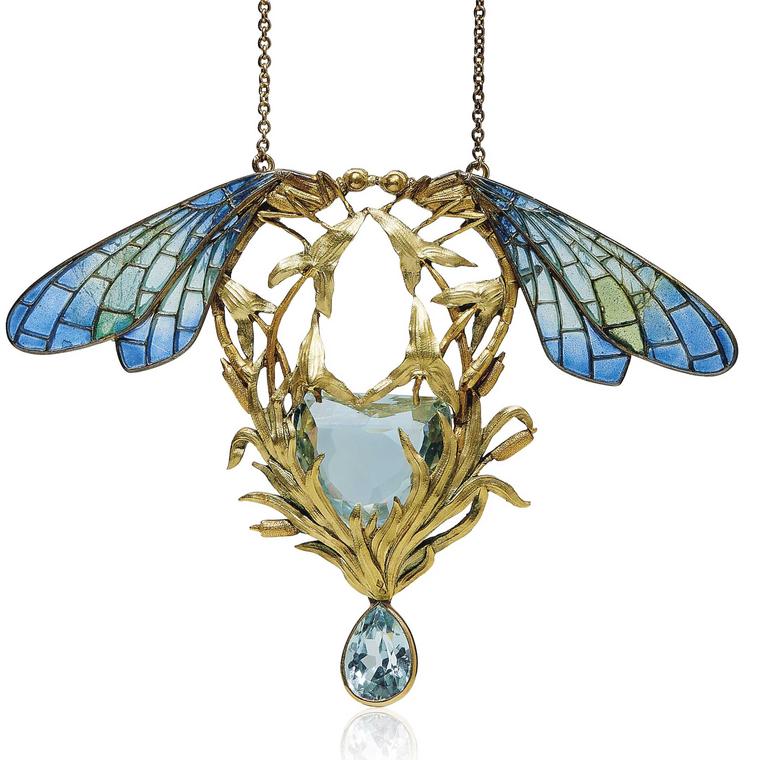 What does Art Nouveau jewellery look like?
Flowing lines and curves marked the Art Nouveau style, with women and nature as its primary subjects. Along with nymph-like maidens, botanical themes, peacocks and insects such as dragonflies and butterflies are some of the recurrent motifs in Art Nouveau jewels. The influence of Darwin's Origin of the Species is evident in realistic botanical and anatomical detail. In René Lalique's designs, the humble wasp becomes the focus of a highly detailed and elaborate pendant lavished with the most meticulous attention to detail.
A sketch of René Lalique's five enamelled wasps pendant (1906) shows the artist's ability to capture movement and grace in the most unexpected of forms. As a conceptual and material innovator, René Lalique is considered the greatest artist-jeweller of the Art Nouveau period. 

René Lalique's daring five enamelled wasps pendant circa 1906 combines exquisite craftsmanship with an unusual subject using window enamel and diamonds for the insect's abnormally long wings. The piece is signed by Lalique and Christie's estimate the value at: $60,000-80,000 

This 1902 brooch by René Lalique is from the artist jeweller's most celebrated period. Here Lalique recreates four raspberries in opalescent glass with a deep blue enamel stem and window enamel leaves. After 1910 René Lalique turned his attention to glass objects. $70,000-90,000 

A perfect example of René Lalique's experimental use of materials is seen in this 1900 plum brooch, with the fruits made of thin opal slices with delicate green enamel leaves. Christie's estimate: $90,000-130,000 

This René Lalique brooch (1898-1899) features an imaginary peacock woman carved in chrysoprase and exquisite enamel details such as lifelike poppies and flowing peacock feather hair ending in a baroque pearl, signed by Lalique. Christie's auction estimate: $80,000-100,000

Art Nouveau was a total art, meaning that its influence extended to all media, as seen in René Lalique's vitrine for the 1900 Paris exhibition featuring nude women in the window displays and bats flying overhead. 

In George Fouquet's 1901 Cedars pendant a diamond waterfall spills out into a pool between two opal cliffs, topped by a golden cedar. The genius of the design is equalled by the brilliance of the choice of materials and outstanding craftsmanship. Christie's estimate: $120,000-180,000

Sketch by Georges Fouquet for the 1900 landscape painting pendant, which shows clearly how jewellery was being transformed into an art form by artist-jewellers such as him.

In 1900 Georges Fouquet created this enchanting landscape painting in a pendant with an enamel river and trees under an opal sky framed by enamel leaves and decorated with seed pearls and a larger baroque pearl. Christie's auction estimate: $120,000-180,000  

Georges Fouquet's Paris boutique (circa 1900) was designed by the artist Alfons Mucha illustrating how the Art Nouveau movement embraced all genres from furniture to painting and sculpture as well as jewels. 

One of the lesser-known Art Nouveau artist-jewellers is Vican, who created this striking montage of two dragonflies with blue and green window enamel wings perched on a branch surrounding a blue glass gem. Christie's estimate: $4,500-6,500

A close-up of the glass raspberries in René Lalique's 1902 brooch shows a highly realistic interpretation of the plant combining different materials and techniques to an exceptionally high level of both design and craftsmanship . Christie's estimate: $70,000-90,000 
Sigrid Barten, author of René Lalique, Schmuk und Objets d'art, says: "In Art Nouveau — as in Japanese art, for instance — there is no difference between the arts majeurs and the decorative arts. The decorative arts are just as important, if not more so!"
Art Nouveau jewellers chose to work with non- and semi-precious materials, and the focus was on the originality of design and craftsmanship over the material value of the components. Moulded glass, enamel and even a new synthetic plastic material called galalith were favoured, framed by delicate goldwork, often in highly realistic organic forms.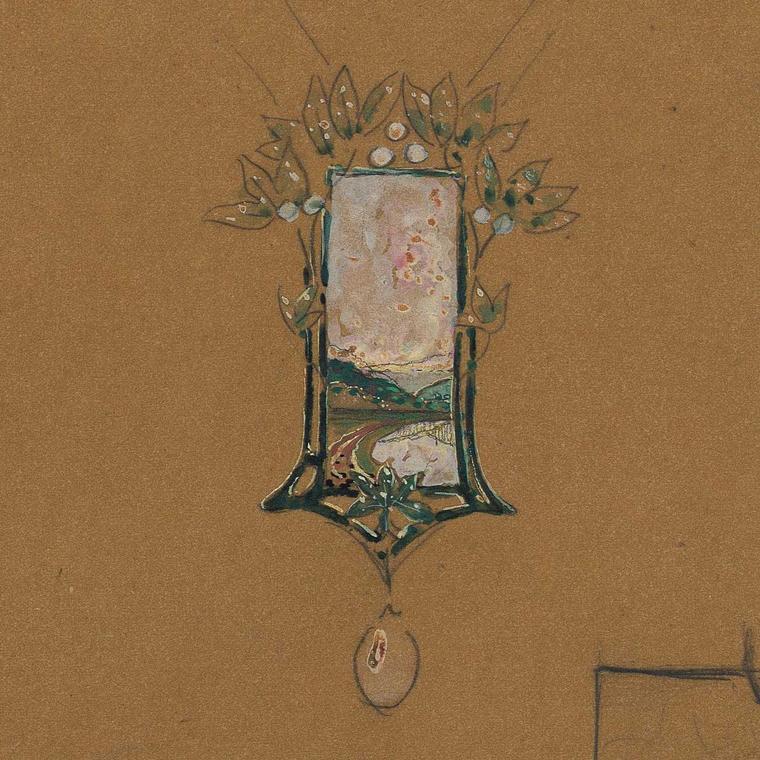 The works of these artist-jewellers were not for the general public, who were outraged by the eroticism of the jewels, but for the elite of the Paris intelligentsia who could afford this daring new style. Actress Sarah Bernhardt was a high-profile client of René Lalique, who also designed lighter jewels made of aluminium for her to wear on stage for long periods of time.
Although intricate and often made using fragile materials and techniques such as thin opal slices or window enamel, the jewels were made to worn. Adhering to the highest standards of craftsmanship, each jewel is a one-off. Even the backs of the jewels were beautifully finished and articulation ensured that the larger pieces sat well on the body. 
Who were the most important Art Nouveau jewellers?
The most important were René Lalique, Georges Fouquet and Henri Vever. Jewellery was considered one of the greatest triumphs of the Art Nouveau era, and the jewellers of the period experimented with materials and techniques and considered their jewels as much an art form as painting. Other notable exponants include Lucien Gaillard, Vican and Léopold Gautrait.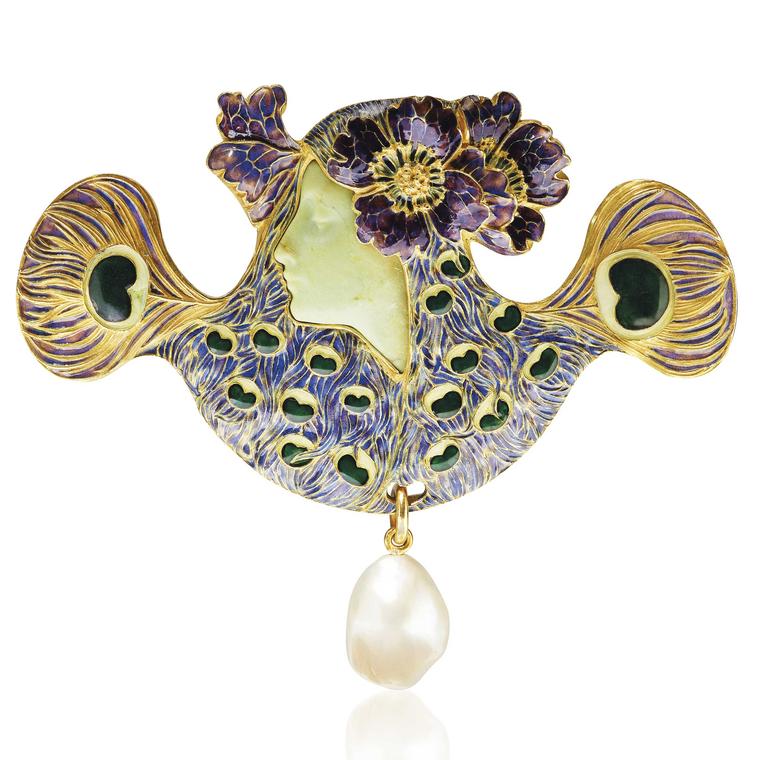 "Lalique's work is a synthesis of all the arts," explains Sigrid Barten. "The shapes, contours and relief remind me of sculpture, and I find that his use of colour closely resembles that of painting. He pushed the boundaries of his art in his jewellery designs. He introduced new materials, hard or semi-precious stones, ivory, glass — not to mention all kinds of enamel. His palette was much more diverse than that of a painter or sculptor."
Why did Art Nouveau jewels become unpopular? 
With the arrival of World War I, Art Nouveau fell into oblivion. The soft lines and romantic pre-War narratives gave way to a harsh new reality of straight lines, strict geometry and industrial order. Quickly forgotten as an unfashionable remnant of the past, the Art Nouveau style disappeared into oblivion until the 1964 book L'Objet by Maurice Rheims revived interest.
At around the same time, the collection of Art Nouveau jewels for sale at Christie's Geneva in November 2017 was being formed by a couple, examples of which illustrate this story. "In the 1960s, Art Nouveau jewels were considered chichi," explains Jean-Marc Lunel, Senior International Specialist in jewellery at Christie's. "The couple were very forward thinking as collecting Art Nouveau jewels at this time was not fashionable, but they had good advisors." 
Once again Art Nouveau is in vogue as we appreciate the sensitivity and skill in making beautiful jewels in the form of dewy cobwebs, thorny plants or wasps.  "Art Nouveau jewels, especially those by René Lalique, are timeless creations," says Lunel. "They are wearable miniature works of art set with the most refined gemstones in delicate window enamel backgrounds. Unveiling the secrets of nature, these jewels are true symbols of love and romanticism. Which is what a piece of jewellery should be about."