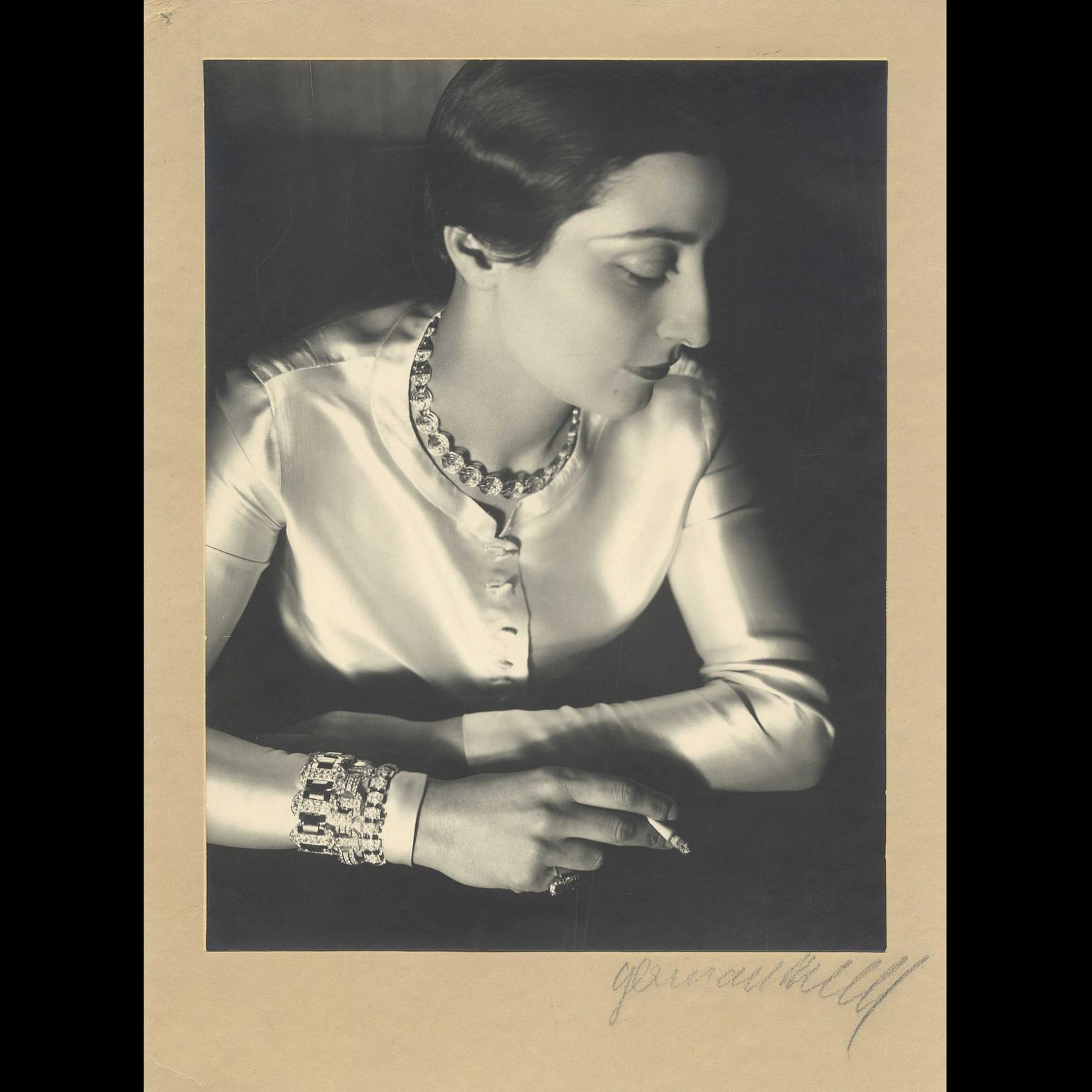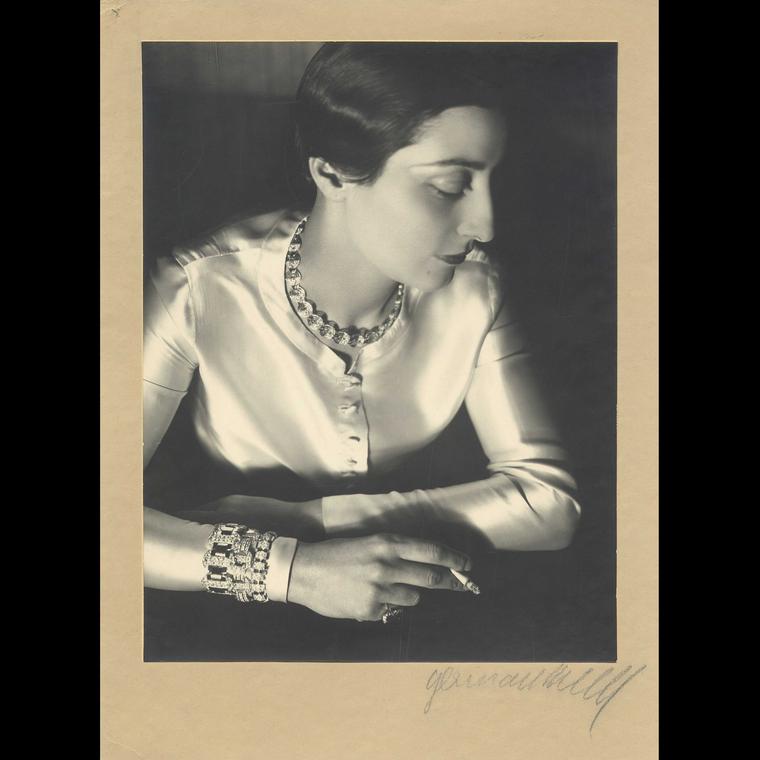 While outsize diamonds may draw gasps at photo calls, the 'Beyond Boundaries: Magnificent Jewels from a European Collection' sale at Christie's is more likely to draw sighs. Not only is it the largest and one of the most complete collection of Art Nouveau and Art Deco jewels ever to come up for sale, it is also one of the most beautiful.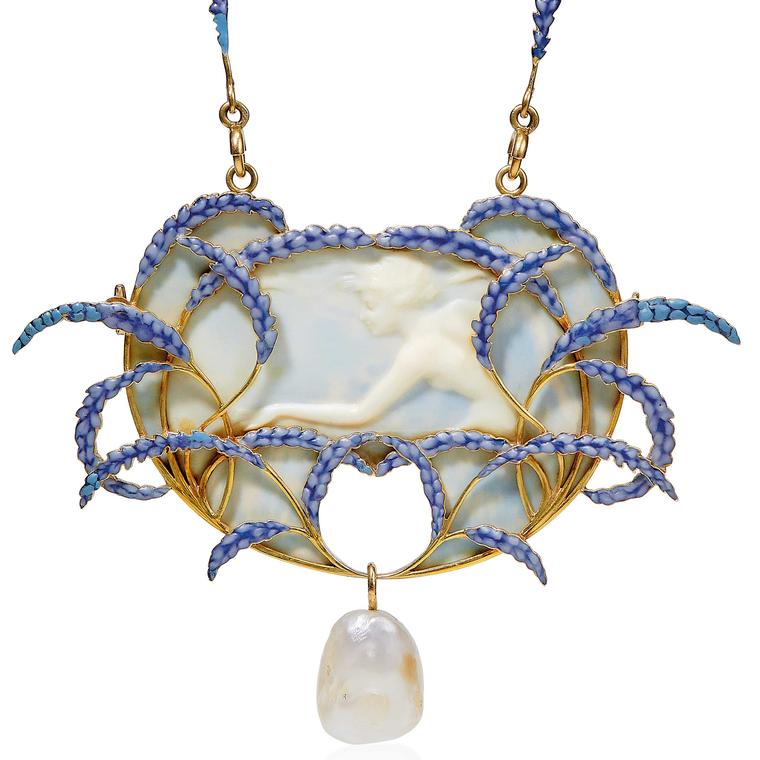 The 110 lots were once the property of a European couple whose heirs have brought to auction not just their collection of jewels but also art, all focussed on the years between 1900 and 1930. Christie's will not reveal the identity of the couple but it is known that they were well advised on their selections. Michel Perinet, one of the first to offer Art Nouveau and Art Deco jewels for sale from his Paris gallery advised the couple in their purchases. While the husband focussed on art, the wife turned her attention to jewellery
One of the lesser-known Art Nouveau artist-jewellers is Vican, who created this striking montage of two dragonflies with blue and green window enamel wings perched on a branch surrounding a blue glass gem. Christie's estimate: $4,500-6,500

In 1900 Georges Fouquet created this enchanting landscape painting in a pendant with an enamel river and trees under an opal sky framed by enamel leaves and decorated with seed pearls and a larger baroque pearl. Christie's auction estimate: $120,000-180,000  

Lot 23 in Christies Beyond Boundaries sale is the René Lalique Hawthorn brooch circa 1899 engraved with the words 'je refleuriray' with window enamel leaves an opalescent glass flowers. 

Lot 84 is a rock crystal ring by R. Lemoine of a water lily leaf and frog with a spinning gold waterlily flower. Pre-sale estimate: $1,000-1,500

Early 20th century jewels such as  René Lalique's galalith pendant depicting a nymph surrounded by lavender circa 1905 are highly wearable but care must be taken with the enamel work and delicate stone carvings. Sold at Christie's Auction November 2017.

What outfit wouldn't would look great with this Art Deco Georges Fouquet pendant circa 1925 in onyx and diamonds with cabochon emerald? Original and striking, you are unlikely to bump into anyone wearing the same jewel. 

This Raymond Templier onyx and diamond brooch from 1929 (Lot 103) is a good example of the clean, geometric lines of the Art Deco style that broke totally with the curved and swirling style of Art Nouveau. Pre-sale estimate: $45,000-65,000

This unsigned fibula brooch (Lot 75) in the Art Deco style is made of jade and diamonds with black enamel over the gold and made circa 1930. Pre-sale estimate: $4,500-6,500

Created between 1899 and 1901 this René Lalique pendant features (lot 45) five gold and enamel wasps with diamond wings. The hawthorn branch is realistically recreated using window or plique á jour enamel and opalscent glass and a baroque pearl. Pre-sale estimate: $90,000-130,000.

After creating a very complete collection of Art Nouveau jewels the couple moved on to Art Deco, a style of straight lines and simplicity that eschewed the ornamentation of the pre-war Art Nouveau style. 
In this extract from Christie's auction catalogue Michel Perinet explains how the collection was formed: 'Gradually, through the work of a couple, two people who were very devoted, both to one another and to the undertaking. He was starting a collection of modern paintings, she loved jewellery. I was introduced to them by Alain Taraica in the early 1970s. The paintings entailed a significant investment, the jewellery much less so, so it was easy for him to satisfy his wife's penchants. I never saw him deny her a jewellery piece she wanted – he even encouraged her to buy jewellery."
The couple were avant guarde in their interest as when they started collecting in the early 1960's Art Nouveau has fallen out of favour and was considered dated and overly ornate giving them a head-start. 'Things were easier back then,' explains Perinet. 'I found high-quality, even exceptional Art Nouveau pieces and in all modesty I can say that I bought nearly all of them.'
Having exhausted the supply of Art Nouveau jewels with a  collection that included major works by masters such as René Lalique, Georges Fouquet and Henri Vever the couple turned to the dramatically different style of Art Deco that took over after the First World War. 'There are very few people who can appreciate both styles,' remarks Perinet, 'which are equally important, but completely opposite. That is what makes this collection so powerful and original.'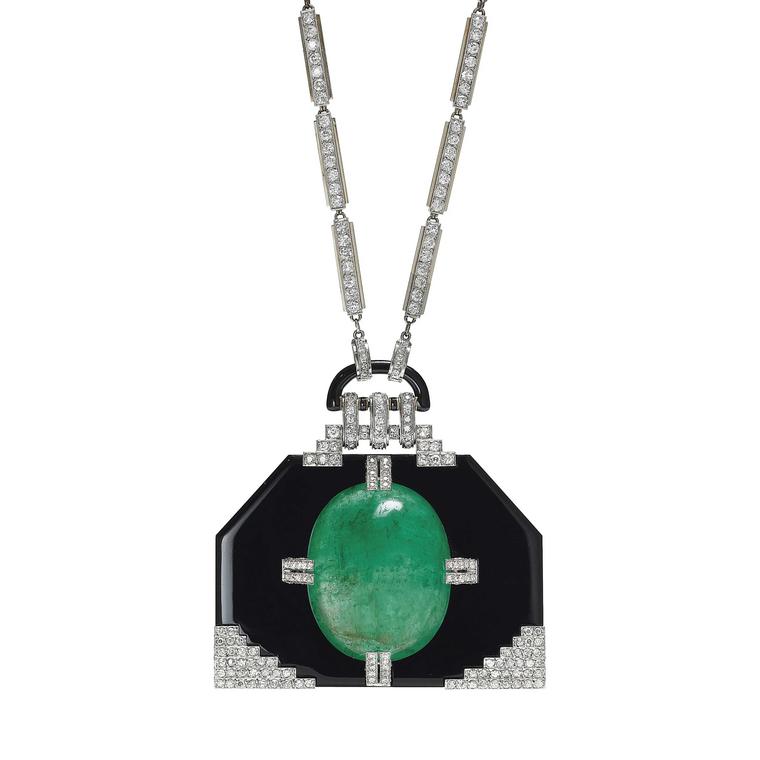 A very personal touch is evident in the collection. The jewels are in impeccable condition but were worn by their owner.  Rings were left in their original sizes so they owner wore them on different fingers. The heirs remember their mother wearing is the Georges Fouquet (Lot 110) onyx, emerald and diamond pendant which is one of the star lots of the sale.
Jean-Marc Lunel, Senior International Specialist in jewellery at Christie's who was in charge of assessing and valuing the collection says:  'Art Nouveau was a great artistic movement in the Decorative Arts. A short-lived period which lasted for only 15 years (1895-1910) and a testimony to the most refined works from master jewelers of the late 19th and early 20th Century. The jewels from the Beyond Boundaries collection encapsulate the most delicate and poetic Art Nouveau jewelry creations from the 1900 and offer a unique opportunity to acquire and wear these preserved iconic treasures which style was completely abandoned in the second half of the 20th Century.'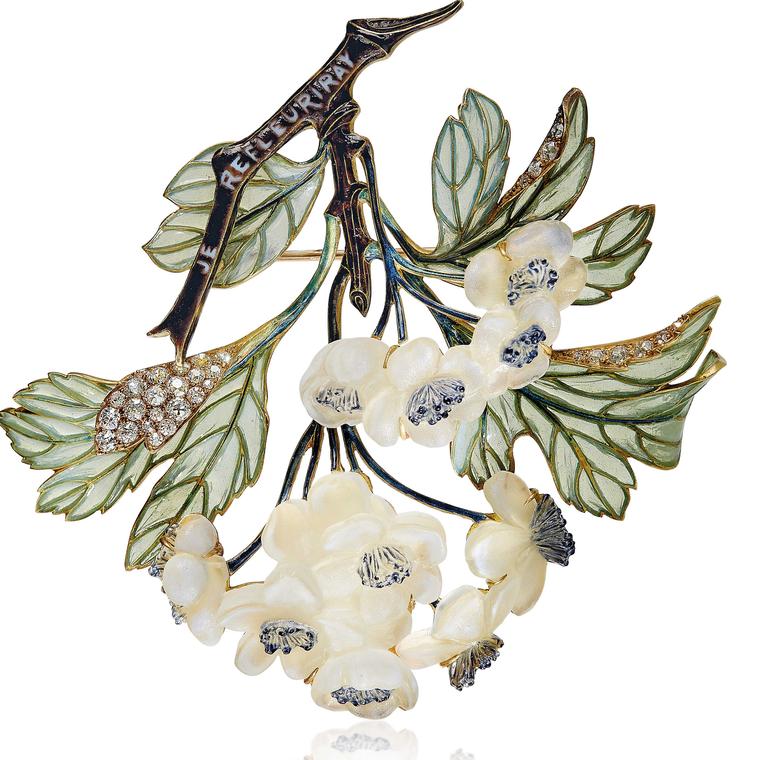 Each jewel has a story, but one in particular stands out for its poignancy. After she was widowed, a jewellery dealer called to say that he had the 1989 Hawthorn branch brooch (above) by René Lalique set aside as her husband had intended to buy it for her. The brooch is engraved with the words 'je refleuriray' or 'I will flower again' a particularly apt message for the circumstances. The wife of course bought the highly realistic brooch that is an exquisite example of window enamel, opalescent glass details and incredible attention to detail.