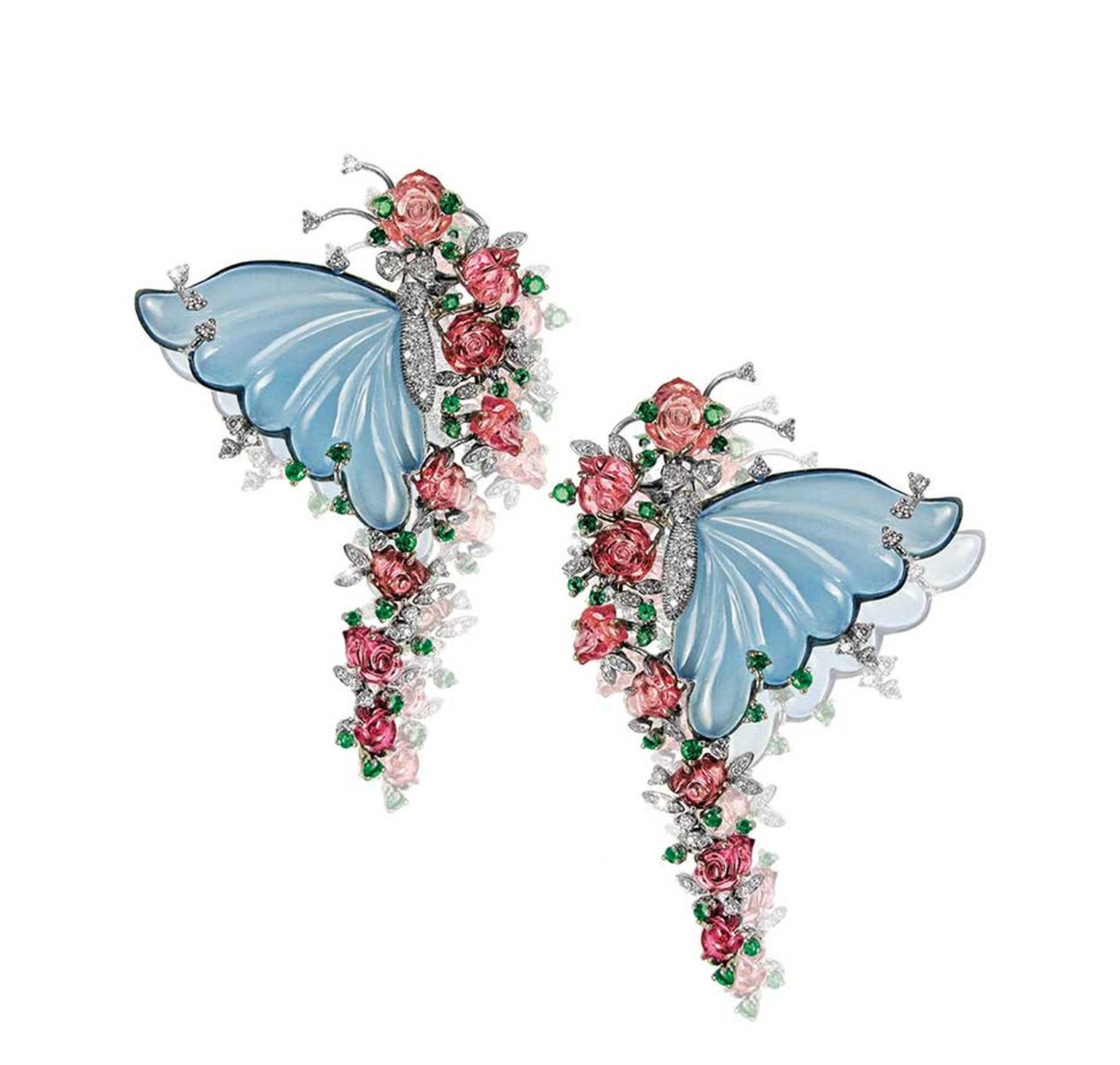 By Preeta Agarwal in New Delhi
Every gem cutter wishes to add more lustre and sparkle to the gems he cuts. And one great way to achieve this is to carve the gemstone with an inscription, pattern or motif.
The ancient art of carving gemstones and setting them in jewellery is making a big comeback in the India. In Jaipur, the coloured gemstone hub of India, where craftspeople have been cutting and polishing gemstones for centuries, local artisans have perfected the art of carving gemstones, making them even more desirable. Gemstones like emeralds, rubies, sapphires, tourmalines, amethysts and onyx have been decorated with floral motifs taking inspiration from various Mughal monuments. Carving softer stones like emeralds, amethysts, tourmaline and garnets, leads to a lot of breakage and wastage. Therefore, good quality, carved emeralds are expensive and rare to find.
Amrapali, which employs master craftsmen in Jaipur, carves delicate floral patterns into emeralds and rubies. Its heritage Navratna (nine gemstone) necklace, with eight carved gemstones and an uncut diamond, takes traditional jewellery to a whole new level. Another example of this famous Indian jeweller's expertise is its latest collaboration with Gemfields, the "Sadabahar" (Evergreen) necklace and earrings, which feature a total of 51 delicate leaves carved out of emeralds.
This gorgeous necklace with a hand-carved central ruby stone strung from ruby beads and diamonds from the House of Rose shows the artistry of designer Biren Vaidya. His exquisite hand ornaments with emerald melon beads show what skilled craftsmen can achieve under his direction.
Giving a contemporary twist to this traditional art are designers Farah Khan and Mira Gulati of Mirari. Gulati's earrings with carved butterflies perched on flowers have a long list of fans. The fact that no two carved wings and flowers are identical is the reason that they literally fly off the shelf within days of creation.
Farah Khan, who designs jewellery around gemstones, has an elaborate collection of jewellery studded with carved emeralds, corals, rubellites and sapphires. Her asymmetric coral necklace strung on tanzanite beads showcases her own brand of creativity and brilliant craftsmanship."I like the grandeur and age-old feel that carvings impart in a design - they make it more royal vintage in appeal," explains Khan. 
"Many international jewellers have used carved gemstones in their jewellery, especially when they were commissioned by the Indian Royal families in the 1800s," continues Khan. "Today, beautiful carvings with lustre are hard to find, which means that I am always looking for carved gemstones to play with and set in design."
Mirari Butterfly drop earrings with carved blue onyx wings, tourmaline flower spheres, yellow sapphires and diamonds.

Farah Khan gold necklace with a large central carved emerald, South Sea pearl drops and diamonds, inspired by the grandeur of the Indian Maharanis.

Farah Khan chandelier gold Angel earrings, inspired by Victorian elegance, set with peridot leaf carvings, multi-coloured tourmaline cabochons and diamonds.

Farah Khan earrings featuring carved serpentine and citrines.

Farah Khan necklace featuring carved aquamarine leaves and yellow sapphires with diamonds surrounding a carved central yellow sapphire.

Farah Khan's asymmetric coral necklace strung on tanzanite beads.

Amrapali Emerald earrings with floral carvings surrounded by diamonds.

Amrapali gold necklace and earrings set with carved rubies and diamonds.

Amrapali's traditional Navratna (nine gem) necklace featuring eight carved gemstones and one large uncut diamond surrounded by diamonds and pearl drops.

Amrapali neckpiece or "Sadabahar", made for Project Blossoming using Gemfields Zambian emeralds and rubies from Mozambique.

The House of Rose necklace with a carved ruby centre, strung on ruby beads and set with brilliant-cut diamonds and faceted rubies in white gold.

A "bala" bracelet by Rose jewellers, crafted with two reverse-set rubies around a hand-carved emerald melon bead, topped with a ruby cabochon.