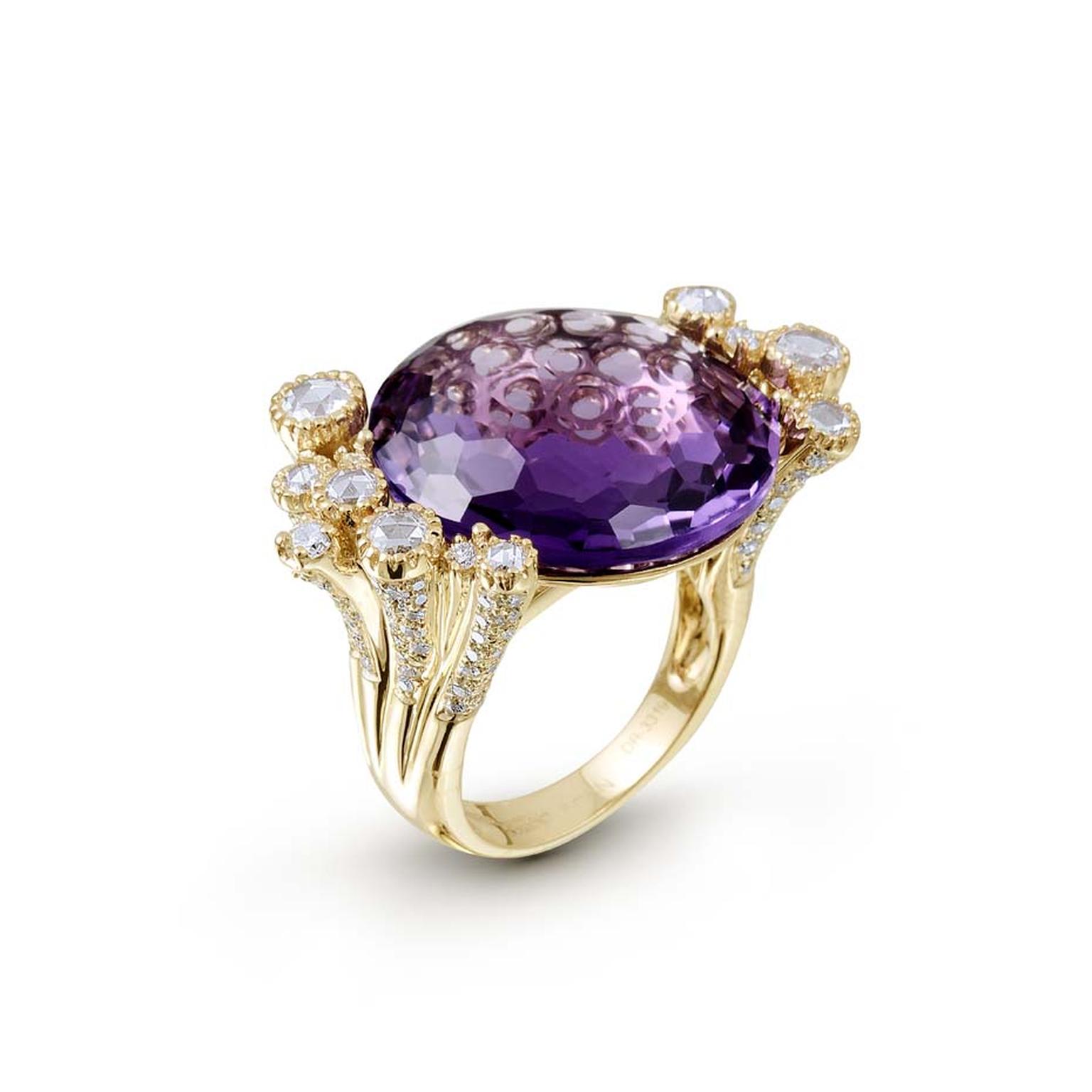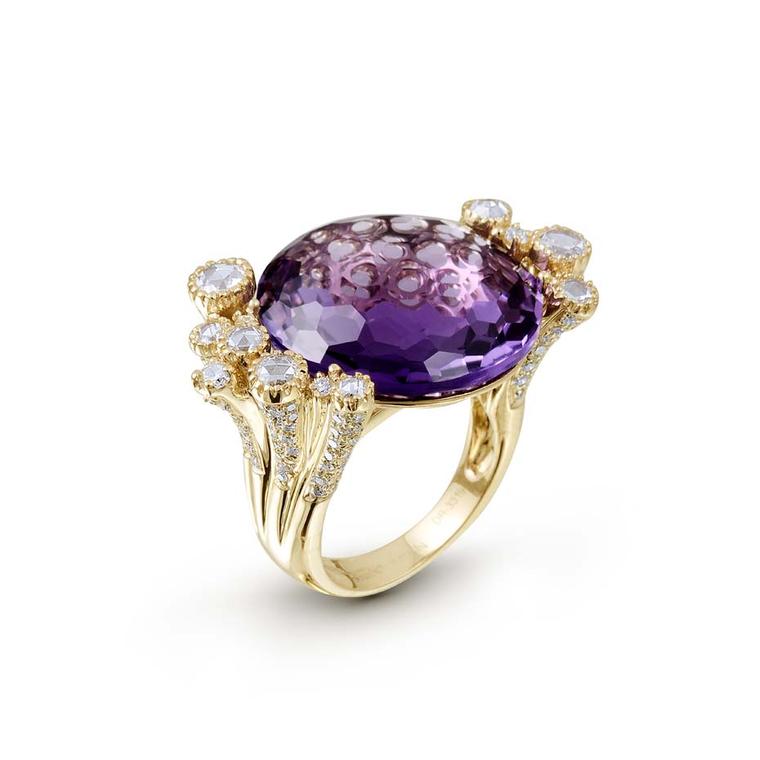 By Preeta Argawal in New Delhi 
The day Pantone announced Radiant Orchid as the Color of the Year for 2014, purple seemed to be everywhere. After bidding adieu to 2013's Emerald Green, this rich, regal hue is being welcomed whole-heartedly by the jewellery industry, with many gemstones fitting perfectly into the Radiant Orchid mood board. 
Farah Khan, who is absolutely in love with this colour, offers a potpourri of jewels set with beautiful amethysts in different shades of purple. From crown rings to barcelets and earrings set with amethysts that bring out the lilac hues in two perfectly matches baroque pearls, Khan's passion for purple is evident. 
Bina Goenka creates her own unique charm by setting different purple hues against deep reds and pale blues. Her tumbled bead amethyst necklace is bold yet sensual.
Ganjam, which last year launched the Le Jardin collection, offers a bold look, with large oval amethysts nestled amongst pink sapphire flowers. New additions to the collection this year include a necklace, pendant and bracelet decorated with amethyst and rhodolite garnet flowers set against white diamonds and pearls.
At Mirari one can see Mira Gulati's signature peacock earrings, with their gorgeous gradation of briolette-cut amethysts. In another pair of earrings Gulati has contrasted shades of purple sapphires with carved tourmaline flowers, descending from galuchat leather hoops.
Moving from contemporary to traditional, Amrapali presents heart-shaped amethyst earrings, created in collaboration with renowned Indian fashion designer Manish Arora. Meanwhile, Entice brings us kundan polki floral earrings set with pinkish-purple tourmalines.
Also spotted were exclusive pieces from Nirav Modi, whose Day & Night double flower earrings are set with purplish-pink radiant cut diamonds, and a fifty-fifty diamonds and sapphire necklace by Dia Color. 
Ganjam 'Le Jardin' amethyst and pink sapphire ring.

Mirari Spiral earrings with brown sapphire briolettes and diamonds.

Farah Khan amethyst, diamond and pearl drop earrings.

Bina Goenka checker-cut blue topaz and amethyst earrings.

Ganjam 'Le Jardin' collection earrings set with oval and drop amethysts and pink sapphire flowers, interspersed with diamonds.

Amrapali Manish Arora earrings with heart-shaped amethysts, enamel work and gold chains.

Farah Khan amethyst and diamond chandelier earrings.

Dia Color pink sapphire and diamond flower Fifty-Fifty necklace.

Farah Khan Crown rose gold ring with a central amethyst surrounded by diamonds, rubies and emeralds.

Entice kundan polki floral earrings with pinkish-purple tourmaline.

Ganjam 'Le Jardin' necklace with amethyst and rhodolite flowers interspersed with pearls and diamonds.

Mirari tourmaline and galuchat earrings with pink and green sapphires and white diamonds set in white gold.