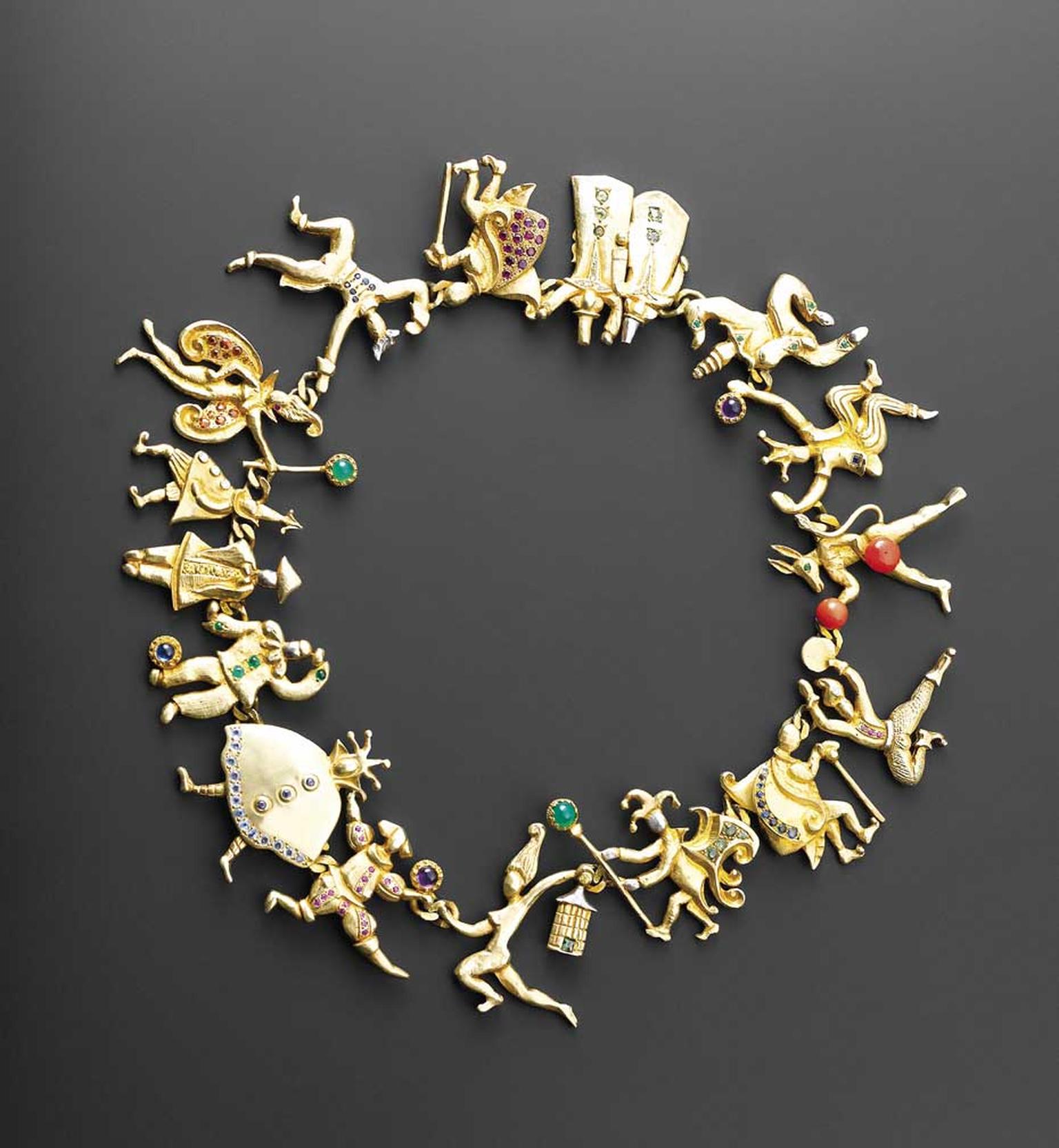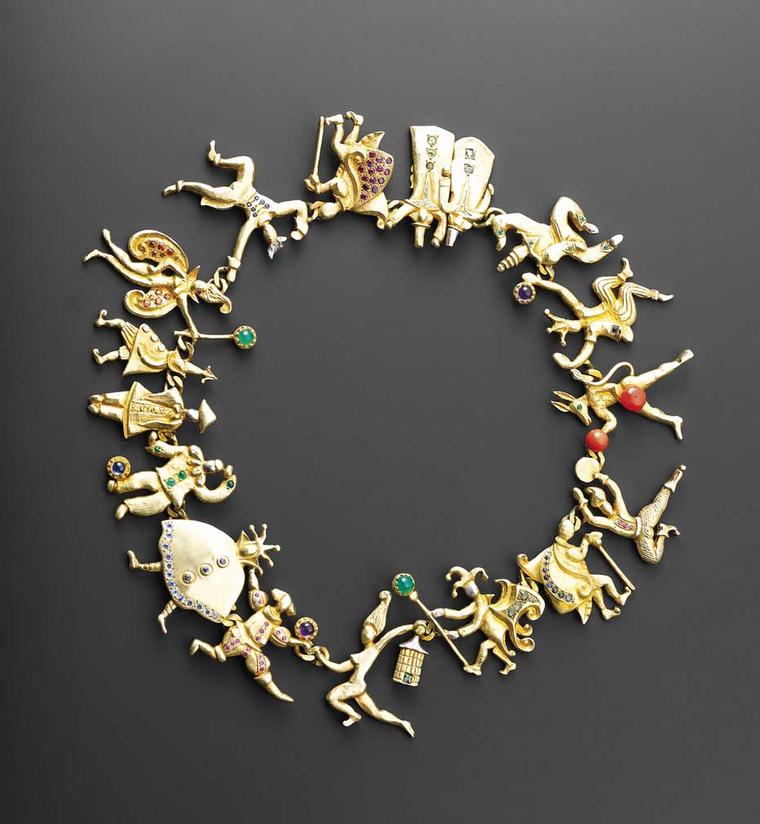 By Juliet de La Rochefoucauld in Paris
Running down the steps of an old Tuscan palazzo and through the narrow paths that wind around the golden sandstone walls, I embark on an imaginary journey into the past, transported into legends of old. I am looking at a ring: a marvellous creation by Jean Boggio, goldsmith, jeweller and storyteller - in which order it is hard to tell.
His monumental rings are miniature towers, villages and palaces set within mysterious gardens planted with chrysoprase, amethysts, diamonds, sapphires and rubies. One stunning and unique Jean Boggio ring, with its plate tracery and pointed arch Gothic windows, mimics the texture of carved and chiselled stones creating an interesting contrast to the emeralds and  the cabochon emerald oculus below. It is set with an onyx dome and diamonds while the citrine briolettes recreate a garden and highlight the oxidised silver facades.
Just as a traveller might weary of moving from city to city, Boggio also explores the wild, where beasts of all shapes and sizes come into the repertory of jungle jewels crowded with flowers, palm trees, ferns and other exotica - a veritable garden of gemstones.
From his workshop in Lyon, Boggio started to recreate his imaginary worlds at the age of 18. His astonishing ability to craft his ideas into physical matter is a rare feat in a world divided by artisans and designers. Born in Algeria of Italian and Spanish ancestors, Boggio describes himself as a global citizen inspired by the tales and lore of his childhood.  
From the start, this multitalented creator has worked with luxury brands, moving from the universe of crystal - at the famous Saint-Louis crystal works - to that of porcelain with Raynaud, Havilland and Baccarat and his famous "Vagues" collection for Daum, where he mixed his goldsmith talents with coloured glass. He has even designed hosiery for Bourget using the stories of Puss in Boots and The Tortoise and the Hare to inspire him. Whatever the material, Boggio's imagination is immediately activated.
Boggio created an artistic bridge between Chinese lore and the West, designing porcelain for seven years for his boutique "Jean Boggio for Franz" in Peking, where he married spectacular colours, the pop art of the 1970s and the delicacy of Chinese porcelain. Always on the move, he has been named French creative designer for the first Chinese high jewellery house on Rue de la Paix called TTF, or Tomorrow, Today, Forever.  
His many talents include lacquered furniture and boxes; table and silverware; and, most recently, his magnificent circus porcelain vases, made in collaboration with "Emaux de Longwy" for the newly opened HSP gallery in Paris. The carnival theme has been with Boggio since the start and has had as much a place in his jewellery as in his other works of art. The necklace shown here is a playful tribute to his childhood and is made up of links where clowns somersault, jugglers perform and acrobats fly through the air.
Jean Boggio's art and jewellery can be viewed at Galerie HSP, at Galerie HIP and at the newly opened TTF Chinese high jewellery boutique on 12 rue de la Paix, Paris.
Jean Boggio Palace ring featuring emerald, citrine, onyx and white diamonds.

Jean Boggio Acrobates earthenware and enamel vases with platinum and gold come in a limited edition of 100, all signed and numbered.

Jean Boggio Oval box in ivory.

Jean Boggio Ca' d'Oro ring in yellow and grey gold with black jade, rubies and diamonds.

Jean Boggio Le Verger des Délices ring in yellow gold and silver with amethyst, jade and diamonds.

Jean Boggio Jungle cuff in gold and silver with amethyst, aquamarine, emerald, garnet, tsavorite and blue topaz.

Jean Boggio Jungle River brooch/pendant in gold and silver with amethyst, aquamarine, emerald, garnet, tsavorite and blue topaz.

Jean Boggio Temple from Antiquity ring.

Jean Boggio Mascarade necklace with sapphires, rubies, chrysoprase, carnelian, emeralds, garnets, gold and gold-plated silver.