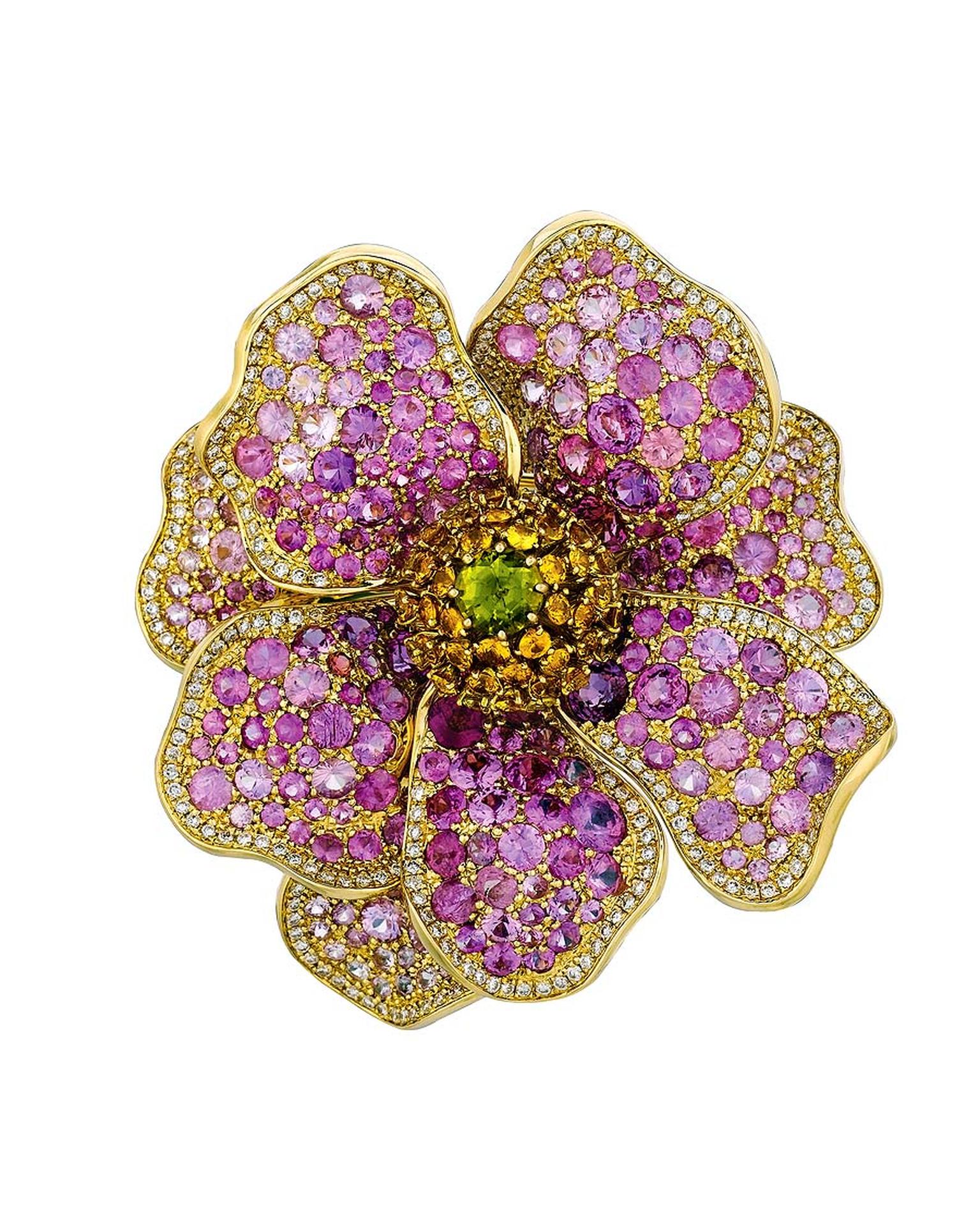 Her career has spanned three decades yet her designs remain some of the most enthrallingly original of today. What motivates Paula Crevoshay to continue creating her unique, one-of-a-kind jewels? We spoke to the pioneering artist-jeweller at home in New Mexico:
You've been a jewellery designer for 30 years. What has compelled you to continue creating new jewels for three decades?
My collection of jewellery has always been motivated by a devout reverence to both beauty and nature. I have also felt the calling to return jewellery to its proper status as a fine art discipline, and that is why I have continued to create one-of-a-kind pieces from the beginning of my career until now.
My collectors drive me to reach further each year - to have something phenomenal and breathtaking each and every season.  Also, the museum exhibition requests have always ignited my psyche to produce museum-worthy jewels for the next generation.
Your jewels always feature extraordinary and often rare gemstones. What comes first - the stone or the design?
The gemstones are what make me tick. My love of stones totally relates back to my love of light and colour from many years of painting and printmaking prior to delving into the world of minerals. About 99% of the time the centre stone inspires the piece. I have often stated I hear the stones speak and know what they wish to become!
You are often referred to as the 'Queen of Colour'. Which are your favourite gemstones?
That is a very tough question as I adore all of the minerals in the kingdom. I do, however, use some more than others, such as moonstones for their adularescence, Oregon Opals, in fact all opals on Earth as they are so painterly. I often say my opals look like Monet hand-painted them. Tourmalines are so divine and come in a plethora of hues, so they are a favourite as well. I have always strived to set as many varieties of gemstones as I can in my lifetime.
You are in the process of creating a new saffron crocus flower pendant, continuing your museum series Garden of Light and Lapidary: A Generation. Describe the process of creating a new Paula Crevoshay jewel.
Oh dear. These flowers take many months to create. First I draw the flower, and then I render the flower for the hues that I will need to translate my painting into a jewel. Then I draw layers of stone and colour placements to scale and begin the search for rough stones to have my colours cut to match the map for the micro pavé. It is laborious, and once the stones come in the layout process begins. It takes many hours over several days to get the layout just so.  Then the bench-work begins, and I review the work at every stage.  This also takes several months… and then voila!
One of your latest obsessions is pink. How did your 'Tickled Pink' collection come to be?
The 'Tickled Pink' collection was inspired by a pearl buying trip to China. I am very colour sensitive, and I wanted to launch hand-selected pearls that show my eye for colour. I found the most glorious pink hues, with Oriental shades of plum, orange, electric blues and mauves like I have never seen before. Once I began to design those I needed all kinds of pink sapphires, pink tourmalines and rose quartz for the accents for these pieces, and I ended up buying larger centre stones for a faceted pink party. Pink literally took over my life for a season. I'm like that - I get obsessed with a colour for a while.
Your work is mostly one-of-a-kind. Do you have a particular woman in mind when you design each piece?
Quite often I have a colour palette type of a woman in mind or an actual client may pop in to play if the stone or the colour makes me think of someone specific. The scale of the gemstone makes me think of a personality type or a lifestyle that I am designing for. It all comes flooding in instantaneously when I am working. I work at very high speed when I create jewellery.
You have devoted followers all over the world. How do new customers find their way to you?
My collectors find me in all kinds of ways. My website is very effective, my retailers connect those dots most frequently and my fans spread the word as well. It is so magical how that works. One of my favorite moments happened many years ago. Carly Simon had purchased 8 or 10 pieces one summer afternoon on the Vineyard and then had dinner with Jackie O wearing several of her new Crevoshay jewels. Jackie asked to meet me and we had a marvellous time together. That was pure magic and a dream come true!
You have an exhibition at The Carnegie Museum (until 11 August 2013), titled Garden of Light: Works by Paula Crevoshay. Tell us more about the show.
The Garden of Light has been such a gift to my art. I literally had to stretch into myself to create this collection of 70 pieces that mirror the glory and brilliance of the garden. The narrative of the exhibition takes the viewer on a journey of the ecosystems and symbiosis that is found on our beloved Earth. It is a must-see!
Whose work do you most admire?
In art and fashion I most admire Lalique, Schlumberger, Fabergé, Alexander McQueen, Coco Chanel, Matisse, Monet, Helen Frankenthaler, oh the list could never end. There is so much creativity on this planet. I admire original genius in all things.
What's next for Paula Crevoshay?
I am working on two new museum collections at the moment and that is taking up all the spare time that I can find. I hope that the best is yet to come…always!
Paula Crevoshay earrings in gold with rose quartz drops, purple sapphires and diamonds.

Paula Crevoshay earrings in gold with 62.20ct rose quartz drops, tourmalines and diamonds.

Paula Crevoshay earrings set with 14.22ct rose quartz and pink tourmalines.

Paula Crevoshay gold earrings set with 30.25ct tourmalines, moonstones and diamonds.

Paula Crevoshay earrings in gold, with 22.30ct opal drops and 2.97ct pink spinels.

Paula Crevoshay earrings in gold with 28.35ct pink pearl drops and tourmalines.

Paula Crevoshay earrings with 40.97ct pearls, set with tourmalines and diamonds.

Paula Crevoshay "Maharani Devi" brooch set with a 140.18ct rubellite, tsavorites, tourmalines and diamonds.

The innocent warm blush of dawn's first light is radiant in this "Eos" gold pendant by Paula Crevoshay, featuring a 50.57ct Lehrer Torus cut tourmaline, quartz, tourmalines and moonstones.

"Spring Eternal" pendant set with a 30.10ct natural pearl, moonstones, diamonds and sapphires.

Paula Crevoshay "Pink Lady" gold pendant, set with a natural Abalone pearl, tsavorite garnets, pink spinels, rubies and opals.

"Flora's Secret" - Lady Slipper - from the "Garden of Light" collection showing at the Carnegie Museum until August 2013, set with pink tourmalines, green garnets and amethysts.