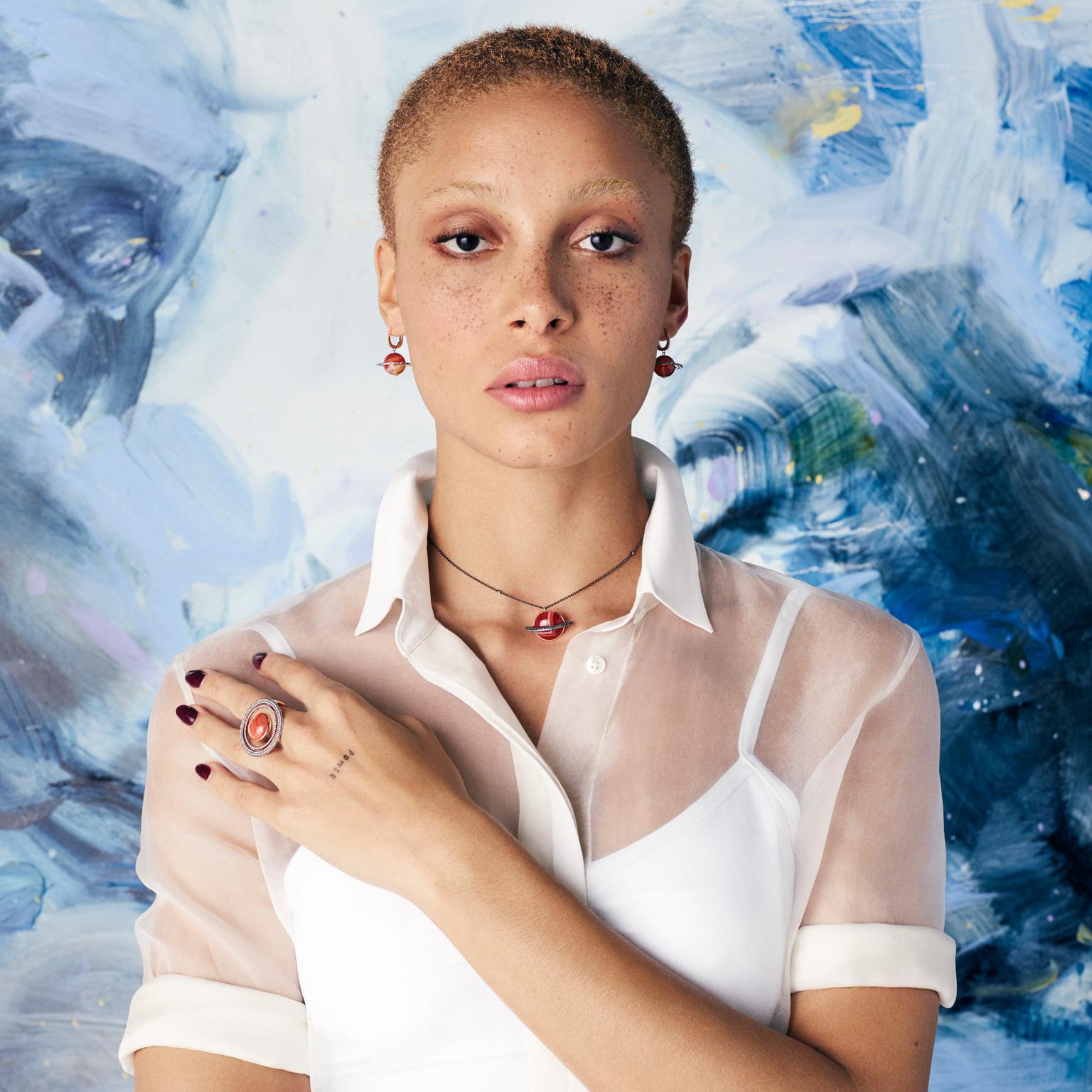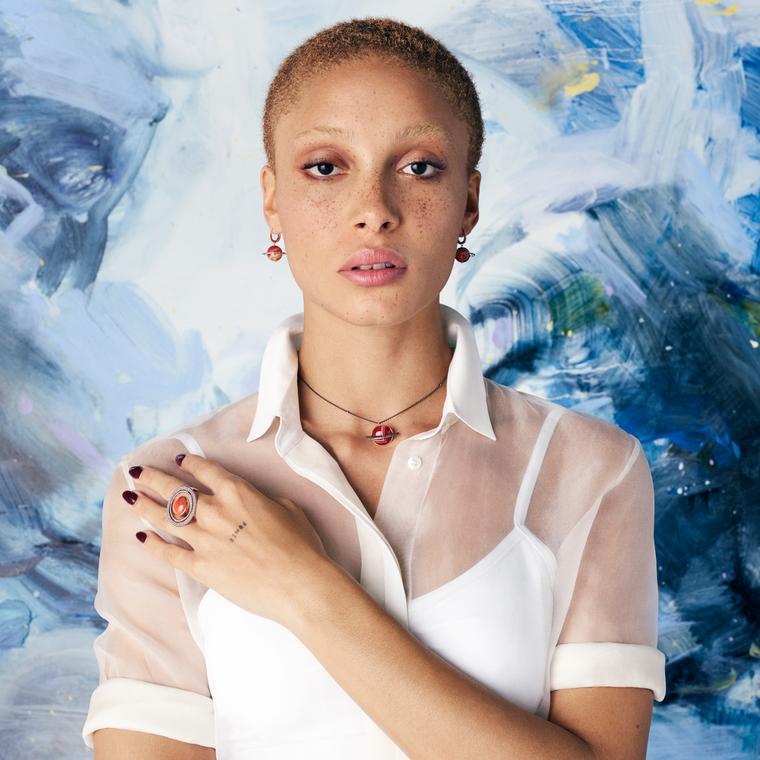 The news that Astley Clarke had appointed Dominic Jones as its creative director and would be debuting his first designs for the brand during London Fashion Week in February was met with unanimous excitement at The Jewellery Editor. Astley Clarke has built a reputation on its ground-breaking approach to selling fine jewellery online, but by signing up the quietly hip young designer to be its creative lead, this very British brand has pulled off a masterstroke.  
Dominic Jones' new Astronomy collection for Astley Clarke propels the British brand in an exciting new direction. 

Fashion model and feminist activist Adwoa Aboah, the face of Astley Clarke's Astronomy ad campaign, wears the new Saturn jewels designed by Dominic Jones.
Five-times winner of the British Fashion Council's NEWGEN award, Jones created 10 collections under his eponymous label before disappearing from public view. Now he's back in the limelight with Astronomy, his first fine jewellery range for Astley Clarke, which is shoppable online as of today.
Gone are the androgynous claws and teeth that earned him a cult following among London's feistiest fashionistas. But there is still an undeniably cool vibe running through Astronomy, which had its first paparazzi moment at the Met Ball last month when the Ghanian-British model Adwoa Aboah, who was chosen by Jones to front the Astronomy ad campaign, wore the Saturn ring on the red carpet in New York.
With his impeccable fashion credentials – his early designs caught the eye of Anna Wintour and his best friend is Alice Dellal – it's obviously exciting to have a name like Jones on board. But his passion for jewels, and the way in which they are made, means that there is plenty of substance to accompany the style.
Each of the Astronomy Earth jewels features a pearl Moon and a rotating Earth with sapphire oceans, a pavé diamond Pole and emerald green continents. "We've used traditional glass enamel for the continents," explains Jones. "It's something that is rarely seen in anything other than artisan jewellery." Glass enamelling requires firing at very high temperatures to achieve a glossy finish, which is why "it looks very precious – like glass. It's these kind of touches that are being lost in jewelllery," he continues. "It has the same kind of emotive qualities as art nouveau jewels, which I really like."
The Astronomy Earth Drop earrings, above, have been designed so that the pearl Moons orbit the Earth. "They rotate round gently, especially when you're walking," explains Jones. An ambassador for the World Land Trust, he was insistent that 10% of the sales from the Astronomy Earth jewels go to the charity to protect the environment and Earth's ecosystems.
A polished ruby slice captures the deep red surface of Mars in a colourful cocktail ring, which features an alien in the form of a tiny emerald set into the surface. "Everyone loved the Mars ring," says Jones, talking about the LFW launch, which attracted musicians, stylists and actresses alongside the customary jewellery editors. "It's just a cool way to wear rubies. And with the little martian, there's humour too."
In my favourite shot from the Astronomy campaign, Adwoa Aboah wears the Saturn earrings, necklace and ring (top of article). They are among the most expensive pieces in the collection – the cocktail ring retails at £2,500 – but show just how much consideration Astley Clarke's new creative director has put into each piece, with carved spheres of banded red agate, chosen for its uncanny likeness to the second largest planet in our solar system, and rings of grey, not white, diamonds, just like those that adorn Saturn. 
Overall, however, the collection is very inclusive, with price points to appeal to all women. "I made sure that there are lots of pieces under £500," points out Jones. "The democracy that comes from the pricing is very rare in the jewellery world. We're not focused on chasing bling-wearing women with our fine collections and, equally, we really celebrate materials and processes. This creates a distinction between what we're doing with contemporary jewellery in comparison to other brands in the same price bracket."