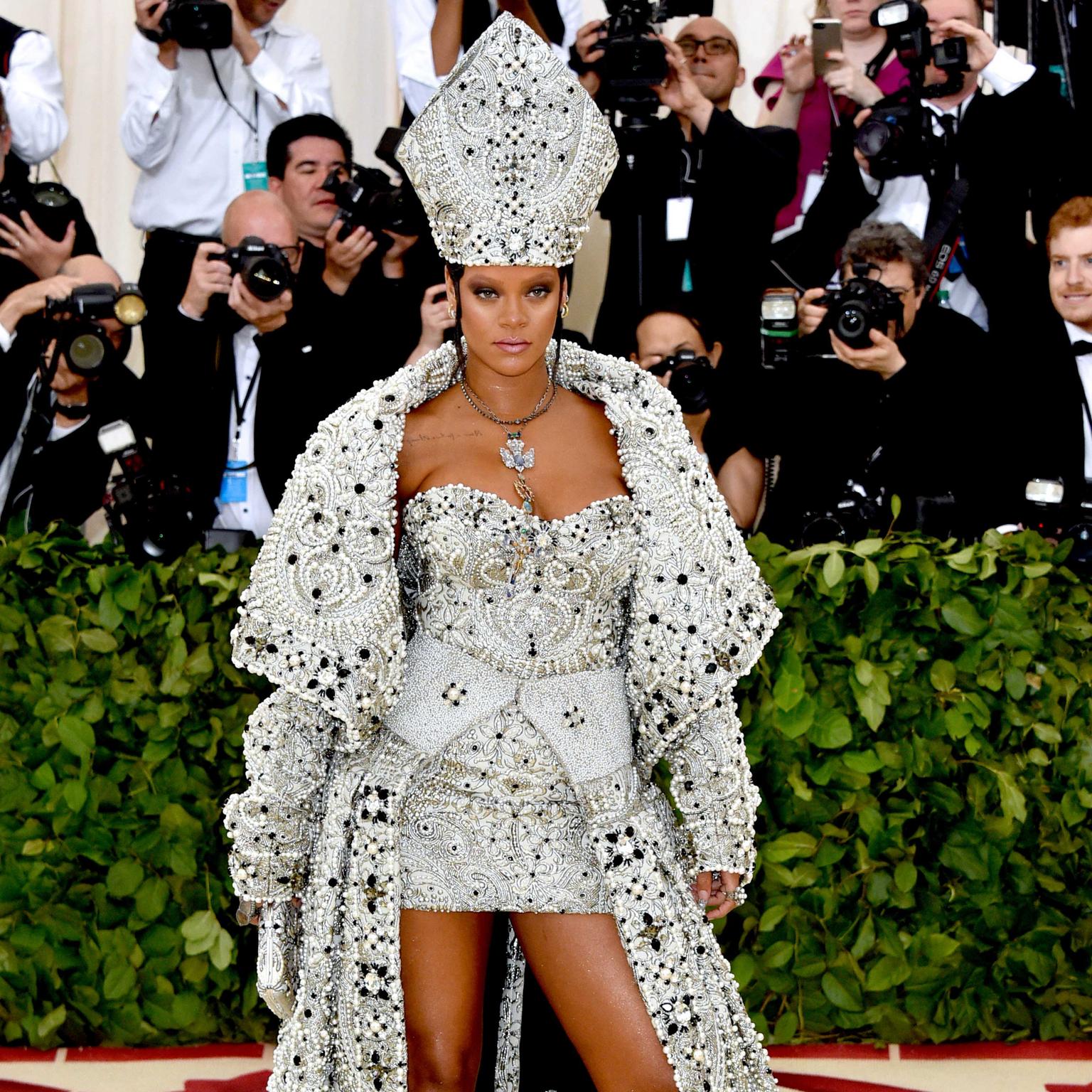 The theme for the 2018 edition of the New York Met Gala was 'Heavenly Bodies: Fashion and the Catholic Imagination' that left ample room for either poking fun at said Establishment or an excuse for extravagant dresses billowing like clouds (below), kinky nun get-ups and plenty of over the top headpieces. Most commented has been the papal mitre perched on Rihanna's head that has ruffled a few feathers over in the Vatican (top).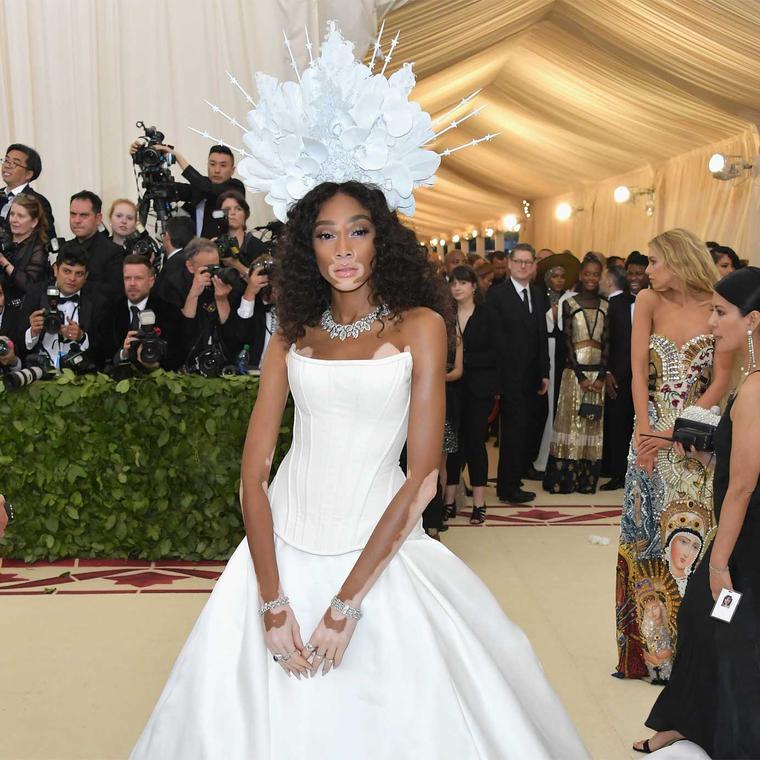 While the red carpet was a bizarre combination of celebrities queuing up like excited children waiting to be let into a fancy dress party, with Katy Perry rubbing angel wings with Greta Gerwig's nun-like cover-all tunic, the jewellery was more consistent. The theme 'Heavenly Bodies' lent itself to diamonds and shining gold, as neatly demonstrated by Joan Smalls and her classy all-gold Bulgari Parentesi jewels (below) along with a trident of a head piece that would make Neptune feel safe while out and about with on a dark night.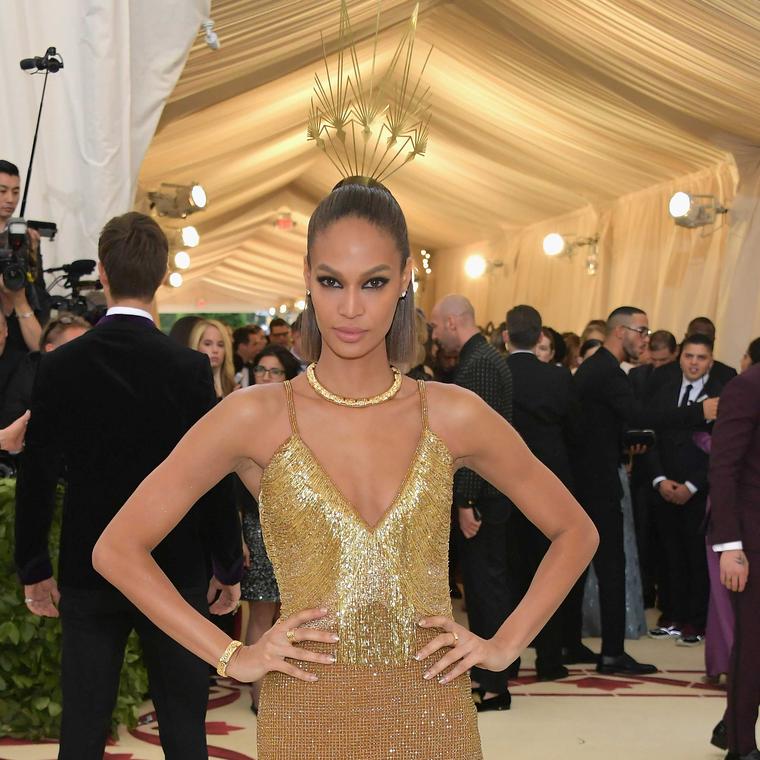 'Catholic Imagination' made it open season for cardinal-style rings, outsize crucifixes and opulent colour gemstones. The inspiration was not lost on Rihanna who chose a Cartier crucifix to complement her rhinestone encrusted mini-skirt Pope costume. The Cartier crucifix worn by Rihanna belongs to Cartier's collection of vintage jewels and was first created in 1934 by Cartier London and re-introduced after the war in 1949 (below). The original 1934 design included gold, silver, diamonds, sapphires, rubies pearls, opal and topaz.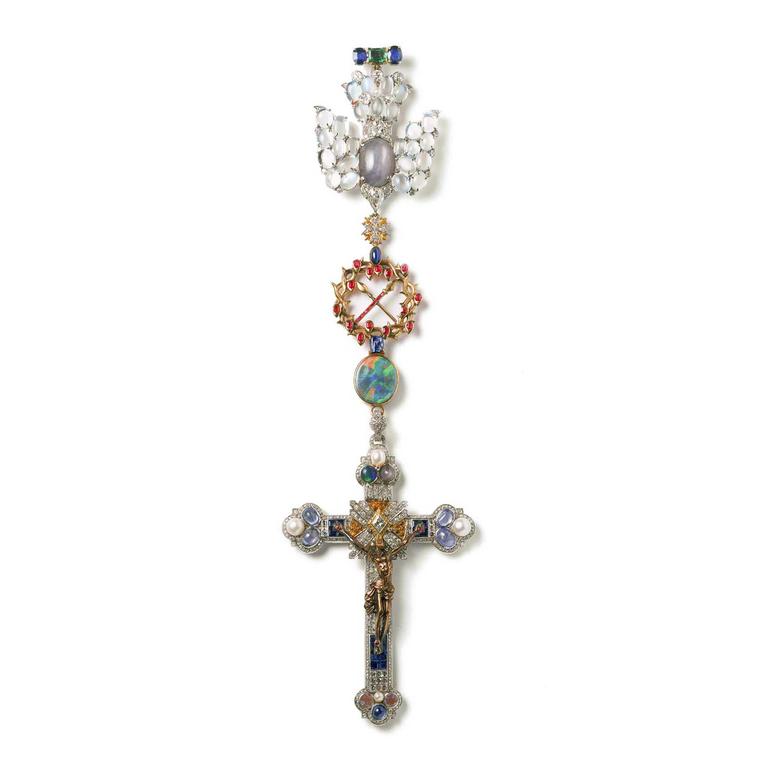 A pair of starkly simple onyx earrings by Cartier from 1929 added a clever twist to Lily Collin's macabre nun look, complete with a red tear drop and spiky head piece (below). More demure was Greta Gerwig's choice of headwear. She wore in her hair a yellow gold and diamond necklace by Schlumberger from Tiffany.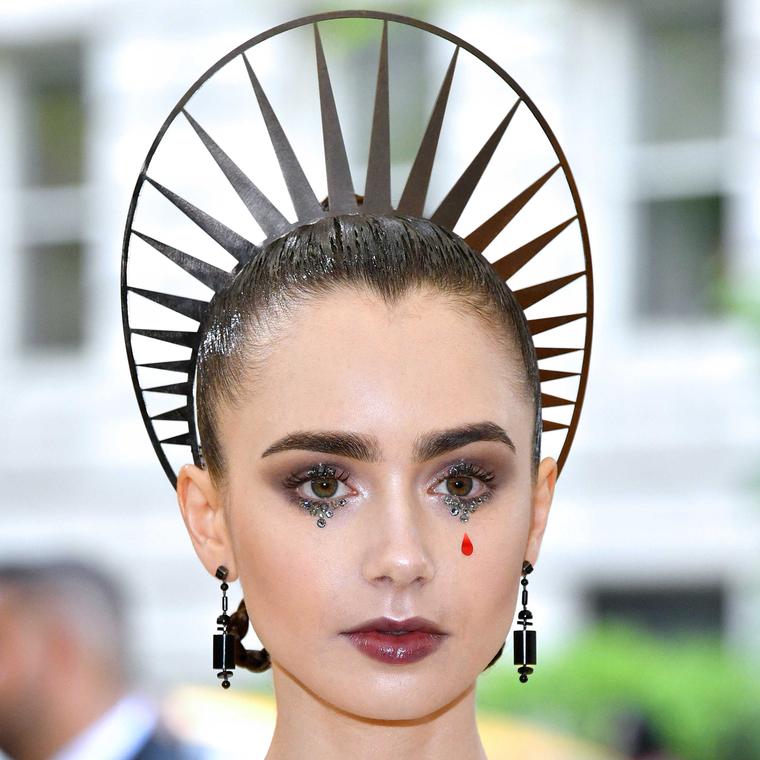 Lily Aldridge gets my vote for the best jewellery look with not one, but three glorious Bulgari emerald high jewellery necklaces (below). The heavenly opulence of the trio of necklaces paired with a simple belted buttercup-yellow dress created an effortless ethereal glow, casting its golden light over the crowded Met Gala 2018 red carpet.
Lily Aldridge gets my vote for the best jewellery look at the Met Gala with three tiers of fabulous high jewellery emerald necklaces by Bulgari paired with a buttercup yellow dress and yellow diamond ring channelling a more ethereal side of the religious theme of the Met Gala 2018. Credit: Getty Images

Jasmine Sanders also known as Golden Barbie took the Heavenly Bodies theme to heart and dazzled in an all-gold dress of astral inspiration. The heavenly dress custom-made by H&M was complemented with matching Bulgari Parentesi high jewellery necklace and bracelet in rose gold paved with diamonds. Credit: Getty Images

Wandering lonely as a cloud, Winnie Harlow wore a stunning Bulgari high jewellery diamond necklace to complement her cloud-like outfit. She wore another Bulgari diamond bracelet on each wrist and five Bulgari diamond rings and one sapphire ring. Credit: Getty Images

Jourdan Dunn went for an all-white gold and diamonds look in her choice of Bulgari jewels that included Serpenti drop earrings with two matching rings and a Diva's Dream ring. Credit: Getty Images

Jennifer Lopez took the theme to heart and emblazoned a crucifix onto her ornately decorated Balmain dress. She added to the look of papal opulence with a pair of Tiffany Schlumberger earrings in yellow gold with diamonds.

Greta Gerwig chose a demure interpretation of the theme 'Catholic Imagination' at the Met Gala 2018 and covered up like a nun. On her head she wore the Tiffany Hands necklace designed by Jean Schlumberger in yellow gold, platinum and diamonds and the Tiffany Schlumberger Stitches ring

Kendall Jenner chose to wear Tiffany T jewels to the Met Gala 2018 and was spotted in three Tiffany T white gold and diamond rings when she stepped out onto the red carpet at the 'Heavenly Bodies: Fashion and the Catholic Imagination' themed event.

Rihanna managed to pull off this papal-inspired outfit without toppling her mitre.  The vintage Cartier necklace is made of gold, diamonds, sapphires, pearls, rubies, moonstone, opal and emeralds.

The Cartier crucifix worn by Rihanna to Met Gala 2018 was originally created in 1934 by Cartier London and re-introduced after the war in 1949. The original 1934 design included gold, silver, diamonds, sapphires, rubies pearls, opal and topaz.  The necklace belongs to the Cartier Collection.

Lily Collins' striking Cartier onyx earrings date back to 1929 and work surprisingly well with her dark martyr's outfit, complete with a diamond Cartier crucifix in her hand.

Joan Smalls stood out in her elegant and simple gold slip dress paired with an equally chic Bulgari Parentesi Heritage necklace and bracelet in yellow gold. A pair of high-carat diamond Bulgari ear studs added a final sparkle to her Met Gala 2018 look topped by a towering gold tiara. Credit: Getty Images

Chadwick Boseman was one of the few men to wear jewels on the Met Gala red carpet. He chose to accessorise his gold embroidered white Versace suit with chunky gold Bulgari B.Zero1 rings. Credit: Getty Images