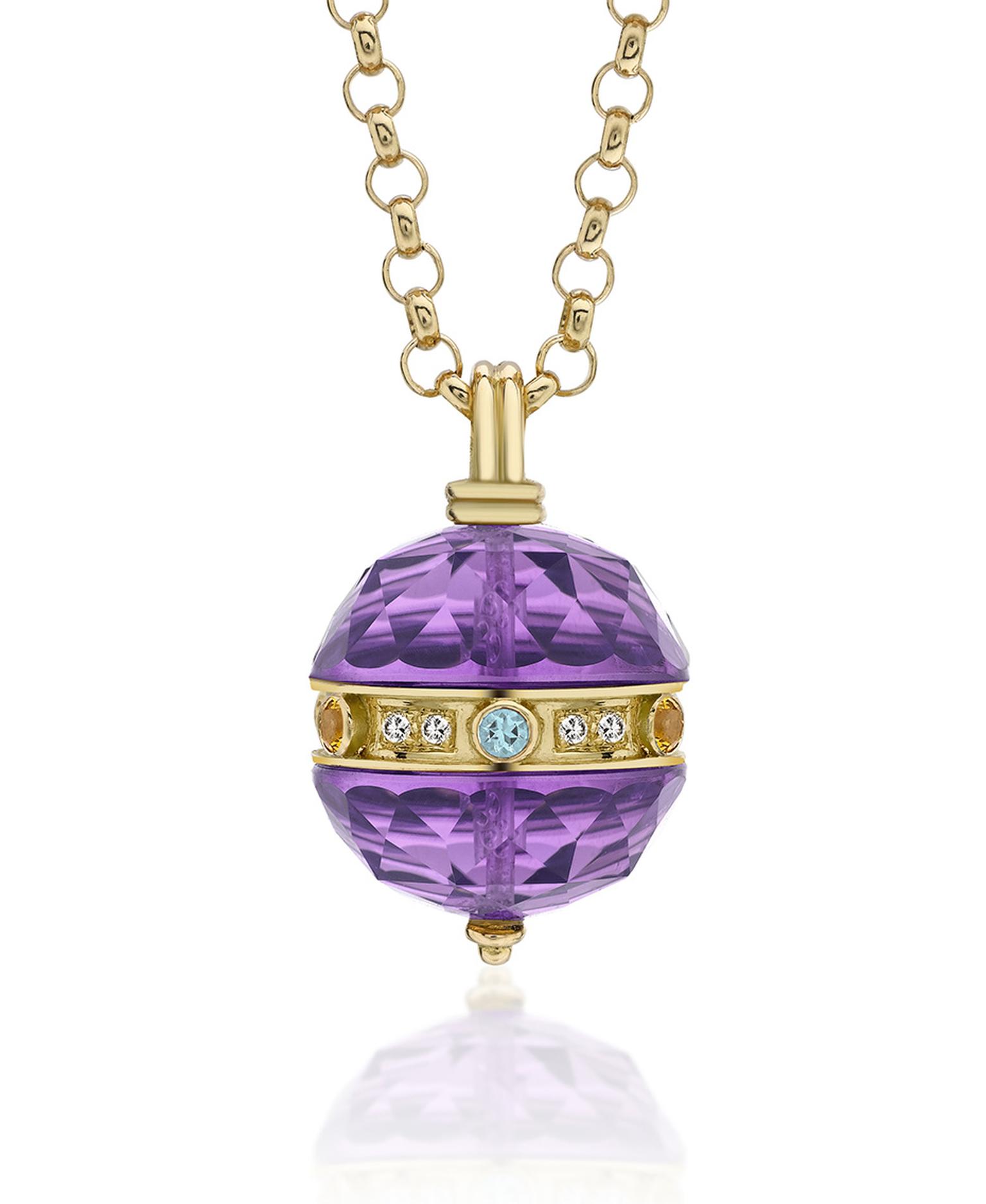 By Maria Doulton in London
Looking into the rich, lustrous depths of an amethyst cabochon makes it very easy to understand why this stone was considered to be as valuable as an emerald or ruby in ancient times.
It is only in more recent history, when last century's abundant supplies of inferior quality amethyst flooded the market, that this majestic mineral of the quartz family lost its lustre.
But as jewellers increasingly look for stones beyond the traditional trio of sapphires, rubies and emeralds, the amethyst is coming into its own once again. Add in the fact that the Pantone Institute has declared mauve-hued 'Radiant Orchid' the colour of the year and amethyst's desirability is at fever pitch.
A large, high-quality amethyst with a deep, evenly saturated hue and flashes of mauve is now highly sought-after, a fact reflected in recent designs where this purple gem sits centre stage. 
In fact, a few years ago it would have been an anomaly to see an amethyst elevated to such heights in jewels by the likes of Van Cleef & Arpels, Cartier, Tiffany or Chopard. Bulgari, known for its fabulous colour combinations, has always valued the amethyst, so it is no surprise that it is a house favourite, regularly combined with emeralds, turquoise or mandarin garnets to magnificent effect.
It's not just the elite jewellery houses that are embracing purple quartz. Everywhere I look amethyst is glowing in edgy designs, from a one-of-a-kind amethyst necklace by the bearded and tattooed London jeweller Duffy to the jewels of Brazilian Silvia Furmanovich, who cleverly juxtaposes her native stone with unexpected materials. 
In collaboration with Gemfields, a leading supplier of coloured stones, Jordan Askill sends swallows swooping around nuggets of amethyst, while New York designer Alexandra Mor uses a more traditional stepped-cut amethyst in an impressively large yet refined ring. Designers from around the world are warming to its glossy ripeness, and the purple haze looks set to continue throughout 2014 and beyond.
Read more on amethyst jewellery
Farah Khan Crow ring with a central amethyst surrounded by diamonds, rubies and emeralds, set in rose gold.

Chopard Red Carpet collection amethyst necklace.

Chopard Precious Temptations necklace featuring a single amethyst.

Chopard Precious Temptations earrings featuring two amethysts.

Kara Ross gold Petra split ring with raw and smooth amethyst divided by a line of diamonds.

Jordan Askill for Gemfields silver and Zambian amethyst Swallows brooch.

Louis Vuitton yellow gold Emprise ring featuring a central amethyst.

Kiki McDonough amethyst egg pendant.

Duffy for Gemfields gold Odyssey necklace with 52.25ct Gemfields Zambian amethysts.

Alexandra Mor emerald-cut rich purple amethyst and diamond ring.

Astley Clark medium Fao ring featuring a central Rose de France amethyst and molten pavé diamonds.

Farah Khan Crown rose gold ring with a central amethyst surrounded by diamonds, rubies and emeralds.