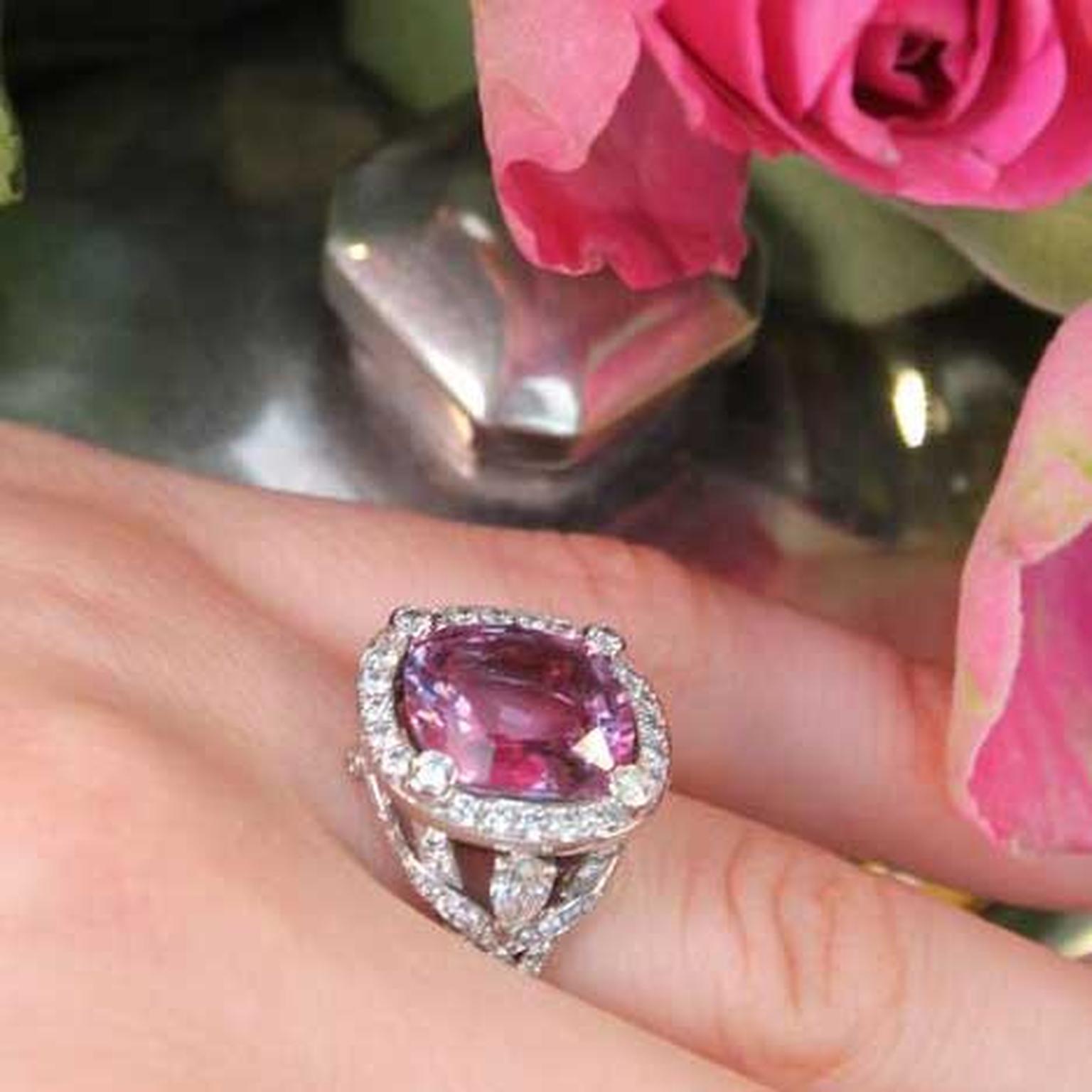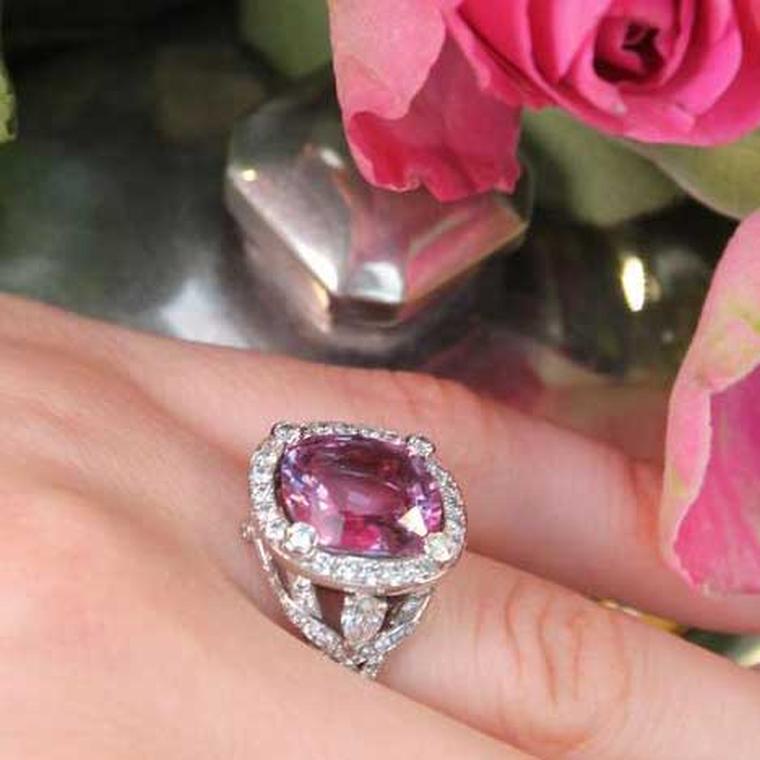 By Åse Anderson
Lady Gaga has ditched the heart-shaped diamond engagement ring from former fiancé Taylor Kinney for a pink sapphire halo-style ring from new beau and Hollywood agent Christian Carino. Read more about Lady Gaga's heart-shape diamond ring here. 
Unlike Princess Eugenie, the other high-profile pink sapphire ring wearer, this ring doesn't appear to feature a padparadscha sapphire stone distinct for its peachy and orange hues. Read more about Princess Eugenie's engagement ring here.
None the less, the saturation and hue of this pink sapphire make it a stunning choice. And here at The Jewellery Editor we have long been advocates of pink sapphire engagement rings.  With their soft luminous glow, pink sapphires radiate romance, making them the perfect choice for an engagement ring. And with an increasing number of brides opting for coloured gemstones, pink sapphire engagement rings offer a perfectly pretty alternative to traditional blue sapphires.
View our gallery of blue sapphire engagement rings here
Mined primarily in Madagascar, Sri Lanka, Myanmar and East Africa, pink sapphires can vary in colour from baby pink to a more vivid, intense magenta. Like rubies, sapphires are formed from a mineral called corundum and their colour is determined by the concentration of chromium present. The colour of the sapphire is the main factor determining its price, with bubble gum pink currently fetching the highest market value. Carat, cut and clarity also play a part in the final valuation.
Pink sapphire engagement rings are also a more affordable alternative for those who like the look of pink diamond engagement rings but are put off by the astronomical price tags.
Here at The Jewellery Editor we love a jewel with a story associated with it, even more so when the piece in question is as beautiful as the Chaumet Joséphine pink sapphire and diamond engagement ring, inspired by the tiaras worn by Empress Josephine, wife of Napoleon Bonaparte. The feisty, fashionable Empress became the jeweller's first "celebrity" customer in the late 18th century and has been a muse for Chaumet jewellery designers ever since. It is rare to find a sapphire that has not undergone heat treatment, but this Chaumet ring stars a 1.00ct pear-shaped, non-heated pink sapphire surrounded by white diamonds.
Read more about Chaumet's Joséphine Tiara ring here
If you are a bride-to-be searching for engagement ring ideas, pink sapphires set in white gold and accented with white diamonds make a wonderfully feminine choice. The soft glow of a pink sapphire highlights the intertwined diamond bands in the Piaget Rose engagement ring, giving it a wildly romantic look. Alternatively, the circular diamond pavé design on the Tiffany pink sapphire engagement ring draws the eye towards the vibrantly coloured gemstone at its centre.
If you want to stand out from the crowd with a unique engagement ring, the Theo Fennell pink sapphire ring could be the one for you. A cushion-cut pink sapphire is nestled in a rose gold floral setting on a white gold diamond pavé band. The Omi Privé pink sapphire engagement ring is another standout design featuring a round fancy-colour sapphire combined with yellow gold and round diamonds.
The sapphire is said to symbolise a relationship based on truth and faithfulness. It is no wonder, then, that many couples are falling under the spell of pink sapphire engagement rings. 
Read more about unusual colour sapphire engagement rings here. 
Updated by Maria Doulton, October 2018
Piaget Rose engagement ring, illuminated with the soft glow of a pink sapphire nestled between intertwined diamond bands.

Theo Fennell engagement ring featuring a cushion-cut pink sapphire nestled in a rose gold floral setting on a white gold pavé band.

The circular diamond pavé design on this Tiffany pink sapphire engagement ring allows the vibrantly coloured gemstone to take centre stage.

Omi Privé pink sapphire engagement ring featuring a round fancy-colour sapphire set in yellow gold with diamonds.

The Hirsh Princess 4.05 carats padparadscha sapphire ring is similar in size to Princess Eugenie's ring. The padaparadscha is heat treated and retails for £48,000. An un-heated padparadscha will sell for the double the price. 

The Soleste sapphire ring is one of Tiffany's signature styles, and this unenhanced 4.22ct padparadscha sapphire looks radiant. 

Omi Privé padparadscha sapphire ring with a central 7.18ct stone, flanked by two half moon diamonds, all set in platinum.

Anne Sportun engagement ring in yellow gold featuring a bezel-set 8mm rose-cut pink sapphire surrounded by 16 diamonds.

Fabergé pink sapphire cushion-cut engagement ring. Price £44,900