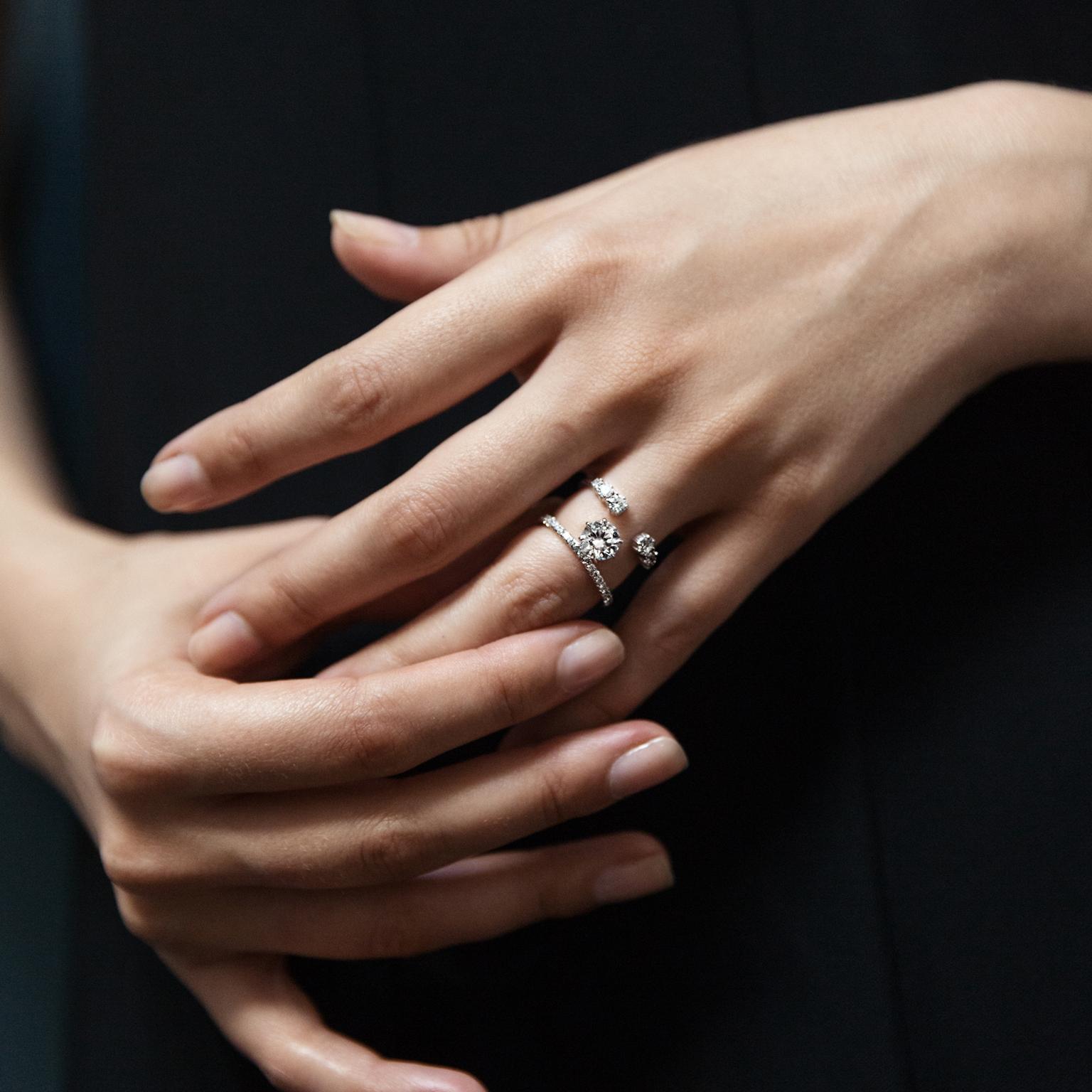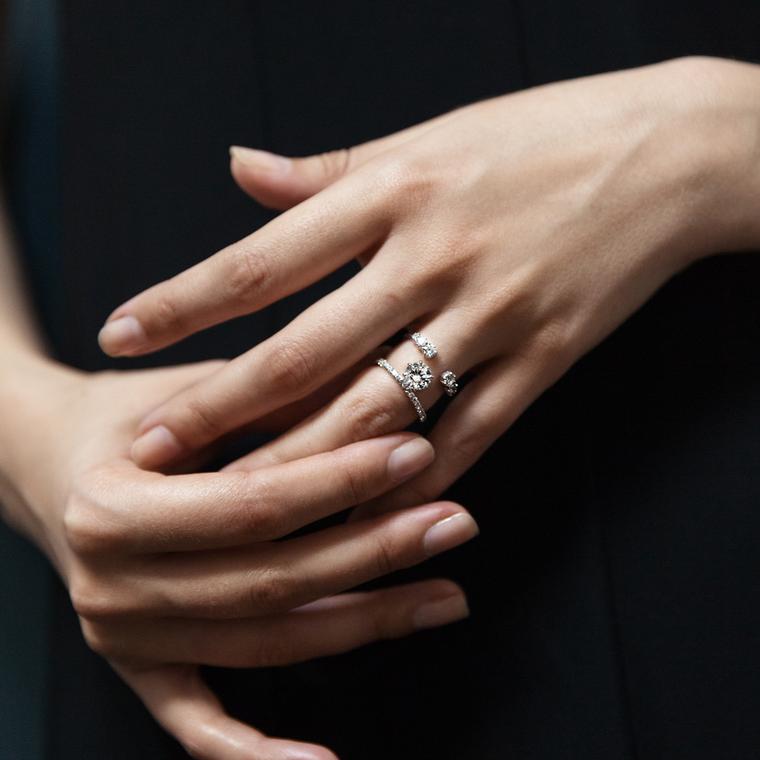 The wearing of an engagement ring may be steeped in tradition but that doesn't mean that your ring design has to follow suit. Fashion-savvy brides with a keen eye for aesthetics want an engagement ring that is as stylish as they are. A simple and elegant solitaire is always going to be a classic choice, but if you're looking for something more unique, there are plenty of unusual yet stylish ring designs out there.
For most of us an engagement ring is a forever purchase – unless you're Victoria Beckham, who reportedly has 13 rings to choose between –so it's advisable to find a style that suits your personal taste and not let current fashions dictate your choice too much. Luckily for us, engagement ring trends are slower to evolve and less ground-breaking than fashion trends.
As they are not flash-in-the-pan fads, you don't have to worry about these styles losing their allure or looking dated as time goes on. Read on to get the full lowdown on which engagement rings are most popular in 2017 and beyond.
Rose gold engagement rings
Rose gold has emerged as a leading trend in fine jewellery in recent years. With a subtle warm glow that is both sophisticated and romantic, it's no wonder that it has now filtered down into the engagement ring category.
The feminine rosy hue is flattering for all skin tones, and while it perfectly complements a crisp white diamond it also looks spectacular paired with coloured gemstones such as pink or black diamonds. First popularised in the Victorian era, rose gold also has a timeless vintage appeal so it works very well with older diamond cuts like rose, old mine and old European.
Rose gold is made from a yellow gold and copper alloy and has the added bonus of being more durable than its yellow and white counterparts. However, it is worth bearing in mind that, because of the copper content, the metal is not hypoallergenic.
Last year Tiffany & Co. introduced its most popular engagement ring, the classic Tiffany setting, in rose gold with matching wedding and eternity bands – proof, if needed, that rose gold is an engagement ring trend that is here to stay.
Pink diamond engagement rings
Coloured gemstones are becoming an increasingly popular choice for brides-to-be who want a more unique centre stone than the ubiquitous white diamond. Pink diamond engagement rings in particular are enjoying a moment in the spotlight, which is hardly surprising given their irresistible beauty and extreme rarity.
Here at The Jewellery Editor we've been crushing on pink diamond engagement rings ever since Gossip Girl actress Blake Lively first flashed her light pink oval-cut 12.00 carat sparkler. Set onto a diamond-encrusted rose gold band it combines two of the most stylish engagement ring trends in one beautiful jewel.
Create an exquisite colour wheel on your finger with the new Solaris rings from German jewellery brand Niessing, which are available in the colour of gold or your choice and with or without diamonds.

Designed to be worn together, Jade Trau's award-winning Astor ring and band are a very stylish alternative to a traditional engagement ring/wedding band set (POA).
Fancy diamond cuts
The round brilliant has been the most popular diamond cut for many decades and there is no denying that its scintillating sparkle makes it the perfect candidate for a centre stone. Recently, however, we have seen a growing trend for women to veer away from the round-cut solitaire in favour of more unusual fancy cuts. Vintage-inspired cuts such as the pear, cushion and emerald have seen an upsurge in popularity, partly driven by high-profile celebrities such as Amal Alamuddin-Clooney, Beyoncé and Olivia Palermo choosing these more unusual diamond shapes.
Essentially, any diamond that is not round is deemed to be a fancy cut diamond, and each one has its own unique beauty and brilliance. The elegant step-cut facets of the emerald shape create a beautiful hall of mirrors effect when they catch the light while the pear cut has a flattering elongating effect and the cushion cut combines the brilliance of the traditional round cut with an old-world elegance reminiscent of a treasured family heirloom. For a fresh, modern take on a fancy cut centre stone, this Messika engagement ring features a pear-cut diamond set slightly off centre to create a modern, asymmetric design.
Halo settings
Halo-style engagement rings, where a row of smaller diamonds orbits the centre stone, have also surged in popularity recently and with good reason. Not only does a halo setting add an extra layer of sparkle to your engagement ring, it will also make the centre stone look bigger than it actually is, giving you more carats for your money. Diamonds or coloured gemstones of almost all shapes and sizes can be accented with a halo and the smaller stones can be pavé, channel or invisible-set. A halo is also a practical choice as it acts as a protective shield to guard the centre stone from everyday wear and tear.
The classic halo setting, where pavé-set diamonds trace the outline of the centre stone, came to the fore in the 1920s although the design concept can be traced back to the Georgian era when engagement rings often featured clusters of pearls or round diamonds.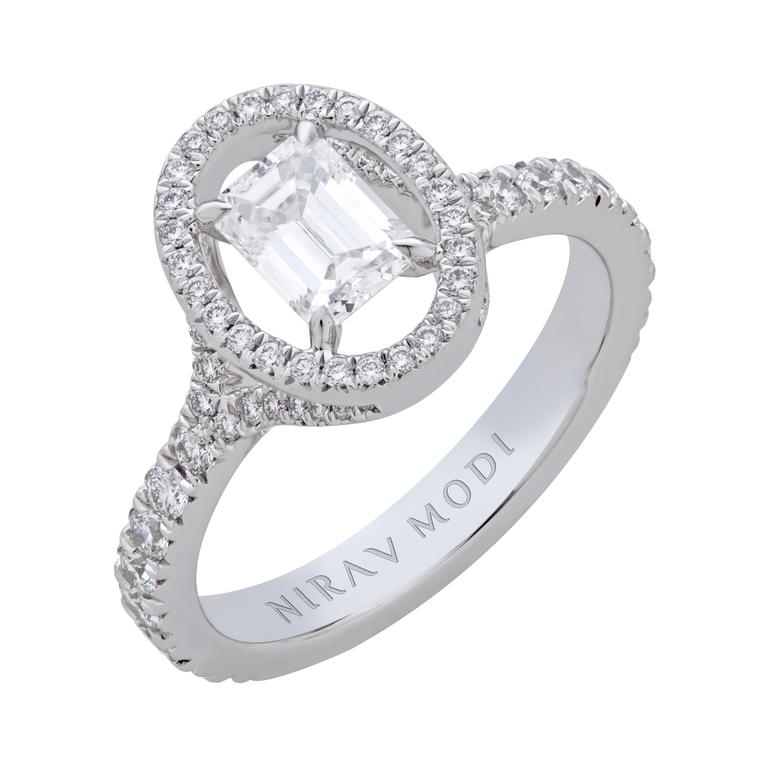 Today, contemporary jewellery designers are exploring fresh variations of the halo setting, including Nirav Modi, who has set a circular diamond surround away from the emerald-cut centre stone. The jeweller says the design taps into the growing demand for contemporary engagement rings that still have a touch of classic elegance. "Women today want pieces that are modern-classic, wearable and versatile, such as our Celestial rings – they are simple, elegant and effortless," he says. "Interestingly, the diamonds are cradled around a rim as if to remind you of your inner beauty, which makes them a great choice for the woman of today."
Horizontally set diamonds
Elongated centre stones such as oval, pear, emerald or marquise-shaped gems are traditionally set vertically, with the longest part of the stone stretching down the finger. Also known as an East-West setting, turning a centre stone on to its side instantly creates a fresh look, distinctive yet elegant, that has found favour with celebrities such as Kate Beckinsale, Portia Rossi and Catherine Zeta-Jones.
While you lose the elongating effect of a vertically set stone, this modern sideways setting is very flattering for those with wider fingers. It is also worth bearing in mind that this style works best with larger gems to ensure the centre stone doesn't blend into the band. Horizontally set diamonds of any shape can be combined with a halo to accentuate their shape and maximise sparkle but they also look stunning on their own. This Anita Ko engagement ring featuring a rose-cut marquise diamond set onto a simple yellow gold band has all the hallmarks of a modern classic.
Split-shank engagement rings
Split-shank engagement rings have a band that splits into two strands at the crown with open spaces that elegantly frame the centre stone. Usually the two bands are set with diamond pavé and the result is an intricate yet graceful design that complements many different diamond shapes. If the split shank is combined with a halo design, the effect is even more striking. Tiffany's Lucida engagement ring is a perfect example of how a split band tapering out from the central diamond can give a contemporary feel to an otherwise classic design, while the split shank in Maniamania's ring gives it an authentic vintage look.
Unusual engagement ring designs
If you're looking for an unconventional engagement ring, there are a myriad of choices out there for break-the-mould brides who want to steer clear of the generic diamond solitaire. From coloured gemstones to unusual settings, there has never been a more fun time to hunt down quirky designs.
Some brides are eschewing the centre stone altogether and choosing rings with pave-set bands or open-ended designs that reflect the current trend for torque jewellery.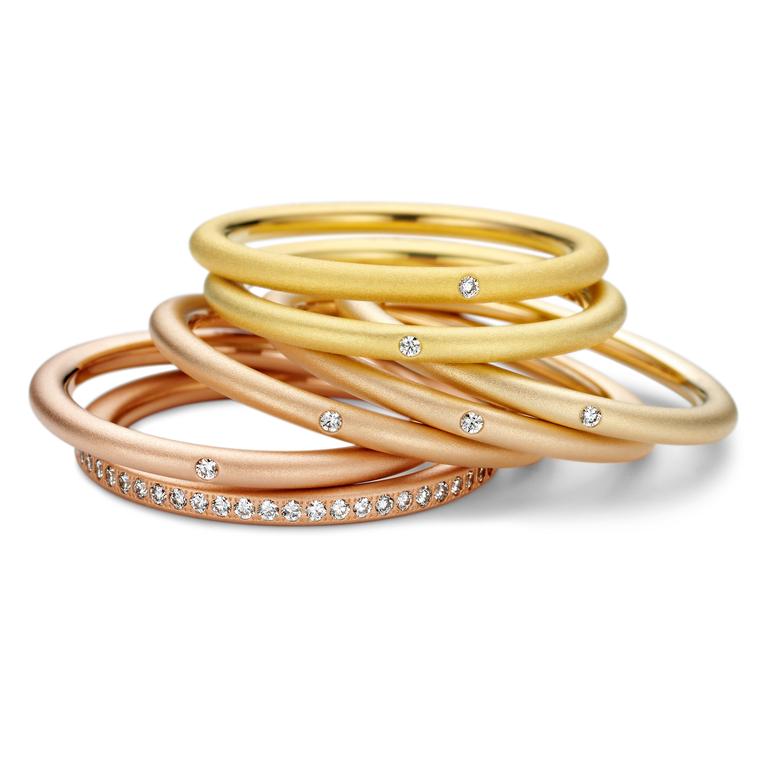 At Basel this year, German jewellery brand Niessing unveiled the latest additions to its immensely popular Satellite range. These slender and colourful stacking rings form a wheel of colour on the finger and make a fun alternative to the traditional trio of engagement, wedding and eternity rings.
The new Solaris rings, left,  capture the colours of a magnificent sundown and are available in gold hues that range from bright sunny yellow to soft tones of peach and deep, warm red. With a tactile, velvety texture, the band can be set with a single 0.005ct white diamond or a full circle of diamonds that orbit the finger like sparkling satellites. New rings can be added on birthdays or anniversaries, creating your own, very personal stack.
We have also seen the emergence this year of innovative designs such as the Astor ring by Jade Trau, which won Best in Bridal at the Couture Design Awards this year. The round brilliant diamond appears to float above the slim, gem-set band, and Trau has created an open ring to wear alongside it. The diamond fits neatly in the space in the open ring, making this a very stylish alternative to a traditional engagement ring/wedding band set.
Hexagon rings by British jewellery designer Jessica Poole, which feature a round diamond solitaire in a beaded hexagon-shaped setting that is a thoroughly modern nod to the classic halo design. Jessica says: "My hexagon rings were all very much customer-led commissions and I have since made quite a few of them. I think they appeal to the modern bride because they tap in to the geometric trend that is very much in fashion yet the simplicity of the single stone and the beading is a nod to tradition. It ticks all the boxes for what many women are looking for at the moment."