Of all the four Cs, the cut of the centre stone on an engagement ring is the most visually obvious and, as such, it is likely to play a key role in your decision making. As well as defining the outline of the stone, a diamond's cut also gives it the captivating sparkle that we are all so mesmerised by.
During the cutting process, tiny angles known as facets are sculpted into the rough stone and, depending on their proportions and symmetry, these will determine the diamond's fire, brilliance and overall beauty.
There are many different diamond cuts to choose from, each of which will give your ring its unique appearance. In this beginner's guide to diamond cuts, we take a closer look at the nine most popular shapes for engagement rings.
Round brilliant cut
Round brilliant diamonds are by far the most popular cut with brides-to-be, accounting for more than three quarters of all engagement ring purchases. With a long history spanning several centuries, this cut was perfected by Marcel Tolkowsky in 1919 and usually has 58 facets.
Heart-shaped engagement rings are arguably the most romantic of them all. They look best in a solitaire setting or framed by pavé diamonds like this Boodles Vintage engagement ring (from £5,500).
With its amazing light-reflecting qualities and eye-pleasing symmetry, it is a classic diamond cut that will never date. The pattern and proportions of the facets also make it is more adept at hiding inclusions than fancy shapes such as the emerald and Asscher. If you prefer a more unconventional design, the round brilliant lends itself well to many different settings and looks and is particularly stunning surrounded by smaller stones in a vintage-inspired halo setting.
Who wears a round brilliant engagement ring: Amy Adams, Nicole Ritchie, Gisele Bundchen, Natalie Portman, Scarlett Johansson, Felicity Jones, Rosie Huntington-Whiteley, Mila Kunis, Emily Blunt
Princess cut
The name of this enchanting diamond shape is enough to make brides-to-be feel like they've stepped straight out of a fairy tale. While its technical name is a square modified brilliant - which doesn't have the same romantic ring to it - the princess-cut is one of the newest diamond shapes around and was first created in 1980.
Essentially a square version of the round brilliant, it has a pyramidal shape with four bevelled sides that maximise brilliance. Like the round brilliant, it has 58 facets and should always be set with prongs to protect the four corners against chipping. An added bonus is that you get more diamond for your money than with a round diamond of the same size and quality as less of the rough stone has to be cut away to create the angular shape.
Who wears a princess-cut engagement ring: Hilary Duff, Emma Roberts, Kate Bosworth, Snooki 
Emerald cut
That an emerald-shaped diamond is the epitome of glamour can be gleaned from the long list of celebrities sporting engagement rings with a centre stone of this cut. Celebrated for their impeccably chic style, it comes as no surprise that Hollywood legends Grace Kelly and Elizabeth Taylor both wore emerald-cut engagement rings.
As the name suggests, this cut was originally reserved for emeralds but it started being used for other stones in the 1500s, making it one of the oldest diamond cuts. The long facets cut into the pavilion of the gem create an optical illusion called hall-of-mirrors where the interplay of light and dark planes produces dramatic flashes of light.
Who wears an emerald cut engagement ring: Mariah Carey, Liv Tyler, Amal Alamuddin-Clooney, Beyoncé, Sarah Jessica Parker, Olivia Palermo
Cushion cut
The cushion cut was first developed around 200 years ago and, until the start of the 20th century, it was the most popular diamond shape for engagement rings. After the 1920s the cut was refined with sharper angles, a larger table (the flat surface on top of the diamond) and smaller culet (the facet at the bottom of the diamond) to increase its fire and brilliance. 
While the shape can vary from square to rectangular, the softly rounded corners and large facets give the cushion cut its distinctive plump and "pillowy" appearance. A newer variation of the cushion cut is the cushion modified brilliant, which has an extra row of facets to create a scintillating "crushed ice" effect.
The cushion cut has seen a resurgence in popularity in recent years, with many brides-to-be drawn to its romantic vintage feel, which is reminiscent of Old Hollywood glamour.
Who wears a cushion-cut engagement ring: Molly Sims, Jennifer Garner, Leighton Meester, Mena Suvari
Heart cut
A heart-shaped diamond is one of the most difficult cuts to get right and calls for a steady hand and sharp eye to ensure the two halves are perfectly symmetrical. This cut is similar to a pear but with a sharp cleft cut into the top and each side gently curving down to the pointed end.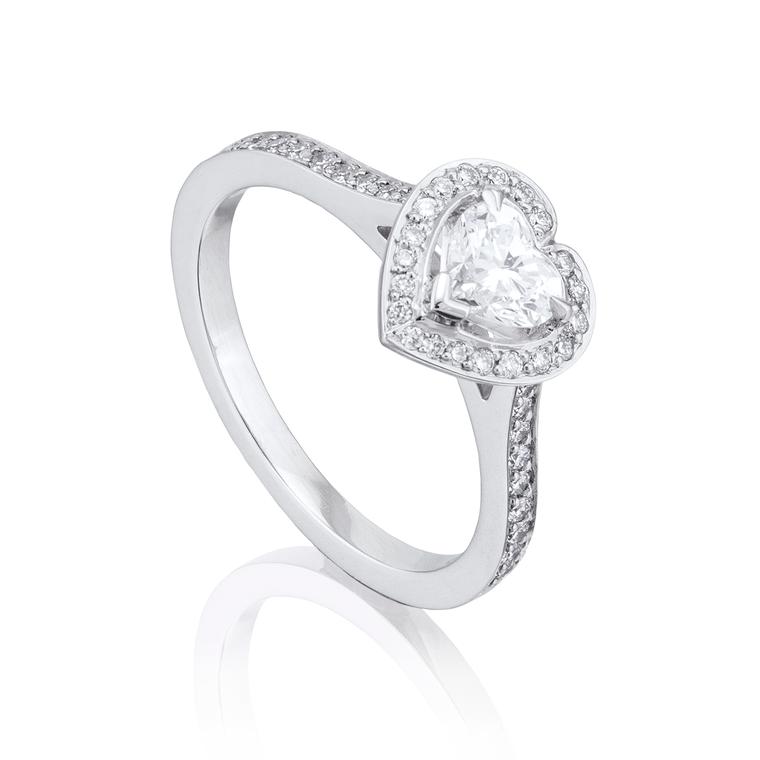 A heart-shaped diamond is prone to the bow-tie effect, where light passing through the stone casts a shadow across the centre, but a skilled cutter can reduce this by altering the angles of the facets. It is without a doubt the most romantic diamond cut for an engagement ring and looks stunning in a classic solitaire setting or framed by pavé diamonds to give it an extra layer of sparkle.
Who wears a heart-cut engagement ring: Lady Gaga, Gwen Stefani, Nicki Minaj, Lindsay Lohan
Oval cut
If you want to get more diamond for your money, the oval cut may be the one for you. Thanks to its drawn-out shape and larger surface area, it looks bigger than a round diamond of the same carat weight when viewed from above. An important factor to consider when purchasing an oval diamond is the length-to-width ratio, which should ideally be between 1.3 and 1.7.
The modern oval cut was invented in 1957 by Russian cutter Lazare Kaplan, who used a cleaving technique to perfect the cut. Like the round brilliant, an oval-shaped diamond has 58 facets so it is the perfect choice for brides to be who are drawn to the fire and brilliance of the round brilliant cut but want a more unique shape.
This is also an incredibly flattering cut for those with shorter fingers as the elongated shape gives the illusion of longer, slimmer digits.
Who wears an oval-cut engagement ring: Blake Lively, Salma Hayek, Serena Williams, Jennifer Aniston, Kirsten Dunst
Pear cut
The pear cut is another fancy cut with a long history dating back to the 1400s. Its teardrop shape, with one pointy end and one rounded end, is an amalgamation of the round and marquise cuts.
Worn with the narrow end pointing towards your hand, the pear cut has an elongating effect so it is a great choice for brides-to-be who want to create the illusion of longer and more slender fingers.
The shape of the diamond can vary between slim and wide but the point should always line up perfectly with the top of the rounded end while the sides should be gently curved with no straight edges. A pear-cut diamond should always be set with a prong covering the pointy end to protect it from chipping.
Who wears a pear-cut engagement ring: Victoria Beckham, Katie Maloney, Anna Kournikova, Princess Charlene of Monaco, Jessica Simpson, FKA Twigs, Katherine Heigl, Elisha Cuthbert 
Marquise cut
A marquise-cut engagement ring is a bold and distinctive choice that is sure to get you noticed. This striking diamond shape has two pointed ends and is usually set vertically on the band but can also be worn horizontally for a fresh, contemporary look.
A marquise-cut diamond usually has between 56 and 58 facets and is also known as the Navette cut, which means "little boat" in French. Its origins can be traced back to the mid-18th century when King Louis XV asked the French court jeweller to create a diamond that resembled the smile of his mistress, the Marchioness Madame de Pompadour.
Symmetry is of utmost importance with this cut as even a slight imbalance between the two ends will be noticeable once it is incorporated into a ring.
Who wears a marquise-cut engagement ring: Portia de Rossi, Ashlee Simpson, Victoria Beckham, Christina Milan
Asscher cut
The elegant Asscher cut is named after its creator Joseph Asscher, who rose to fame as the cutter of the legendary 3,106-carat Cullinan diamond, which was set into the Crown Jewels.
Also referred to as a square emerald cut, this unique diamond shape has four cropped corners and 58 long facets that form a captivating "Hall of Mirrors" effect when it catches the light. The flat table will accentuate any inclusions in the gem so it is advisable to select a diamond with a clarity grade of at least VS2.
Like the emerald cut, the popularity of Asscher-cut diamonds soared in the Art Deco era when clean and symmetrical lines were de rigeur, forever associating it with the glitzy 1920s. Today, this unique diamond shape appeals to brides-to-be who want a distinctive yet sophisticated engagement ring with a glamorous vintage feel.
Who wears an Asscher-cut engagement ring: Gwyneth Paltrow, Jessica Alba, Pippa Middleton
Want to know more about diamond shapes? Read our definitive guide to diamond cuts here.