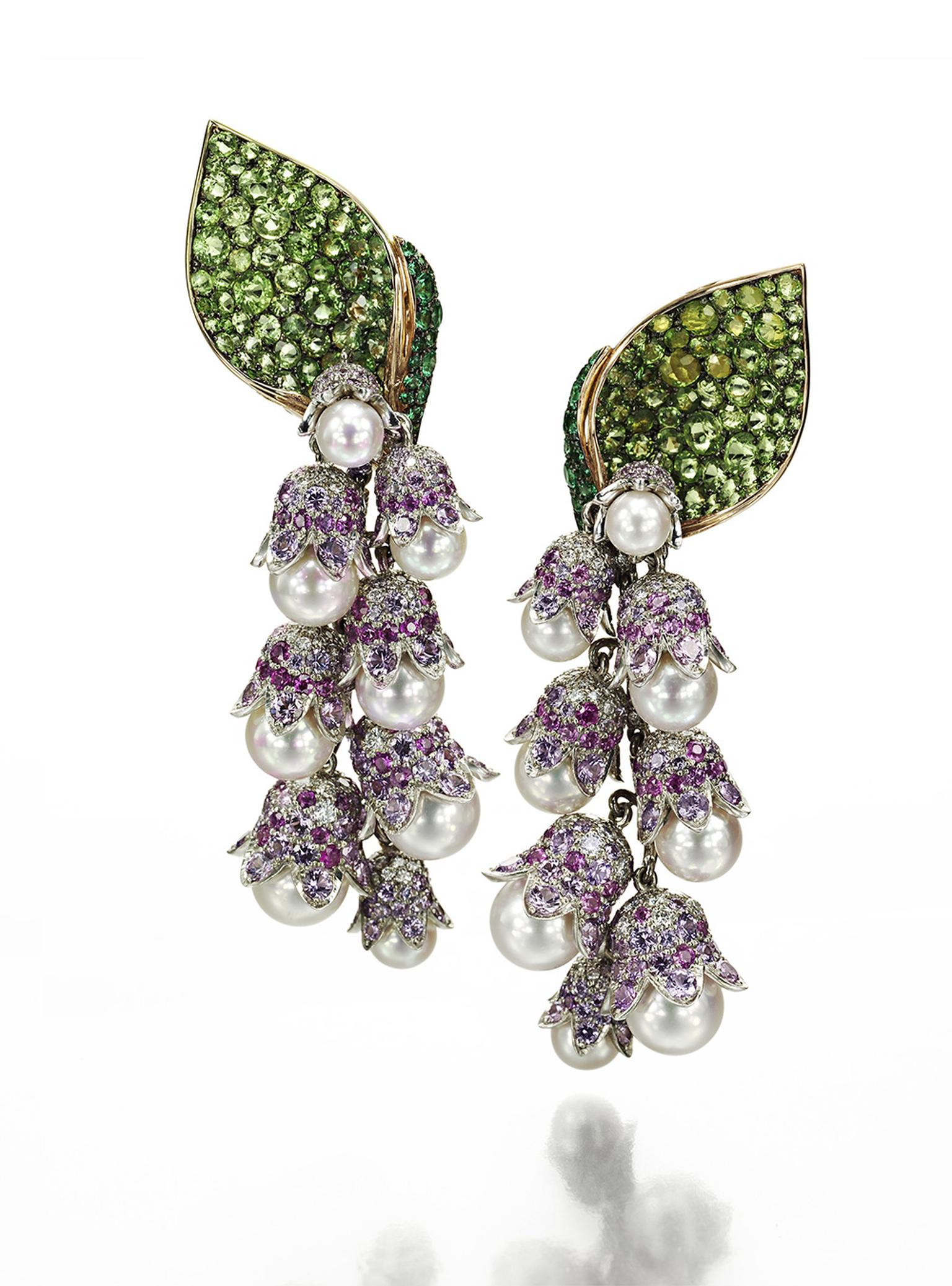 Traditionally a symbol of purity and innocence, pearl jewellery has been popular with brides for centuries. The custom of passing a strand of pearls down from one generation to the next might have all but died out, but the emotional significance remains. Reverred since antiquity, you can trace their romantic connotations all the way back to the ancient Greeks, who associated pearls with love and marital harmony.
"A woman needs ropes and ropes of pearls," said Coco Chanel, who was known to throw as many as seven strands around her neck without a second thought to the occasion. But pearls have moved on since Mademoiselle Chanel's day, particularly when it comes to bridal jewellery. A pearl necklace strung onto a silk thread and fastened with a bejewelled clasp will forever remain a classic, but with the recent explosion of contemporary pearl jewellery, the alternatives are much more exciting. Take the pearl pieces in Chanel's new "1932" collection. Created to celebrate the 80th anniversary of Coco Chanel's "Bijoux de Diamants" collection, they are incredibly elegant and undeniably Chanel, but showcase pearls in a wholly innovative way, incorporating them into the designs as if they are precious stones rather than the sole star of the show.
While most modern-day designs feature cultured pearls - a method of pearl production pioneered by Kokichi Mikimoto more than a century ago, in which a nucleus is inserted into the oyster to start the pearl-forming process - Bond Street jeweller David Morris sourced three exceptional natural pearls for his button pearl ring and earrings. The pinnacle of bridal haute joaillerie, the surrounding pink diamonds mirror one of the many colours visible in the pearls' opalescent exteriors. Among the rarest jewels in the world, natural pearls occur spontaeously in the wild but have been seriously depleted since modern-diving techniques have reached the oyster's deep natural habitats, which makes this elegant suite of pearl jewellery not just incredible to look at but incredibly sought-after also.
If you're not planning on going down the traditional wedding route, there is plenty of pearl jewellery out there that is design-led and seriously cool. Intent on changing the way pearls are perceived, Brit jewellery designer Melanie Georgacopoulos slices them, encases them in precious metals and even cuts them to resemble faceted gems in the same way you would precious stones. Tiffany & Co's collaboration with legendary architect Frank Gehry resulted in a necklace that is the antithesis of a classic pearl choker, with Keshi pearls and rough diamonds scattered over a featherlight mesh made from 18ct white gold. Alexandra Mor's intricately woven pair of pearl-mesh and diamond cuffs caress the wrists like strips of silk. And with an increasing number of brides opting out of the all-white rule, De Grisogono's glam pearl earrings are a sexy and colourful way to flout convention.
Still in contemporary territory but with the kind of clean, crisp lines that will work well with most wedding dresses, Mikimoto, the world's best-known pearl jeweller, recently launched its bridal line of pearl jewellery. With ornate floral designs as well as sleeker, simpler silhoulettes, each piece features the highest-quality cultured pearls for which the brand is famed.
Bridging the classic-contemporary gap is Annoushka's baroque pearl strand, strung with beautiful, irregularly shaped and coloured baroque pearls, and Yoko London's decadent South Sea Pearl earrings, which sparkle with some serious carats. For sheer, old-fashioned opulence, however, nothing comes close to Cartier's Agrafe collection of pearl jewellery. Inspired by the corset clasps that defined the Parisian silhouette, it is an homage to haute couture featuring a distinctive, diamond-pavéd motif, from which hang tassels of perfectly white freshwater pearls.
Theo Fennell 18ct yellow gold and freshwater pearl Bee bracelet (£1,425).

Melanie Georgacopoulos Faceted Diamond pendant in 18ct yellow gold, set with a faceted 12mm white freshwater pearl (£900).

Limited-edition Annoushka Baroque Pearl Necklace of grey freshwater baroque pearls, strung on traditional pearl thread and without a clasp (£2,800).

Annoushka Grace Long Drop earrings in 18ct white gold, with teardrop freshwater baroque pearls suspended on a string of three micro-pavé diamond bows, finished with black rhodium.

Annoushka Grace necklace in 18ct white gold, with a teardrop freshwater baroque pearl suspended on a string of micro-pavé diamond bows, finished with black rhodium.

Cartier Agrafe bracelet in 18ct white gold with freshwater pearls and pavéd with diamonds.

Cartier Agrafe earrings in 18ct white gold with freshwater pearls and pavéd with diamonds.

Cartier Agrafe Double Motif necklace in 18ct white gold with freshwater pearls and pavéd with diamonds.

David Morris white gold Wildflower bracelet with pearls and micro diamond-set details.

David Morris white gold Wildflower earrings with pearls and micro diamond-set detail.

David Morris natural button pearl ring, set in rose gold and surrounded by round pink diamonds, and natural button pearl earrings, set in rose gold, with fancy-shaped pink diamond surrounds.

Yoko London White South Sea Pearl earrings, set in 18ct white gold with 2.97ct G-VS diamonds.