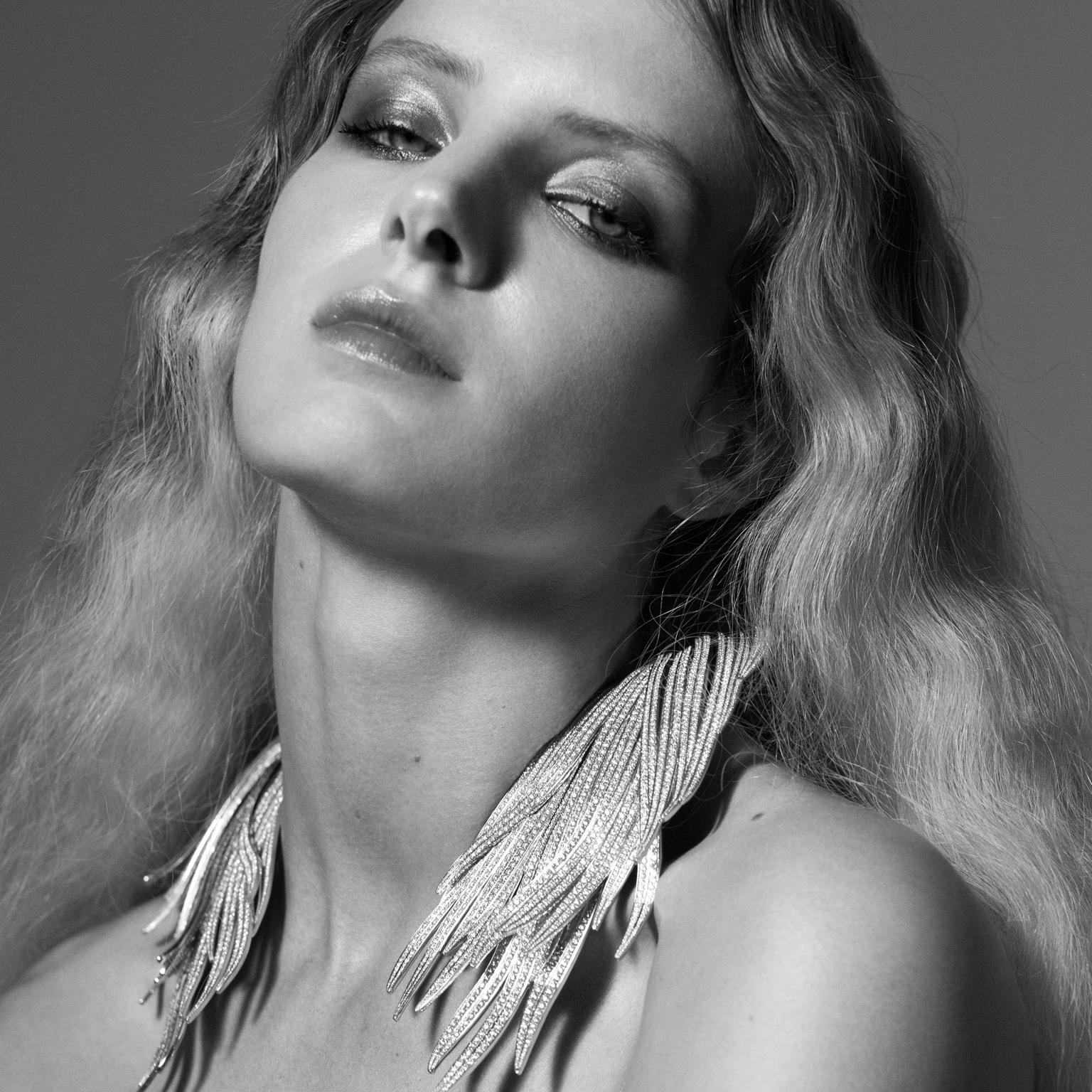 Now in its second year, GemGenève is establishing itself as the new European jewellery show with 210 exhibitors as well as being the place to meet in person the designers to watch. GemGenève, organised by two industry insiders, offers a space where trade and press can mingle with many of the independent jewellery professionals from around the world who have emigrated from Baselworld and beyond.  Located in Geneva's Palexpo, it is a short walk from the international airport and can be explored in a day.
This year GemGenève opened its doors to 4,800 visitors and offered a mix of antique jewellery sellers, loose gem stone dealers and contemporary designers as well as the Designer Vivarium and Emerging Talents sections. Geneva's HEAD school of design and Paris' Haute École de Joaillerie added a contemporary and academic presence to the show. 
Thanks to the Vivarium area, the show is also to place to discover the future of jewellery design and its key players. Last year HEAD graduate Emmanuel Tarpin made his debut here and has since been propelled into the limelight and picked up several awards. Curated by jewellery historian and authority Vivienne Becker the Designer Vivarium includes eleven jewellers, each with a very individual approach. In her introductory speech, Vivienne Becker explained her selection criteria, which includes the presence of a strong voice as well as an understanding of materials and craftsmanship along with an appreciation for the history of jewellery. She avoids 'newness' for the sake of it and instead looks for designers who are free of superfluity and whose concept, design, materials and craftsmanship are seamless. As an admirer of the 1920's Modernist jewellers, she uses their avant-garde attitude as a yardstick for selection seeking those who capture the spirit of our time that she hopes will be future classics.
The eleven designers in the Vivarium are all very different and each has something new or unique to say through their jewels. Six of the jewellers have returned from last year and five are newcomers. Starting with the returning jewellers, Nadia Morganthaler (above) did not have far to travel from her Geneva-based studio where as a bench jeweller she transforms classic jewellery forms into contemporary pieces using sophisticated techniques paired with an eclectic selection of materials. The results is jewels with an other-worldly, romantic beauty. Her delicate chandelier earrings with a rock crystal drop evoke a faded Belle Epoque splendour. Look closely and the miniature chandeliers are witty visual puns of the chandelier turned inside out with a single rock crystal mimicking a chandelier prism surrounded by ultra-fine chains dotted with natural pearls.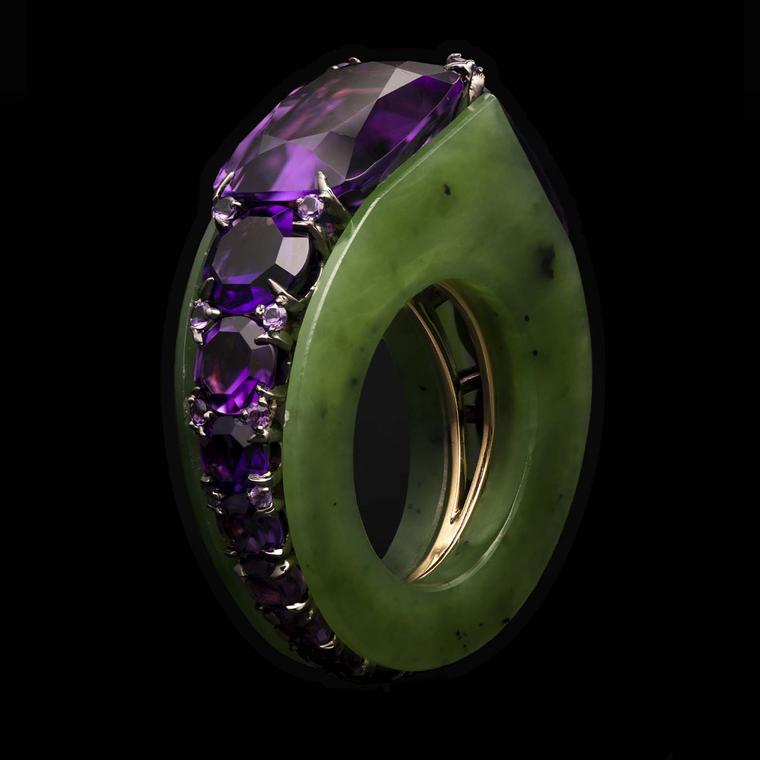 A change we are seeing is more talented designers coming from Russia. These jewellers are looking to revive the magnificence of their pre-revolution decorative arts tradition as well as using local gemstones such as Russian amethyst, nephrite and Alexandrite. Case in point is Ninotchka, a duo composed of Eugene Glagolev and Tima Ibragimov who seek out Russia's finest artisans to create opulent jewels such as a Russian nephrite and amethyst ring (above) or a carved cobalt glass gem-set bracelet.
Another Russian designer at the Vivarium is Alexander Tenzo (above) who since his backpacking, gem-hunting days has amassed a collection of rare gemstones from around the world. From rough stones, Alexander Tenzo moved into gem-cutting and like a modern-day Fabergé has painstakingly created a network of the finest artisans and craftsmen capable of bringing the splendour of Imperial Russia to life in contemporary jewels with exquisite attention to detail.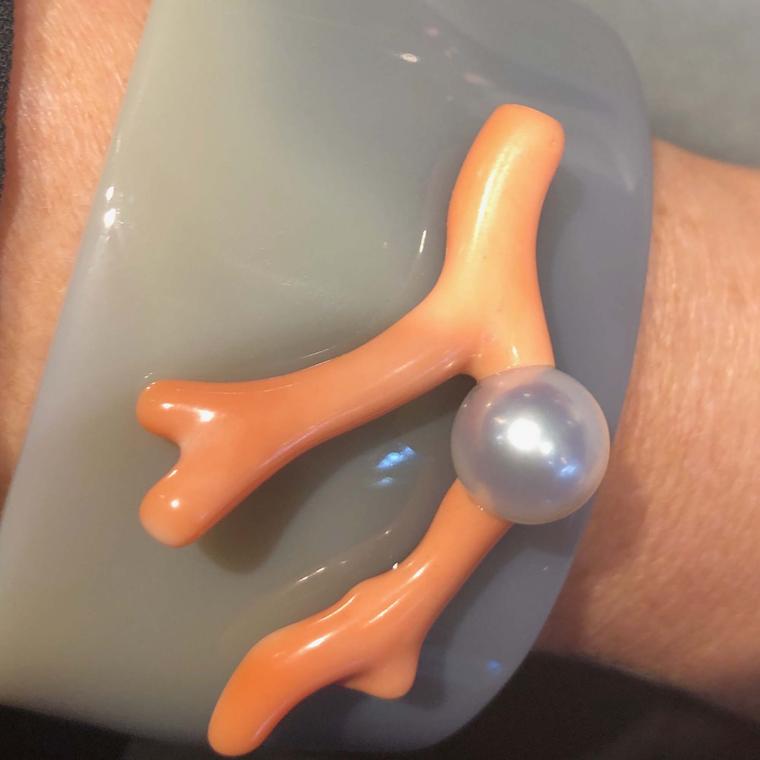 Representing the United States is Sean Gilson who studied art to then focus his skills on jewellery. A master jeweller, he still makes each piece by hand in his studio in Connecticut. Ask him to show you his work-battered hands as proof of his commitment to his art. This subtle composition of this grey agate, pearl and sustainably-sourced coral bracelet (above) clearly shows Sean Gilson's artistic approach to each jewel he makes, that like a sculpture is always a one-of-a-kind.  His earrings made of onyx and white beryl with diamond highlights have all the graphic force and playfulness of a Modernist mobile.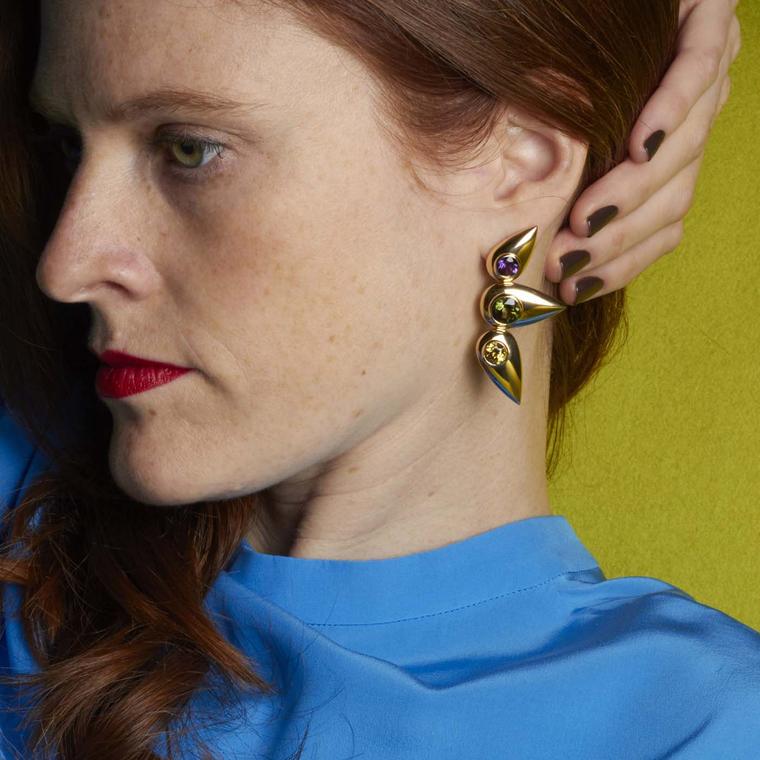 Cora Sheibani (above) grew up immersed in the world of art and sees jewellery as an extension of design rather than merely ornamental objects. Swiss-born but based in London, from an early age Cora Sheibani was taught to appreciate everything from an aesthetic and design point of view rather than for its monetary value. She grew up thinking that all facets of the world, from a flower arrangement to a haircut or clothes were related to art and design. Her strong, often graphic and sometimes playful designs all stem from this rigorous approach that defines her work. Here Cora Sheibani models her stylised and minimalist Butterfly earrings.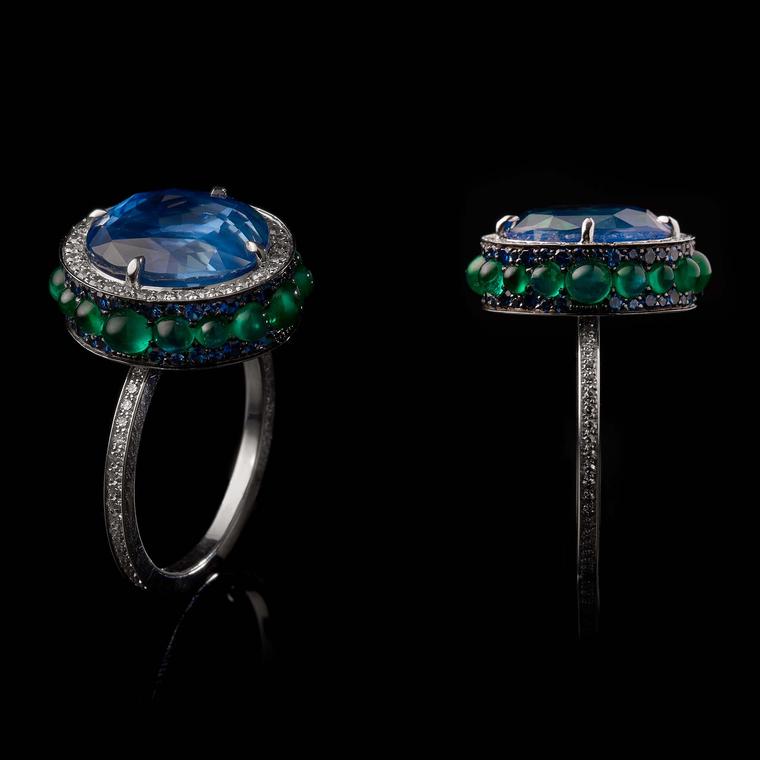 Racine Geneve is made up of husband and wife team of Miriam Racine Bergesen and Pedro Oselieri Lopes. Both gemmologists who bring their Brazilian and Norwegian backgrounds into creating one of a kind contemporary jewel with references to the past and traditional craftsmanship (above).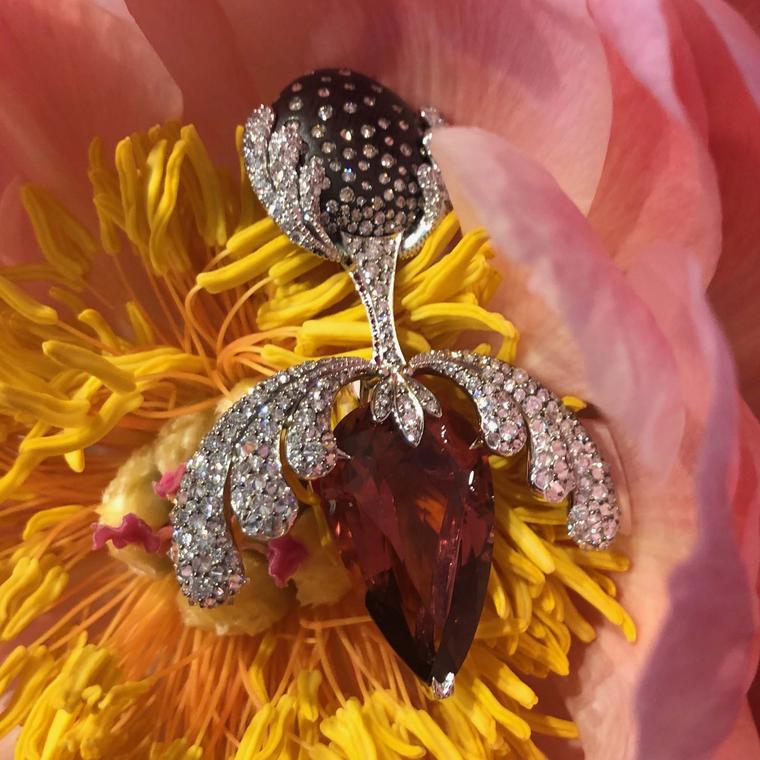 Newcomers to the Vivarium include the talented Mr. Lieou. Hong Kong born Nicholas Lieou studied art at the Royal College of Art in London where he gained an appreciation of the conceptual side of creation. He went on to work with Louis Vuitton, Georg Jensen,  Shanghai Tang and in Tiffany's high jewellery design studio in New York. In 2019 he set up his own company making him a newcomer to Vivarium in all senses of the word. From the minimalist, taut lines of the Icarus jewels to the maximal baroque ornamentation of the Feathers (above) earrings, Mr. Lieou has a wide range of styles and is tipped as 'one to watch'. Watch our video of him explaining his Medusa earrings below. 
Tatiana Verstraeten (bottom) is another young bright light to join the world of high jewellery. Having left her role designing accessories for Chanel to set up her own line of jewellery, she brings her feeling for the excitement of fashion to high jewellery. The feathered necklace she showed at the Vivarium has all the drama and fantasy of cat walk costume jewellery but she has dared to make it in precious gold and diamonds.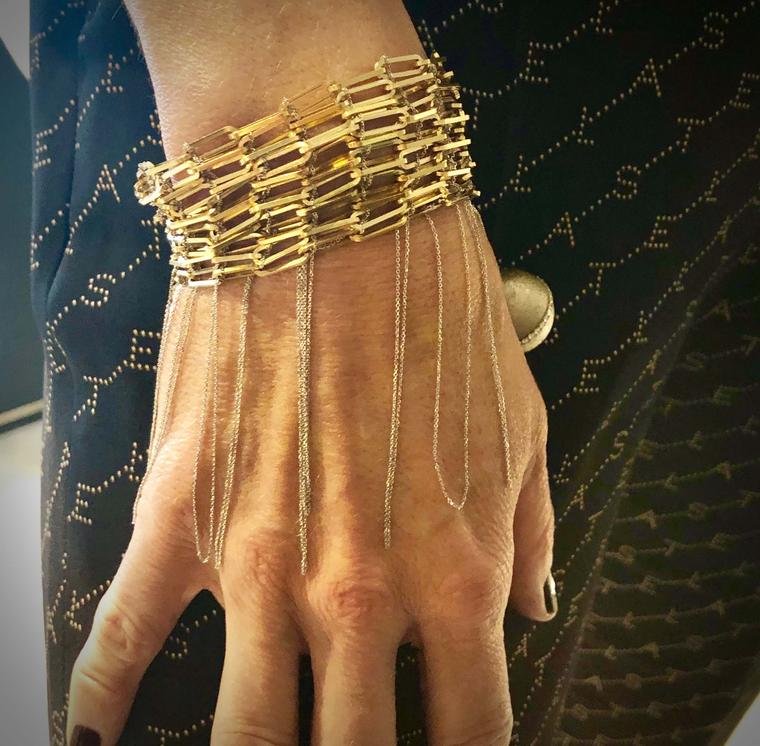 Alexandra Jefford trained in Fine Arts illustration and brings her graphic skills to her jewels that are resolutely Modernist. Quirky and highly personal to the wearer, in her Compressed Lines collection (above), strands of chains as fine a spider webs trail across the body. She sees each jewel as a sculpture for the body blurring the lines between art and body adornment.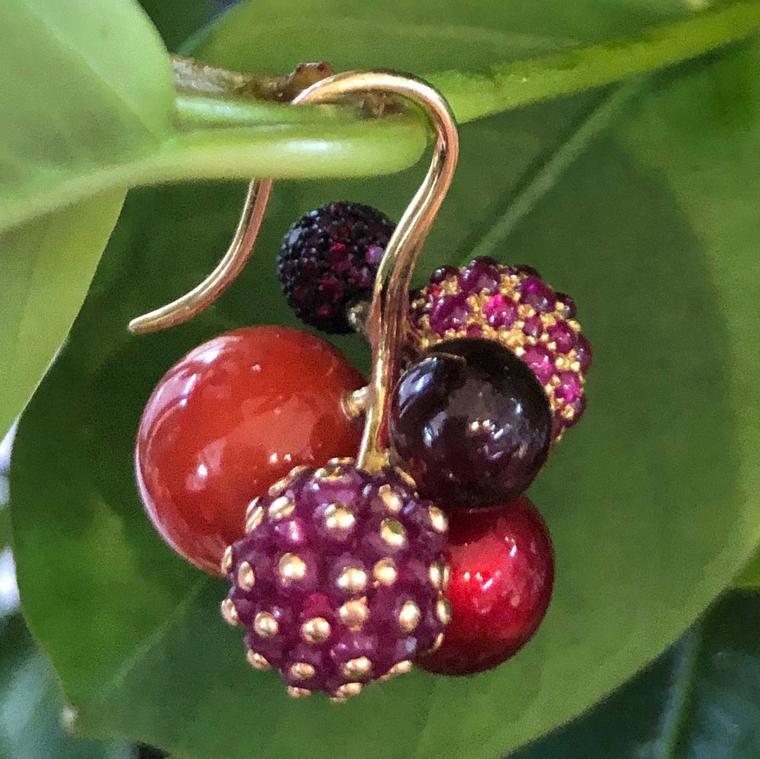 Another UK-based jeweller is Ming Lampson who is something of a well-kept London secret. Despite taking private commissions for over a decade it wasn't until 2017 that she made her second collection – the last one was in 2007 when she opened her shop. Since then she simply didn't have any jewels to show as they would leave her Notting Hill workshop and go directly to her clients. Gemologist and jeweller, Ming creates jewels that capture an emotion like the juicy ripeness of summer berries (above) or the lightness of dragonfly rings.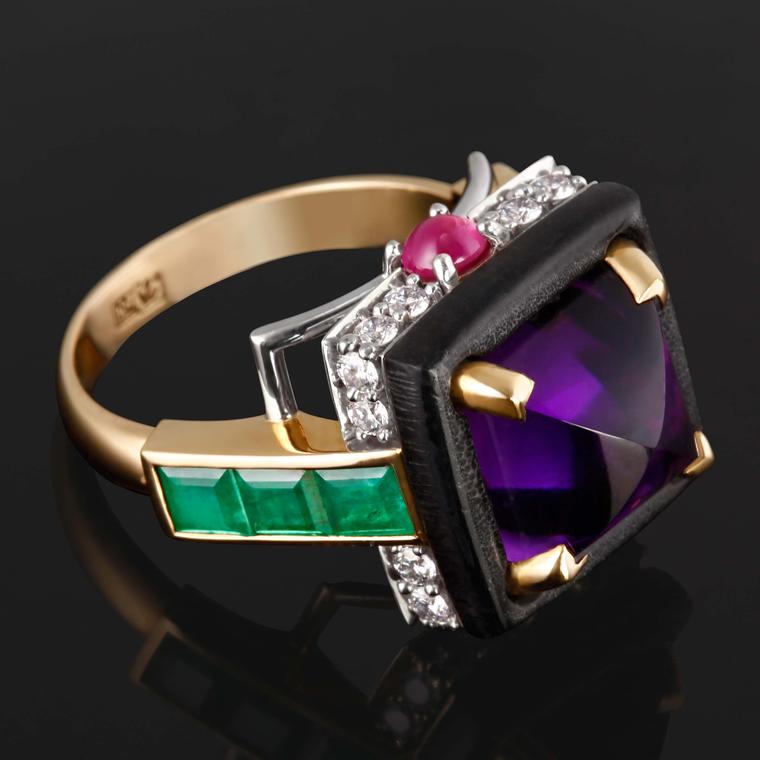 Milio is a mother and daughter duo from Russia that taps into their country's great jewellery heritage using rich colours and often with an Art Deco inspiration with a contemporary twist. So put 7-10 May 2020 in your diary, as GemGenève is scheduled to run after the Salon International de la Haute Horlogerie (SIHH) and Baselworld. And I will be looking out to see how the Vivarium designers fare in the following 12 months and will keep you posted. 
From her Notting Hill workshops Ming Lampson creates jewels that capture a sensation such as the ripeness of summer berries as perfectly expressed in these juicy colourful earrings that are good enough to eat. 

Trained as an artist, Master jeweller Sean Gilson approaches jewels as an artist and creates each one by hand from initial sketch to final jewel at his workbench in Connecticut. This bracelet with its subtle colour combinations shows the sophistication of his seemingly simple compositions.

Based in Geneva, husband and wife team of Miriam Racine Bergesen and Pedro Oselieri Lopes are both gemmologists who bring their Brazilian and Norwegian backgrounds into creating one of a kind contemporary jewels with references to the past. Rich in detail the Fjord sapphire ring captures the majesty of Scandinavia. 

Another Russian at Vivarium is Ninotchka, a duo of Eugene Glagolev and Tima Ibragimov who seek out Russia's rich decorative arts tradition to create opulent and romantic jewels such as this Russian nephrite and amethyst ring. Photocredit Charles Thompson

Trained in the UK and now based between Hong Kong and London Mr. Lieou approaches high jewellery such as these Feathers earrings with a light touch combining classic references with contemporary details. 

Immersed in the world of art, London-based Cora Sheibani sees jewels as an extension of design and her jewels have a strong sense of shape and colour as seen in this simple yet striking Butterfly earrings.

Alexandra Jefford's Songlines bracelet is full of movement with its rows of loose gold links threaded with super-fine chains that are woven into the links and can be pulled through four hours of fiddling fun.