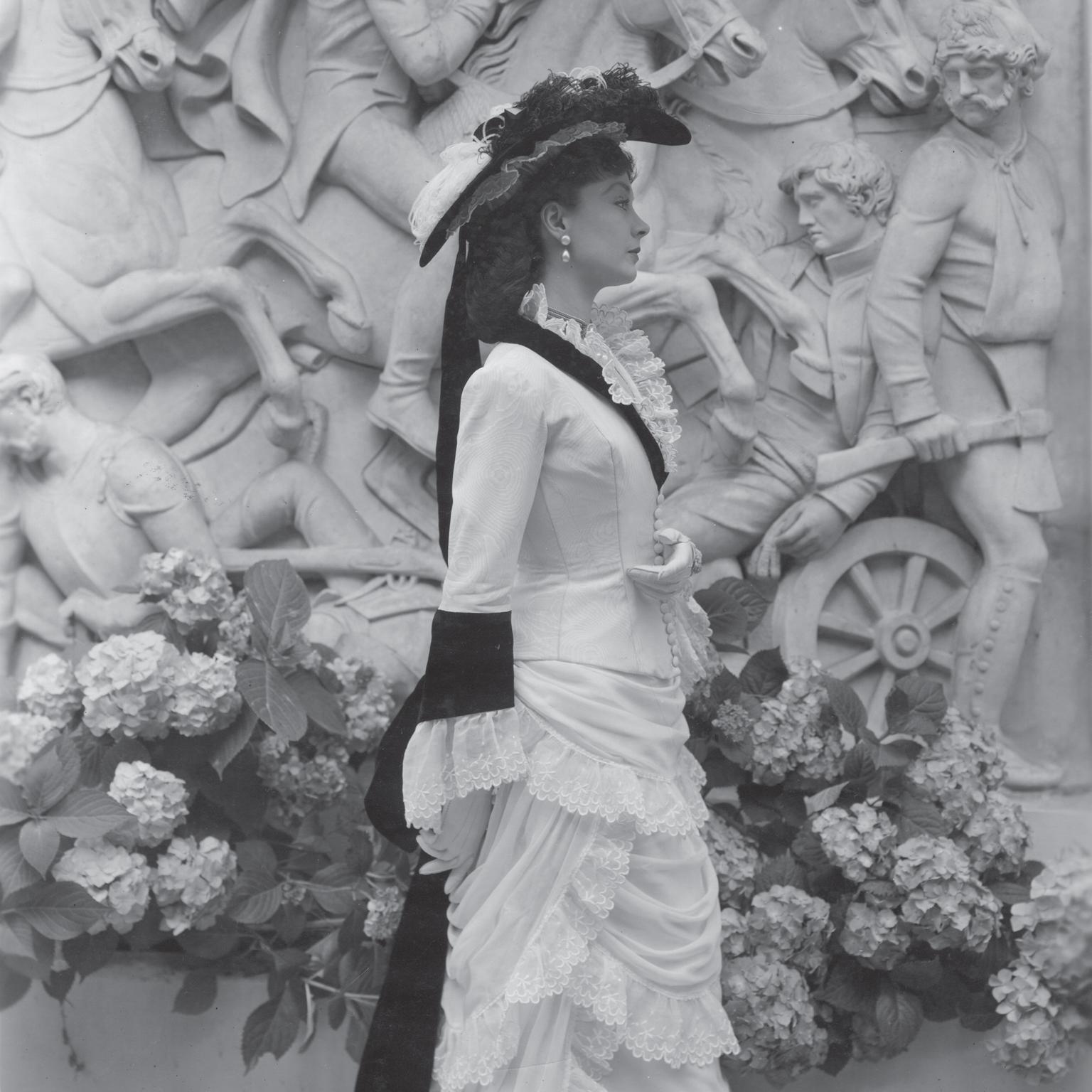 On 26th September, Sotheby's London opens Vivien Leigh's jewellery box to reveal 40 of her most precious possessions, including gifts from her second husband Laurence Olivier, or Larry as he was known to friends, to whom she was married from 1940-1960, as well as mementos from her remarkable life on the silver screen and on stage.  The eclectic selection includes both fine and costume jewellery, each linked to her life, loves and successes in its own way.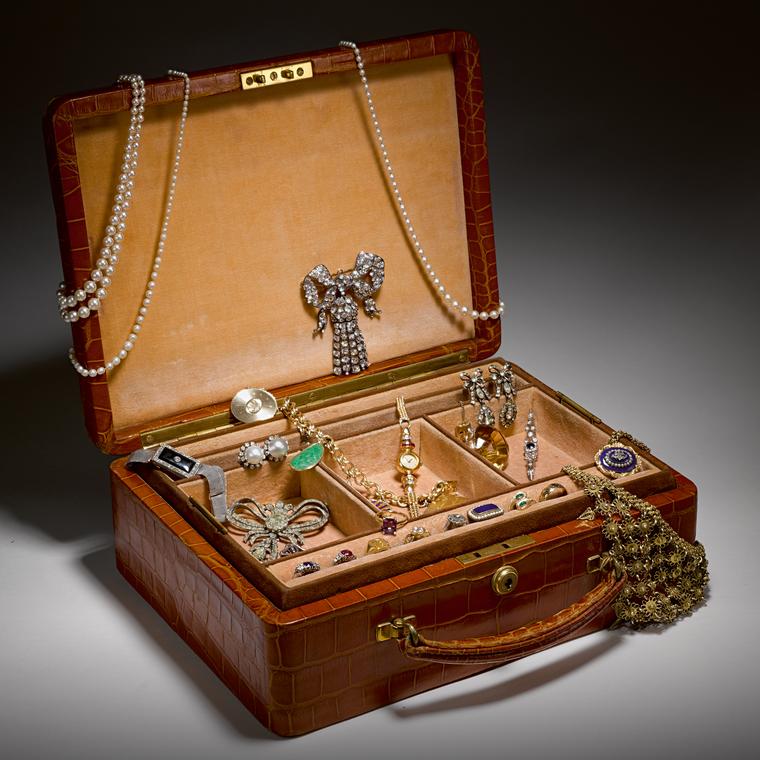 Vivien Leigh, or Lady Olivier, was one of the most successful film and stage actresses of her era as well as one of the great beauties of her age. Leigh's acting talents were recognised with two Oscar Academy Awards for Best Actress, most famously as Scarlett O'Hara in Gone with the Wind (1939), which she played alongside Clark Gable, and as Blanche Dubois in A Streetcar Named Desire (1951) with Marlon Brando. A stage actress at heart, she played key roles in both classical and contemporary theatre, often directed by her husband Laurence Olivier. Long-concealing their love for one another as they met while both married, after years of waiting they were wed in 1940 and starred together in the films 21 Days Together and That Hamilton Woman.
Born in Darjeeling in 1913, Vivien Leigh died from tuberculosis in London in 1967 at the age of 53. She is quoted as saying: "I have just made out my will and given all the things I have and many that I haven't."  And now fans of Vivien Leigh will have a chance to own a jewel with special significance.
The sale opens with Lot 282, A Streetcar Named Desire jewel case in brown crocodile skin by Asprey London, above. It was likely a gift to the actress on the October 1949 opening night of Tennessee William's play A Streetcar Named Desire, directed by Olivier at the Aldwych Theatre in London. The suitcase-style jewellery box could be a reference to the many pieces of luggage that accompany Southern Belle Blanche DuBois, played by Leigh, on her arrival in New Orleans. It has an estimate of £800-1,200.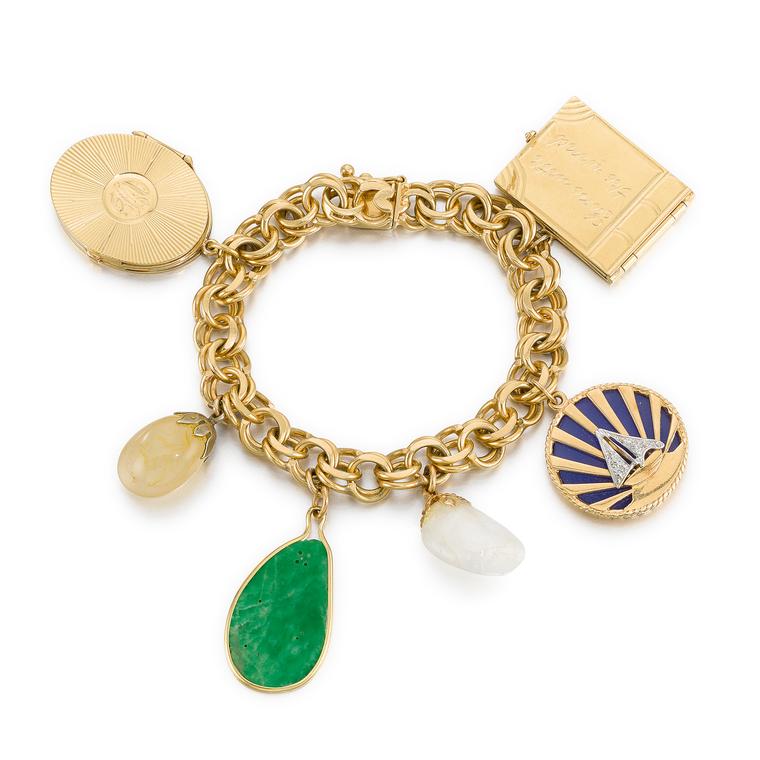 Likely to be one of the most sought-after pieces is Leigh's charm bracelet circa 1940, above, with six different charms, two of which mark key acting roles in her life (estimate £1,000-1,500). Gone with the Wind fans will be interested in the little gold book that opens to expose the inscriptions "Vivien Leigh" and "Scarlett O'Hara", while the cover is engraved with an image of the fictional character. Lot 289, an antique chrysoberyl Portuguese bow-shape set of earrings and brooch, below, offered with an estimate of £4,000-6,000, will also interest film buffs as Leigh wore the earrings to the re-premiere of the film in Atlanta in 1961 and at numerous press events.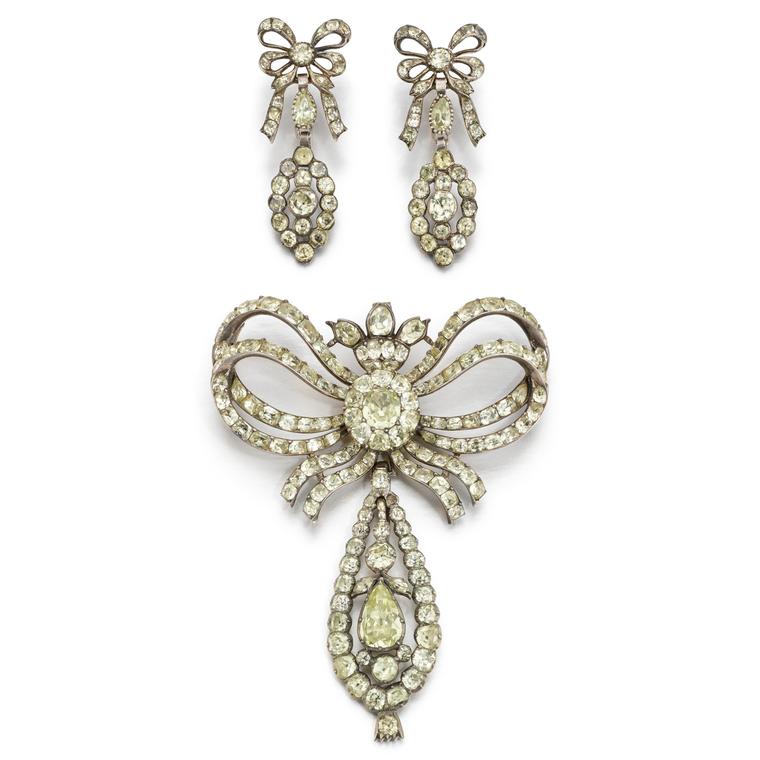 An oval locket containing a portrait of Leigh and that of her as Lady Hamilton in the film That Hamilton Woman shows how close she felt to the roles she played. "I like good-luck charms and am superstitious about some things," Leigh was quoted in a 1960 interview in the Daily Express. "Not about whistling in dressing rooms, for instance. I don't like that because it is a bore and disturbing to other people. I don't like seeing the new moon through glass."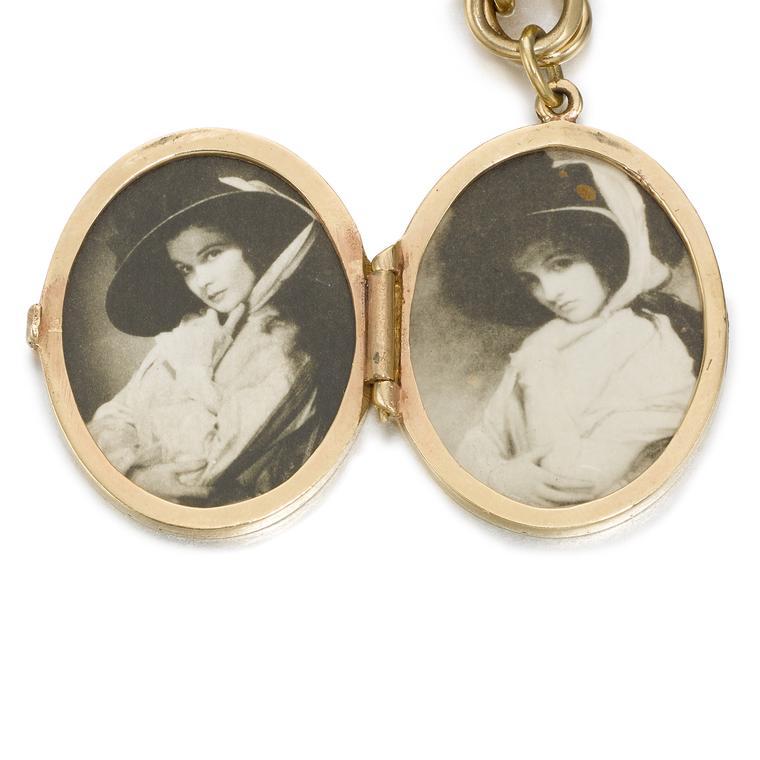 Intrigue surrounds Lot 296, below, believed to be the last remaining antique jewelled fob watch from Leigh's personal collection of 13 watches and possibly a gift from Olivier, with an estimate of £5,000-7,000. The collection was reduced due to two burglaries and the infamous incident between Leigh and Joan Fontaine in April 1960 when the actresses swapped their London and New York residences. The watches were lost and Fontaine reports that on arrival she asked for the watches to be put in safe-keeping. The house-swap did not end well.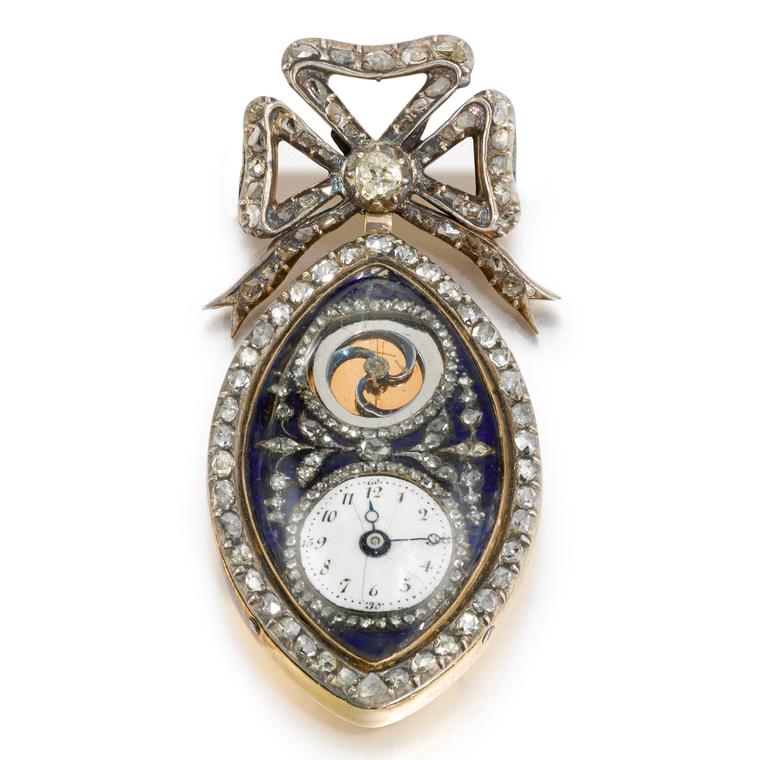 The Ship of Fools pearl and emerald bracelet (estimate £100-150), below, may be of little value given that the gems are all replicas but will be significant to fans who saw her wearing it in her last film, which was shot in 1965 and for which she won the Étoile de Cristal for Best Foreign Actress.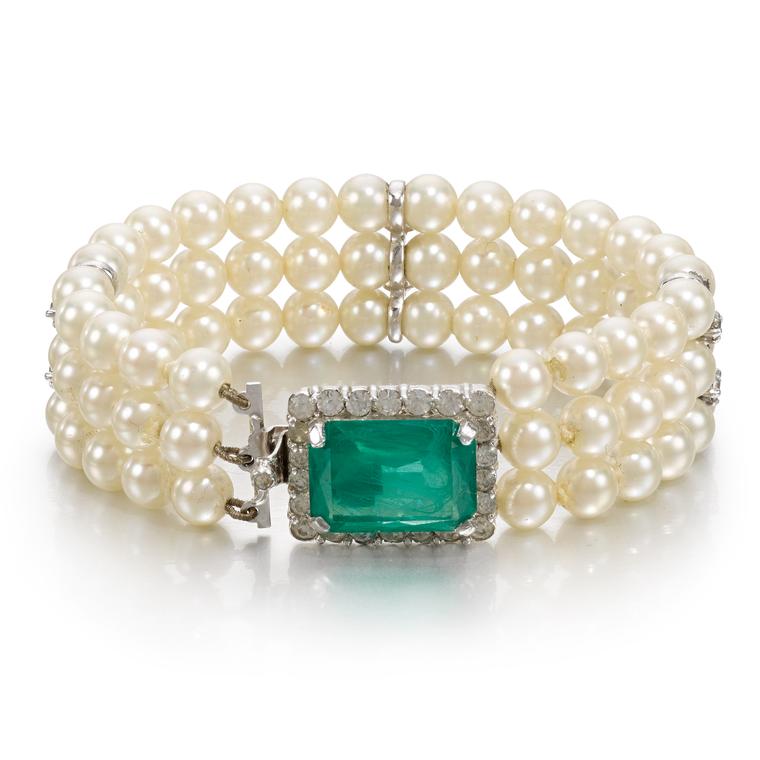 Perhaps the most intimate item for sale is the gold and ruby wristwatch, below, given to her by Olivier in 1940 to mark their first Christmas together. It is engraved with the words: "Vivien Larry Only!! Darling Xmas 1940" and has an estimate of £800-1,200. Other lots include Leigh's navy blue enamel striped powder compact with an estimate of £1,500-2,000 and a gold "Eternally" ring (estimate £400-600) from the 1940s decorated with a floral motif and engraved on the inside with the words "Laurence Olivier Vivien Eternally".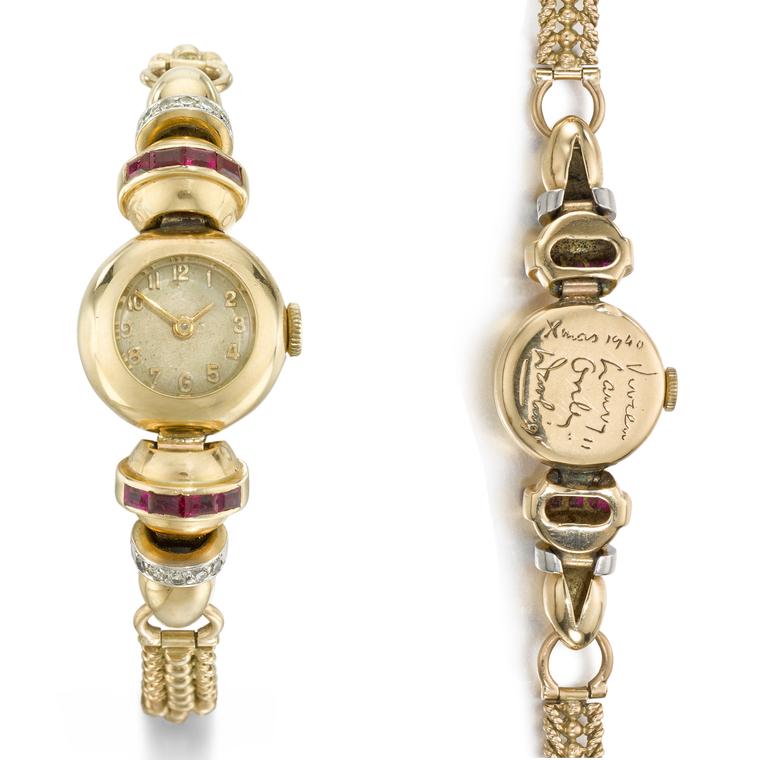 Sotheby's catalogue does not say if this was Leigh's wedding band but the date coincides with her marriage to Olivier in Santa Barbara, California. Expect these jewels and watches loaded with Hollywood links and of significance to fans of the actress to achieve well above their conservative estimates.