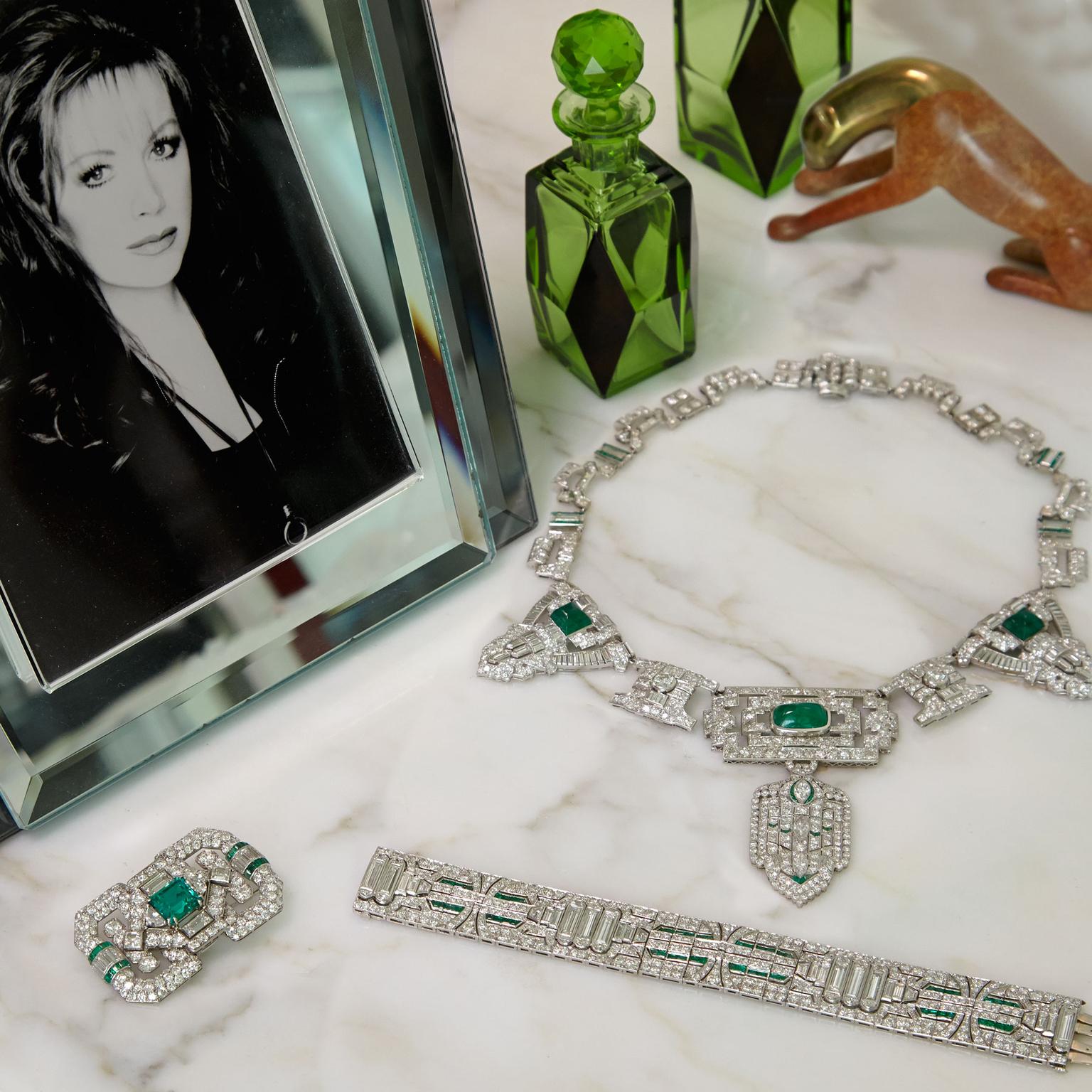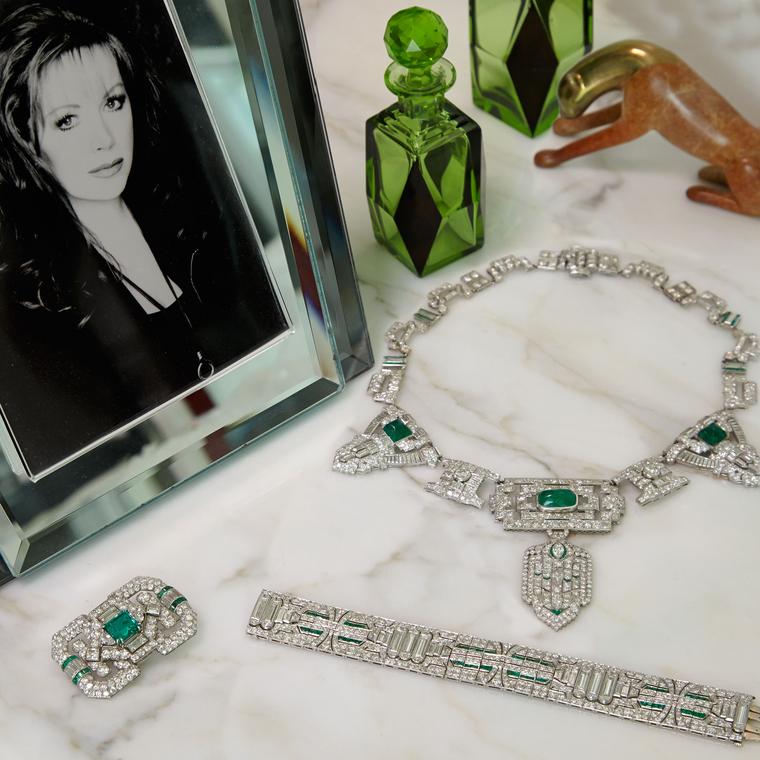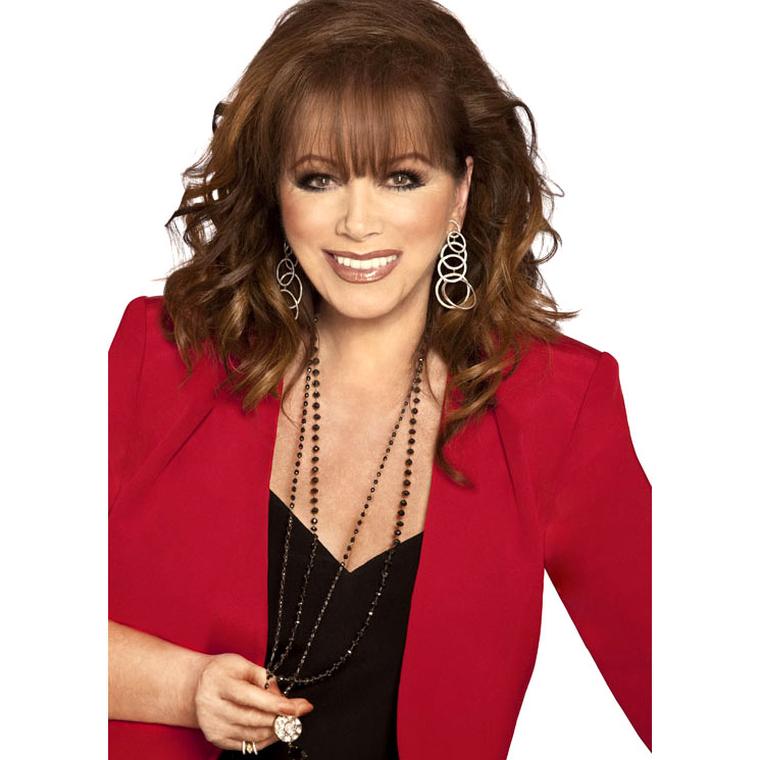 The $3 million estate of the bestselling novelist Jackie Collins, whose 31 racy novels included titles such as The Stud, The Bitch and Sinners, is going under the hammer at Bonhams on Sunset Boulevard, Los Angeles, on Tuesday 16 and Wednesday 17 May.  Sister of the British actress Joan Collins of Dynasty  fame, the sale is set to draw fans of the author and the lifestyle she represented.
Born in London in 1937, Collins moved to Los Angeles in the 1960s, where she spent the rest of her life. Poolside or behind the wheel of her bespoke metallic gold Jaguar XKR (est. US $15,000-20,000), Jackie lived the glossy, fast-pace life she wrote about in her novels.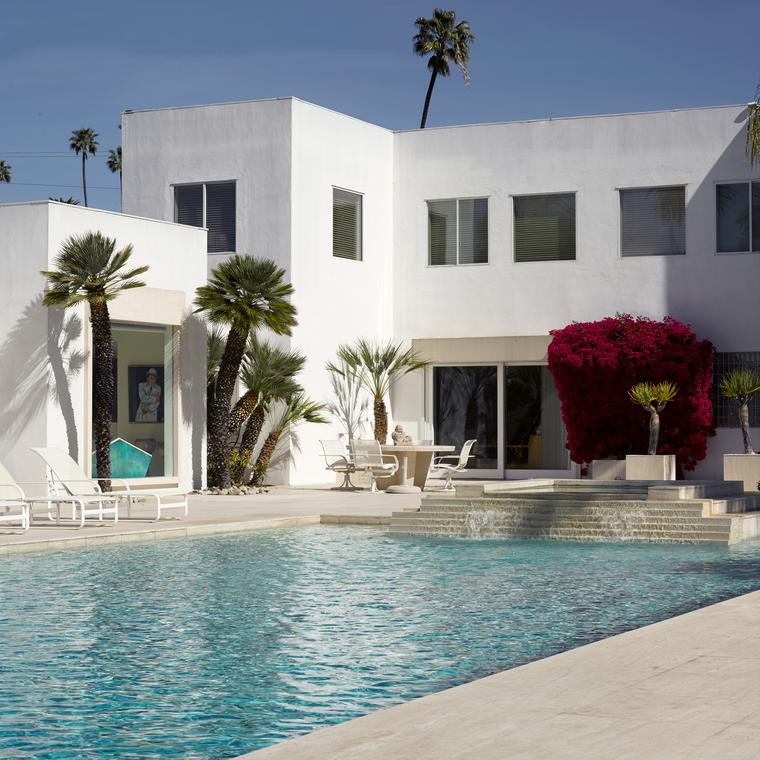 Thanks to her successful career, with sales of over 500 million copies of her novels, Collins' Hockney-inspired house in Beverly Hills, above, was filled with her collection of Art Deco art and sculptures, a predilection that carried through into her extensive collection of jewels and watches.
Never shy to make a big statement, this emerald, diamond and platinum necklace is one of the star lots in the sale of the estate of the late Jackie Collins. Estimate: $40,000-60,000.

As well as collecting Art Deco art, Jackie Collins was drawn to jewellery of the same style such as this French diamond, emerald and platinum brooch. Estimate: $20,000-30,000

Bi-colour gold Cartier Panther choker formerly the property of best-selling author Jackie Collins for sale at Bonhams in Los Angeles. Estimate: $10,000-15,000.

Art Deco-style diamond and emerald bracelet made in platinum from the estate of the late Jackie Collins. Estimate: $15,000-25,000.

One of the most valuable jewels for sale is Jackie Collins' 6.04 carat pear-shape diamond ring with an estimate of $100,000-150,000.

In the style of the 1980s, Collins' jewels are bold and extravagant like this two-tone gold and diamond cuff and ring (cuff estimate: $4,000-6,000, ring: $1,200-1,800). 

Though born in London, Jackie Collins spent most of her life in Beverly Hills where she lived with her husband, nightclub owner Oscar Lerman, in a mansion they built inspired by the works of the artist David Hockney. 

Celebrity author Jackie Collins' $3 million estate auction on Tuesday 16 and Wednesday 17 May at Bonhams Los Angeles offers fans the chance to own a piece of her art, jewellery or even her car. 

The flamboyant and glamorous author Jackie Collins loved antique jewels and knew how to wear them with style. Her jewels, that show a a penchant for the Art Deco style as well as Cartier's panther, were auctioned as part of her estate in May 2017 by Bonhams.
The two-day sale of 1,000 lots offers fans of Collins the opportunity to own a sparkling memento of the author's joie de vivre and bold style.
Diamonds and emeralds in the Art Deco style dominated her jewellery box. My favourite is the showy Art Deco diamond and emerald necklace, above (est. $40,000-60,000), that, being Jackie, she probably wore with the large emerald and diamond platinum earrings (est. $8,000-12,000) and perhaps even the matching bracelet (est. $15,000-25,000), brooch (est. $20,000-30,000) and, of course, her 6.04-carat pear-shape diamond ring, below (est. $100,000-150,000).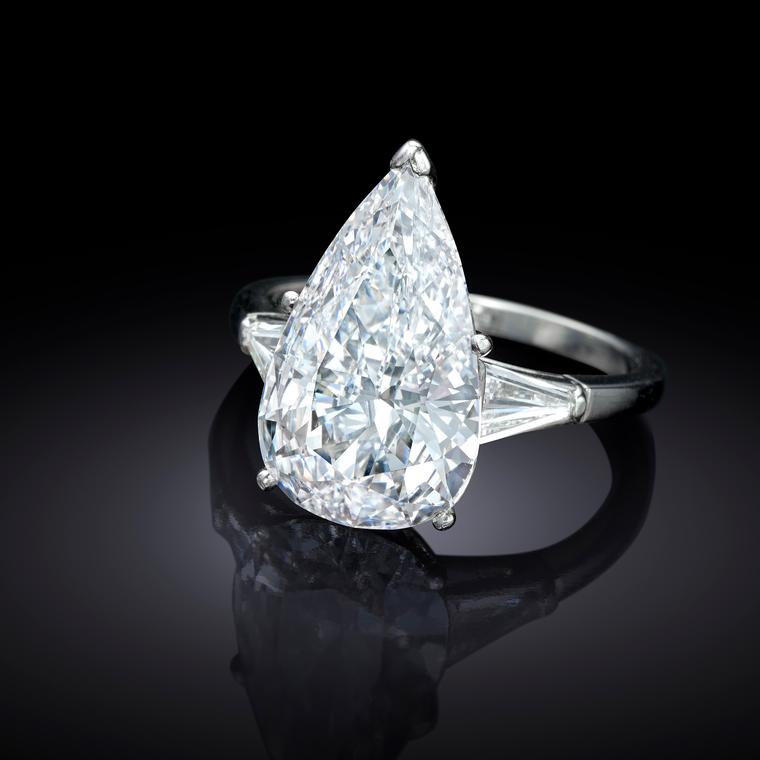 It is clear Collins was fond of Cartier's panther and her gold, very 1980s choker,  with a parade of felines, could also be yours (est. $10,000-15,000). Bi-colour gold, so typical of Jackie's age, is also on display in the matching cuff and ring set, below (cuff est. $4,000-6,000; ring $1,200-1,800).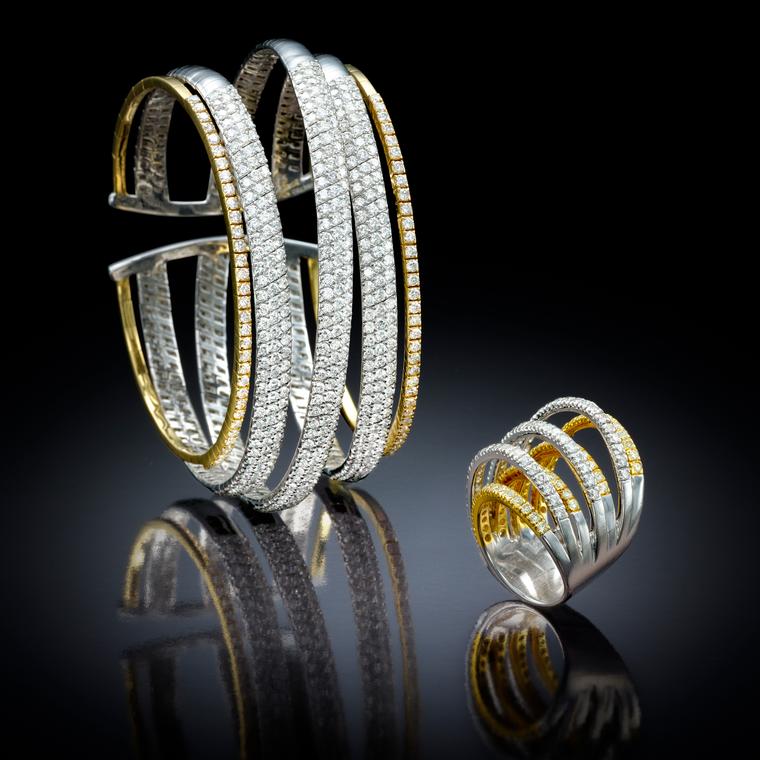 Collins' daughters Tracy, Rory and Tiffany comment on the sale: "Our mother never did anything in small measures! She had a unique and extraordinary eye for a design and aesthetic that combined elegance and glamour with humour and warmth. We are delighted to be working with Bonhams on this very special sale honouring our mother's legacy, most especially because a portion of all proceeds will be donated to support the empowerment of young women in the arts and education."
I predict that bids for the jewellery will surpass their estimates given the popularity of Jackie Collins and the lifestyle she immortalised in her hugely popular novels. Watch this space, as we will be following the sale closely. 
View all the lots in Bonhams' forthcoming auction Jackie Collins - A life in Chapters here