As they say in the business, most watches are like new cars and depreciate the minute you strap them on your wrist. But is this the case with every watch brand? Thankfully, no. Ask if Rolex watches can hold their value or even appreciate down the line and the answer is yes. Although the beloved Oyster Perpetual you were given on your graduation will probably not be featured in a Christie's watch auction catalogue, the value of your watch will hold over time; however, if you happen to have a 1970s Paul Newman Daytona in good nick hidden in the back of your sock drawer, you could be looking at six-digit figures.
Find out the truth about Rolex prices
Which Rolex watches on the market today are likely to appreciate?
It would be naive to assume that buying a Rolex watch means you are going to make a windfall sometime in the future, but insider knowledge from the experts might help you select a model that will not just hold its value but actually appreciate down the line. I spoke to Justin Koullapis, co-founder of The Watch Club, a reputable dealer of pre-owned and vintage watches specialising in Rolex and Patek Philippe located on Old Bond Street in London, and an expert in all matters related to Rolex. According to Koullapis, Rolex's sports watches – often referred to as instrument watches – are the models destined to perform well over time. "Today, the GMT-Master II, the iconic Submariner and the Cosmograph Daytona are all very desirable models. In fact, even the current Daytona model with a black ceramic bezel and stainless steel case is difficult to lay your hands on and few are available through the front door. There is always a waiting list."
One of the best-loved pilot's watches, the Rolex GMT-Master – aka the Pepsi watch, so called because of its red and blue bezel – was developed by Rolex in 1955 with the input of Pan Am pilots. Revisited with a new two-tone black and blue ceramic bezel in 2015, Justin Koullapis admits that the GMT-Master II is another highly desirable model that is known in the business as the "Bruiser" or "Batman" because of its new black and blue bezel.
Which Rolex watches might interest a novice and hold their value over the years?
The Oyster Perpetual and Rolex Explorer II models are fantastic entry-level candidates with attractive prices. Justin Koullapis agrees: "The Oyster Perpetual is really good value for money and has a look that has hardly changed since the 1950s. You really couldn't do better." Ken Kessler, journalist and watch expert, is also a fan of the Rolex Explorer. "It's the best-kept secret in my book. It's the best value for money and one of the most underrated watches Rolex produces today." The Air King, presented at Baselworld 2016, is my personal favourite as an entry-level watch and, like its siblings, it is built like a tank with a great sporty personality.
The verdict from the auction circuit
The autumn watch auction circuit is in full swing and provides us with a good barometer as to what's hot in the collector's market. Antiquorum held its Important Modern and Vintage Timepiece auction in New York on 8 October and it will not come as a surprise to learn that Patek Philippe and Rolex pretty much eclipsed the sale. Another sale on the horizon is the Phillips Geneva Watch Auction on 12-13 November. The highest-priced candidates are, once again, a mix of Patek Philippe and Rolex watches. Not only do vintage or rare historic Rolex watches perform divinely under the hammer, they also happen to sell very well on the street.
Paul Altieri, founder and CEO of Bob's Watches, one of the largest watch dealers in the US, only buys and sells Rolex watches. His formidable knowledge of the brand is sought-after by collectors and in his review of the upcoming Phillips auction, he highlights two vintage Rolex Paul Newman Daytona watches (Ref. 6263) from the 1970s and a Rolex Submariner – immortalised as one of the most famous James Bond watches by Sean Connery in Dr. No – with a pre-sale estimate of $309,000-$618,000.  Recently, what is known in the business as a 'grail' watch surfaced at the Phillips watch auction held on 14 May in Geneva – a rare 1969 "Paul Newman Oyster Sotto" Daytona with a tropical chocolate brown dial that sold for a cool $1.9 million.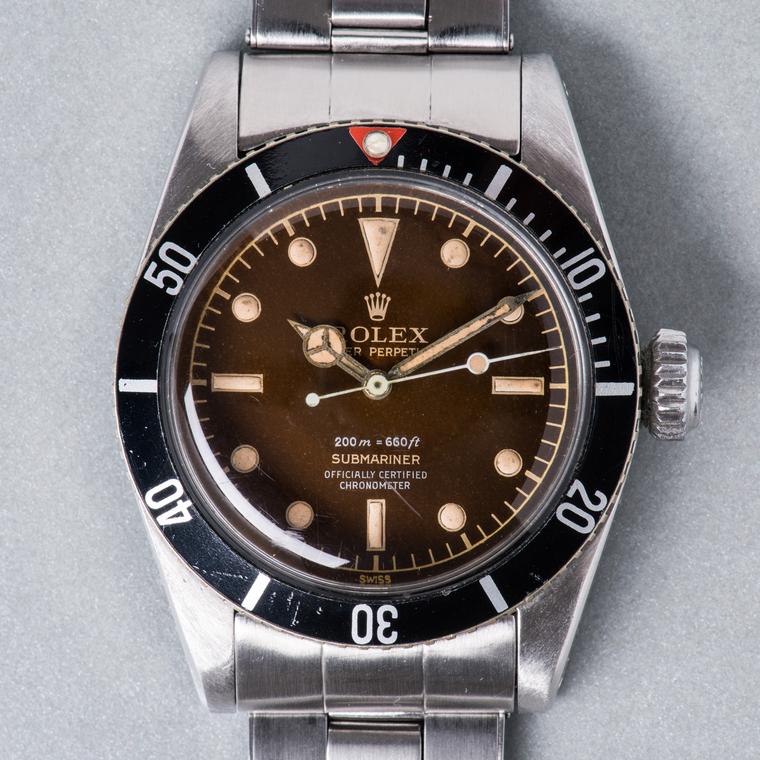 Why do Rolex watches hold their value so well?
Because Rolex is the watch brand everybody on our planet knows about – and for very good reason. Many brands might quibble about the pecking order, but Rolex really put the wristwatch on the watch map, was the first brand to develop a water-resistant case and has always been adamant about quality. Not the most communicative of brands or fond of trumpeting its breakthroughs, not many people know, for example, that all Rolex watches must now conform to the new stringent manufacturing tolerances of +2/-2 seconds a day, accuracy well above the standard COSC chronometry requirements. The fact is that Rolex does not cut corners and has invested enormously in its business. "They even have a 3D X-ray machine," says Koullapis "to check every single link of every single bracelet, and I don't think many people know about this."
Koullapis believes that "people respect Rolex because the brand has never sold out to its customers. The family resemblance of the collections is consistent and yet the models don't look tired and out of date, and this is something people appreciate."
At the end of the day, though, the intrinsic value of a watch lies in the enjoyment it brings you. A watch is made to be worn and enjoyed and is a reflection of your personality and taste. If well looked after, your watch will make it through several generations and obtain the patina of a priceless object - if only for sentimental reasons.  
An extremely rare 1959 Rolex Submariner (Ref. 6538) with a Tropical brown dial will be auctioned by Phillips in November 2016. Estimated price $309,000-618,000.

This 1970 Rolex Paul Newman 'Panda' Daytona chronograph, retailed by Tiffany & Co, will be auctioned by Phillips in November 2016. Estimated price $258,000-515,000.