When it comes to buying a Rolex Oyster Perpetual Cosmograph Daytona, remember that patience is a virtue and steel yourself for at least a three- to five-year wait.
The Daytona is one of the most coveted timepieces among collectors and a 1969 Paul Newman Datyona Ref. 6263 with a brown tropical dial, shown below, sold for just under $2m at Phillips Geneva auction in May 2016. What is it about these watches that have collectors chomping at the bit to get their hands on one? Is it the fact that they are so hard to find? Is it a case of Rolex deliberately limiting production to breed desire? And even when they are available, most suppliers tend to favour loyal clients over a first-come-first-serve policy.
The 1969 Rolex Cosmograph Daytona Ref. 6263 'Paul Newman Oyster Sotto' that fetched just under $2 million at the Phillips Auction in Geneva, May 2016. 

In 1988 Rolex fitted its Cosmograph Daytona with an automatic Zenith movement. A shortage of them led to the waiting-list phenomenon that still exists today.

The first Cosmograph Daytona was launched in 1963 and featured a tachymetre scale on the bezel and contrasting counters on the dial for enhanced legibility.

Sir Malcolm Campbell set the 276 mph world speed record at Daytona Beach in 1935 with his Bluebird car equipped with aircraft engines.

When Paul Newman decided to pursue his passion for car racing in the early 1970s, his wife Joanne Woodward gave him a Rolex Daytona and his face has been indelibly associated with the watch ever since.

Although he never became a Rolex ambassador, Paul Newman's Daytonas are considered "holy grail watches" by collectors.

The Daytona 500, the most prestigious motor race of the year, takes place at Daytona International Speedway in Florida. 
Why is there such a long waiting list for the Rolex Cosmograph Daytona?
I asked Justin Koullapis, partner at The Watch Club and an expert in all matters related to Rolex, why there are such long waiting lists.
 "The phenomenon of the waiting list has been built up over decades," explains Koullapis, "and started in 1988 when Rolex fitted its Cosmograph with an automatic Zenith movement." Known as the Ref. 16500 series, the breakthrough was the incorporation of a powerful new automatic movement based on Zenith's iconic El Primero calibre placed inside a larger 40mm case.
The watch was an immediate success and the good old supply and demand curve swung into action. "The waiting list for the new model started to grow because Rolex was sourcing movements from Zenith and there was a shortage of them," adds Koullapis.
Although Rolex now controls its entire production cycle and has been producing its own highly sophisticated automatic chronograph movement since 2000, known as calibre 4130, the waiting list phenomenon created by relying on third parties "has certainly has done Rolex no harm," says Koullapis.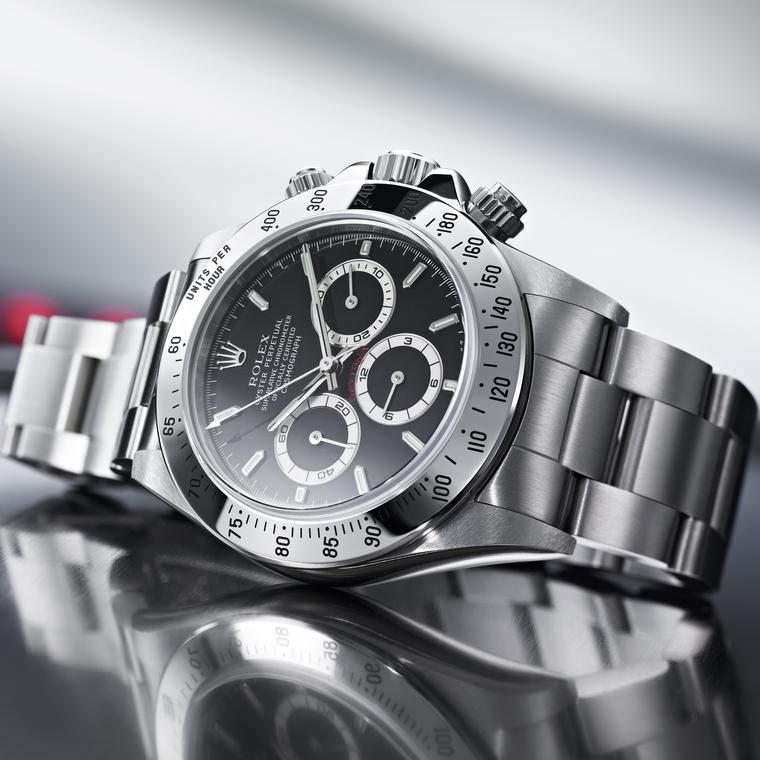 Which are the most popular Rolex Cosmograph Daytona models?
If you were presented with a tray of three Daytonas, one in platinum, one in gold and one in stainless steel, which one do you think would have the longest waiting list? My assumption would be a precious metal model but no, that is not the correct answer. Although "gold and platinum models sell well," explains Koullapis, "they are not hard to come by. The real waiting list is for the stainless-steel models."
How much does a Rolex Daytona cost?
In 2016, Rolex released a Cosmograph Daytona watch in stainless steel with a black ceramic bezel and a price tag of £8,250, creating a commotion amongst collectors and fans of the brand alike. A great price for a watch of this stature, this Daytona is equipped with Rolex's in-house automatic calibre 4130, which conforms to the stringent manufacturing tolerance of +2/-2 seconds a day accuracy established by Rolex and is fitted with a glossy high-tech Cerachrom ceramic bezel. This is a lot of watch for your money, the hard part will be finding one.
This year, the Cosmograph was revisited in gold with a price tag of £20,200, including a black ceramic Cerachrom tachymetre scale and a new Oysterflex bracelet. Moving up the ladder is my favourite model of all, the platinum Daytona, retailing for £54,300.
History of the Cosmograph
Rolex has established many milestones in the watchmaking arena, including popularising the wristwatch for men, patenting the first waterproof watch case – the Oyster (1926) – perfecting the automatic winding movement – the Perpetual (1931) – and obtaining the first chronometer certification on a wristwatch. Which is why it is surprising to discover that the first Rolex chronographs didn't really capture the attention of the public at large in the manner of the Explorer or Submariner models.
The 1963 Rolex Cosmograph: the birth of a legend
All this changed in 1963 with the launch of the Cosmograph, the celebrated Ref. 6239, below. Designed specifically for racing drivers and housed in the waterproof stainless-steel Oyster case, the distinctive features were the enhanced legibility, with black counters against a silver dial or silver counters against a black dial and a large tachymetric scale. The tachymeter, which allowed drivers to calculate average speed over a given distance, was moved from its traditional position on the dial and etched on the bezel. 
Highly legible, robust, reliable and defiantly virile, the Cosmograph joined Rolex's line-up of professional watches and retailed for $210 dollars. For an in-depth analysis of the evolution of the Cosmograph, I recommend Alessandro Mazzardo's scrupulous chronology published in Time and Watches.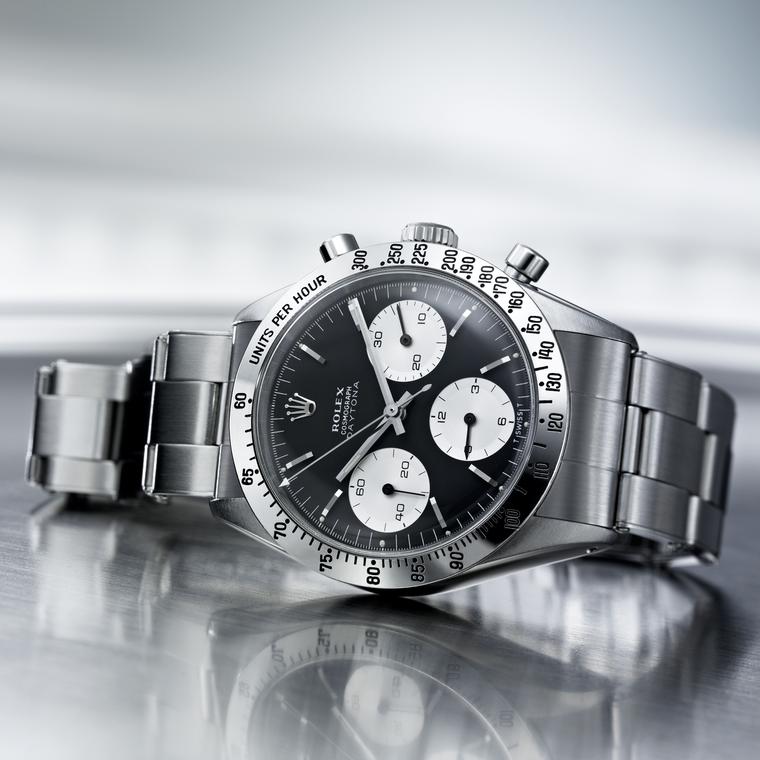 Daytona Beach: a sandy namesake
The Daytona appellation of the Cosmograph, added to the dial in 1965, was a reference to the famous beach of Daytona in Florida where, between 1903 and 1945, land speed records were contested. The long, straight beach and hard-packed sand of Daytona made it an ideal race track for the supercars of the day.
The first world record of 92 mph, set by William K. Vanderbilt in 1904, was overtaken by a wealthy English rival, Sir Malcolm Campbell, who took his Bluebird V – equipped with aircraft engines – across the Atlantic to set the 276 mph record in Daytona in 1935.
Campbell became the uncontested king of speed and, since 1930, wore a Rolex Oyster (not a chronograph) on his wrist during his exploits. In a telegram to Rolex in 1935, Sir Campbell praised the resilience of his timepiece: "Rolex watch worn yesterday during record attempt and still going splendidly notwithstanding rough usage received."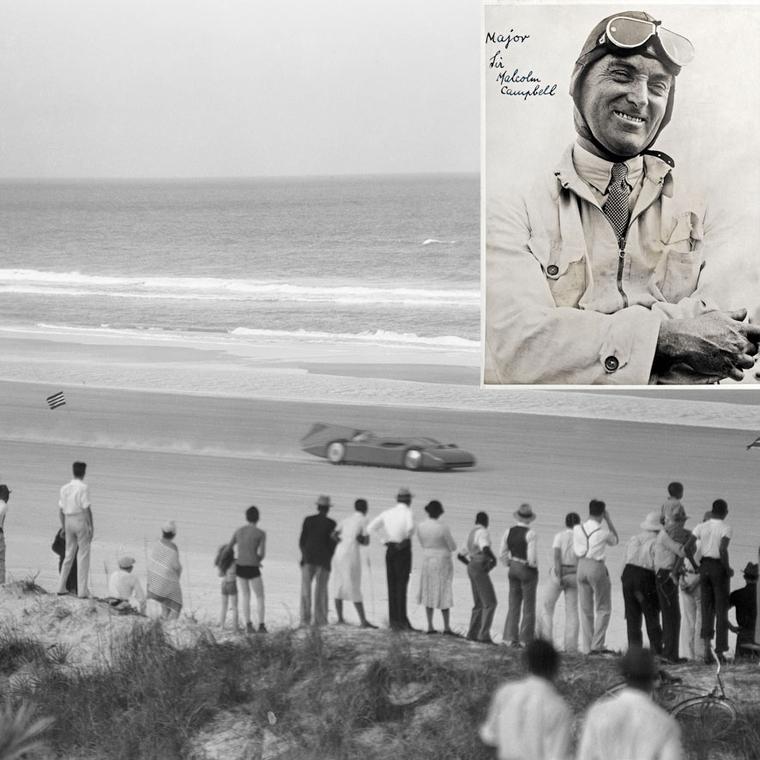 Paul Newman's Rolex Daytona
The face that launched the Daytona into the popular imagination was that of the actor Paul Newman. When Newman decided to pursue his passion for car racing in the early 1970s, his wife Joanne Woodward gave him a Rolex Daytona watch. Although he never became a Rolex ambassador, Paul Newman's Daytonas are considered "holy grail watches" by collectors.
If you want to know exactly which watch references qualify as a Paul Newman Daytona and a wealth of information on all things related to Rolex watches, Paul Altieri of Bob's Watches is your source. 
Rolex has orchestrated its growth to an enviable and absolutely unique state of success in the watch industry. To put the cherry on the cake, Rolex was voted the world's most reputable company for the second year in a row by The Reputation Institute, outstripping companies like Lego, Walt Disney, Canon and Sony, and was the only watch brand on the list of 100 companies.
Click here to contact our concierge, who can help get your name added to the Daytona waiting list.
For more on the Rolex Daytona, read our articles on which Rolex watches hold their value and the truth about Rolex prices.