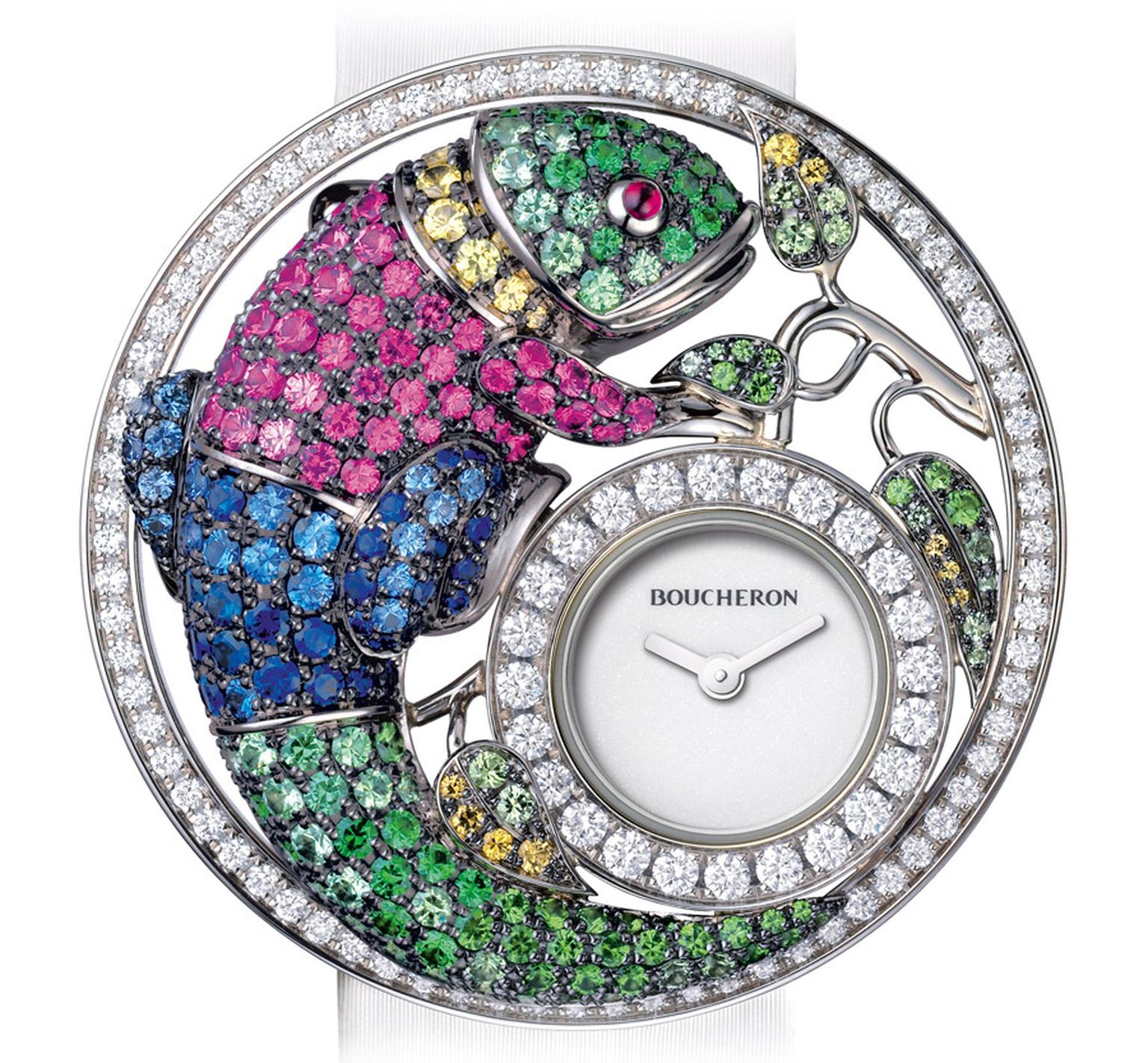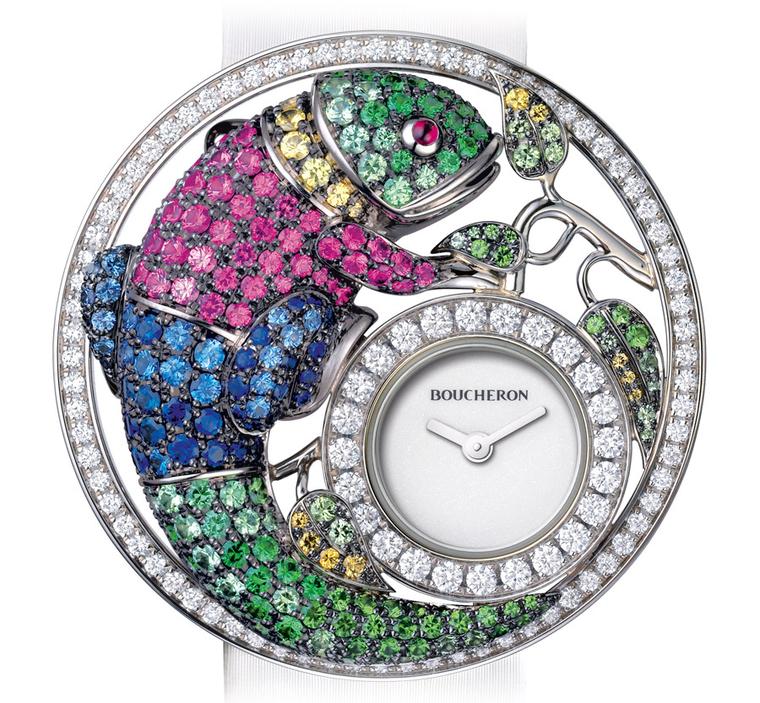 Boucheron's new women's jewellery watches are inspired by the chameleon, the swan and elephant. Throughout its 154 years of history, Boucheron has always known how to have fun. More often than not, that joy has been inspired by the bestiary of creatures that Boucheron call their own as Boucheron and 'les animaux' go hand in hand. From the slithering serpent necklaces to the delicate 'cypris' or swan rings, Boucheron explores animals like no other jeweller. This selection of some of their most recent women's watches shows how animal inspiration can yield a variety of results.
Perhaps the most immediately 'Boucheron' of these high jewellery watches is the delightful 'Ajouree Chameleon'. Cheeky, colourful, and wonderfully crafted the little reptile is curled around the watch dial and shares the magic we see in the Chameleon rings and brooches. Here the white satin strap gives way to white gold paved with 100 diamonds, 100 multi-coloured sapphires, rubies and 100 tsavorites. With over ten different colours of stone this is easily the most vibrant choice here. The chameleon is a favourite symbol of Boucheron bestiary and a representation of metamorphosis. The chameleon is said to have almost talismanic qualities for the wearer.
The Crazy Jungle Hathi elephant watch is an age-old representation of power, strength, and resilience. A diamond mosaic on mother of pearl  brings the pachyderm to sparkling life with 300 gems. He almost seems to leap out of the watch face as his tusks and trunk run off around the bezel. The watch face contains a small disk called the "Crazy Second" that revolves to produce an array of changing colours, seen through drop-shaped openings.
Spreading its wings in competition and making a play for our attention is the Cyrpis Tourbillon with the famous Girard Perregaux three gold bridges. The craftsmanship of the jeweller able to create a three dimensional, fully set swan is on a par with the horological mastery that the Three Bridge Tourbillon represents making this a marriage of haute joaillerie and haute horlogerie. Whereas the Chameleon and the Crazy Hathi see the animals confined to the watch, here a swan has been boldly designed to be every part of the watch but the dial itself. What you see here is the White Plumage edition, though it is also available with black plumage, mirroring Boucheron's own black or white Cypris rings. This really is a big dose of extravagance for just one wrist as the White Plumage edition alone seeing one hundred blue sapphires set amongst 700 round cut diamonds.
Boucheron's Cypris Tourbillon with three Gold Bridges. For the white plumage design, one hundred blue sapphires were mixed with 700 round cut diamonds.

Boucheron Crazy Jungle Hathi jewellery watch celebrates the power, strength, and wisdom of the elephant.

The Boucheron Ajouree Chameleon jewellery watch in white gold paved with diamonds, multi-coloured sapphires, rubies and tsavorites.

The Boucheron Ajouree Chameleon another example of Boucheron's fascination with collector's animals.