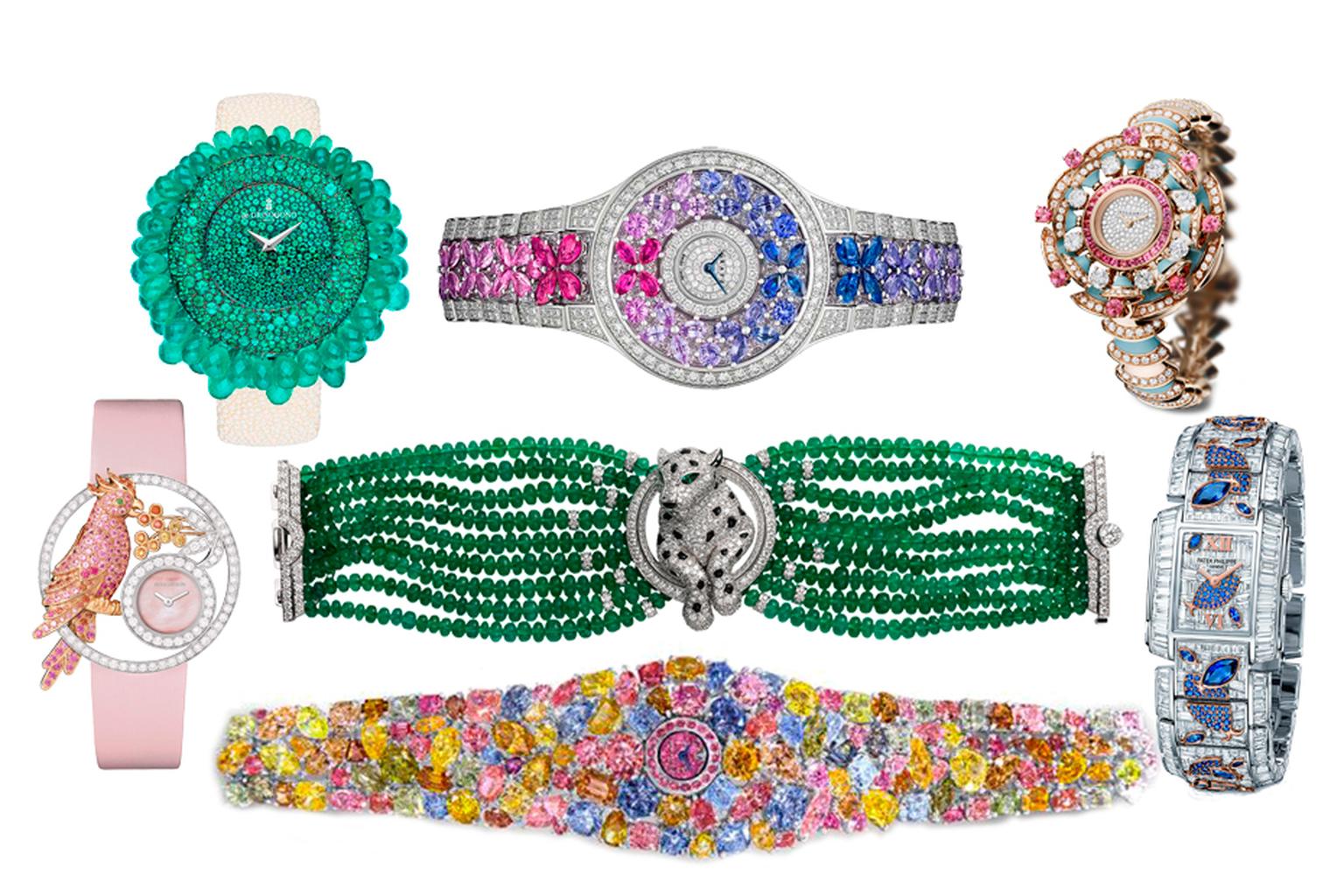 By Rebecca Doulton
Choosing a "best of high jewellery watches" list is, for most journalists at least, a bit like sending a child into a sweet shop with no money: every single watch dripping with precious stones is a temptation beyond our wildest dreams. Luckily, dreaming is free and, who knows, maybe that lottery number will win the jackpot and you will have a clearer idea about which model has captured your inner diva. 
Starting at the very summit with a price tag of $55 million is the Graff watch known as the Hallucination, possibly the most valuable watch on the planet. Like a rocky road paved with 110.00 carats of rare coloured diamonds, this aptly named masterpiece will probably remain just that - a hallucination - for most mortals. Fluttering by at unreachable heights, we were also treated to Graff's lovely Butterfly watch studded with diamonds, sapphires and rubies. 
Patek Philippe watches celebrated its grand 175th birthday in 2014 and regaled itself with some very fine presents including this delightful Aquatic Life watch swimming with 43.47 carats of blue sapphire fish in a miniature, invisibly-set diamond aquarium made from 1,937 diamonds. 
It was also the 100th birthday of the top cat of high jewellery and Cartier had a ball finding new ways to deck out its iconic feline in finery. The Cartier Panthère Secret watch has the diamond and onyx decorated panther guarding the dial and the amazing 577 emerald bead bracelet.
One of my favourite brands when it comes to mixing sexy cocktails of luxury and fun has to be de GRISOGONO. Founder and creative force Fawaz Gruosi has a fine-tuned sense of what contemporary divas yearn for and his Sugar and Grappoli de GRISOGONO watches drip with voluptuous, intoxicating charm. 
When it comes to capturing the zeitgeist of the 1970s, nobody does it better than Piaget, as 2014s's Extremely Piaget collection so eloquently attests. The kaleidoscopic stone dial of this cuff-style Piaget watch in white gold was achieved with a natural blue opal dial framed in a cage of white gold snow-set with 1,699 diamonds. 
Boucheron's pretty parrot watch from the Ajourée Nuri collection depicts a pink feathered parrot nibbling at some expensive gemstone berries, all brought to life with orange and pink sapphires, diamonds and a pink mother-of-pearl dial bringing a waft of tropical heat to winter climes.
The high jewellery Diva watch presented by Bulgari earlier this year captures the decadent glamour of Italy's Dolce Vita scene and the model in diamonds and emeralds won the coveted GPHG high jewellery award this year. From the ruffled petals decorated with diamonds, pink tourmaline and turquoise, to the pleated bracelet which reminds me quite a lot of the Serpenti, this Bulgari watch will awaken the dormant diva in any woman.
Patek Philippe Aquatic Life high jewellery watch is set with 1,937 diamonds and 43.74 carats of sapphires. This beautiful underwater scene comes to life with the different cuts of precious stones.

Piaget Extremely Piaget collection cuff watch in white gold, snow-set with 1,699 brilliant-cut diamonds and with a natural blue opal dial.

The Bulgari Diva high jewellery watch presented earlier this year captures the decadent glamour of Italy's Dolce Vita scene. The model in diamonds and emeralds won the coveted GPHG High Jewellery award this year.

Bulgari Diva high jewellery pink gold watch swirls with brilliant-cut diamonds, pink tourmalines and turquoises and a diamond snow-set dial.

de GRISOGONO Grappoli high jewellery watch with snow-set amethysts on the dial and briolette-cut amethysts dangling from the bezel. Even the back of the pink gold case is set with stones and presented on a bubbly purple galuchat strap.

The Graff Hallucination is accompanied by the Butterfly watch, which competed in the high jewellery category of the GPHG contest. Set against a diamond background, each butterfly on the dial and bracelet is composed of four pear-shape gemstones sculpted from violet, pink or blue sapphires.

The Graff Hallucination high jewellery watch is covered in 110.00 carats worth of rare coloured diamonds and comes with a price tag of $55 million.

Cartier paid tribute to its famous feline, the Panther, who celebrated his 100th anniversary in style appearing on this secret watch in 2014 studded with diamonds and strung on an exotic 577 emerald bead bracelet.

Boucheron Ajourée Nuri watch features a pretty parrot perched on a branch nibbling tropical fruit. Swathed in diamonds and orange-pink sapphires and with a pink mother-of-pearl dial, the parrot sparkles with life.

de GRISOGONO Grappoli collection featrues mouth-watering high jewellery watches. Like a sunflower bursting with colourful gemstones, the Grappoli model is the fruit of expert gem-setters and stone cutters patiently cutting and setting each and every one of the dazzling 1,030 stones by hand.

Like a miniature aquarium swimming with diamonds and fish, the Twenty-4® Haute Joaillerie Ref. 4909/110 "Aquatic Life" shows the world that Patek Philippe is at the top of its trade when it comes to the art of gem-setting.

2014 was a very generous year for high jewellery watches with dazzling beauties popping up the SIHH, Baselworld and the Biennale des Antiquaires buoyed by an ever-growing appetite for coloured gemstones and diamonds. Viva 2014!