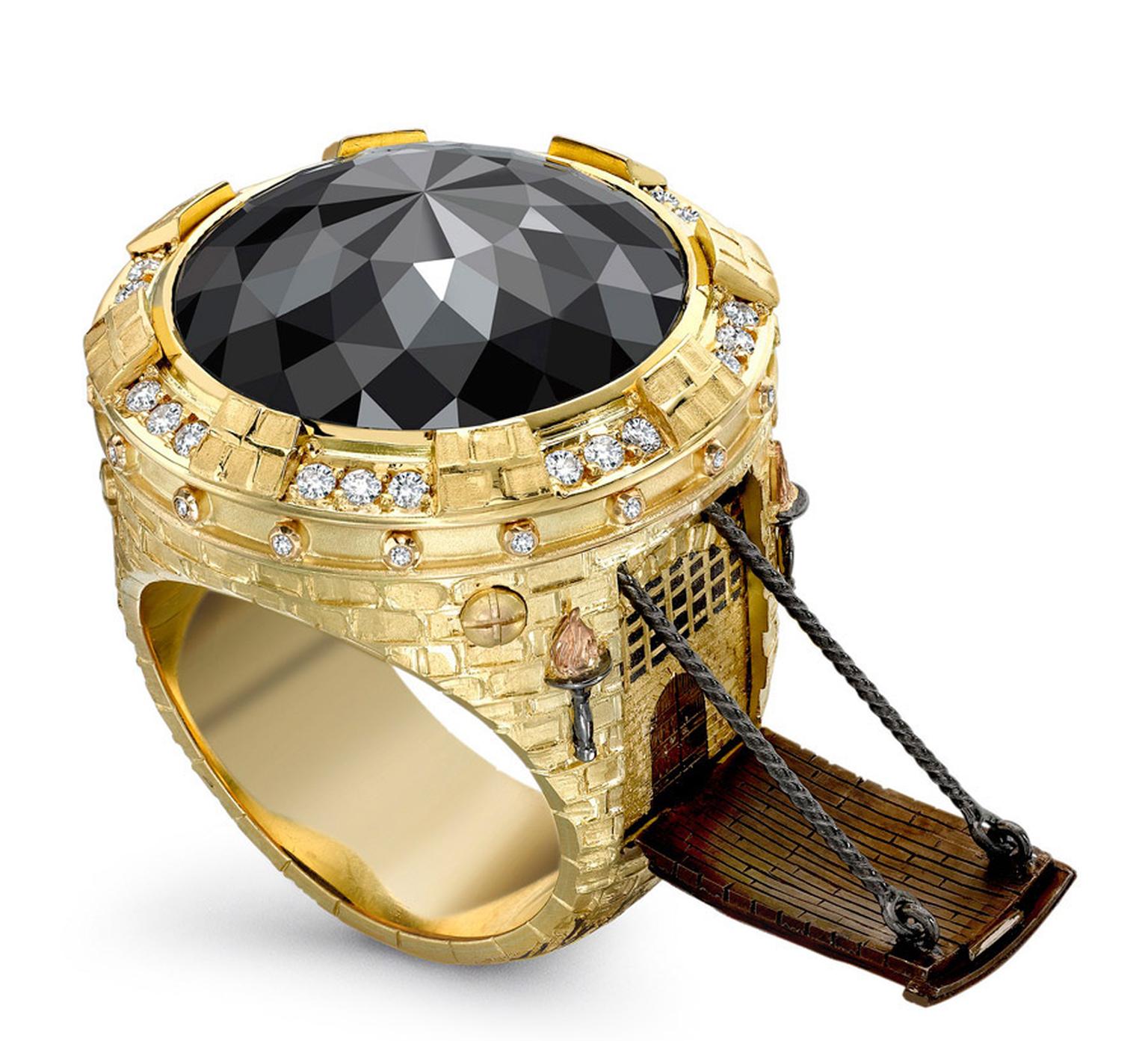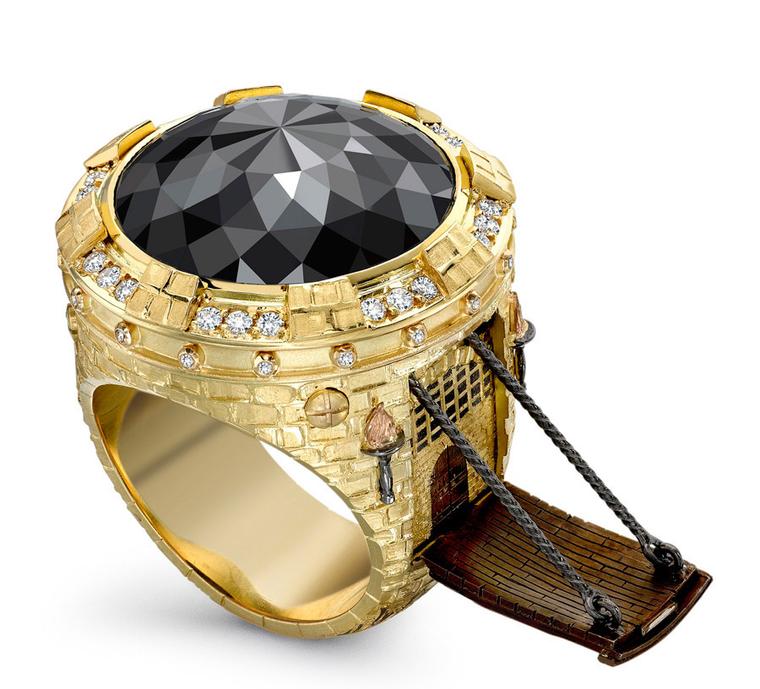 This year's Masterpiece London fair promises to be the best yet, and after two years of providing visitors with a veritable treasure trove of antiquities, relics and modern wonders, that will be no mean feat. Looking at art and design from antiquity to present day, the fair offers you a chance to get up close with a vast array of paragons of perfection, be they Degas or diamonds, mirrors or miniatures, or in my case, jewellery. Here I've selected a few potential standouts, and it's clear to see at first glance that these are very special pieces indeed, with design, workmanship, and minutiae of detail shining out of each and every one.
The first designer to create opening door rings, Theo Fennell's Castle Ring is a piece of jewellery that one can literally get lost in. As Fennell himself espouses, this takes us "away from mass-produced offerings that are available anywhere in the world. This is truly special", and with details as playful as the opening drawbridge with its very own chain mechanism, it's hard to argue. The ring has been handcrafted in yellow gold holding a 23.88ct black diamond. It sits perfectly next to his other piece, the Cleopatra Brooch, which boasts tsavorites, emeralds, rubies, diamonds, and a moonstone skull with her hair in black spinel. It also boasts a scarab carved from tektite, molten glass said to have formed from meteorites heating and breaking up as they entered our atmosphere.
Symbolic & Chase seem to also delight in colourful pieces with delicious details. Firstly there's an articulated yellow gold serpent with enamel motifs and a pearl-accented head, with a ruby eye. Made in 1840, this Swiss masterpiece opens to reveal a gold vinaigrette compartment, and can be worn either as a necklace or wound around the wrist with head in hand. Symbolic & Chase also have a late 1920s French gem-set platinum parrot brooch, with calibré-cut buff-top sapphires, rubies and emeralds, while the little chap sits atop a baguette-cut diamond-set perch.
Hancocks have a vibrantly coloured and aptly named Tutti Frutti bracelet from Cartier; this would have been part of the Tutti Frutti jewels, exuberant pieces that consisted of coloured gems carved into leafy shapes, combined with cabochons and smooth or ribbed beads. The gems themselves originally came from India and became something a hallmark for Cartier during the 1920s. What's so incredible is how much this bracelet mirrors the Giuliano Bracelet also at Masterpiece London this year, a rare archaeological revival-style bracelet from the 1880s.
Again, detail is delicious with so much of the jewellery here, and the Verdura Heart on display is testament to this; the hearts became something of a trend in 1940s Hollywood and although Verdura was influenced by baroque Sacred Heart imagery, his designs are closer to the courtly heart jewels that were highly prized in Elizabethan England. Also from the same era is the Ford Bracelet featuring five delightful gold and enamel charms by O.C. Tanner and Co., all on a Tiffany gold chain. Each charm is marked with the specific model, date of manufacture, and quantity made.
Masterpiece London 2012 takes place from the 28th June until 4th July at the South Grounds of the Royal Hospital Chelsea. Tickets range start at £20, with booking and more information available here.
Kate Winslet wears the Art Deco inspired necklace.

Halpern's Art-Deco inspired necklace in platinum based on jewels in the Tiffany archives.

A La Vieille Russie – Ford Bracelet - It consists of 5 gold and enamel 'Ford car' charms by O.C. Tanner and Co. and on a Tiffany gold chain. It is American circa 1940 and each charm denotes the specific model, date of manufacture, and quantity made.

Hancocks – Cartier Tutti Frutti Bracelet - Magnificent and rare 'Tutti Frutti' bracelet by Cartier, New York circa 1928

Hancocks - Giuliano Bracelet, a rare archaeological revival style bangle-bracelet by Giuliano, circa 1880

Theo Fennell Cleopatra Brooch with Tsavorites, emeralds, rubies and diamonds; her skull portrait is carved in moonstone and her hair in black spinel. The Scarab is carved from Tektite.

A Verdura Heart from Masterpiece London 2012.

Symbolic & Chase - A French gem-set platinum brooch In the form of a macaw, embellished with calibré-cut buff-top sapphires, rubies and emeralds, perched on a baguette-cut diamond-set swing, French assay marks for platinum, late 1920s

Symbolic & Chase - gem-set and enamel necklace with vinaigrette. Designed as a highly articulated yellow gold serpent, applied with a black and white enamel motif to the exterior and with pale green enamel scale motif to the under belly, the head accented with a pearl, embellished with a ruby eye, opening to reveal a gold vinaigrette compartment, circa 1840, Swiss made.

Theo Fennell Castle Ring with 23.88ct Black diamond.