With models catering for every possible taste, the clocks we spotted this year at the SIHH and Baselworld are exquisite works of art providing that reassuring tick-tock of yesteryear.
Jaeger-LeCoultre's magical Atmos table clock
Patek Philippe is renowned for its elaborately decorated clocks and watches and presents The Hour Circle, a gorgeously plump table clock designed to be read from above and decorated with flinqué enamel (POA).
Described as the most influential designer of his generation, Marc Newson's designs have transformed everything from furniture to aircraft into modern design icons.
Newson's collaboration with Jaeger-LeCoultre began in 2008, and his creativity has once again been deployed to endow the famous Atmos clock with a contemporary spirit. The Atmos, invented in 1928, keeps time thanks to a gaseous mixture in a hermetically sealed capsule that expands when the temperature rises and contracts when it falls. A temperature fluctuation of a single degree is enough to trigger the spring drive to wind the clock's movement. 
The Newson-designed Atmos 568, above, underlines the purity and weightlessness of this astonishing clock, which is sealed under a transparent Baccarat crystal globe.  The crystal cabinet allows light to bathe the movement, suspended as if by magic in thin air.
Harry Winston Emerald Time table clock
If you are a fan of Art Deco style and enamoured by the House of Harry Winston's high jewellery, this is the clock for your mantelpiece. Crafted in white gold and decorated with shimmering aventurine and radiant diamonds, the Emerald Time clock captures the streamlined geometric lines of the Art Deco period when the House of Harry Winston was founded in 1932.
Far from being a static object, the clock is equipped with a pivoting mechanism allowing you to consult the time and date on one face and a mirror on the other. The dynamic, architectural character of the clock is composed of overlapping octagonal shapes, a nod to Mr Harry Winston's beloved emerald cut.
Chanel Mademoiselle Privé table clock
Chanel understands that we all crave a sneak peek into people's private lives and has an entire collection of watches and jewellery called Mademoiselle Privé, centred around the intimate world of Gabrielle Chanel and the cherished objects that decorated her home and accompanied her in her daily life.  Coromandel lacquer screens were high on Chanel's list of prized ornaments, and eight Chinese screens were used to decorate her 31 rue Cambon apartment. 
Ornately decorated with Oriental motifs, the Coromandel screens are the inspiration behind this artistic table clock housed in a sleek black obsidian cabinet. The dial reproduces floral motifs carved from different semi-precious stones created using the glyptic technique and sculpted gold.
Patek Philippe The Hour Circle table clock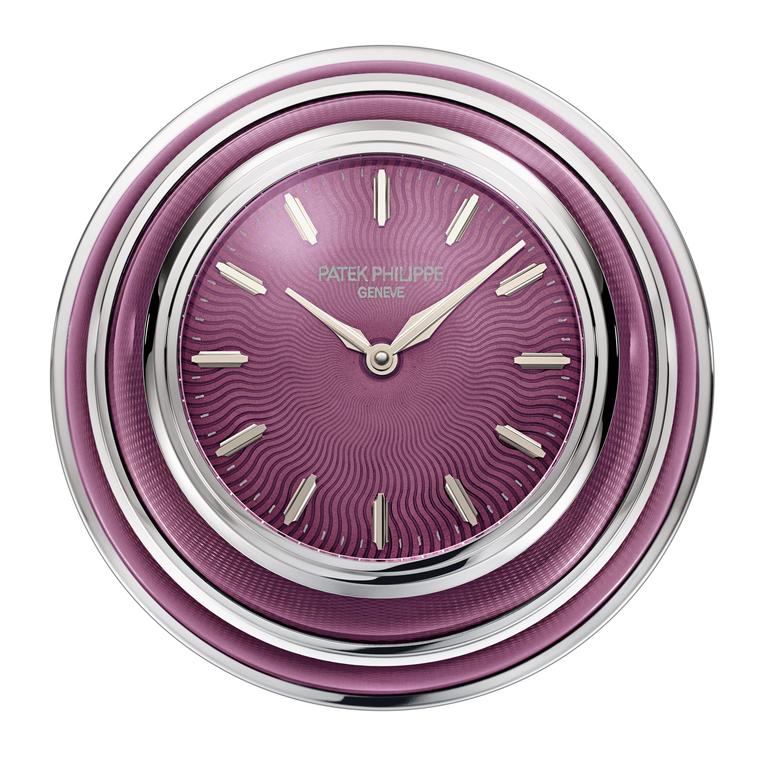 Patek Philippe is renowned for its ornate hand-decorated timepieces and has an entire section – known as the Rare Handcrafts department – dedicated to the embellishment of clocks and dials.
When I first saw this delectable lilac table clock, above, I was reminded of the Victorian copper moulds used to produce elaborate-looking jellies. Unlike most table clocks, time is read from above, and the dial is supported by two circular structures like a plump, rounded pyramid. The case is also decorated with flinqué enamel and features barleycorn patterns on the flanks and a sunburst motif on the dial covered with transparent enamel.
MB&F Destination Moon table clock
Trust MB&F to blast the tradition of table clocks with this fantastic rocket clock designed to look like a torpedo-shaped sci-fi rocket from the 1960s. Destination Moon was conceived by MB&F but built by the prestigious Swiss clock maker L'Epée 1839 following the construction of a spaceship and is equipped with a formidable eight-day power reserve.
Power for the movement, like a rocket, comes from the base and the clock features a large winding crown, while the hours and minutes are shown on rotating discs towards the head of the rocket. If you look closely – about four rungs up the ladder from the base – you will spot Neil, the astronaut in charge of blast off.