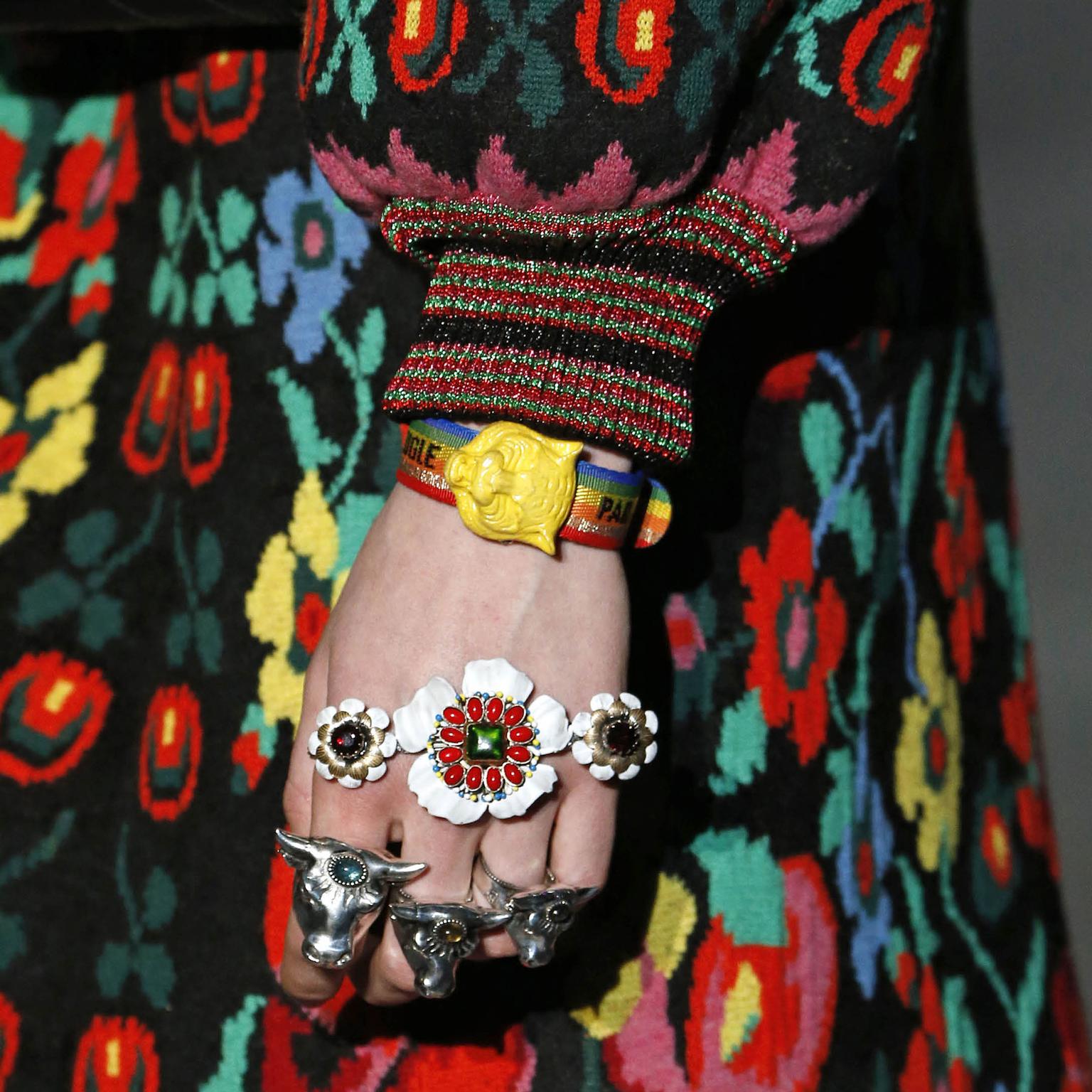 Women's watches are undergoing a fascinating transformation, poaching design directions directly from the world of fashion and haute couture. A breath of fresh air for the generally conservative realm of watchmaking, leading fashion brands are now taking watches to the catwalk to strut their stuff. 
No longer a separate category, watches are designed in tandem with catwalk collections and form an integral part of many haute-couture offerings, designed to be paired with their jewellery and apparel collections.
Gucci excels in this new, all-embracing strategy as creative director Alessandro Michele casts his quirky, exuberant spell on everything he touches – watches included. Last year we saw timepieces with colourful Plexiglass cases and embroidered bumblebees. The latest catwalk show featured fun felines with rotating heads and glowing ruby eyes to reveal the time, all part of the menagerie of tigers, bees and snakes that populate the Le Marché des Merveilles collection.
Another famous Italian fashion brand, Fendi, has kept it in the family by enlisting jewellery designer Delfina Delettrez – daughter of co-creative director Silvia Venturini Fendi – to design a capsule watch collection called Policromia, a high-end jewellery watch marrying semi-precious stones, diamonds and gold.
A diffusion line with more accessible price points will be launching shortly and it hits on another core trend of the past two years: customisation. With a choice of stone dials, gold buckles, gold inserts and diamond accents, the watches can be personalised to your heart's delight. And if you go online to view the watches, Fendi will suggest products to style with your watch, including handbags, shoes and sunglasses for the complete Fendi look.
The House of Dior celebrates its 70th anniversary this year and, in homage to the textile patterns favoured by Christian Dior, dials have been decorated with houndstooth and herringbone.
Dior's new designer Maria Grazia Chiuri – the first female designer in Dior's history – made her debut with the ready-to-wear Spring 2017 collection. Picking up on the mood, materials, finishes and colours of Chiuri's collection, the Dior VIII Montaigne 2017 Spring-Summer Seasonal Edition was produced in time for the catwalk show, complete with a piqué cotton pattern on the dial.
The Serpenti, Bulgari's iconic reptile mascot, lives up to its name and sheds its skin this year with a new line-up of five interchangeable Karung snakeskin straps. If snakeskin makes you squeamish, there are also double wrap-around straps in calfskin, which can be changed in a flash to match your look.
No article dealing with watches and fashion would be complete without referring to Chanel, a brand that has managed to incorporate Coco Chanel's spirit and taste into every watch it has created since the debut of the Première in 1987.
The J12 watch, coming up for its 17th birthday, is revisited this year in a sleek, high-tech black ceramic case with a delightful representation of Gabrielle Chanel on the dial. Dressed in a classic tweed suit with white trim and pearl earrings, Coco's arms are used to tell the time.