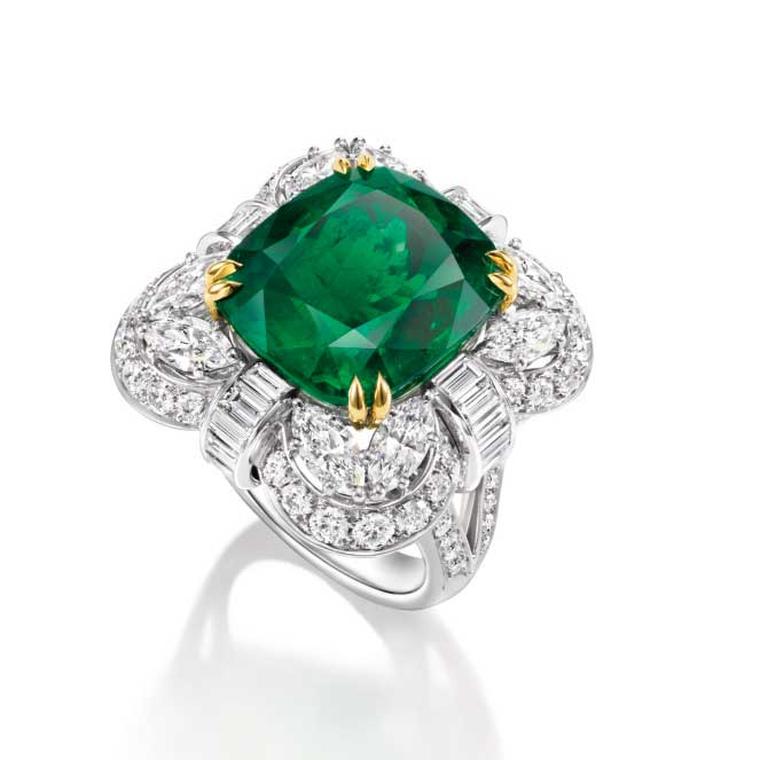 Emeralds signify hope and prosperity, and if you are a May baby, you are lucky enough to share your birthstone with some of the great women in history, such as Queen Victoria - for whom Prince Albert set a symbolic snake wedding ring with this vibrantly colored gem. But perhaps the most magnificent of Queen Victoria's emerald jewels is the 1845 tiara now displayed at Kensington Palace (below). It was given to her by Prince Albert and the only tiara designed by a consort for his Queen. Read more here.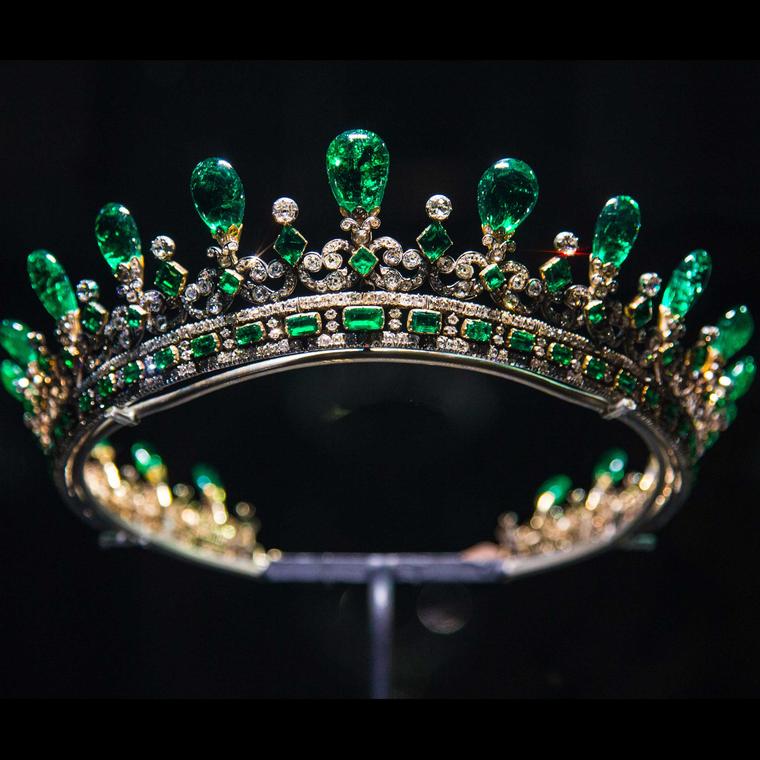 Other great emerald wearers include Liz Taylor, Audrey Hepburn, Catherine the Great, Florence Nightingale, Emily Bronte, Katherine Hepburn, Queen Mary II and Cate Blanchett (okay, so she only received an Oscar nomination for her role as royalty, but she's one of the reigning queens of Hollywood).  Naomi Campbell took to the red carpet at the Academy Awards 2018 (below) wearing a 1970's Bulgari sugarloaf emerald necklace confirming that emeralds still rule supreme amongst colour gemstones.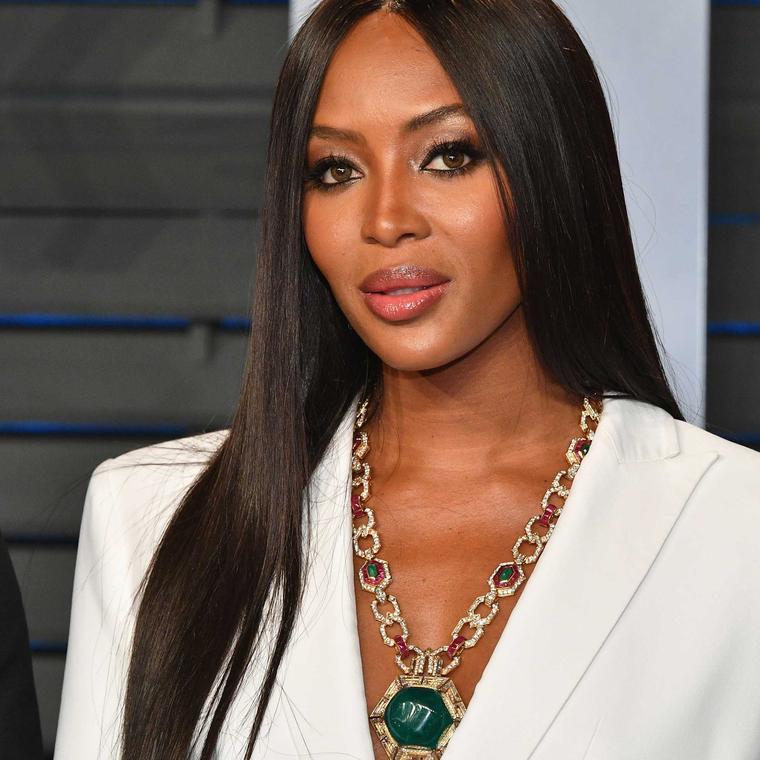 Emeralds embrace a long and rich history, and from the 17th through to the 19th centuries also represented status, wealth and place in society. In 1806, Napoleon Bonaparte gifted a stunning emerald and diamond parure, part of the Beauharnais Emerald collection, to his adopted daughter Stéphanie upon her marriage to the Grand Duke of Baden. The necklace and earrings, which are now held in the antique jewelry collection at the Victoria & Albert Museum in London, are all that remain of a larger suite.
In Georgian times, closed foil-back center stones in classic cluster or memorial bands with a vivid emerald center stone, which featured the name and date of the person who passed away on the shank, were popular styles of rings. Throughout the Georgian, Regency and Victorian eras, emeralds were also set into five stone rings as well as various earrings, brooches and necklaces (above), often with rose or mine-cut diamonds as accents or surrounding stones.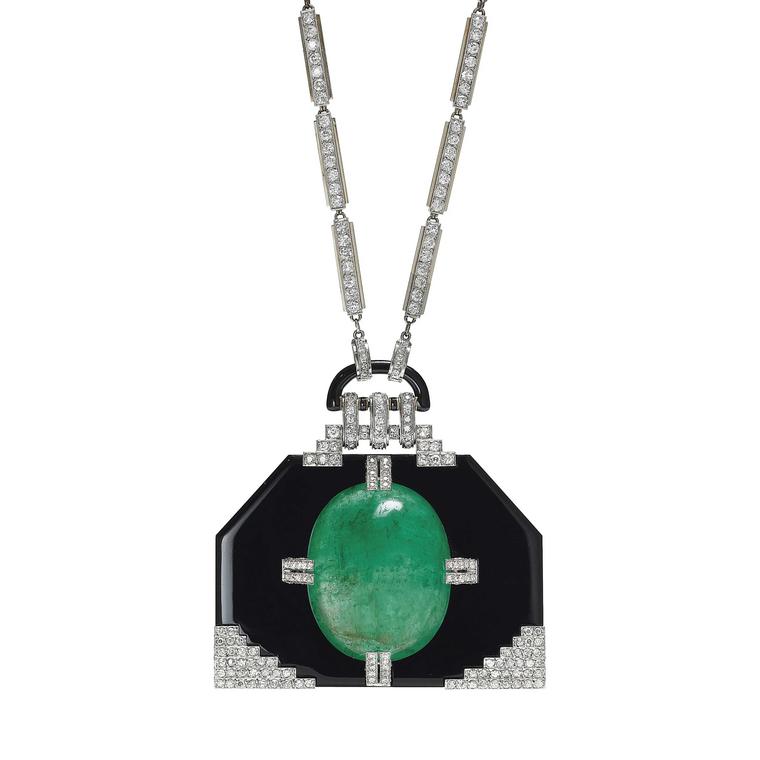 Edwardian/Belle Époque styles were lighter in weight and also formed foliate and ornate designs, which were similar to those in Georgian times but lighter and much more airy - in open back and platinum rather than silver over yellow gold. During the later part of the Art Deco movement, emeralds were shown combined with onyx and diamonds (above), and when designers became inspired by the cross-cultural influences of Egypt and Asia, emeralds were intricately carved in both gemstones and beads.
During the late 19th through to the mid 20th centuries, renowned houses such as Boucheron worked with these deep green gems and designed pieces for the Maharaja of Patiala, whose emeralds were said to be the "size of apricots".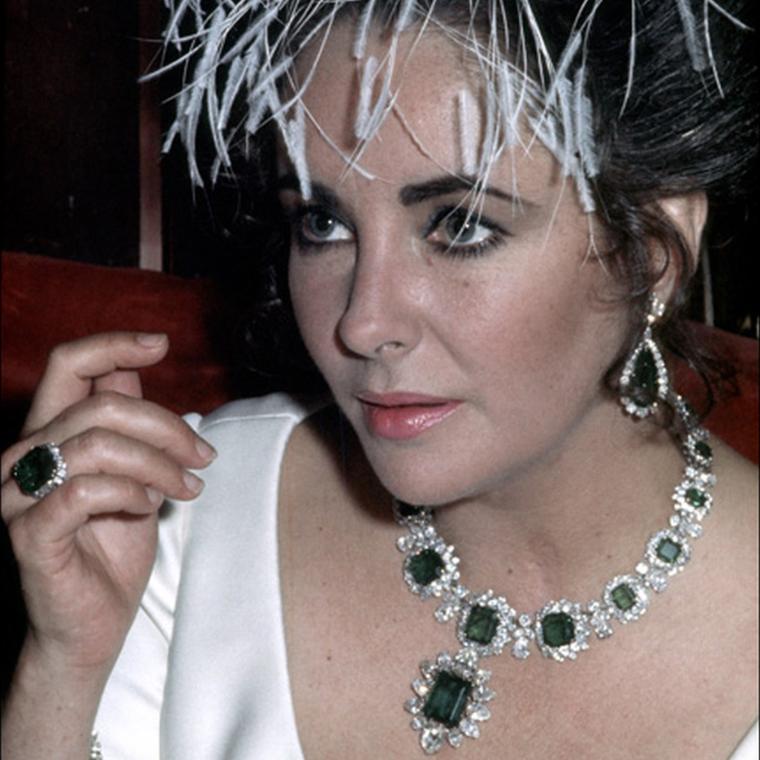 Often, various houses were linked to the celebrities or royalty who wore their jewelry: Elizabeth Taylor and Bulgari's emerald and diamond brooch, ring, earrings, and necklace with detachable pendant (above) - which she wore in various combinations; Marlene Dietrich and Paul Flato and Trabert & Hoeffer-Mauboussin's emerald pieces - her favorite gem and the stone she wore in press photos and films. During a dinner party held by Katharine Cornell, a story circulated that Dietrich took off her 37.41ct cabochon emerald ring while she was helping bake a cake, and then realized that it was gone. The other guests helped her look for the ring, turning the dinner party into a treasure hunt. It was only during dessert that the ring was discovered by one of the other guests inside a piece of the cake!
And speaking of rings, in England in 1922, when Princess Mary appeared in public wearing an emerald engagement ring, the price of emeralds soared - sealing the gem's status as a favorite amongst the stylish in society, long before the term "alternative bridal rings" was coined. Over a decade later, her brother, Edward Prince of Wales, abdicated his throne for Wallis Simpson and proposed to her with a Cartier-designed emerald engagement ring. 
Years later in the 1950s, another style icon received an emerald engagement ring - Jacqueline Bouvier was proposed to by John F. Kennedy with a Van Cleef & Arpels 2.79ct emerald mounted next to a 2.84ct diamond, accented with tapered baguettes. In 1962, Jackie Kennedy had the ring reset with additional diamonds to reflect more modern times.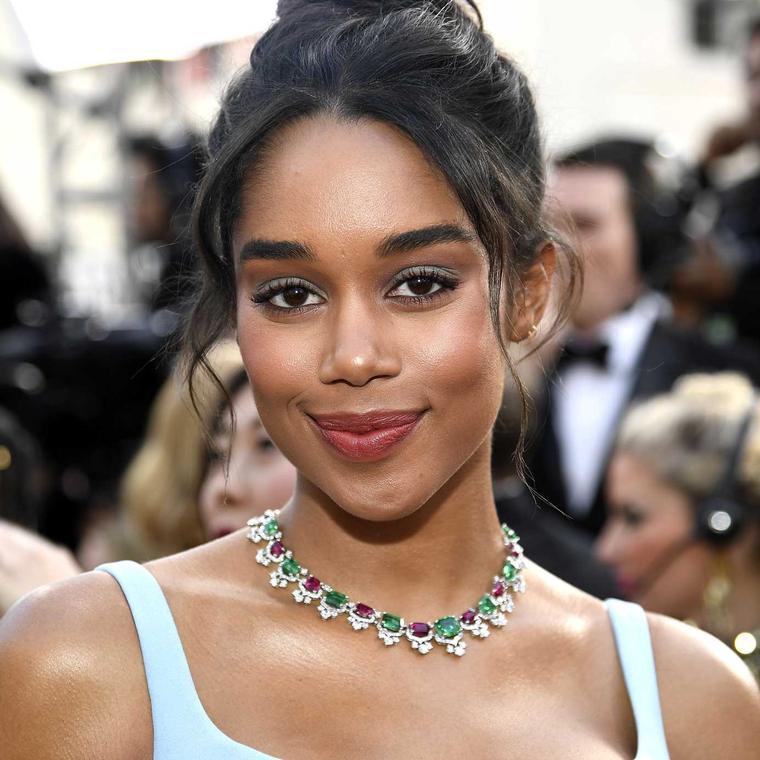 Over the past 15 years, emeralds have featured in the contemporary designs and the classic emerald ring has been updated by Harry Winston (below) and  their appeal is not lost on a younger generation of divas. Laura Harrier chose a Bulgari emerald and rubellite necklace for her Oscars appearance this year (above) for a fresh yet undoubtedly elegant look.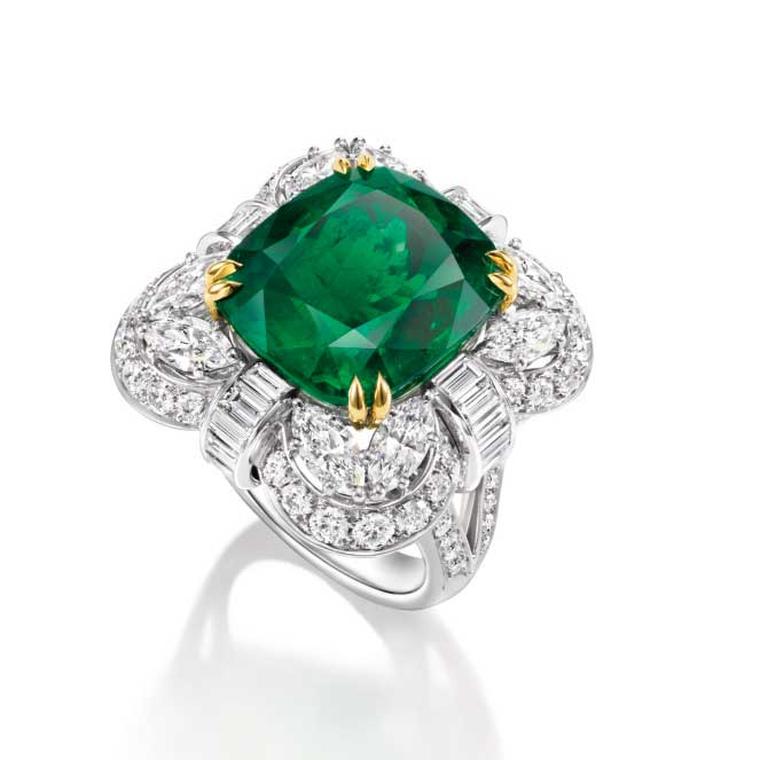 Cartier's latest Résonance high jewellery collection (below) included a fabulous 140.21-carat emerald at its centre. Emeralds have also turned up on the red carpet as the gems to watch on celebrities such as Angelina Jolie, Julianne Moore, Uma Thurman, Amy Adams and Beyoncé.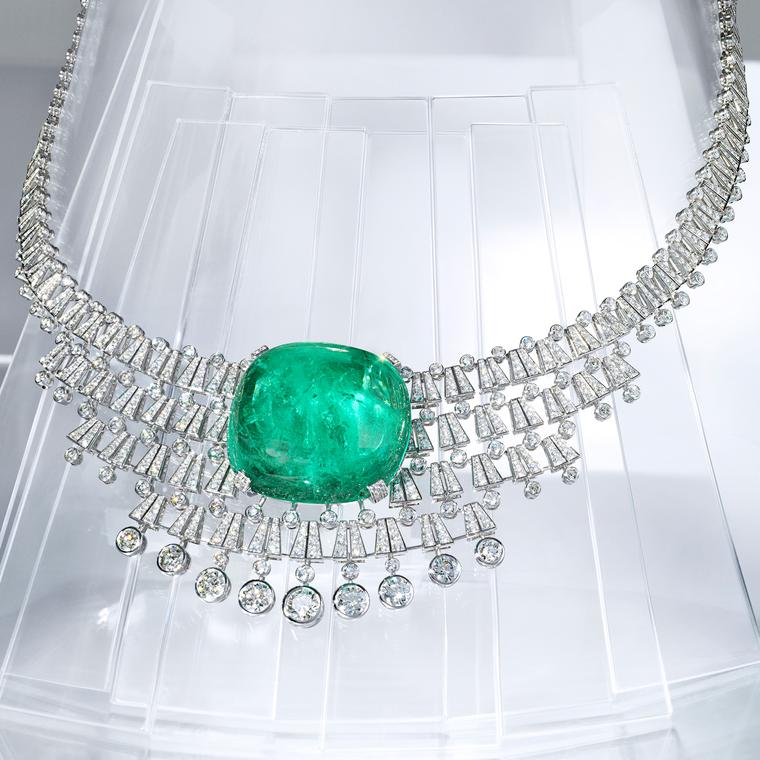 Designers are going for the green gem as they choose various hues and qualities of this stone, in polished, unparalleled cuts or as slices, rough cuts, and new rose cuts, and are worked into styles that range from sophisticated bohemian to regal and elegant. However, as emeralds are quite fragile, they are not recommended as engagement rings. Read more here on birth stone engagement rings. 
If emeralds are your birthstone, you have many antique and modern styles from which to choose, so go out and treat yourself to one this year and you just might turn all those you know, green with envy.
Updated by Maria Doulton May 2019
Another spectacular jewel spotted at the Doha Jewellery and Watch Exhibition was this Mouawad necklace with a stunning 53 carat Colombian emerald cabochon at its centre.

Naomi Campbell at the Oscars 2018 wearing a Bulgari emerald cabochon necklace made circa 1970  from the Heritage collection.

This jewel is the only tiara made by a consort for a monach.  Prince Albert commissioned it from the Queen's jeweller  Joseph Kitching. It is set with 19 sepctacular pear-shape emeralds. (c) Historic Royal Palaces

What outfit wouldn't would look great with this Art Deco Georges Fouquet pendant circa 1925 in onyx and diamonds with cabochon emerald? Original and striking, you are unlikely to bump into anyone wearing the same jewel. 

Cartier sets a majestic 140.21-carat cabochon-cut emerald amongst rows of dozens of geometrically arranged diamonds in the Résonances Hyperbole jewel, which transforms into a tiara.

Elizabeth Taylor wearing her Bulgari diamond and emerald necklace with detachable pendant/brooch - a gift from Richard Burton.

Offering a preview of Bulgari's high jewellery collection launching this summer, Laura Harrier wore a necklace with diamonds, rubellites and 30 carats of emeralds with a matching bracelet. Photo credit: Getty Images.

This Harry Winston ring has a cushion-cut 15.67 carat emerald at its centre and is surrounded by diamonds and made of platinum. Note how yellow gold, as opposed to platinum,  is used on the claws holding the emeralds to enhance the overall effect of the ring.