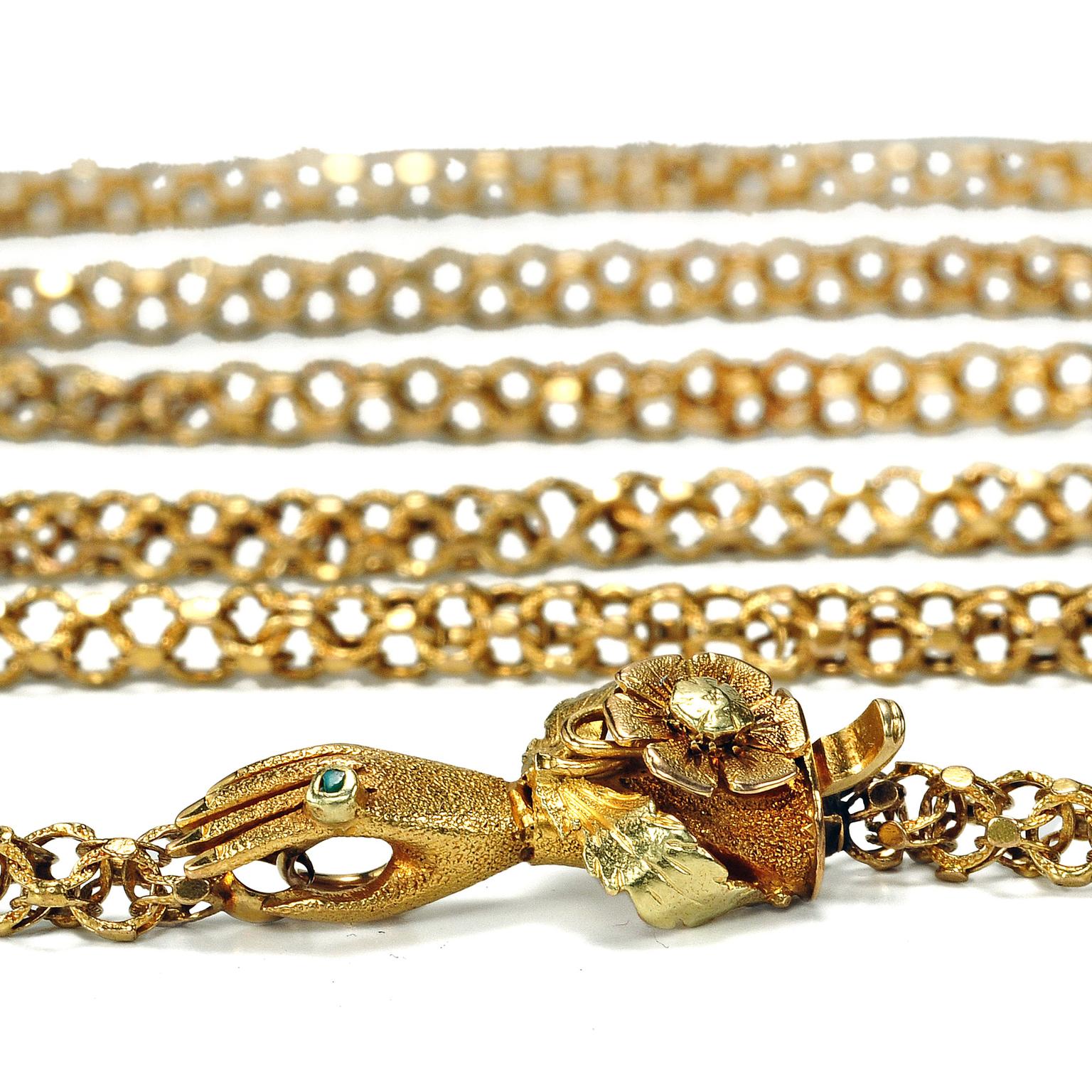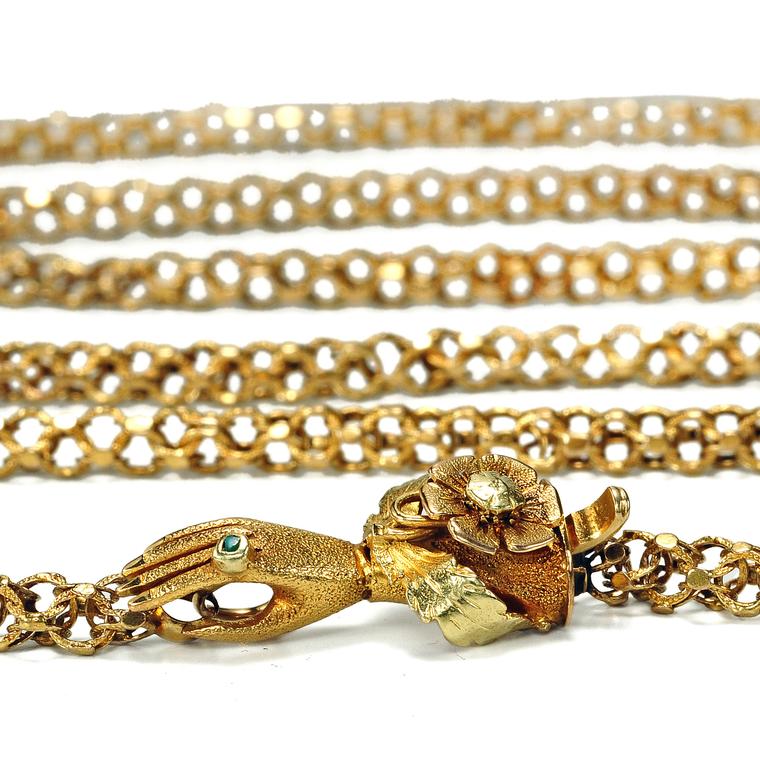 In the late 70s and throughout the 80s there was a trend that some of us were old enough to have partaken in, or at least witnessed, and others are young enough to have only seen in photos. It was, of course, the "Mr T" craze of heavy, piled-on gold chains with a definite Midas touch.
Although the trend seemed to take over the streets and the nightclubs, it was not for the faint of heart, nor the consummate collector, but for those who favoured fades and fast fashion.
Read more about collecting antique jewellery
The adage that everything is cyclical holds true. The trend for gold jewellery has been back in full swing for some time, and this has translated into antique and period jewellery.
The nostalgia for earlier times and the more refined, tasteful elegance of Georgian through to Art Nouveau styles have made intricately designed chains the most desirable in the antique jewellery market. Quite a number of the looks throughout these time periods have become increasingly more collectible in the past two to three years.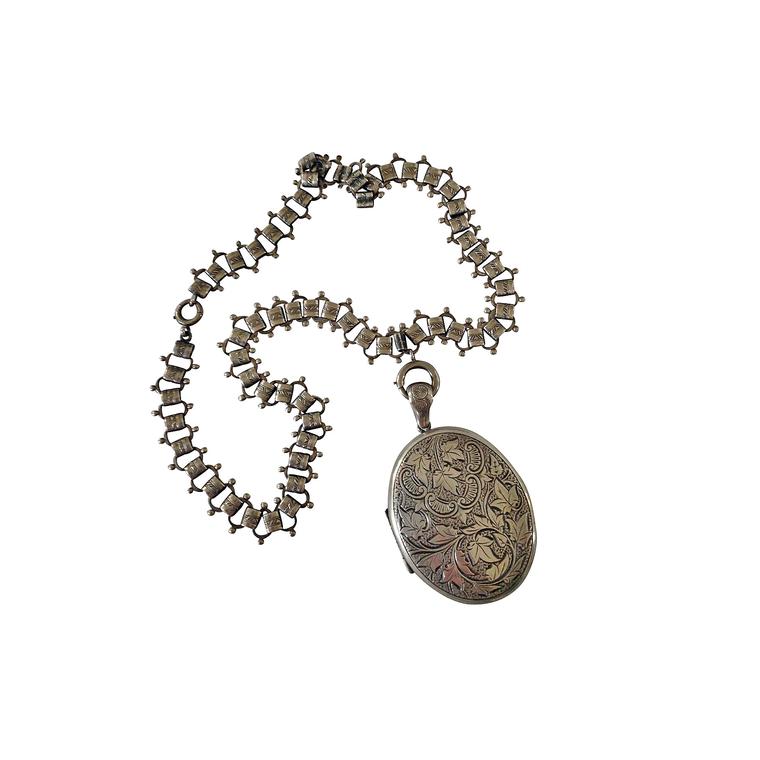 "The return of gold and the artful layering of both modern and antique pendants and chains have all contributed to this renewed popularity and interest among new collectors of period jewellery," explains Lisa Stockhammer-Mial, owner and president of The Three Graces Fine Jewelry. 
Stockhammer-Mial cites the Georgian Guard chain as one of the most sought-after today and also a chain that needs to be carefully examined before purchasing. "These chains were ultra-lightweight and long - over 50 inches. Most of these featured bejewelled or clasped hands."
Both Stockhammer-Mail and Jacquelyn Babush, historian and owner of Aesthetic Engineering Fine Jewels and Antiques, warn buyers to watch out for reproductions, of which there are many. Both explain that the repros are heavier, don't have the same fine feeling and the hand clasps usually don't have the same wear or intricate tooling. Since these chains can cost between $4,000 and $9,000, it might be best to take an expert when purchasing. 
"The guard chains were sometimes up to 64 inches and were designed to hold watches on dog clips which swivel open," explains Babush. "They were originally worn with the chain tucked into a woman's belt, and the watch dangled from there."
Muff chains also refer to long chains of this period, created to string through a muff of fur that kept a woman's hands warm when she was outside, and held it when she was inside.
Pinchbeck chains are a more affordable alternative and offer a similar look. "These chains were invented in the 1700s by Christopher Pinchbeck, who developed a secret alloy by combining copper and zinc to create a metal that gave the appearance and weight of 18ct gold.
"It could also be stretched, twisted and spun with great intricacy and decorated with the same detail - such as cannetille work - as authentic gold chains," Babush explains. It doesn't tarnish or change colour and, due to its scarcity today, has become highly collectible.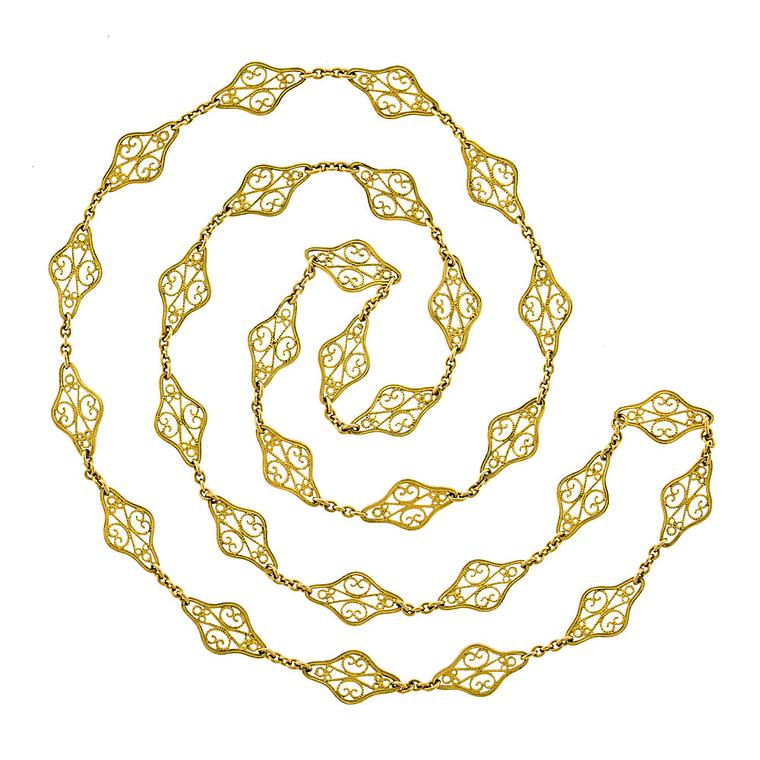 Babush and Stockhammer-Mail agree that the long Art Nouveau chains, which are heavier than the Georgian styles, have become more and more desirable. "It's the length and the design," says Stockhammer-Mail. There are some beautifully worked filigree and unusual patterns in these French chains. Guilloché enamel panels of flowers and naturalistic leaves in-between the links are also highly coveted in these chains, which can be worn once, twice or three times around the neck. 
Read more about floral motifs in antique jewellery
Both the Georgian and Art Nouveau styles should be worn as is, without anything dangling from them so as not scratch or pull on the intricate links. Besides, they stand out beautifully without any other ornamentation. 
However, layering them with chains from the Victorian period, which featured various styles, including Belcher (in which the loops of the chain go in opposite directions), slide chains and book chains in both silver and gold, and velvety rope chains, with lockets, fobs or sentimental charms hanging from them - which have a much more delicate feel than the rope chains of today - all offer a wonderfully personalised look. 
Just remember, you never want to detract from yourself or the charm or character of each chain, so be careful not to over accessorise or look like you are going for the gold of the 80s.
A Brandt & Sons' late Victorian 14ct yellow ornate, open wirework 60 inch chain with a swivel watch hook along with a spring ring clasp.

Bentley & Skinner's Victorian long yellow gold chain, with floral decorated clasp, circa 1850. 

Bentley & Skinner's gold Victorian chain with heart-shaped locket pendant. 

Lawrence Jeffrey Estate Jewelers' 18ct gold French filigree 58 inch chain, circa 1880s. 

Glorious Antiques' Georgian 15ct gold chain comprised of orb-like links and lightweight wire work with a decorative clasp set with turquoise cabochons.

A La Vieille Russie's English antique gold chain with hand clasp in two colours of gold. 

Romanov Russia's antique Russian 9ct gold Turn of the Century guard rope chain.

Vanity's Antique Studio Victorian 14ct gold and amethyst book chain necklace.

Whitmer Hammond's large Victorian sterling silver locket hangs from an ornate sterling silver book chain.

Elizabeth Rose Antique's intricately detailed Pinchbeck chain with garnet set clasp, circa 1800.

The Three Graces Georgian 15ct yellow gold long guard chain, circa 1820. The clasp is a figural representation of a hand emerging from an ornate blouse sleeve, appointed with a multi-petal flower centered with an appliqué of a clover leaf motif.