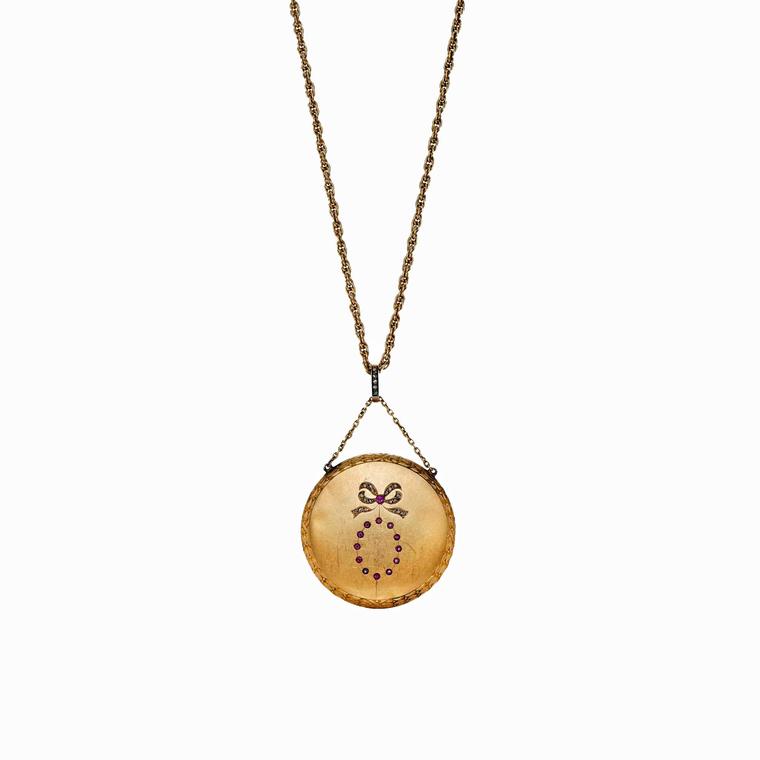 By Beth Bernstein   
Today, when watches, mobile phones and other gadgets are used to store information, photos and videos, there is something romantic and magical about wearing a piece of jewellery that holds personal memories, and antique lockets continue to be a popular part of our culture for just this reason.
Period and antique lockets display design details and elements that reflect the time period in which they were crafted. However, the true significance of these jewels lies in the stories that click shut into these ornamentally detailed cases, created to hold secrets, private love messages, special moments, and loved ones close to the heart.
Once passed along to a new generation, antique lockets begin to hold an entire family history, as the locket becomes an heirloom and gains more significance and individuality. In Georgian and Victorian times, when lockets first witnessed popularity, they were designed with hidden compartments. They would house mostly portraits and love notes, but there were also spaces that could be used to hold a beloved's lock of hair or a tiny memento. Some of these were fashioned from two pieces of rock crystal in the shape of a heart, joined together with a latch, with a meaningful saying around it and often engraved and enamelled in French.
Read more about modern heirloom jewellery here
There were also locket rings, which appear to be a signet ring but open up to reveal a floral motif and a space to hold small objects, some of which were even known as poison rings in very early times. These styles continued throughout the early 20th century, and when Prince Albert passed away and Queen Victoria went into mourning, lockets were designed in remembrance of loved ones and also became the height of fashion. Today, some of the most collectible gold lockets are those in the shape of a heart padlock with a rock crystal-backed opening. 
Sentimentality spread and soon the motifs that were symbolic and reflective of the entire Victorian period were found on the front of lockets in gemstones - turquoise forget-me nots, and horseshoes and buckles in diamonds, rubies and sapphires. These were also chased and engraved with names and dates representing births, marriages and deaths, as well as other important occasions.
See more jewellery from the Victorian era here
Later periods all reflected the style, designs and motifs of the day. Art Nouveau lockets portrayed ethereal, naturalistic and poetic scenes. Edwardian and Art Deco designs were shown predominately in platinum with enamelling, garland motifs, Asian-style fans and flowers decorating the front, or with inlays of carved and calibre stones.
I own a number of antique lockets, but my favourite is a decoratively engraved and enamelled book, which opens to reveal "pages" for photos and other objects. I may still record myself "to-do" messages on my iPhone, but it's nice to know that I have a wearable hiding place to store my most private thoughts and ideas.
Read about personalized jewelry here
A. Brandt + Son Victorian 18ct gold snake motif top-garnet padlock with diamond accents.

Bell and Bird Victorian era 15ct gold locket with sliding container, revealing two compartments with original glass and hair. Engraving indicates original purpose as a mourning piece, circa 1879.  

Bentley & Skinner early Victorian blue enamel and pearl star locket with yellow gold back and central locket compartment, circa 1840.

Bentley & Skinner 19th century gold locket of three interlocked horseshoes, one of emeralds, one of rubies, the other of diamonds, bearing French assay marks, circa 1860.

Butterlane Antiques classic Victorian mourning "In Memory Of" locket with black and white enamel and finished with chased engraving. 

Doyle & Doyle Victorian 18ct gold and sterling silver diamond flower locket, set with rose-cut diamonds in a floral motif on an engine-turned, engraved locket suspended from an oxidised silver chain, circa 1890-1900.

Glorious Antique Jewelry high-carat Georgian gold locket ring with engraving and floral gemstone motif of natural pearls with turquoise centre.

Gray & Davis locket ring in Sardonyx with the word "Remember" engraved on the front.

The opening on this Gray & Davis locket ring can be clearly seen in this image, and is used to store the wearer's personal mementos.

Sandra Cronan 18ct two-colour gold, square-shaped locket with bright sapphire-set forget-me-not flowers and one cabochon sapphire bud, all with rose diamond-set leaves. The locket also contains a mirror. European, circa 1900.

The Gold Hatpin chased rare gold Victorian key locket.

Fred Leighton Edwardian yellow gold ruby and diamond locket on a gold chain, circa 1900s.