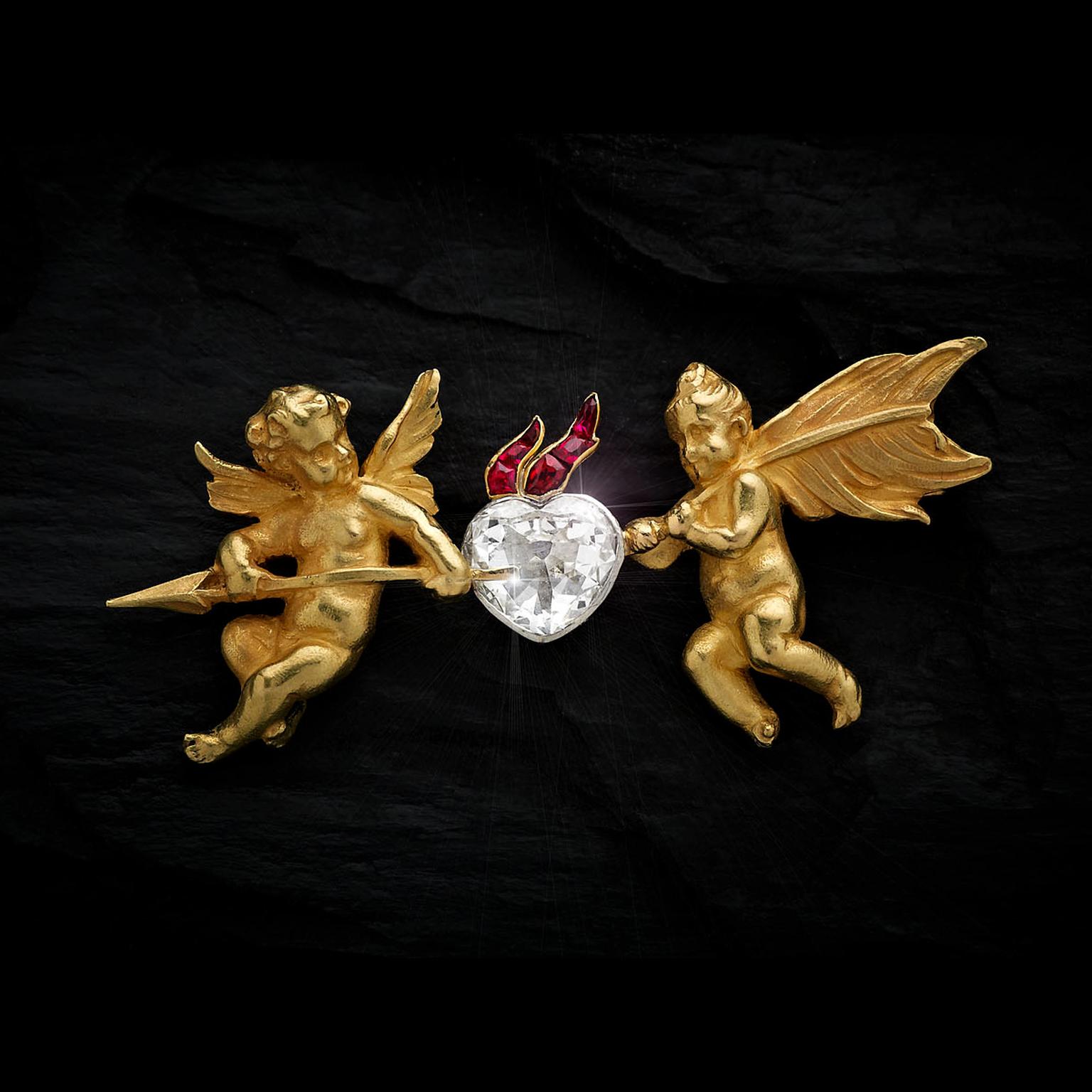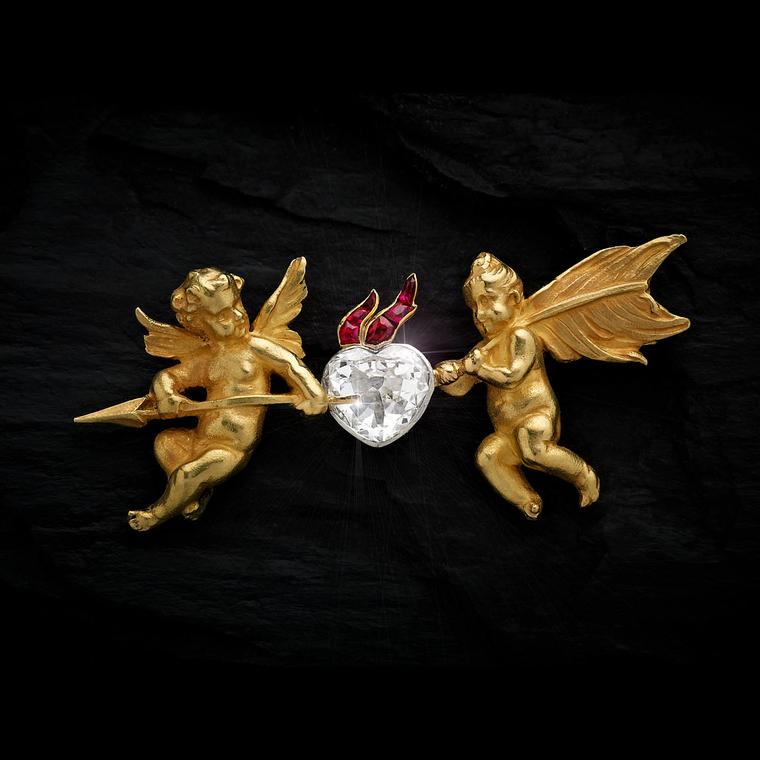 For those of you whose partners are planning bouquets of flowers and chocolate-shaped hearts for Valentine's Day, the thought is both sweet and sentimental. But, as we all know, these gifts would be more meaningful - read: desirable - if they came in precious metals and coloured gemstones. Antique jewellery speaks of endurance, everlasting devotion, and the warmth of true affection, and the period pieces from Georgian, Victorian and early Edwardian/Belle Époque eras are rife with symbolism and motifs that recall the poetry of love.
Now, isn't that the type of Valentine's gift you would fall head over heels for? But if your partner is still thinking truffle hearts in a box, then you need to artfully create a scenario by which you get them into your favourite antique store. The language of love spoken through antique jewellery reigned supreme in the Georgian and Victoria eras, where romance was designed into a diversity of love tokens and sentimental pieces, which are just perfect for Valentine's gifts.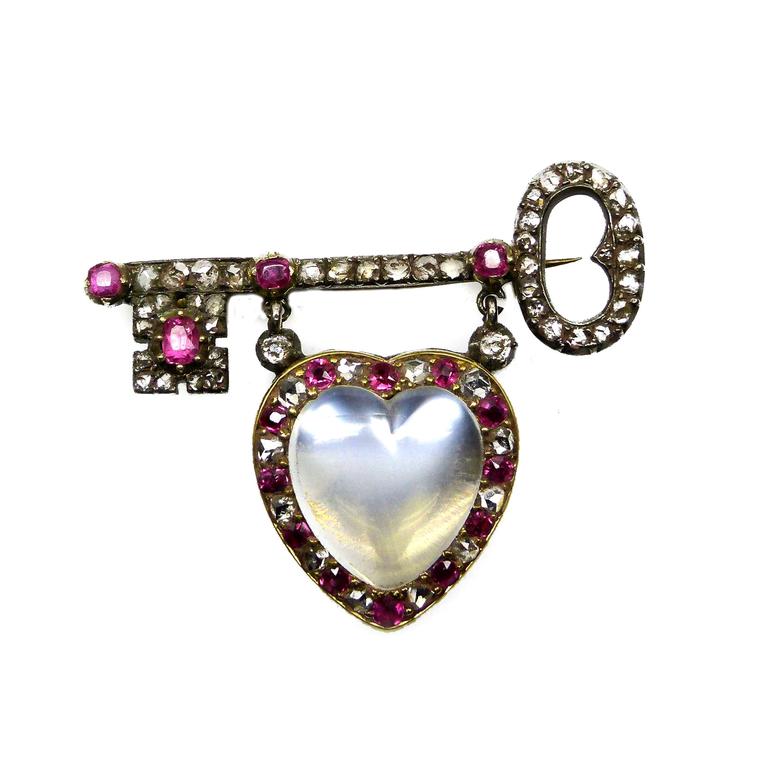 There is just no way to be cynical about antique hearts - from SJ Phillip's deeply chased padlocks with ruby or turquoise floral designs, and James Robinson's French Napoleonic era gold locket enamelled with a scene featuring a range of significant motifs, to Bentley & Skinner's double diamond witch's heart brooch set with tourmalines.
And speaking of hearts, there are pieces of acrostic jewellery, in which the letter of the first gemstone spells out a term of endearment, and then there are masterpieces of acrostic jewellery, such as the Wartski bracelet with sections of double hearts, one of each in diamonds and the other in a gem that spells out the word Dearest. 
Discover more heart motifs in antique jewellery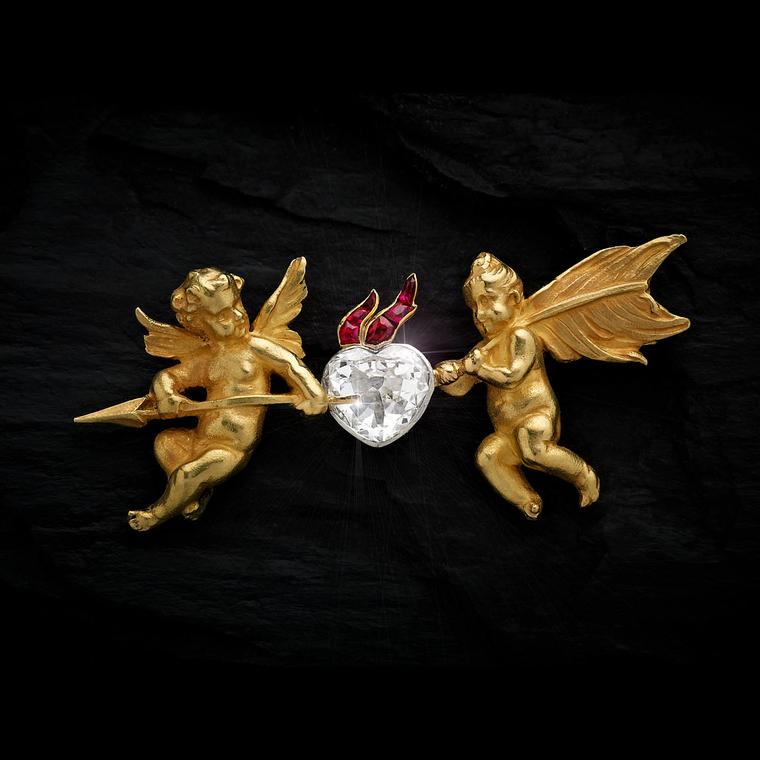 Another magnificent jewel from Wartski is the signed Boucheron double cupid with an arrow through a breathtaking heart-shaped diamond with ruby accents on the bow. Cupid also draws his bow and shoots his arrow in a Victorian cameo ring, which depicts a woman catching it in her hand. Arrows are a motif of love on their own too, such as in Berganza's Cartier jabot pin set with rose diamonds.
Nothing says it like flowers, especially when they are in precious metals and coloured gemstones.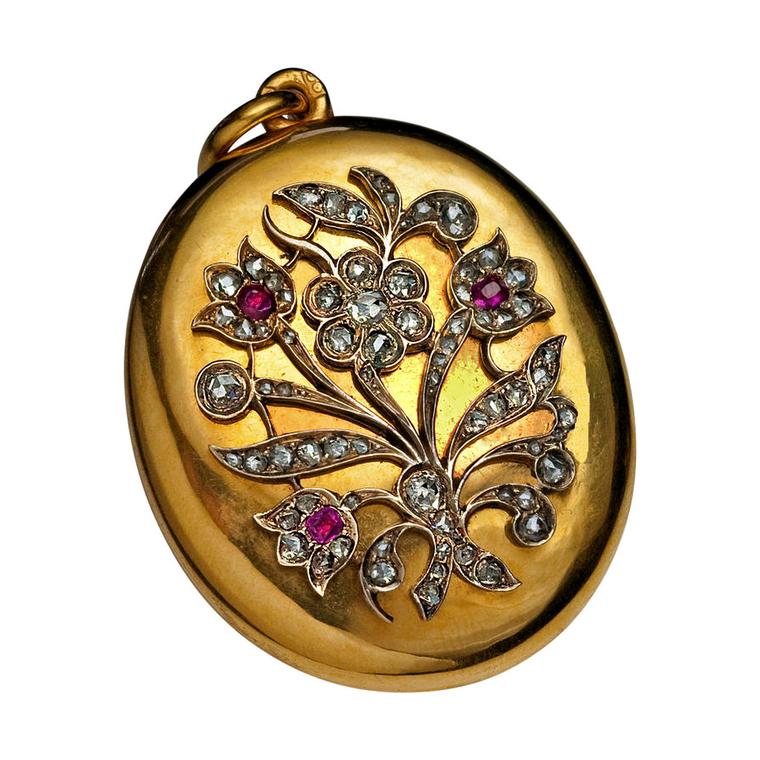 Ever since books and pamphlets came out in the Victorian era on the language of flowers - offering meanings for a wide range of botanicals - master jewellers have captured foliate motifs in antique rings, lockets, brooches and earrings. Romanov Russia's blue enamel locket ring with forget-me-nots in rose-cut diamonds with an Art Nouveau floral shank magically captures the imagination and sparks deep emotion. The locket with tulips for "a declaration of love", and forget-me-nots set with rose-cut diamonds for constancy and rubies for passion also evokes the spirit of what flowers and gemstones in antique jewellery represented, and still do. 
Read more about antique lockets
Bell and Bird's early giardinetti ring set with rubies, rose-cut diamonds and emeralds is one floral bouquet any antique jewellery aficionado would be overjoyed to receive. Both Kunsthandel Inez Stodel's reverse lily of the valley intaglio, signifying happiness, and Doyle and Doyle's mid-century pair of Victorian revival pansy bracelets - pensee translating from French as "think", and eventually translating to pensee et moi, or think of me - possess the perfect balance of femininity and good old-fashioned romance.
With jewels like these, I personally will be anxiously awaiting Valentine's Day.
SJ Phillips Victorian era ruby and rose diamond key brooch, circa 1840.

SJ Phillips two-colour gold, flower padlock heart locket with ruby on one side and turquoise on the reverse, England, circa 1835.

Bentley & Skinner late Victorian pink and green tourmaline, and diamond twin witch's heart brooch, circa 1890.

Wartski acrostic Dearest bracelet in yellow gold, with double hearts of mine-cut diamonds and gemstones with diamond surrounds.

Berganza rose diamond-set arrow jabot pin by Cartier Paris, mounted and set in platinum and yellow gold, circa 1905. 

Bell and Bird early 18th century giardinetti ring of emerald, rubies and rose-cut diamonds.

Doyle & Doyle multi-colour enamel pansy and diamond bracelets in the Etruscan Revival style, circa mid-20th century.

Romanov Russia gold locket with silver flowers set with rose-cut diamonds and rubies, St. Petersburg, circa late 1800s.

Romanov Russia French locket ring with rose-cut diamonds and forget-me-nots on a blue guilloche enamel ground, circa 1890.

James Robinson enamelled gold heart locket from the French Napoleonic era by Gabriel-Raoul Morel, Paris, circa 1815. 

Fourtane Victorian era woman and cupid stone cameo pendant brooch, with seed pearl and floral surround. 

Wartski signed Boucheron yellow gold, double cupid, heart-shaped diamond and ruby brooch.