In honour of January's birthstone, we decided to find out more about this rosy-hued gemstone from the garnet family that is increasingly gaining popularity in both fine and high-end jewellery.  Multiple sightings from playing a star role in Chaumet est une fête collection 2017 haute joaillerie  collection to Stenzhorn's cute everyday jewels, rhodolite garnets are a favourite alternative to the increasingly expensive ruby.
Not to be confused with the striped opaque stone rhodochrosite or inexpensive rose-pink rhodonite, rhodolite is more purplish-red or pink than the more common orange-red garnets, and to the untrained eye it can easily be mistaken for other gemstones.
What is rhodolite garnet?
Put simply, rhodolite garnet is rose-coloured garnet. Considered a fine gemstone, its colour may vary from pink to purplish-violet red and, like all garnets, it is celebrated for its perfect gemstone properties of brilliance, hardness (7-7.5 on the Mohs scale) and colour. Lighter in hue than most other red garnets, rhodolite can be distinguished from its darker red siblings thanks to its rich rose-to-raspberry tones with subtle purple variations. Chemically, it's a mix of two varieties of red garnet. Two parts blood-red pyrope, one part purply-red almandine, it is brighter than both.
A premium round, faceted rhodolite garnet from the collection of Hermann Lind in Pforzheim, which specialises in cutting fine garnet and rhodolite.

An impressive faceted rhodolite from the collection of Hermann Lind in Pforzheim displaying rich purply-red hues.  
Rhodolite garnets: a quick history
The use of garnets in jewellery design can be traced back to prehistoric times. Pharoahs wore red garnet necklaces in ancient Egypt, and they were widely traded in ancient Rome, where carved garnets, set into rings, were used as a wax seal. They have enjoyed many revivals through the centuries, including in the Middle Ages, when they were worn by the nobility, and the Georgian and Victorian eras, but the specific variety of garnet known as rhodolite arrived on the scene much later.
In the late 1890s in North Carolina, USA, the Rhode Island mineralogist William Earl Hidden discovered rhodolite in the Cowee Valley in Macon, North Carolina, but deposits have also been found in Brazil, Greenland, Kenya, Mozambique, Norway and the United States, with the most important sources today being Tanzania, Sri Lanka, Zimbabwe and India. Rhodolite is not officially recognised as a mineralogical term, although it has become an established trade name for this premium garnet colour.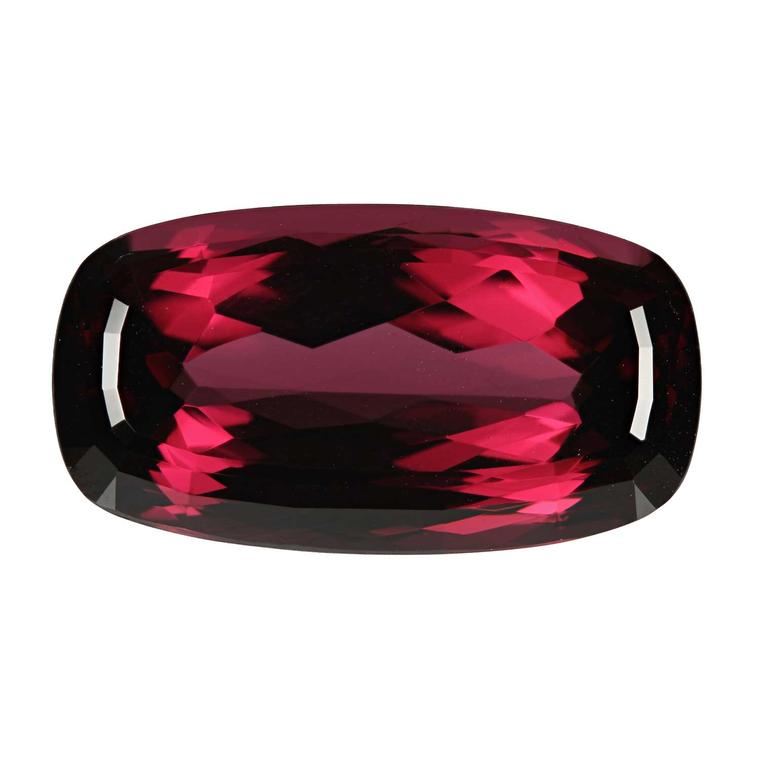 What does rhodolite mean?
Rhodolite was named after the pink rhododendron flower that is native to North Carolina, where it was first discovered. But like those other pink-hued stones, rhodochrosite and rhodonite, and, indeed, rhododendrons, the name rhodolite originates from the Greek word "rhodon", which means rose.
What colour is rhodolite garnet?
I have already described it in purple-red terms, but I asked the question of some of my favourite jewellers who love working with this particular gemstone because I knew they would be more prosaic about its appeal. New York jeweller Anthony Lent says it is "similar to light shining on a bottle of red wine with a very warm feel", while  Ming Lampson, whose boutique is in London's fashionable Notting Hill, is attracted to its subtle dusky colour. "Even in a bright, pale stone, the colour is extremely peaceful and old-fashioned in feeling," she says. Jewellery designer Tessa Packard, also based in London, points out that they typically have a rich raspberry tone with subtle purple variations and they have an added bonus: they are usually found with comparatively less inclusions than other coloured garnets.
Raspberry is a colour commonly associated with rhodolite, but its hue is more complex than that. Ming, whose passion is for gemstones and colour, describes the rhodolite used in her Violet ring, top of article, as "like red wine – rich and dark at first glance but glowing pinky, purplish red when it catches the light. This particular stone has an unusually strong and saturated colour, and it was that rareness that immediately drew me to purchasing it. It is also rare to find a garnet of such a size [13.65 carats]."
Mistaken identity
To the untrained eye, rhodolite is often mistaken for other gemstones, including ruby, pink tourmaline, rubellite and spinel, because they are all hard, transparent, have a vitreous lustre and can be pinkish red in colour. Unlike rubies and other gemstones, though, rhodolite garnets are never treated or enhanced to bring out their colour.
How to tell a rhodolite garnet from another pinkish-red gemstone
If it is easy to mistake a rhodolite garnet for another gemstone, how do you identify one? Jeweller Ming Lampson is succinct about what differentiates it. "The base of their colour is very different," she explains. "Pink tourmaline and rubellite – a variety of tourmaline – often exhibit vivid and saturated tones of pink and red, even if they are dark or light in shade, whereas rhodolites have more of a blush or dusky pink base tone. Pink and red tourmalines also usually show clear pleochroism – flashes of purple or orange from different directions – which makes them feel very different to a rhodolite. The presence of rutile silk is also relatively common in rhodolite garnet and never seen in tourmaline.
"From a gemological viewpoint, the specific gravity of tourmaline and rhodolite garnet are very different," she continues. "Garnet is a much denser stone and it is also singly refractive, whereas tourmaline is doubly. On a spectroscope, garnet has three broad bands so it is very easily distinguish."
Why are rhodolite garnets so popular?
Dr. Thomas Lind of Hermand Lind II in Pforzheim, which specialises in cutting fine garnet and rhodolite, points out that garnet is one of the classic gemstones. "It has been used in jewellery for many centuries," he explains. "Besides green and blue, red and purplish red are classic gemstone colours."
Anthony Lent loves using rhodolite because it allows him to achieve a certain look without using rubies, which are much more expensive. He also points out that the variety of red gemstones is more limited: "There are less options if you want a red gem as opposed to the other colours of garnet, which can include many different stone options." Lent believes that ethical concerns and the fact that rubies are often treated could be contributing to the popularity of rhodolite also. "Perhaps some of the reason comes from the problems associated with ruby – both the humanitarian issues and treatments that falsely represent the stone's quality. You don't have to worry about that with garnets."
Ming Lampson puts it down to a growing interest in all coloured stones and the fashion for wearing different and unusual colourful jewellery. "Garnets are riding on the back of that for sure," she says. Tessa Packard believes it's a combination of many things: "The increasing use of rhodolite in contemporary jewellery can most likely be attributed to changing trends within the jewellery sector. These include the rise in popularity of coloured stones in general, the increased cost of rubies – rhodolites are often used as a less expensive alternative – and a greater acceptance within the haute joiallerie rhetoric to explore and embrace lesser known semi-precious stones, which were once upon a time dismissed in favour of the 'big four' (rubies emeralds, sapphires and diamonds)."
Reinforcing Packard's last point, earlier this year, Chaumet unveiled a bold haute joaillerie offering in Paris – four suites of jewels inspired by the most glamorous and high-profile music events around the world. The most dramatic suite in the Chaumet est une fête collection is an homage to the grand productions at La Scala opera house in Milan and blazes with impressive-sized red rhodolite garnets, below. They may be paired with opulent rubies and rosy tourmalines, but the rhodolites are definitely the star of the show in these one-off jewels.
Up dated by Maria Doulton January 2018