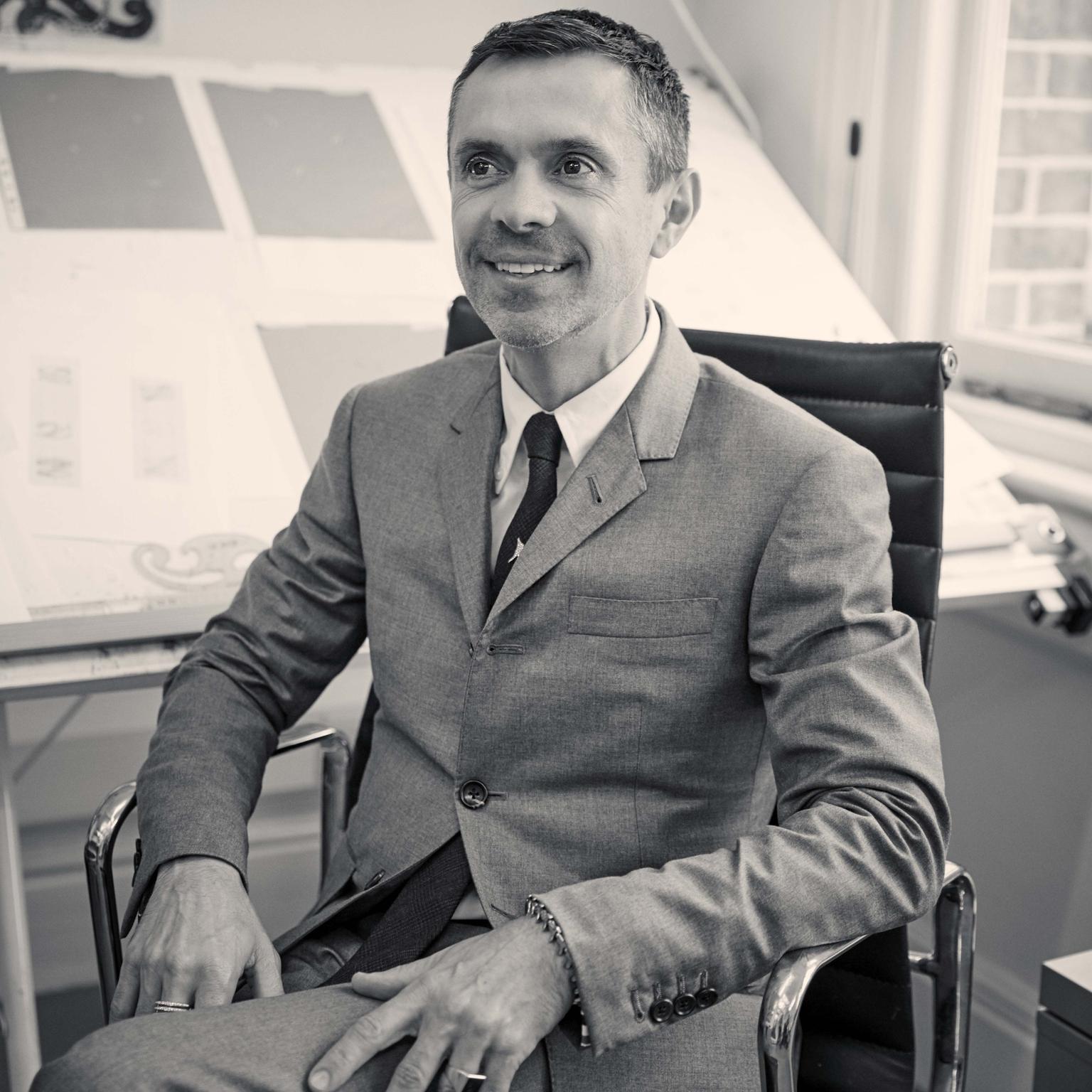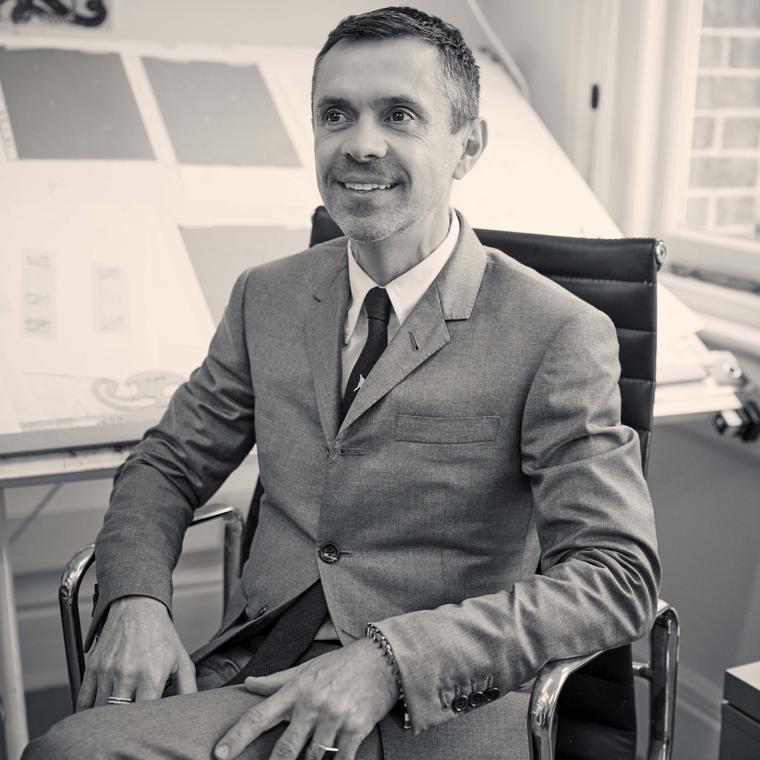 A Londoner through and through, every day jeweller Shaun Leane takes the bus and then tube from his Muswell Hill flat to the Shaun Leane jewellery atelier tucked in behind Old Bond Street. Thanks to Buckingham Palace announcing last month that he was the creator of Princess Beatrice's engagement ring, Leane is now in the full-glare of the global spotlight. Starting out as a Hatton Garden apprentice goldsmith, a chance encounter and long friendship with Alexander McQueen, the late fashion maverick, led him to transfer his traditional skills into making avant garde catwalk jewels that launched him on a stellar path to success. Over the past 21 years, Leane has been a darling of both the fashion world - with collectors such as Daphne Guinness and Isabella Blow - as well as gaining the ultimate recognition from the British Royal family. 
I visit Shaun Leane in his London HQ to find out more about his career and how he came to be the chosen one. 
How did you become a jeweller?
I started making jewellery when I was 15, so I have been doing this for 35 years. If I hadn't been a jewellery designer I would have been an archaeologist as I was obsessed with the Egyptians and Greek mythology. As I kid I used dig up my parents' back garden looking for treasure as I have a love for objects and history.
But I was a rebel at school. It was a very academic, strict Catholic establishment in North London. The teachers did not entertain my creativity in any shape or form, so I rebelled and I left school at 14 with no qualifications. Faced with the prospect of a Youth Training Scheme course,  I remember going through a folder of options with the Career's Master. I wanted to do fashion but that wasn't open to 14 year olds but jewellery design was. I will never forget that moment.
I finished the year's course in 6 months and I succeeded in everything. It was designing, working at the bench making jewellery, sculpture, cutlery, the lot. My tutor said I had a skill and that I shouldn't waste it and that I should go on to do a goldsmith course in Hatton Garden. When he told me it was a seven-year programme, I nearly fell off my chair but I went ahead and I was placed at the English Traditional Jewellery workshop. They made all the high-end jewellery for Bond Street and for royalty around the world including the British Royal Family. At the age of 18 I was making diamond tiaras for Asprey's, which was an incredible foundation. I learnt everything about goldsmithing and that was my world: classical, fine, high-end jewellery. I stayed with the workshop for 13 years.
Tell me about your friendship with Alexander McQueen
Then I met McQueen - Lee as he was known to his friends - at the age of 22 when I had finished my apprenticeship. A friend of mine was at Central Saint Martins doing the MA Fashion Course. I went to his graduation show and there was Lee, so we all became the best of friends and we used to hang out in Soho and do what 22 year-olds do. Two years later Lee asked if I would start making jewellery for his shows. I was doing a Masters then and it allowed me to use the workshop in my free time.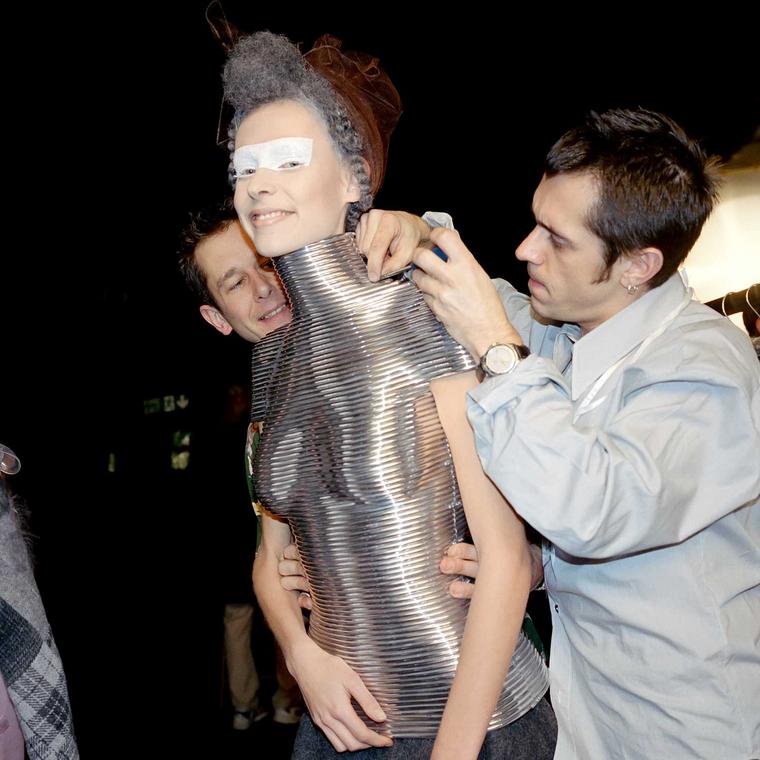 At first I found it really daunting as I was used to working with diamonds and gold but neither of us had funds to make fine jewellery for the shows. But Lee wasn't about that anyway and wanted me to work in brass, aluminium, feathers and other materials. I said to Lee that I was a goldsmith and I couldn't do that, but he said that he had seen what I could make and that I could apply my skill to any medium. So I did and that was a really pivotal moment in my career because he opened up my mind and to see my skill and to take it to a very different place. 
This led me to create my business along the lines of a couture house with some very avant garde, fantasy pieces that push the boundaries of design like couture does for fashion. I am not scared of creating the un-wearable and questioning, provoking. But even if I do fashion, fundamentally I am a gold smith, and I am a craftsman.
Lee used to mix men and women's wear in a show and that somehow subconsciously fed into me. So when I started designing my collection, it wasn't for men or women, and since the start almost all my jewels are unisex. It is about an object that creates an energy or a reflection of your persona and that to me can be attractive to both a man or a woman. 
Though on paper we were very different: he was a forward-thinking fashion designer, I was a classically trained goldsmith working for Asprey's on Bond Street for royal families all around the world, we were in fact both very similar. We were both young Londoners, born and bred here and we both had a a real respect for our heritage training. Him as a tailor in Saville Row, me as a goldsmith in Hatton Garden.
How and when did you grow from being a beloved British jeweller into a global name?
When Sotheby's New York held an auction of my jewels we for the first time we were on a worldwide platform and so we became more known internationally.  
Read more about Sotheby's auction of Shaun Leane's jewel here.
Then again Meghan, the Duchess of Sussex, wearing my jewellery all last year was a real spike too. Her best friend Marcus Anderson - who I have known for years - came in to buy birthday gifts for her. Then she met Prince Harry and he also bought some pieces for her and she wore them all to the Queen's birthday within two days of him giving them to her. And that is still going on and what that it did for sales worldwide is unbelievable. We sold 5 months' stock in a month. It has been a lovely escalation and then of course there was Princess Beatrice.
This is what we've been waiting for, so let's talk about Princess Beatrice's engagement ring and how that came about. 
I have loyal collector who over the years has bought many pieces from me and I also made her engagement ring. She is a friend of Edo (Edoardo Mapelli Mozzi) and Beatrice, so she suggested me to Edo. Obviously this was all under total secrecy as it was a surprise for Princess Beatrice. Edo was very knowledgeable about jewellery and he was really involved in the process. He knew about stones, he knew about jewellery and as we talked I learnt about what they both liked. I did loads of designs and once we signed it off, he chose the stones. Then we started to make the piece upstairs. I know that Beatrice was over the moon, as was Edo.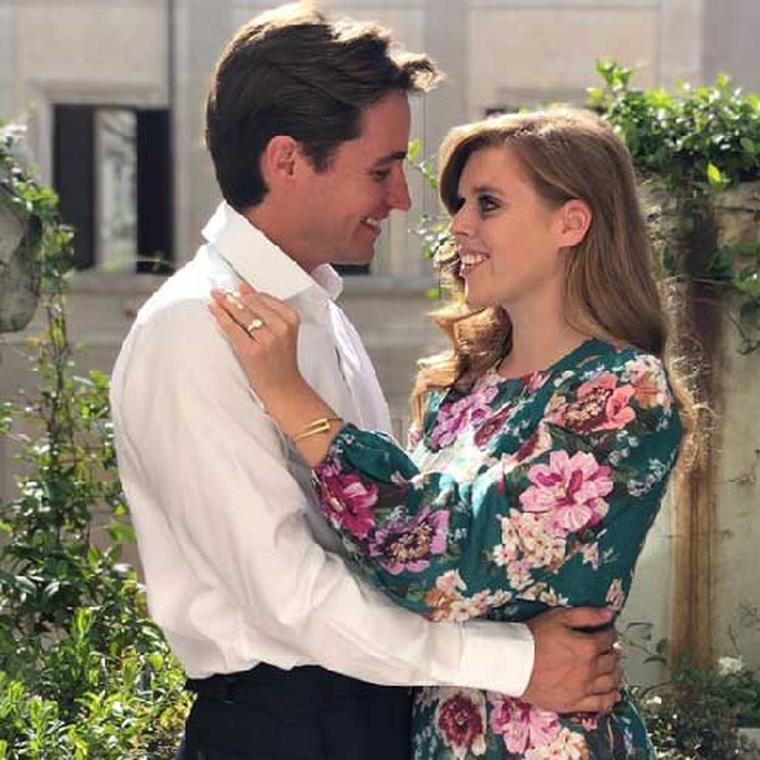 It was a total surprise for Princess Beatrice but she probably did know my work because of the lady who introduced us. And with Meghan wearing my jewels and also Kate, the Duchess of Cambridge, who wears my designs for Asprey's, I think she does know about me but I haven't met her yet.  We are going to have dinner soon. 
What has been the greatest recognition of your career?
There have been so many, and on so many different levels over the years. I was very proud to become a Freeman of the City of London with the Goldsmiths Guild in 2006. What has just happened with Beatrice is of course also very special. But what was most honourable about the whole situation was that the Royal Family don't normally announce the jeweller, he is 'discovered' as the official announcement is usually just about the engagement.  But Buckingham Palace decided to announce that I had made the ring. That is a wonderful acknowledgement and it is such an honour for them to officially talk about my connection to the Royal family 
What's lovely is that when I was 19 years-old as an apprentice I was making jewels for the Royal Family but in a totally anonymous way; as a goldsmith in a workshop. And now here I am, going straight to them and working with them. It is a real recognition, and it made my mum and dad very proud. 
Princess Beatrice's engagement ring is a traditional solitiaire diamond design and according the maker Shaun Leane, the diamonds are of the highest quality, ethically sourced and set in platinum. Image courtesy of Princess Beatrice's Instagram

Shaun Leane designed the Coiled Corset (estimate: $250-350,000) for Alexander McQueen's Autumn-Winter 1999-2000 catwalk show, which was inspired by the cult film The Shining. Comprised of 97 aluminium coils, it is the only piece in existence that is signed and dated by both designers. Credit: Robert Fairer

Shaun Leane at his desk on the top floor of his Mayfair atelier, tucked behind Old Bond Street where he works with his staff of 21. Credit Nicky Emmerson