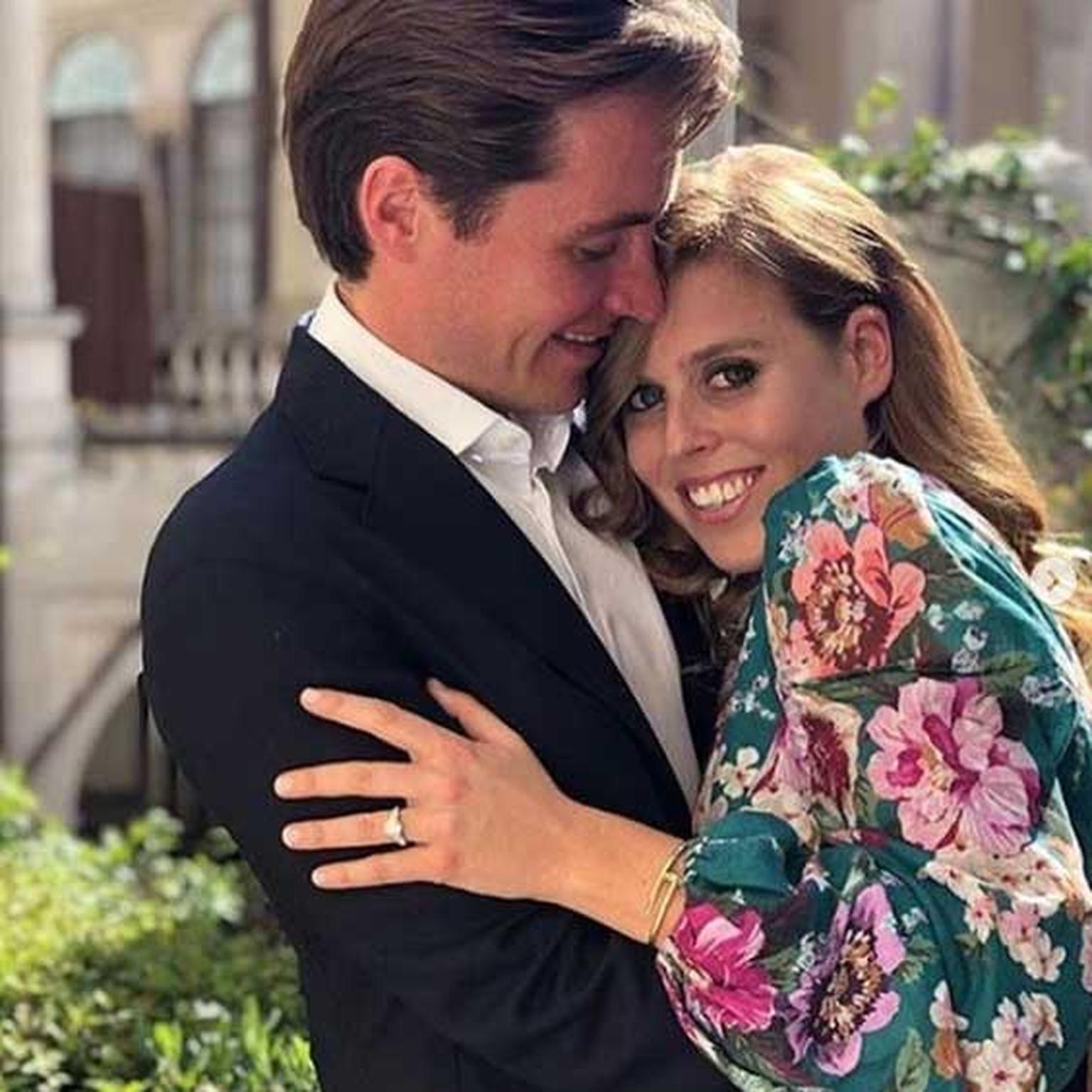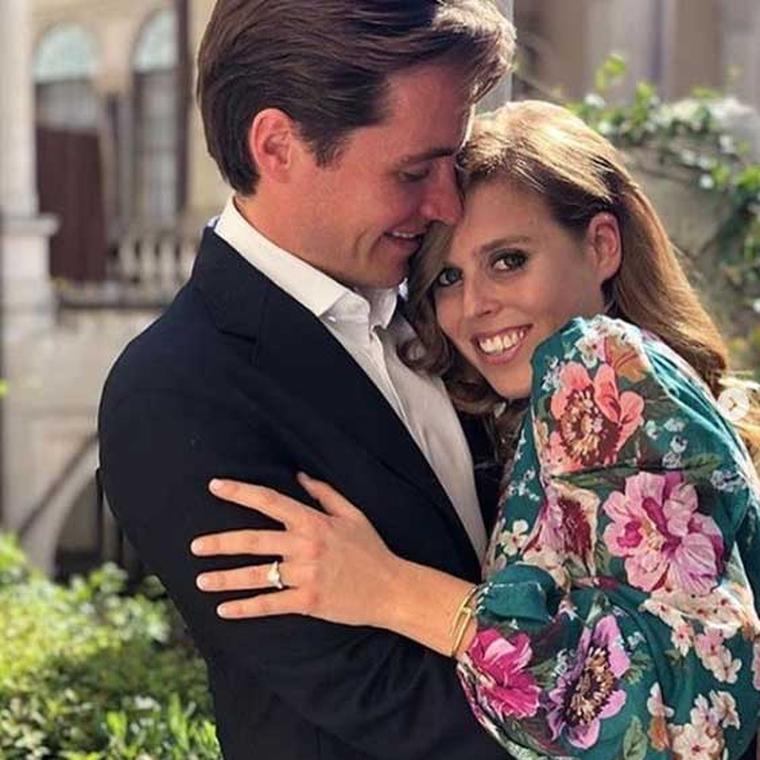 Prince Andrew and Sarah, the Duchess of York announced today the engagement of their daughter Princess Beatrice to property tycoon Edoardo Mapelli Mozzi. The couple were engaged last month in Italy but today the engagement between the 31-year-old princess and the 34-year-old businessman has been made official.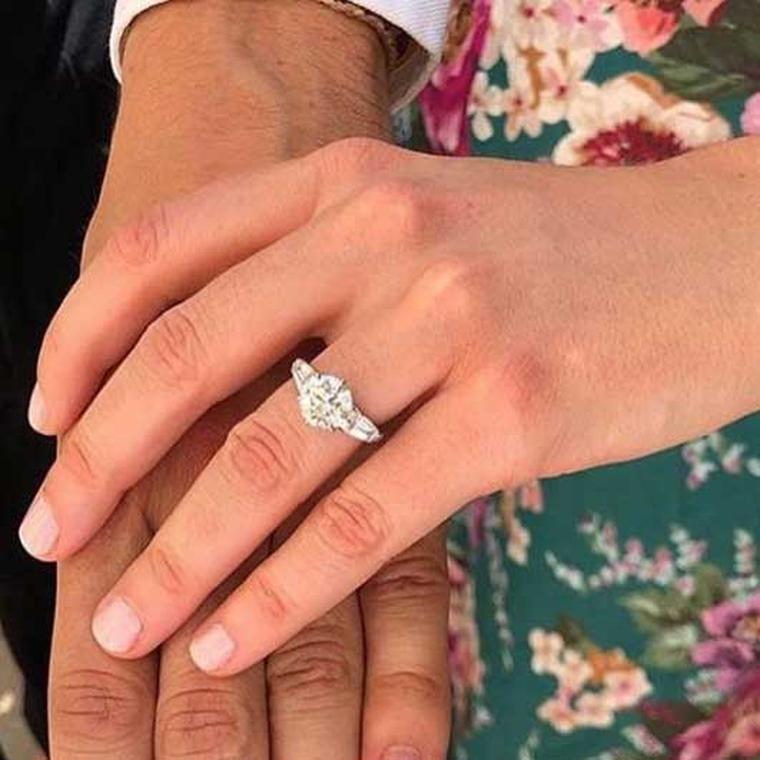 In photographs from her sister Princess Eugenie's Instagram account, the first shots of the engagement ring have been revealed. Flying the flag for British design and craftsmanship, the fiancé chose Shaun Leane, the London jeweller to create the surprise ring that was handmade in his Mayfair workshop. Shaun Leane has made jewellery for Meghan, the Duchess of Sussex which she is often seen wearing as well as for Kate, the Duchess of Cambridge so the jeweller is known amongst the young royals. Better known for his designs with evocative names such as 'Deadly Nightshade', 'Rose Thorn' or 'Serpent's Trace' Leane's work is characterised by a tantalising flirtatiousness with with danger. Fashion disruptor, the late Isabella Blow was one of those who encouraged Shaun Leane to set up his own label in 1999. 
Read more about about Meghan, Duchess of Sussex's engagement ring here.
Unlike her sister Princess Eugenie who chose an unusual orangey-pink padparadscha sapphire, Princess Beatrice's fiancé has opted for a more mainstream diamond solitaire, like Meghan, the Duchess of Sussex. However, the choice of jeweller is a surprise. Shaun Leane said in a press release: "I am so honoured that Edoardo chose to work with me to design the engagement ring for Princess Beatrice and to have been involved in this special moment in their lives."
Read more about Princess Eugenie's engagement ring here. 
The size of the diamond has not been revealed but diamond experts estimate that the central round-cut diamond is approximately 3.5 carats. Shaun Leane states that the diamond is of the highest colour and clarity, and assuming the diamond is in fact 3.5 carats would put the stone's value between £150,000 - £200,000. The diamond is in a six-prong setting in platinum and the shank is set with tapered baguettes as well as more round-cut diamonds. The jeweller states that the diamonds are ethically sourced and certified by the Gemological Institute of America.
Find out how to buy the biggest round-cut diamond for your budget here.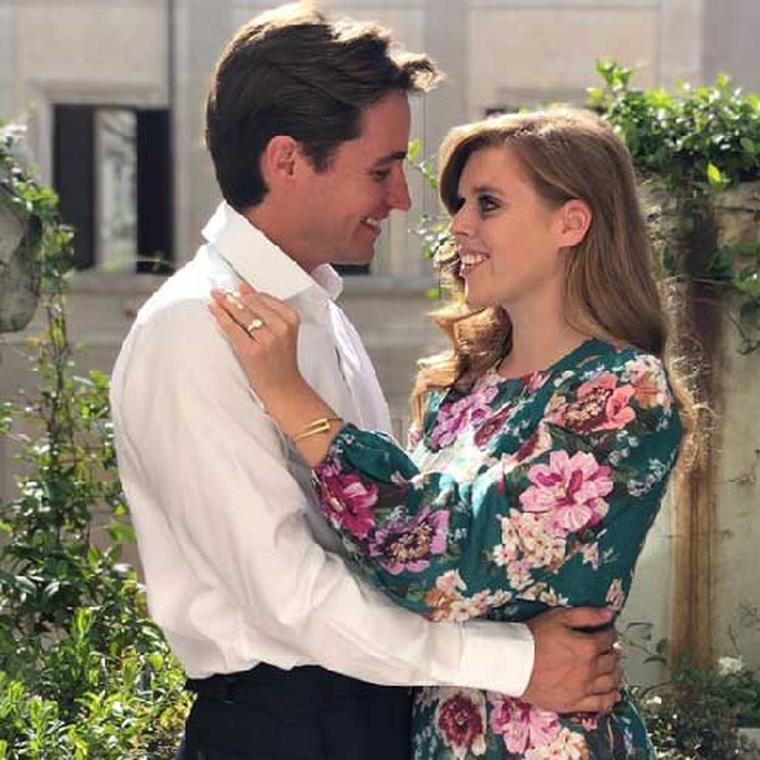 The style is described by the designer as 'a fusion of Art Deco and Victorian designs' and there are platinum bands to match. Edoardo Mapelli Mozzi was involved in the design process from the start and according to Leane: 'the design is filled with personal and sentimental signifiers for the couple and unique to them…'.
The jeweller adds: 'The bespoke service was a beautiful journey; from imagining the design with Edoardo to the crafting of the finished rings. Being able to incorporate both Edoardo and Princess Beatrice's characters into the design has resulted in a unique ring that represents their love and lives entwining.'
See more engagement rings here
Shaun Leane is best known for his catwalk collaborations with the late Alexander McQueen and avant-garde bespoke jewels including a gold glove for fashion maverick Daphne Guinness. The award-winning jeweller is famous for his provocative designs and his work can be found in museums such as the MOMA in New York and in London's V&A.  Such is the status of Shaun Leane as an artist-jeweller that in  December 2017 Sotheby's New York held an auction of his personal collection of jewels that included a full-size skeleton corset created for Alexander McQueen and Isabella Blow's spiky Tusk anklet. 
Shaun Leane is a surprising choice for a royal engagement ring but in keeping with Princess Beatrice support for British designers and her own sense of style. The big question now, is who will make Princess Beatrice's tiara? Expect to be surprised.
Jeweller Shaun Leane at his London workshop where he designed Princess Beatrice's engagement ring from her fiancé Edoardo Mapelli Mozzi

Princess Beatrice's engagement ring is a traditional solitiaire diamond design and according the maker Shaun Leane, the diamonds are of the highest quality, ethically sourced and set in platinum. Image courtesy of Princess Beatrice's Instagram

A close-up of Princess Beatrice's engagement ring shows a round brilliant-cut solitaire of approximately 3.5 carats with tapered baguette-cut diamonds on either side. The ring was made by  British jeweller Shaun Leane who in the past has collaborated with Alexander McQueen and Daphne Guinness. Image courtesy of Princess Eugenie's Instagram account.

Shaun Leane's Coiled Corset, designed for Alexander McQueen' s The Overlook collection, Autumn-Winter 1999-2000 (estimate: $250-350,000). 

Shaun Leane bought the porcupine quills used in these spiky ear cuffs, which designed for Alexander McQueen's Spring/Summer 2003 catwalk show, during a trip to South Africa (estimate: $25-35,000).

Shaun Leane's silver Thistle brooch dating from 2006 (estimate: $40-60,000) was commissioned by Alexander McQueen and features pavé black spinels and talon-like claws clasping four Tahitian pearls. 

Shaun Leane created this spiky Tusk anklet for for the late fashion icon Isabella Blow in 1997 (estimate: $10-15,000). It was partly thanks to her patronage and encouragement that Leane established his own jewellery house in 1999.

Princess Beatrice hugs her fiancé Edoardo Mapelli Mozzi who are to be wed in 2020. Edo is said to have been involved in the design of the ring that was made by London-based jeweller to the start Shaun Leane. Image courtesy of Princess Beatrice's Instagram account.