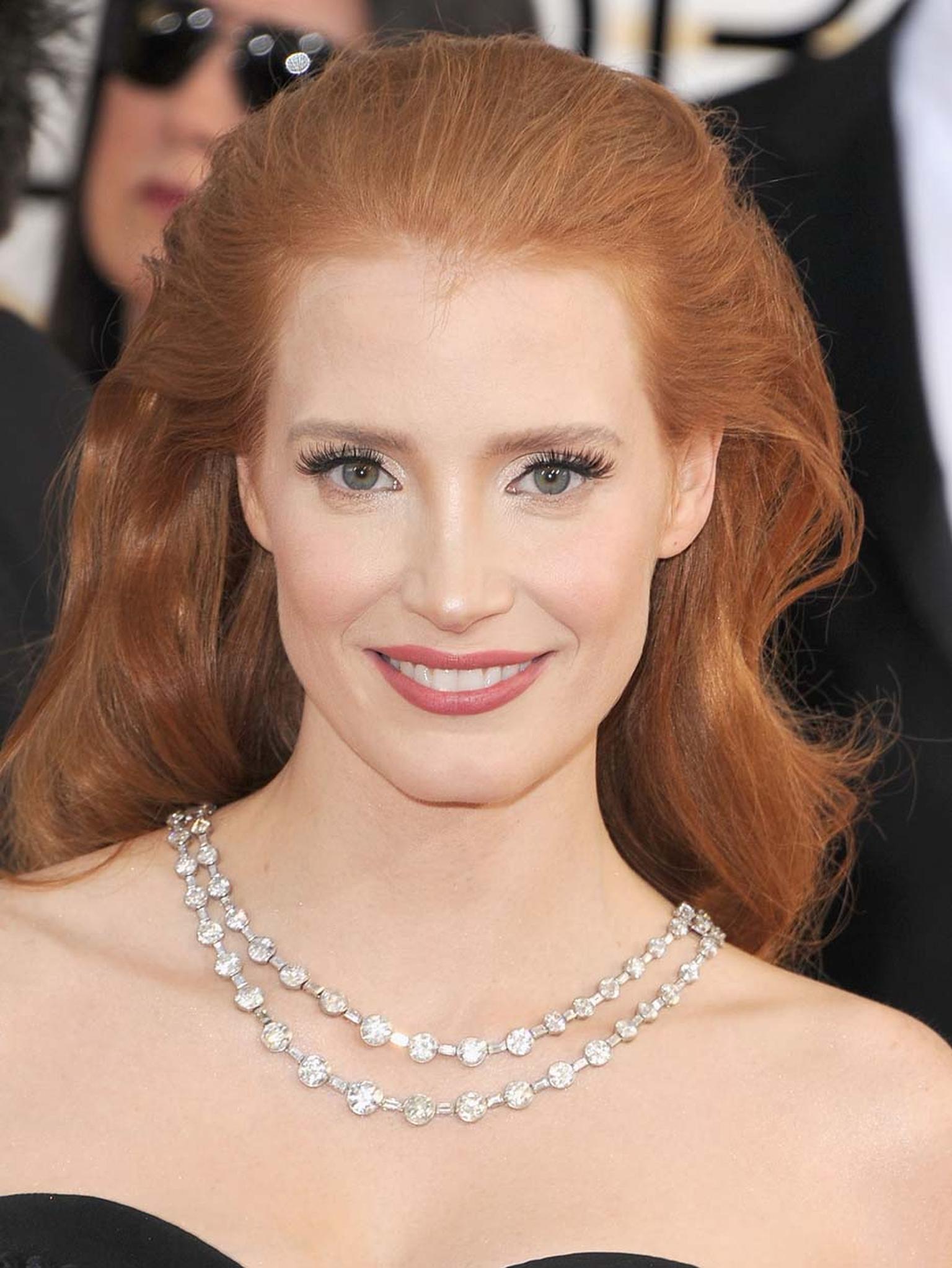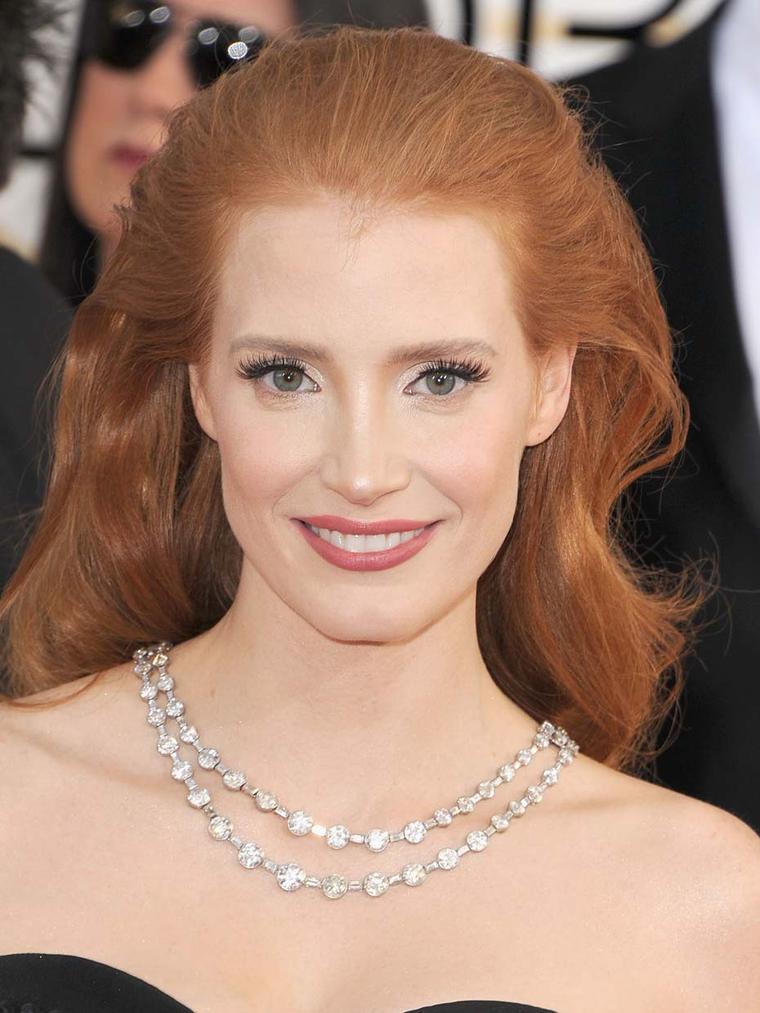 By Rachel Garrahan, guest editor for the LA awards season
Unlike most of the gowns worn by today's stars, some of the most memorable jewellery we see during awards season is not fresh from the latest couture shows but from vintage collections. Whether a stylist is looking for something classic or fun to accessorise a client's ensemble, vintage has it covered, bringing with it an irresistible connection to old Hollywood glamour.
With its rich history, Bulgari is among the fine jewellery companies that offer leading actresses gems from its extensive archives.
This year, Bulgari produced two awards season lookbooks - one showcasing contemporary high jewellery and one featuring gems from its Heritage Collection. The latter includes a 1973 gold and diamond necklace that Naomi Watts wore to compliment her Tom Ford gown at the Golden Globes. Jessica Chastain, meanwhile, channelled classic Hollywood style icons like Grace Kelly with a black, strapless Givenchy Haute Couture gown and stunning 1930 Bulgari platinum and diamond necklace.
Fred Leighton's vintage jewellery has long adorned stars walking the red carpet, including Kerry Washington, Sandra Bullock and Natalie Portman.
Rebecca Selva, the US-based company's PR director and chief creative officer, believes that vintage jewellery possesses qualities that give it a unique appeal: "Vintage pieces are beautiful, artistic (in their design and workmanship), and many are one of a kind," she says.
Lauren Freedman of Broken English, a Los Angeles store offering vintage and contemporary jewels, echoes this sentiment, believing that the craftsmanship and history of a vintage piece give it a timeless appeal. "Whether you're wearing a modern or a classic style dress, you can throw on a vintage piece of jewellery and it will look stunning," she says.
A vintage gem's uniqueness also adds to its allure. And with so many eras to choose from, vintage jewellery offers a wide variety of looks. As Rebecca Selva explains, Fred Leighton's collection includes a vast array of eras and styles, such as "19th century diamond necklaces and headpieces, antique gold cuffs and pendant earrings, Art Deco diamond and jewelled bracelets and brooches, and exotic and sumptuous 1960s necklaces."
At last year's Academy Awards, Nicole Kidman wore Fred Leighton's vintage gold and black enamel chandelier earrings, the perfect accessory to her dramatic L'Wren Scott gown. And at the recent Screen Actors Guild Awards, Lupita Nyong'o paired her turquoise Gucci gown with a 1950s Fred Leighton flower ring with rubies, sapphires, emeralds and diamonds. The clean lines of her fire engine-red Ralph Lauren dress at the Golden Globes was also offset with a touch of Fred Leighton vintage, confirming the actress as a modern girl who appreciates some old-school Hollywood glamour.
Another style star at the SAGs, Amy Adams mixed up old-fashioned Hollywood hair and classic red lip with a contemporary Antonio Berardi cutout gown. Her vintage Cartier jewels, echoing the blue tone of her gown, were the accent that brought her exquisite look together.
Neil Lane is another American jeweller renowned for his vintage gems on the red carpet. At the Golden Globes recently, Zooey Deschanel looked chic and girly wearing his vintage flower earrings, while Jennifer Lawrence brought a hint of colour to her monochrome look with his vintage jade, black spinel, onyx, coral and platinum drop earrings.
Finally, while music artists are known to push the boat out at the Grammy Awards in both their dress and jewellery choices, who could forget Rihanna's ring bling at last year's Grammy Awards, courtesy of Neil Lane: vintage jewels "Rihanna-fied", said her stylist Mel Ottenberg. And while there was not much vintage to be seen at this year's Grammys, there is certain to be more this awards season with the Baftas on 16 February and the largest, most glamorous ceremony of all, the Academy Awards, on 2 March. The question is, who will wear it best?

Winner for Best Supporting Actress for '12 Years a Slave' at the SAGs 2014, Lupita Nyong'o wore a statement 1950s gold flower ring with rubies, sapphires, emeralds and diamonds from Fred Leighton. Image: Frederick M. Brown/Getty Images

Julianne Marguilies wore 1973 estate earrings featuring onyx, coral and diamonds, a vintage Ludo bracelet circa 1951 and an Alhambra onyx and diamond ring, all by Van Cleef & Arpels, to the 2014 Golden Globes.

Amy Adams, nominated for Best Actress at the SAGs 2014, provided some welcome colour and old-fashioned Hollywood glamour on the red carpet wearing vintage sapphire, emerald and diamond earrings by Cartier dating from 1926. Image: StartraksPhoto.com

Known for her quirky vintage style, Zooey Deschanel wore estate jewels by Neil Lane to the 2014 Golden Globe Awards, including vintage diamond, pearl, citrine and platinum flower earrings.

Naomi Watts glittered in gold at the 2014 Golden Globe Awards, including a one-of-a-kind diamond necklace from Bulgari's Heritage Collection, circa 1993.

Jessica Chastain provided some old-school glamour at the Golden Globes 2014 in a black Givenchy gown and vintage diamond jewels by Bulgari. Image: Jason Merritt/Getty Images Entertainment

Golden Globe 2014 award winner Jennifer Lawrence goes for the elegant black and white art deco look in US$2.5 million of platinum Neil Lane jewels. Image: StartraksPhoto.com

A close up of the necklace in gold with diamonds from Bulgari's Heritage Collection, dating from 1993, worn by Naomi Watts at the Golden Globes 2014. Image: Jeff Vespa/Wire Image

Newcomer Lupita Nyong'o, nominated for Best Supporting Actress in 'Twelve Years a Slave', wore vintage Fred Leighton jewels with her scarlet Ralph Lauren cape gown at the 2014 Golden Globes.

Red carpet favourite Jessica Chastain wore a platinum and diamond necklace, circa 1930, from Bulgari's Heritage Collection to the Golden Globes 2014. Image: Steven Granitz/Wire Image