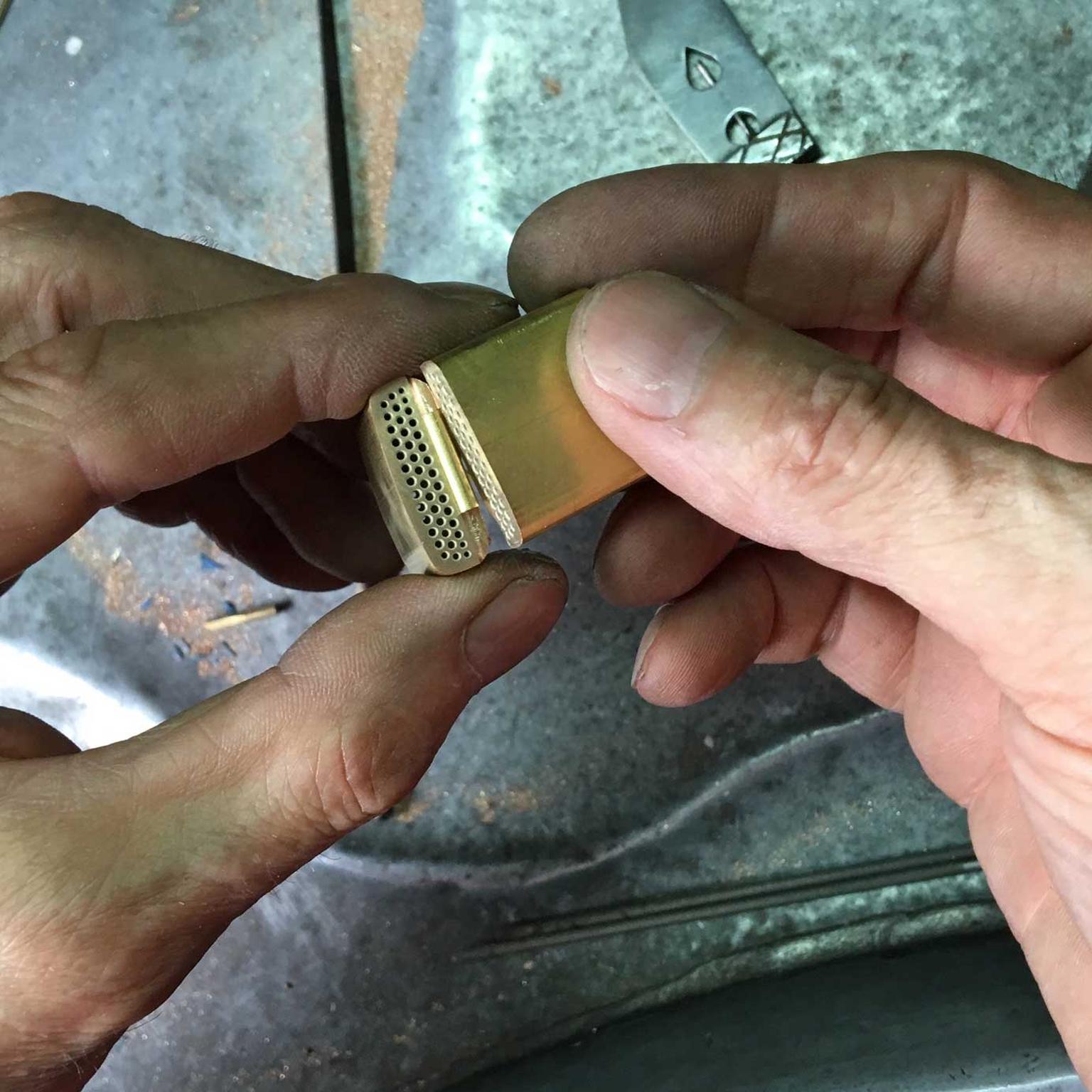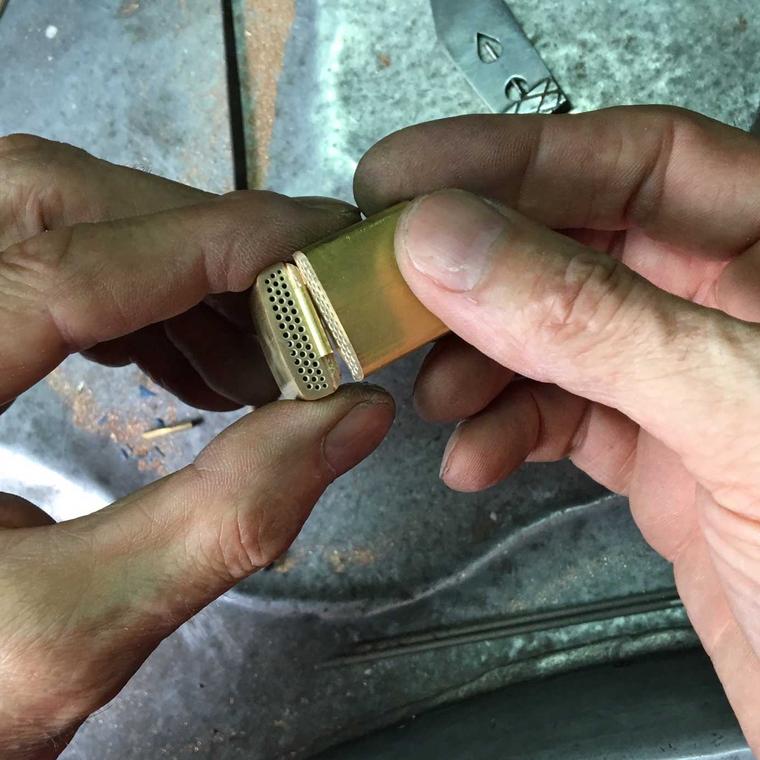 Love is blind, and particularly so when it comes to jewellery. You need not know a single thing about Vhernier to fall in love with a Sorpresa bracelet (above in the making and finished below), a colourful Bruco trasparenza brooch or a bold Tourbillon ring.  Vhernier bravely stands out thanks to its minimalist finely-honed confidence and a tautness of execution more often found in sculpture or collectible contemporary furniture of the highest calibre. Which is I was already head over heels in love with Vhernier. But after two days spent in Valenza visiting Vhernier's workshops (above), I knew this would be a lasting love.
Vhernier is unlike any other jewellery I know and for starters, it began life back to front. Rather than set out with a specific design criteria, in 1984 Angela Camurati and her two business partners knew they wanted to make a different kind of jewellery but the problem was, they didn't know what this different should look like. Searching for a style and a personality that was totally novel took Angela, who had previously worked in the traditional jewellery industry, and her ex-advertising agency business partner, six years to establish what we know today as the Vhernier style. "It was a big risk and we knew it but we decided that we would give it a go and if it didn't work, well at least we tried," she says.
Milanese industrialist Carlo Traglio was so taken with Vhernier's progressive approach that he became an avid collector. In 2001 looking for a career change from the family's Coca-Cola bottling company, he sealed his commitment and bought the company. There were two conditions to the purchase, explains Angela: 'First he could not alter the design philosophy and secondly he could not move the production from Valenza.' And to that he has stuck. What could have been a constraint is in fact what sets Vhernier apart. Angela is still very much at the heart of the design team and everything Vhernier produces in its unique eco-system of small artisanal workshops, is by its very nature limited.
Far removed from the glamour of the boutiques, Vhernier's operations hub is an office in an unremarkable industrial park in Valenza in northwest Italy. Thanks to gold-panning in the Po river in the 19th century, Valenza has a history of jewellery production that initially mimicked the jewels of its French neighbour before developing its very own style. Today Bulgari, Fope and Damiani are but some of the big names that call Valenza home.
But unlike these international brands, Vhernier's jewels are produced in limited numbers in a series of small workshops dotted around the area. While some jewels such as the gold bar bracelet are produced in one workshop, others shuttle back and forth in Ziploc bags from caster to goldsmith to gem-setter to polisher and back to HQ for quality control.
The first designs were the Abraccio, Pirouette (above) and Tourbillon rings, one of which Angela still wears everyday. Vhernier's big step into the outside world was at Baselworld in 1995. Reactions were mixed. "Twenty years ago we were way too out of the ordinary. Today we are still unusual but imagine back then how radical we were. Just the size of the pieces alone made them difficult to be accepted. One potential retailer suggested our jewels were made for extra-terrestrials," recounts Angela.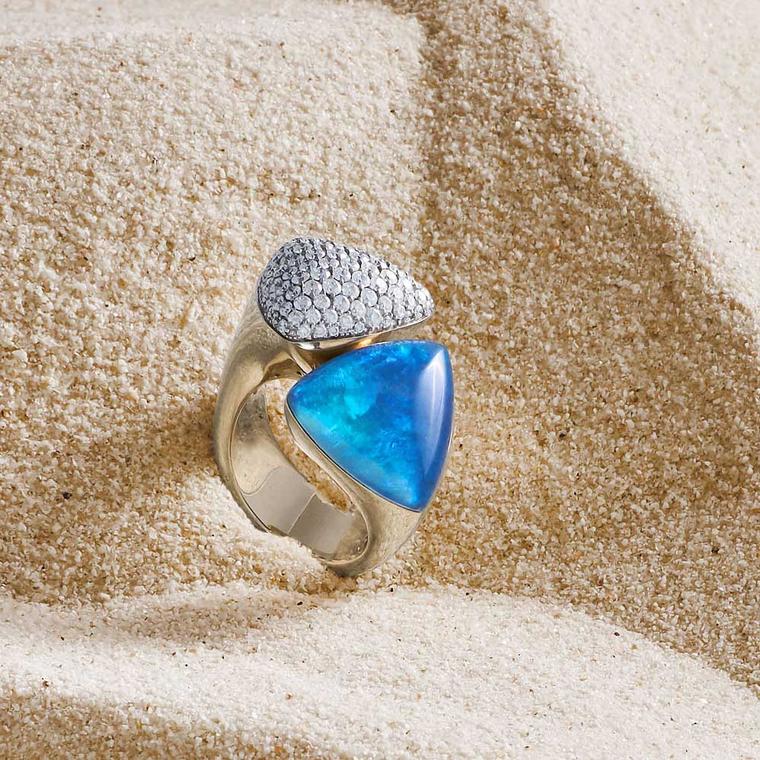 Over the past 30 years Vhernier's designs have been refined with an obsessive attention to detail. While some jewellers may present brand new designs each season, Vhernier keeps perfecting its classics while slowly adding new pieces to the collection. Case in point: this year is the 20th anniversary of the Calla necklace (below). To mark the milestone, new diamond and gem-set versions have arrived. Apart from the new dressing of gemstones, it is exactly as the original with its single cone-shape motif and concealed clasp.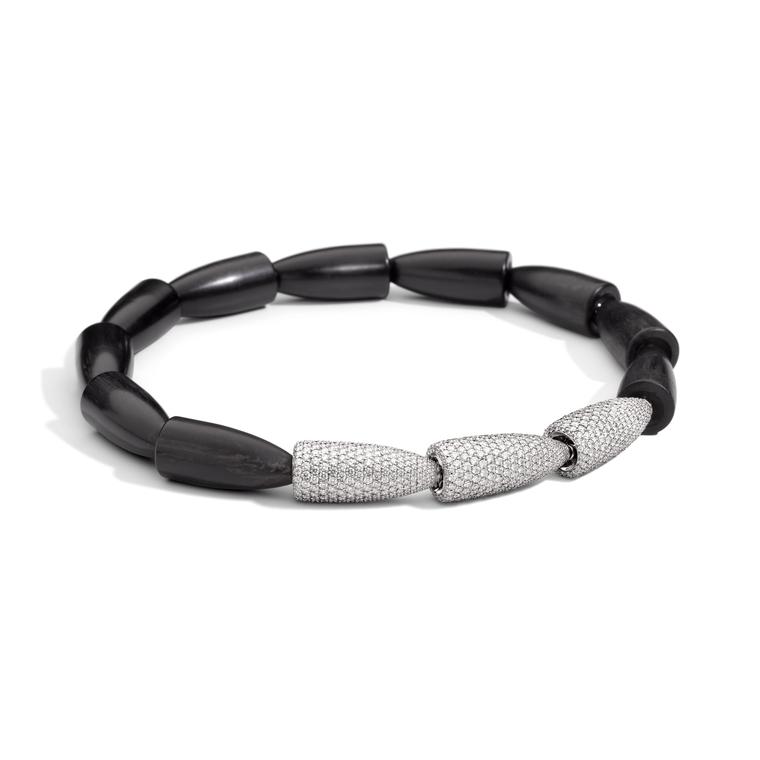 To create a new design takes some three years including conversations between the design team and the craftsmen. Designs are fine-tuned and reworked to the extent that Angela often forgets the original inspirations. 'It could have been an ice cream cone or a seed but then we changed it so many times it is hard to remember what was the initial inspiration,' she says of the Calla, the house's icon.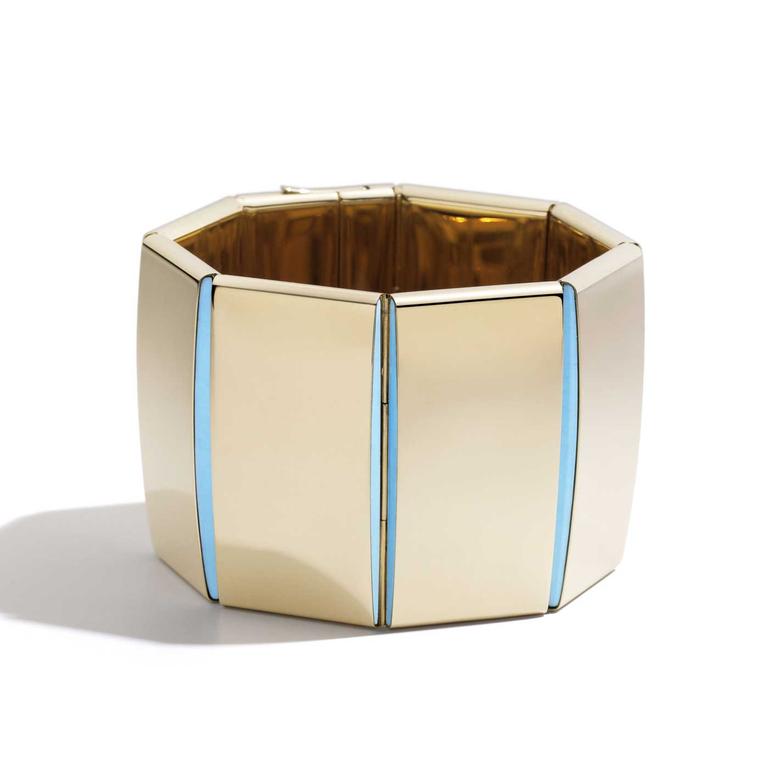 A visit to the where the Sorpresa bracelets are made reveals a workshop manned by Giovanni, a seasoned goldsmith who previously made lighters and other gold accessories.  Pans of bubbling acid, roaring flames to melt gold, an armoury of files, pincers, tongs, drills; a mangle to flatten gold and an aged gold drawing machine operated by a hand crank are but some of the implements needed to create the bracelet. 
Giovanni is the sole person on this planet capable of making these bafflingly simple bracelets, a slab of perfectly smooth gold that when placed on the wrist collapses into bracelet. Surprise! Diamonds or gemstones appear between each of the seven sections.
Entirely made by hand by Giovanni starting with smelting the gold to create the right alloy to final polish, it takes 45 days to make each bracelet. 45 days! That's about eight bracelets a year. And apart from the gem-setting, he makes every hinge, link and clasp of each jewel. Giovanni is a grandfather so what will happen once he retires? 'There is no one who can help me make these and to learn from me,' he says. 'This is manual engineering. Anything made to this standard should be industrialised but we don't make enough of them to warrant the investment,' explains Giovanni, patiently checking and re-checking a solder he has just made through a mouth-controlled blow-pipe.
In the darkened diamond-setting workshop located on another faceless industrial estate, skilled setters work through microscopes. One gem-setter is patiently creating a pavé of 572 diamonds in 22 different sizes for an Abraccio ring. What's more, Vhernier prides itself on a two-prong pavé setting with a super-smooth finish that it guarantees for life.
Next was a visit to the stone-cutting workshop to watch the rock crystal top-layer of a Palloncino balloon brooch being made. Made almost entirely by eye, each balloon - or caterpillar, penguin (below) or crab -  is cut from a hunk of rock crystal on spinning cutting discs then progressively refined and polished. The small, chaotic, dusty workshop is lined with cutting and polishing machines that whirred and whined like a dentist's office.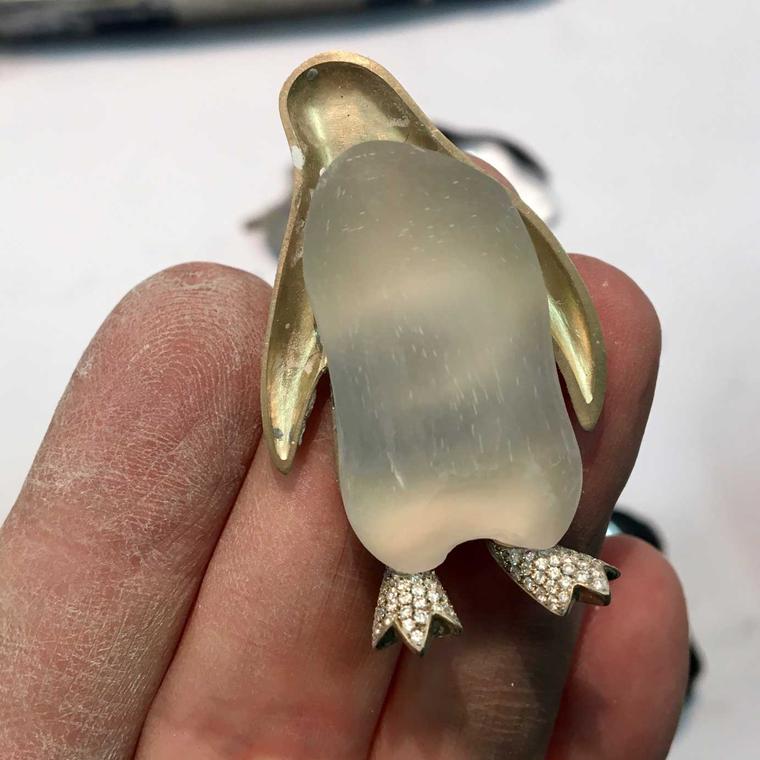 Layering opaque and translucent stones or mother of pearl over solid stones creates the brighter-than-nature 'trasparenza' effect (below). Totally natural, this clever stacking act was the answer to Angela's desire in the 1980's to create a new way to showcase gemstones that would pop out with a new brightness.
We left the workshop as the sun was setting but Giovanni was probably working late into the night listening to heavy metal music. 'You have to be a little crazy to do that job,' says Angela. Something you could say about Vhernier, the antithesis of logic and mass production yet the very essence of Italian craftsmanship and design.
Lapis lazuli gives this Vhernier Crab brooch its vibrant blue colour, overlaid with rock crystal for a smooth finish. 

The 'trasparenza' technique used by Vhernier layers different stones to create new and vibrant effect such as this impromptu combination of black jade, opal and rock crystal as seen in the stone-cutting workshop and used in the Dubai Frecce special edition jewels. 

The Vhernier Freccia ring shows how the 'trasparenza' technique offers a mirage of colour by layering a slice of Harlequin opal over black jade and then finally carved rock crystal. Photo credit: Erdna

In Vhernier's stone-cutting workshop in Valenza where the different layers of stone and rock crystal are cut to create the bright colours of the trasparenza jewels such as this Penguin brooch. 

Vhernier Bridge rose gold bracelet with diamonds and turquoise. It takes 45 days of work to create each bracelet that is made entirely made by hand in Valenza to ensure the smooth and precise angles and finishes of this sculptural creation.

Vhernier Calla necklace in white gold and diamonds. 1998

Goldsmith at work on a Vhernier Carré bracelet that is entirely hand made by one skilled artisan. It takes 45 days to make just one Carré Sorpresa bracelet.