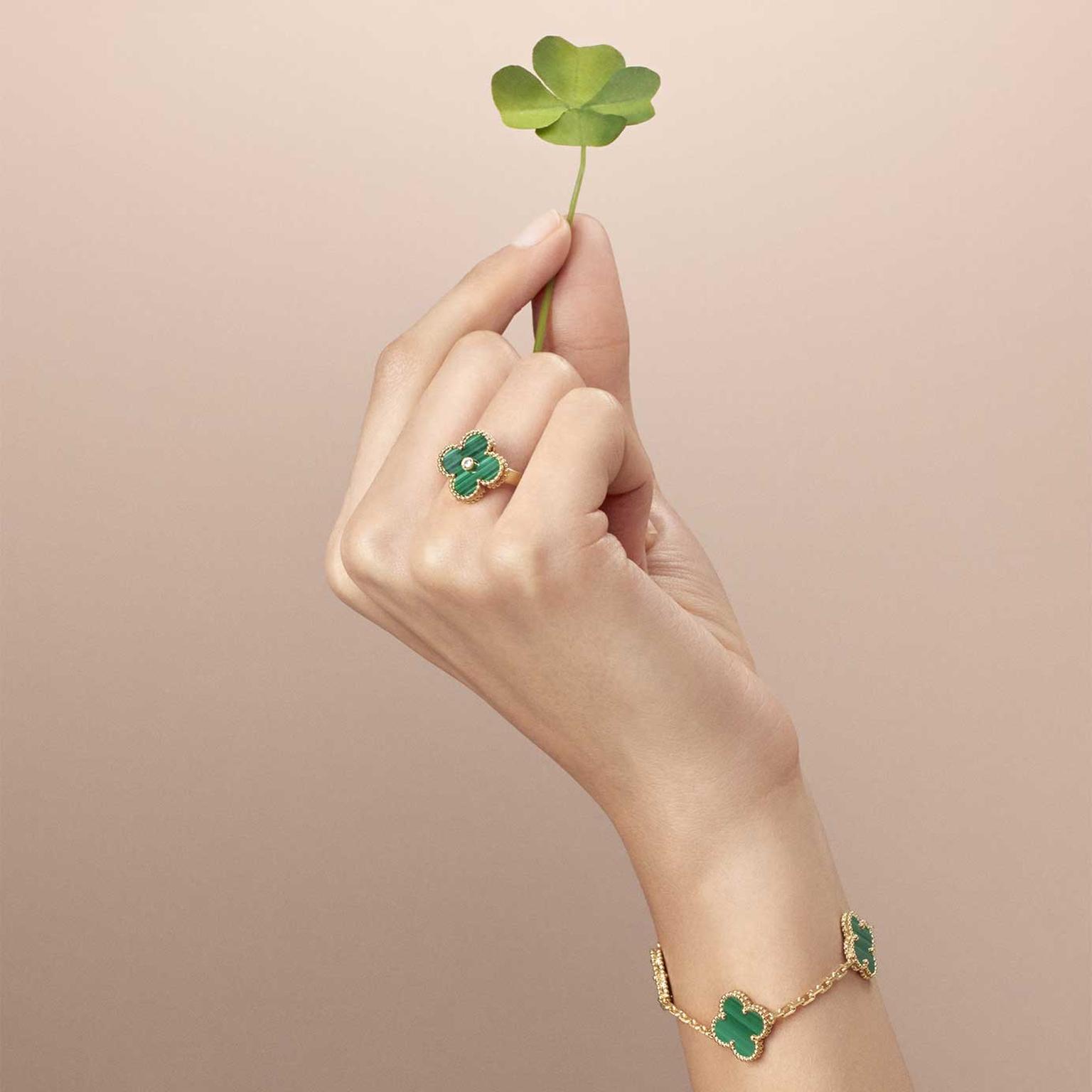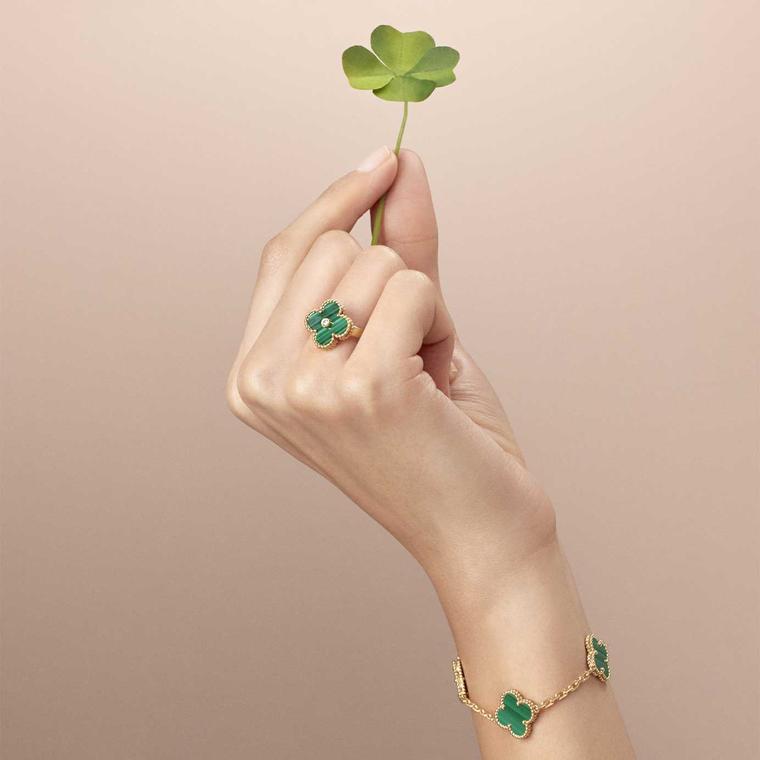 "To be lucky you have to believe in luck," said Jacques Arpels. Which is why good luck symbols and charms have been at the heart of many Van Cleef & Arpels creations since the 1920's. The Alhambra motif is in fact a four-leaf clover, of the kind that Jacques Arpels collected in his garden in Germigny-l'Évêque just northeast of Paris. Jacques was fond of giving pressed four-leaf clovers to his staff along with an inspiring poem.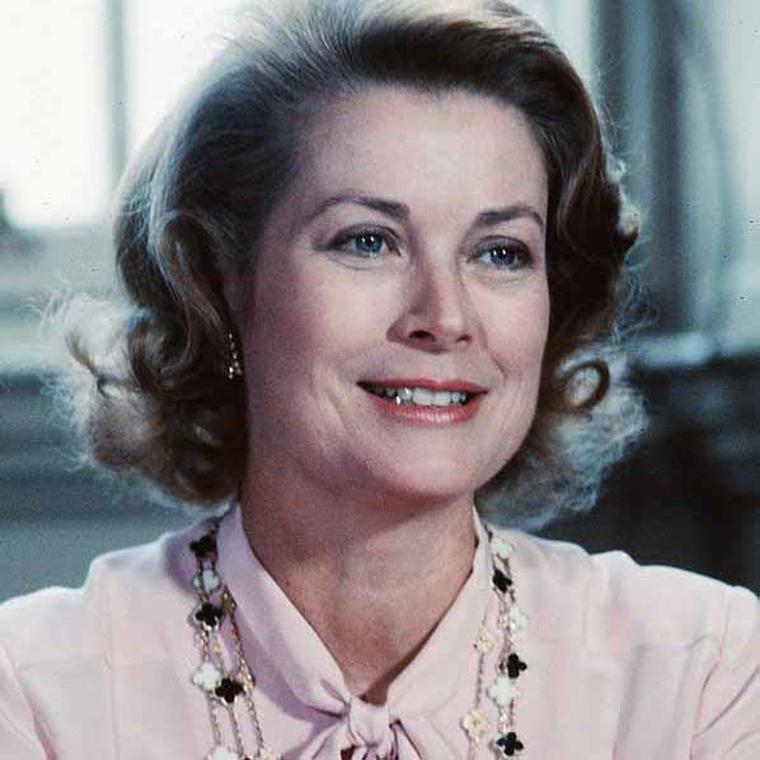 The very first Alhambra long necklace was made in 1968 and 20 creased-gold four-leaf clovers with beaded edges were strung along an opera-length necklace and added to Van Cleef & Arpels' La Boutique range of day jewels. Born in the crucible of women's lib and at the birth of the jet set, the Alhambra spoke of exotic travels and a bright new future for women. Grace Kelly (above), Romy Schneider (below) and Françoise Hardy were just some of the elegant women who draped the Alhambra around their necks.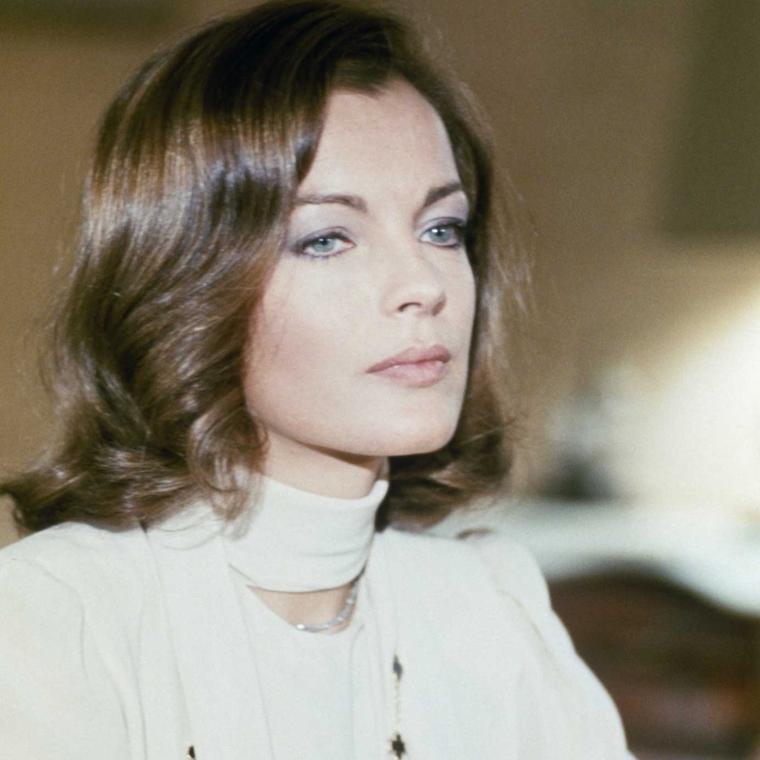 Fifty years on and the Alhambra is more ubiquitous than ever. Variations of the Alhambra soon appeared in 1971 hard stones such as malachite and lapis lazuli were added to the mix followed hot on its heels by onyx, coral, tiger's eye and turquoise.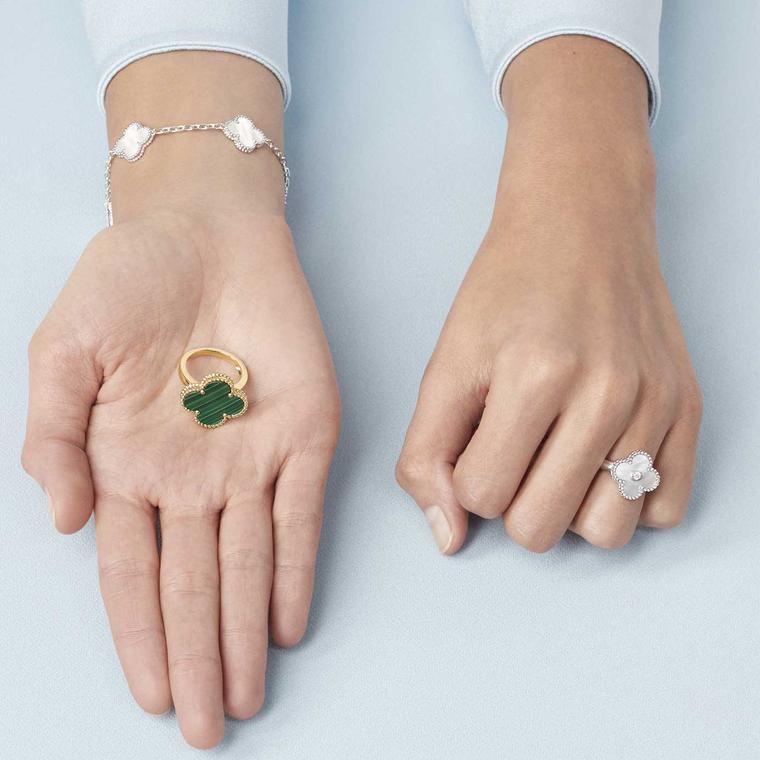 Ten years later mother of pearl and carnelian adorned the Alhambra and later blue agate and rock crystal. In 1998 the Alhambra watch made and entrance and designers got more creative with chalcedony, Sèvres porcelain and letterwood. The original design with beaded edges is now referred to as the Vintage Alhambra while the Pure Alhambra is a sleeker version launched in 2001 with smooth edges.
To celebrate 50 years of swinging sautoirs, a new version of the Vintage Alhambra in grey mother-of-pearl and diamonds in pink gold (above) and onyx and diamonds in white gold are being produced. And for those after something exclusive, two versions of the Vintage Alhambra necklace and bracelets have been produced in very limited numbers. One features lapis lazuli (below) and diamonds and the other in rock crystal. Feeling lucky? Add one of these to your wish list and keep your fingers crossed. 
Fingers crossed there is one of these for you. The Van Cleef & Arpels Vintage Alhambra 50th anniversary edition in lapis lazuli and diamonds will be made in limited numbers to celebrate this design milestone. 

The very first Alhambra sautoir did not feature hard stones, just gold clover forms. However to celebrate its 50th, Van Cleef & Arpels has created limited numbers of this Vintage Alhambra bracelet and necklace in lapis lazulil and diamonds in yellow gold.

Van Cleef & Arpels Vintage Alhambra necklace in rock crystal created in limited numbers for the jewel's 50th anniversary. Like the original it has 20 four-leaf clover motifs and is made in yellow gold. 

Jacques Arpels was known to pick four-leaf clovers from his country house garden, press them and then give them to staff in the Paris workshops. The lucky motif is the inspiration for Van Cleef Arpels Alhambra range that has grown to include malachite and mother of pearl as shown here. 

The four-leaf clover motif has been present in Van Cleef & Arpels designs since the 1920's. The 1968 Alhambra propelled this now iconic motif in the limelight where it has been for the last 50 years. 

Lucky charms have had a constant presence in Van Cleef & Arpels designs as seen in the four-leaf clover motif from the Vintage Alhambra Between the Fingers ring, bracelet watch and bracelet in mother of pearl.

Grace Kelly was often seen wearing one of her many Van Cleef & Arpels Alhambra necklaces during the daytime. This verion has a large four-leaf clover pendant.

Romy Schneider in 1974 wearing Van Cleef & Arpels Alhambra necklace on set in Michel Deville's film  'Le Mouton Enragé'.  Credit: Catherine Rotulo

Grace Kelly or H.S.H. the Princess of Monaco wears Van Cleef & Arpels Alhambra necklace with lady-like grace as seen in Edinburgh in 1979. Getty Images Hutton Archive

Like the original Alhambra sautoir, or long necklace, this Van Cleef & Arpels 50th anniversary Vintage Alhambra necklace features beaded edges and grey mother-of-pearl and diamonds. 

The Van Cleef & Arpels Alhambra range has grown over the past 50 years to include new materials such as malachite as well as rings, bracelets and earrings.