The Italian jewellery house Vhernier describes itself as "driven by the desire to amaze and entertain". And that, to me, is about as perfect as a jeweller's mission statement could be – an impulse evident in the house's growing menagerie of animal brooches. Founded in 1984 in Valenza in the Piedmont region of Italy, the firm is resolutely contemporary and unconventional, experimenting with forms and materials to offer the world bold new jewels with an Italian flair.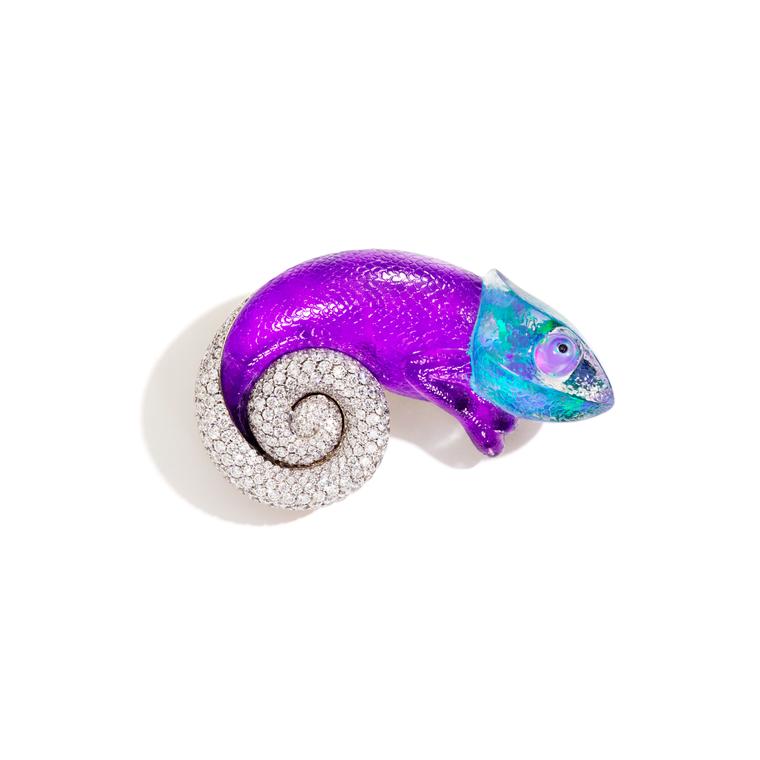 Brooches are something of a tradition at Vhernier, and this year sees the arrival of a lapel-friendly chameleon. "Trasparenze" is the name Vhernier gives to the clever way in which it layers stones to create new effects with colour and the play of light. The chameleon's body is made of vivid purple sugilite while multi-coloured opal imitates the changing colours of the chameleon's head.
But that's not all: carved to mimic the reptile's scales, a layer of rock crystal has been laid over the sugilite and opal, giving the animal its glossy, mysterious skin. A black jade eye in its opalescent socket is permanently on the look out for a passing fly.  And, as a final flourish, a neatly curled diamond-set tail rests demurely under his body. This particular chameleon has been sold, but Vhernier tells me it is awaiting further stocks of high-quality sugilite to make another one.
The chameleon adds to the animal family featuring playful bugs and creatures, brought to life using jungle-bright colours magnified and deepened by the "trasparenze" technique. Rock crystal over green jade brings a delightful plumpness to a caterpillar happily meandering about his day. A vivid green crab with diamond claws boasts a chrysoprase carapace. More menacing, a stealthy scorpion's sleek exterior is created with black mother-of-pearl and rock crystal. The effect is of stark beauty with a diamond sting in its tail.  A lapis lazuli and rock crystal lizard ready to dart is frozen in time, his lithe body uncannily lifelike. Carnelian, onyx and mother-of-pearl are the unlikely materials that create a miniature penguin, the lustre of mother-of-pearl perfectly conveying the downy white feathers of the bird's chest.
I think the brief of "amazing and entertaining" has been most definitely achieved in Vhernier's dazzlingly bright collection of animal brooches. 
Vhernier's Chameleon brooch or camaleonte layers rock crystal over sugilite and opal to create a super-natural effect. Sold (€46,500).