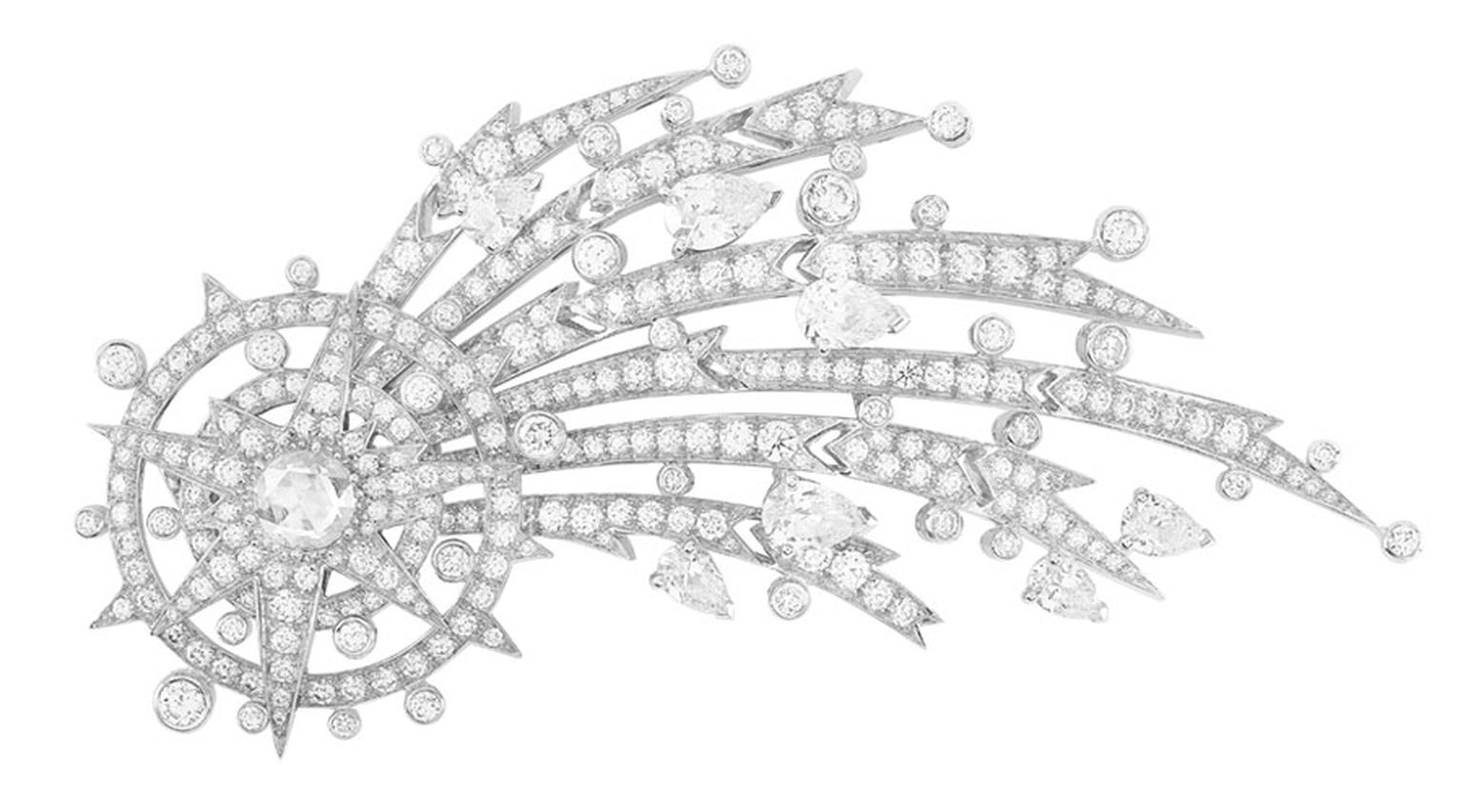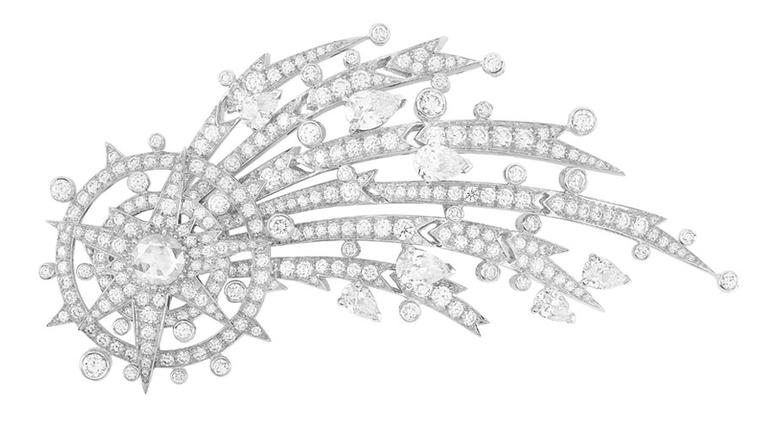 Van Cleef & Arpels excel in creating high jewellery with a story to tell. This year's collection "Palais de la Chance" unveiled at the Biennale des Antiquaires in Paris, tells a tale of luck and charms that spans the globe as well as the past and the present. Enter the 'Palais de la Chance' and you will see how Van Cleef & Arpels has interpreted in the most precious and often unexpected materials, the eternal symbols of luck and hope that have accompanied mankind since way back to the days of the early Egyptians.
With a set designed by the flamboyantly creative playwright and director Alfredo Arias the exhibition of the 'Palais de la Chance' in Paris transports the visitor to a realm inhabited by handmaidens of luck and mystical divas of our fates where charms, lucky numbers and ancient talismen are taken to new heights in jewels made out of the rarest and most precious materials. Pass first through a recreation of the Place Vendôme and enter into this magical world and gaze in wonder at this impressive collection of fine jewellery.
Alfredo Arias tells of the creative process behind the set design: "The idea is that the Maison Van Cleef & Arpels offers a gateway to the world of luck. When I first discussed the collection with Nicolas Bos, the Maison's Vice President and Creative Director, we talked about Jorge Luis Borges, Julio Cortázar and a world of mirror images, labyrinths and puzzles to be solved. The exhibition takes the form of a succession of scenes: using a multitude of symbols, they offer a theatrical interpretation of different ways of finding luck."
Everything that Van Cleef & Arpels does is always linked to its rich history, carefully kept in its archives and consulted when creating a new collection. Since 1906, when Van Cleef & Arpels was founded in Paris' Place Vendôme, the Maison's creations have always placed a special emphasis on luck and some of the early charms such as a unicorn brooch or a ladybird or the classic four leaf clover that as children, we have all probably plucked from a patch of grass. On this occassion, the maison urges us make the maxim of Jacques Arpels - Estelle Arpels' nephew - your own: ''To be lucky, you have to believe in luck.''
From Egyptian scarabs, to swallows, the colour green and swags of emerald ivy these eclectic jewels positively fizz and almost bubble over with Van Cleef & Arpels creativity. The jewels also showcase the house's keen eye for the very best gemstones. I fell in love with the 'Everlasting Light' Egyptian themed sautoir of cool green chrysoprase beads, a black opal, lapis lazuli, diamonds, mandarine garnet and turquoise. Dazzling gem-setting techniques such as the 'Mystery Setting' add panache to the collection.  Technical prowess underpins each jewels, particularly as seen in the 'Zip' necklaces that do quite literally zip and unzip to create different length openings around the neck or transform into a bracelet. So close your eyes, make a wish and maybe, just maybe, it could be your lucky day and one of these jewels will be yours. For me, just seeing them makes my lucky day.
Van Cleef & Arpels. Palais de la chance High Jewellery collection. Your lucky star, Sept Étoiles necklace, platinum, 7 cushion-cut sapphires weighing 33.73 carats in total and round, baguette-cut, pear-shaped and rose-cut diamonds. POA

Van Cleef & Arpels. Palais de la chance High Jewellery collection. Lucky-charm nature, Coccinelle Mystérieuse clip, white gold, diamonds, onyx, black spinels, yellow sapphires, red gold and Mystery Set rubies. POA

Van Cleef & Arpels. Palais de la chance High Jewellery collection. Lucky-charm nature Hirondelles necklace and detachable clip, white gold, diamonds, emeralds, tsavorite garnets, onyx, black lacquer, grey cultured pearls, chrysoprase beads and one 19.59-carat emerald-cut pink tourmaline. POA

Van Cleef & Arpels. Palais de la chance High Jewellery collection. Your lucky star, Sept Étoiles earrings, platinum and round, baguette-cut, pear-shaped and rose-cut diamonds. POA

Van Cleef & Arpels. Palais de la chance High Jewellery collection. Lucky-charm nature, Lierre necklace, white gold, diamonds, black spinels, platinum and 52 oval-cut emeralds weighing 93.12 carats in total. POA

Van Cleef & Arpels. Palais de la chance High Jewellery collection. Lucky legends, Everlasting Light necklace, white gold, chrysoprase, Mandarin garnets, lapis lazuli, sapphires, diamonds, tourmalines, onyx, turquoise, emeralds and one 23.64-carat cabochon-cut black opal. POA

Van Cleef & Arpels. Palais de la chance High Jewellery collection. Lucky legends, Everlasting Light long earrings, white gold, diamonds, tourmalines, onyx, lapis lazuli, chrysoprase, turquoise, emeralds, Mandarin garnets and 2 black opals weighing 5.53 carats in total. POA

Van Cleef & Arpels. Palais de la chance High Jewellery collection. Your-charm nature, Trèfles clip, white gold, 2 heart-shaped pink sapphires weighing 15.27 carats in total and diamonds. POA

Van Cleef & Arpels. Palais de la chance High Jewellery collection. Lucky legends, Bianfu ring, white gold, diamonds, pink gold, pink sapphires and one 23.34-carat. POA

Van Cleef & Arpels. Palais de la chance High Jewellery collection. Lucky legends, Hina clip, white gold, diamonds, rubies, pink and mauve sapphires, emeralds, red gold, Mystery Set rubies, coral, black jade nephrite and rose-cut diamond face. POA

Van Cleef & Arpels. Palais de la chance High Jewellery collection. Your lucky star, Étoile Filante clip, white gold and diamonds. POA