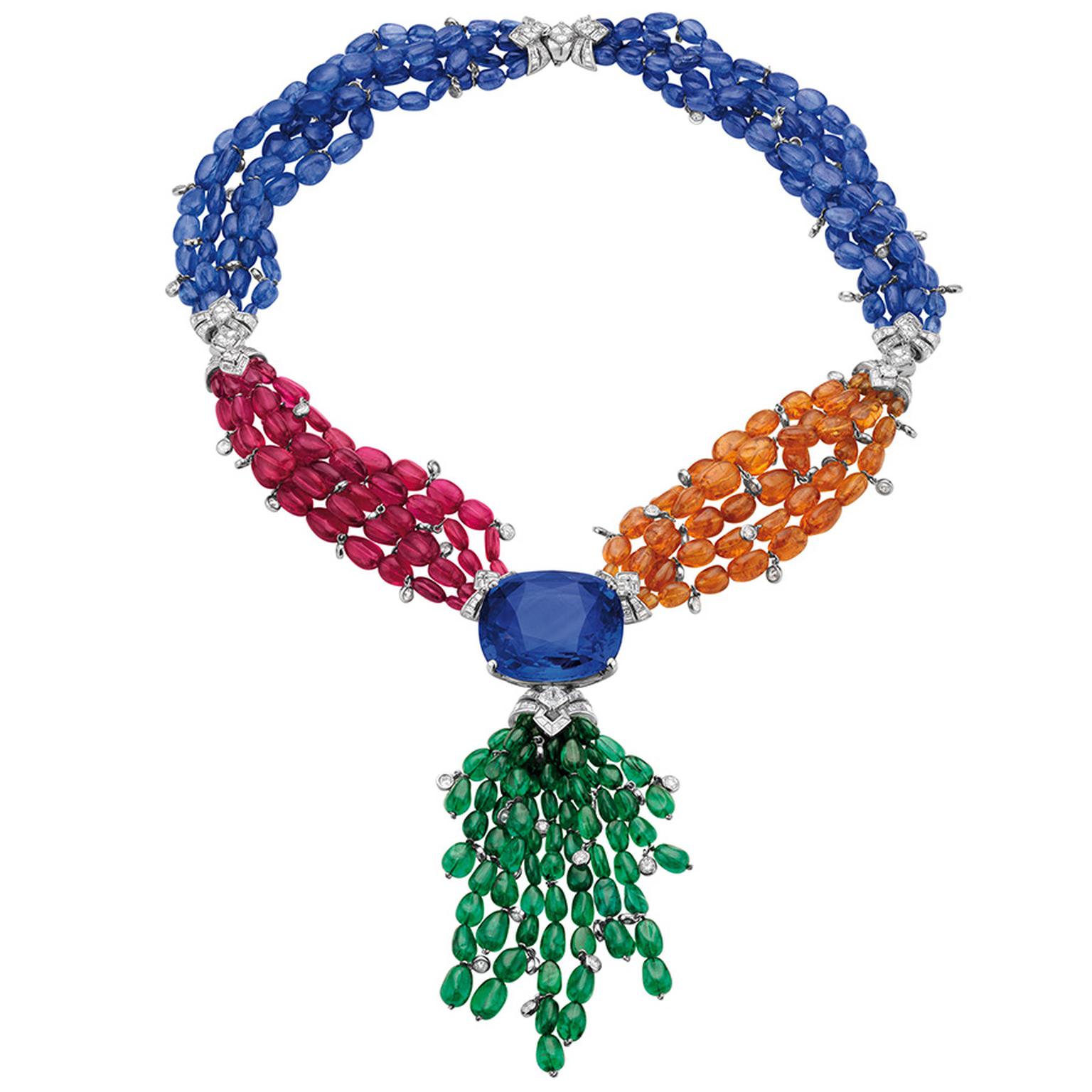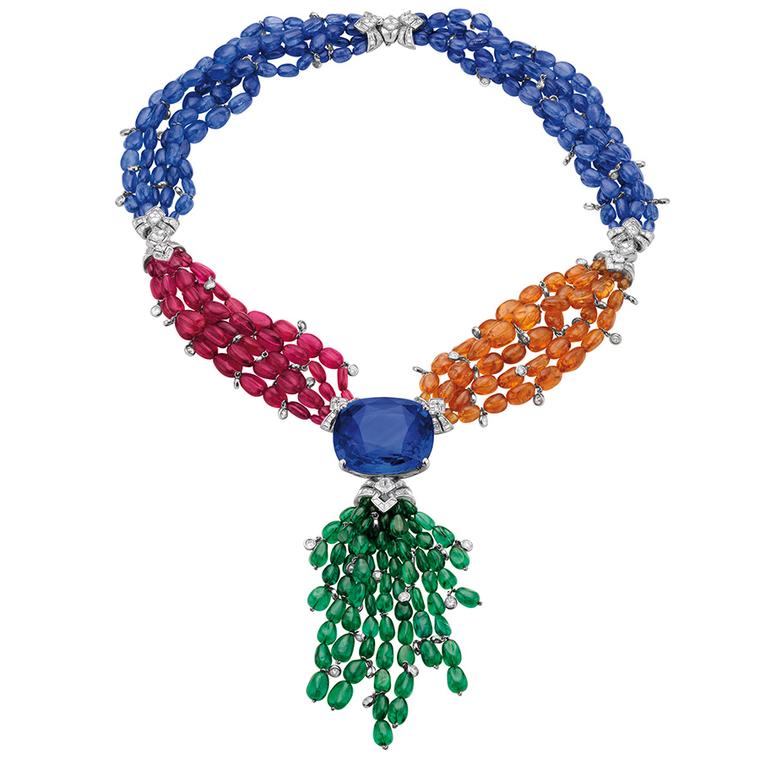 Bulgari, the Italian jeweller, makes its first appearance at the Biennale des Antiquaires in Paris with a collection that is Bulgari, through and through. Colours sing out, cabochons cascade and an emerald and turquoise serpent slithers, not once, but twice around the neck. Even Elizabeth Taylor is present in a collection of jewels inspired by the diva herself. This is pure Bulgari and to make sure we don't forget their Italian origins, the booth mimicked the via Condotti flagship store complete with marble floors, sweeping archways and Modigliani inspired busts.
The style of this 125 year old jeweller, that epitomises Italian luxury jewellery is unmistakable. Lusty ripe drops of mandarine garnets nestle alongside clusters of creamy baroque pearls interspersed with jungle-green emeralds. This unexpected mix of colours and semiprecious and precious stones in generous quantities make for strong statements in bold dimensions. Yet because of their flexibility and movement including tassels of beads, swaying drops and ropes of soft cabochons a statement Bulgari necklace sits easily on the body. These jewels are made for wearing and enjoying, preferably with big sunglasses and a summer dress, drinking prosecco in the bright summer sun in a piazza in Naples.
The highlight of this year is an emerald and turquoise 'Serpent' necklace. The serpent is an ancient symbol of wisdom and inmortality and has been present in Bulgari collections since the 1940's. The necklace is so long it can be worn in several ways, including around the waist. More than 100 emerald beads are alternated with turqouise roundels all generously studded with diamonds. Should this slinky snake appeal, you will need some 8 million euros to make it yours to wrap around your neck. 
The Elizabeth Taylor collection reminds us of the actress' love of Bulgari and on display were pieces bought for her by her admirers including, of course, Richard Burton. It was on the set of 'Cleopatra' filmed in Cinecitta in Rome that Elizabth Taylor met Richard Burton and their nascent love affair was marked by a visit to the via Condotti boutique to buy tokens of love. Richard Burton famously remarked of his 1963 visit to the Condotti shop to buy Elizabeth Taylor a ring: "I introduced her to beer, and she introduced me to Bulgari."
As well as these pieces acquired by Bulgari at the auction of the estate of Elizabeth Taylor in 2010, three new hugely extravagant jewels have been made, each one worthy of the diva herself. The main attraction features a 165 carat sapphire that contrasts with the soft, irregular forms of thick ropes of pink rubelites, mandarine garnets and emeralds. 
The Mediterranean Eden series brings to mind the green and blue colours of the coast of Italy and the sensuality and pleasure of the sun and warm waters and summer flowers. Mother of pearl, turqouise and diamonds bloom in this idyll and sun-warmed flashes of precious and semi-precious stones tumble across the skin. 
Seeing these jewels confirms that Bulgari does glamour and dolce vita like no one else and an air of seductive and infectious indulgence shines out from its creatinos. 
Ruby and diamond Serpenti cuff bracelet showing a more traditional combination of stone colours.

Serpenti necklace in the workshop. The turquoise is of the highest quality light blue shade and there are over 100 emeralds in this necklace.

There are 100 emerald beads in this necklace, some of which are up to 20 mm big. The necklace comes with a price tag of approximately 8 million euros.

The Serpenti necklace reminds us that this creature has been part of Bulgari's creations since the 1940's and is an ancient symbol of wisdom.

Bulgari Elizabeth Taylor emerald and diamond necklace, a reminder of the actress' love of all things Bulgari and, in particular, her Bulgari emerald parure.

Bulgari Elizabeth Taylor inspired emerald and sapphire necklace. The colours in this piece remind me of Egyptian jewels, perhaps a wink to Elizabeth Taylor's visits to the boutique while she was filming 'Cleopatra' in Egypt in the early 1960s.

Bulgari Eden ring with black mother of pearl and diamonds.

Bulgari Eden ring with mother of pearl and a central spinel.

The colours of Bulgari remind us of the Mediterranean.

Setting cabochon stones into gold mounts for the Mediterranean Eden collection.

All the pieces shown at Bulgari's Biennale exhibition are one offs and made individually.

Bulgari Serpenti gold and diamond bracelet that is highly flexible and can be stretched open to slip over the wrist, the result of a marriage of clever engineering and painstaking work.